History Unfurled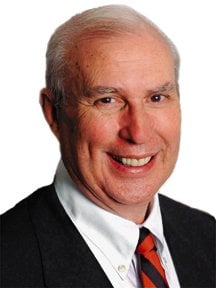 How will history judge Sonny Perdue? Is it possible he would want to be known as the man who wanted to bring the Confederate battle flag back to Georgia? His position that the debate on changing the state flag will be a healing process goes beyond ridiculous.
In the late 1950s and early '60s Georgia stood at a crossroads. Worldwide news coverage centered on Alabama Governor George Wallace's racial policies. The airwaves were full of stories showing Birmingham police using dogs to attack peaceful black Americans who were protesting discrimination. During those times Atlanta and Birmingham were about the same population.
Georgia chose not to go down that path. Our white political leadership worked with local African-American leaders to peacefully integrate our schools. Tolerance on race has been a hallmark of politics in Georgia since that time. It is the main reason Georgia has prospered. Georgia's economic strength is now almost three times that of Alabama's.
I wrote in a July 2000 column some of my own family's history and my thoughts on the flag. My great-great-great-grandfather, Robert Young, surveyed and later built, with the help of others that included several slaves, the Peachtree Trail in the 1700s. His son was Augustin Young, who was the first deed-holder of Stone Mountain. He moved in 1832 to Youngs Station south of Cedartown.
Augustin owned slaves. He had three sons, including my great-great-grandfather James Young. James and his two brothers fought in the Civil War. After the war two of the brothers moved to Midland, Texas. James stayed and picked up the pieces of the devastation wrought by Yankee troops moving through the area chasing the remnants of the Confederate army after the Battle of Atlanta. He lived through the tough times of Reconstruction and died a prosperous man with seven children.
Another great-grandfather, Gilbert, was brother to Gen. James Longstreet, who was Gen. Robert E. Lee's right arm. Lee called him his "Old War Horse." After the war, Longstreet joined in an effort to put the scars of war behind, and tried to move the South forward. He was a close friend and West Point classmate to Gen. Grant, and after Grant became president, Longstreet was appointed to a federal post, and later served as a foreign ambassador.
Because of his friendship with Grant, members of the "Lost Cause" vilified him as a traitor. This was a movement that kept the fires of the war fanned, many years after the surrender. They claimed Longstreet held troops back during a critical period of the battle at Gettysburg, a charge that was untrue. Longstreet was vindicated by the book The Killer Angels.
My point is that I am as proud of my southern heritage as anyone. And I am still proud of my ancestors. They were good, hard-working folk, and they were part of their times. They served in the Southern army because the South was their home. After the war, they helped build the Georgia and the America we know and love. I am proud that I own a Confederate flag, along with General Longstreet's uniform scarf, that was handed down to me from my father.
I love the historical Confederate battle flag, but I do not approve of what it has become. It is now used as a symbol for every hate organization in the world. It's the flag of the KKK and neo-Nazis. On worldwide television you see the stars and bars associated with the IRA in Ireland and skinheads in Germany. How could our new governor want to place us in league with these hate groups? Is this the image we want for his "New Georgia?"
The state flag that was created in the early '50s was not for pride of Georgia's heritage. It was created as a racist statement, to pledge that Georgia would not integrate schools. Today blacks in Georgia feel that state flag is still a symbol of defiance. To African Americans, that flag with the "Stars and Bars" of past times represents a state government that still thinks of blacks as servants, instead of equals.
It's no contradiction to love your family and state's history, but disapprove of a state action gone wrong.
Perdue wants the battle flag on the ballot, but will sign any legislative bill with no comment. Surely he also wants to build a great legacy so he can take his place with some of Georgia's great leaders. It is up to him how he will be remembered.