Golden Couple
Metro Atlanta's best-kept sports secret is the only husband-wife team to bring home the gold from th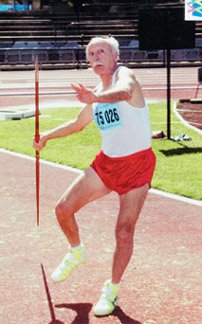 Unless you read The Fayette Neighbor, or attended the World Masters Games in Melbourne, Australia last October, you never would know that Bill and Jeanne Daprano won four gold medals between them.
Bill won gold in the pentathlon (long jump, javelin, 200 meters, 1,500 meters and discus) plus silver in the 100 meters and javelin; Jeanne won gold in the 1,500 meters, 800 meters and 400 meters and bronze in the 200 meters.
You might say the Dapranos have a corner on the gold market. Bill and Jeanne each have won more than 100 pieces of gold since they started competing in the Masters program more than 20 years ago.
The Dapranos not only own a host of state, regional and national records, they hold 17 world records. Bill, 76, owns outdoor world marks in the pentathlon (age 73), 4×200 relays (ages 70-79), 4×400 relays (ages 60-69) and pentathlon (age 56). He also owns world indoor records in the 4×400 and 4×800 relays (ages 70-79).
Jeanne is the speed merchant of the family. She owns 12 world records, is 66 years old and looks 10 years younger.
In women's competition from age groups 60-65 and 65-70, Jeanne holds indoor and outdoor records in 800 and 1,500 meters, the mile run and 4×800 relays. Last year she was nominated for the Masters Hall of Fame and chosen female track athlete of the year.
Three years ago, at Gateshead, England, they each won gold – Bill three pieces and Jeanne four. But their biggest win came off the field. The couple met at Gateshead for the first time. Bill, a native Atlantan, was living in Riverdale, Ga. and Jeanne, a native of Iowa, was living in Long Beach, Cal.
"The best thing about running," Jeanne says, "is the people you meet. I met Bill and he is the nicest person I know. It is not the medals that count, it is the human relationships."
"The first time I laid eyes on her I knew she was the woman for me," Bill recalls. "We were in the cafeteria line and I spotted this good-looking, trim blonde about four people ahead of me. When she sat down at a table, I broke through the line to make darn sure I would get a seat next to her.
"That night, there was a get- acquainted dance for all the track competitors. I asked her if I could have the first dance. She said OK. For the remainder of the evening neither one of us danced with anyone else. I was smitten – but good.
"For the next 12 days, I had breakfast with her every morning and dinner with her every night. When we were not competing on the track we were taking walks or sitting on a bench holding hands.
"I finally found the one person I wanted to live with. On the last day of the meet, I told her, ?I am going to marry you.' She didn't say yes and she didn't say no. But she agreed to meet me in St. Louis for a Masters Track Meet, only three weeks away. She said yes in St. Louis and a month later we were honeymooning in Hawaii."
The Dapranos now live in Fayetteville, Ga. They will have a busy spring and summer, with the Southeastern Senior Classic in Raleigh, N.C., this month, the National Masters Championships in Charlotte in June and the World Games in Puerto Rico in July.
Bill is retired from coaching and home-building and Jeanne from teaching. As coach at Atlanta's old St. Joseph's High School, Daprano won three region football championships, posted a 25-game winning streak and a 10-year record of 59 wins, 31 losses and four ties.
After 15 years as a teacher and high-school coach he entered the insurance and real estate business. In his first year, he more than tripled his coaching income. At the age of 43, Daprano was on his way to becoming one of the most successful home builders in metropolitan Atlanta. But the success took its toll.
"I could not build houses fast enough," he says. "I was on the job site six days a week, encouraging supervisors, giving a compliment here and a kick in the rear there. I was on a constant deadline.
"I put unbelievable pressure on myself. My blood pressure was out of sight. My doctor told me I could give up the torrid pace I was on and find something that would relax me or die a young man. I wanted to live." Daprano gave up the business but not the torrid pace. He simply redirected his energy into something positive – running.
Daprano grew up on the south side of Atlanta near Grant Park. He attended old Atlanta Tech High School, the University of Georgia and Livingston State University in Alabama, where he played football and baseball and ran track. At 5-10, 165, he is the same weight as he was 20 years ago.
His biggest thrill came in the Masters age 55-59 competition when he beat his old hero, former U.S. Olympic champion Bob Richards, in the pentathlon. Richards' photograph used to be a fixture on Wheaties cereal boxes.
Daprano has three children by a previous marriage (his first wife, Judy, died at age 51): Bill Jr., 45, Judy, 36, and Christy, 29.
Jeanne Daprano grew up as an "Iowa farm girl." She was born in Massena, a town of 300 people, where her parents had a farm on which she milked cows, planted corn and drove the tractor. "I admired what my parents did," she says, "but after working most of our 160 acres I learned at an early age that I did not want to marry a farmer."
She left Iowa for the University of Nebraska where she received a B.A. in elementary education. She went on for a master's degree at the University of California in Long Beach and taught at a Long Beach parochial school.
Her first marriage lasted 26 years before her husband discovered he had lung cancer. Four months later he was dead. "It was the low point in my life," she says. One of her friends suggested she start running for therapy, nothing competitive, just running on the beach.
"I got out there and it felt like a million dollars. It wasn't long before I was getting out of my ?poor me' state. I started running competitively and winning and it made me feel good enough to start a track program for kids, especially those in a Long Beach Cambodian community.
"I got so much pleasure out of running, not just for the fitness but for my whole demeanor. It got me in shape, mentally and spiritually."
Then she met Bill. "I was not thinking about marriage," she says. "It was the furthest thing from my mind. Bill was such a gentleman, such an athlete, such a magnetic person. He and I liked the same things – running, swimming, walking, biking, children. I never had children of my own but I felt like I did when I worked with [children in] the Cambodian community.
"Of all the gold we have won, what we won in England is the most memorable of all because it was the beginning of a long, loving relationship."
Think about it: Here is a woman over the age of 65 and a man over the age of 75 and they probably can outrun 98 percent of all the high school students in the world. And when they compete in the World Games in July, you can bet they will win still more gold.