Serving Cedartown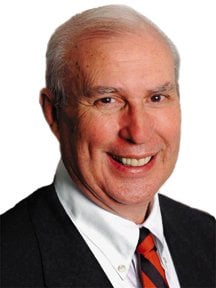 My father was a merchant farmer in Cedartown, Ga. In 1958, when I was 16, he gave me a job working as a clerk and delivery boy at Young Hardware. "Serving Cedartown Since 1922" was our slogan. I learned early that diversification was important in the hardware business and in farm business, as it is in almost any business endeavor today.
My father's store was one of two stores downtown. We felt we had the best location because we were on Main Street, with a side street entrance. Many of the items we carried were for several of the major textile mills in town. There were also farm supplies and hardware for the general trade — plumbers and painters, the "do-it-yourselfers" who like to tinker on weekends.
On Thursday afternoons my father would drive seven miles south to Youngs Station, to a 1,300-acre farm he owned with his sisters. This land is located at the beginning of Cedar Creek at the base of Dug Down Mountain, which runs between Rockmart and Cedartown on the old Morgan Valley Road. It is some of the most beautiful property in Georgia. The farm produced cotton and corn, and my father owned 130 head of Angus cattle. They were his pride and joy. When you looked out over the valley, the Black Angus cattle that dotted the green fields made a pretty sight.
In a small town in Georgia in the 1950s, there was not a lot of difference in wealth and income. In my hometown a man could make $6,000 a year at Goodyear Mills or $10,000 as an engineer on the Central of Georgia Railroad. There were bigger jobs at Lockheed Aircraft in Marietta, where you could work on the line building C130s and earn as much as $12,000 annually.
Later in life I found my father's records of the store and farm, and calculated he made around $14,800 a year. We were not rich, but we lived a comfortable life.
The way my father's income was distributed is a lesson in diversifying assets. In those days, if you didn't work for the railroad or textile mill, you had better not put all of your eggs in one basket.
At Young Hardware I found that the average sale was for only 35 cents. One 95-degree summer day, I spent three hours in the back of the store threading pipe at 25 cents a thread. The total sale was five dollars. Our big seller was paint. Sherwin Williams Super Kemtone was the best paint made, and Young Hardware had the first franchise in town on this product. We sold the paint at a discount, $10 a gallon. But if you analyze our total sales, we made our profit on the pipe threading and the smaller items like shotgun shells.
It took a lot of customers to make up the $55,000 annual sales figure the store pulled in. The yearly inventory, or cost of goods sold, totaled $25,000. It took $20,000 yearly to pay salaries, rent, utilities and other administrative costs. After expenses, our family pulled in $9,000 in profits, before taxes. It was hard work. The store was open six days a week, 52 weeks a year and there was little time for vacation.
The farm brought in $3,000 in a good year. After expenses and sharecropper profits, the crops pulled in $1,500 a year. The Black Angus trade totaled another $1,200 yearly, and other crops like honey, pigs and chicken eggs added $300 yearly. My father had an interest in a cheese plant that sold all over the US. His profits totaled $1,000 for that enterprise. Taxes were a lot less in 1958. Our family got to keep almost 87 percent of what we made. Property taxes were low. There were no special option sales taxes.
Our family history from 1958 has a lesson for today's investors and businesses. A stock market portfolio should carry many different kinds of industries; a business should cover a wide range of interests, large and small.
It might seem strange to count the butter and egg share my family received. It seems small compared to the balance of income. Yet this income, compounded with interest over 10 years or more, paid for my college education. Our family's $14,800 income is worth $87,220 in today's world. But the income stream was spread among many diverse interests. Many in Cedartown did well working for Lockheed Aircraft. But this company fell on hard times in the late '60s. Employment went from 29,000 to 11,000 employees. Young Hardware and Youngs farm were in business for over 40 years.