The Worst and the Best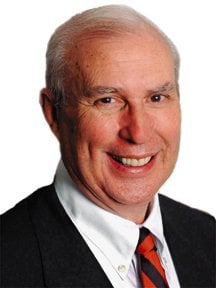 It is the worst of times; it is the best of times. Georgia is in the economic doldrums. Some economic forecasters predict more of the same in 2003 and beyond. One of our columnists, Dean P. George Benson of the University of Georgia's Terry College of Business, predicts Georgia will lose status as one of the fastest growing states in the nation and even drop toward the middle of the pack in terms of growth. He predicts Atlanta will soon look like Newark, N.J. From the air Newark is surely the most depressing looking city in the U.S. It is the worst of times.
Yet, according to census bureau reports, Georgia grew by 154,633 people from July 2001 to July 2002. Georgia is the fifth fastest growing state in the nation. William Frey, a demographer with the University of Michigan, says states like Georgia and Nevada are home to the new American suburbs. Growth is not going to abate, because the rust belt is still emptying out. Growth will happen in spite of all the traffic and bad air. In Georgia there is much room to grow, and the cost of living here is lower than in many northern states, Frey relates. It's still in many ways the best of times.
The Charles Dickens paradox continues: Georgia lost more than 60,000 jobs in 2002. Yet unemployment rates outside the Atlanta metro area were much better. Last year Georgia's unemployment rate finished at 4.7 percent, compared to 6 percent nationally, according to Robert Giacomini, spokesman for Georgia State Data Center. This compares to a state rate of more than 8.9 percent in 1991, during the last recession.
Business travel is way down as a result of 9/11, and the impact on Atlanta's convention, hotel and transportation industries has been rough. Occupancy rates are holding at 65 percent in Atlanta and higher in the rest of the state, and profit margins are thin. Government is the largest employer in the state and revenues are down 12 percent. There is a slowdown in commercial real estate, and condo and apartment occupancy rates are expected to be down 24 percent in 2003.
But Albert Niemi, former UGA business school dean and now dean of the SMU business school, says that Georgia should do marginally better this year and beat the 2002 growth rate of 2.3 percent. He was recently speaking to a civic group in Cobb County and predicted that in 2003 Georgia will start to recover. After 2003 Georgia will do better than the national economy, he says.
The University of Georgia's economic forecasting unit predicts Hartsfield International Airport will fall on hard times: 9/11 has caused travelers to seek out airports that have multiple entry points, as opposed to those with single-entry points like Atlanta. Instead of being the No. 1 airport in the U.S., it predicts Hartsfield's passenger rate will drop, and, like Atlanta itself, will become a second-tier facility.
But Benjamin DeCosta, the airport's general manager, has said that Atlanta's air traffic is expected to finish higher than in 2001, with slightly more than 78 million passengers as opposed to 75.8 million in 2001. He says that air traffic in Dallas and Miami was down close to 8 percent in 2002, and down 6 percent at Chicago's O'Hare airport. Because Delta and AirTran Airways rely on Hartsfield, Atlanta's airport has done better than those airports did during the post-9/11 airline travel slowdown. DeCosta told the Business Chronicle, "Hartsfield will continue to be the economic engine for the region. We will continue to deliver." Even though the airport will have a choppy 2003, Hartsfield will add more entry points after the fifth runway is completed.
Other economic predictions: Delta and Atlanta's travel industry in general will suffer this year because of the anticipated war, but it should recover. Atlanta has the largest reliance on high tech in the southeast, and high tech has suffered more than any other category in this recession. This fact, plus the recession in business travel and hospitality, means Atlanta will still hurt in 2003. Atlanta must diversify its economy. The rest of the state, because it is more diversified, will be stronger.
After 2003, Georgia's economy will perform better than the national economy, because it is cheaper to do business here. Our state has some of the cheapest utility rates in the country. Mortgage rates will remain low and will keep residential real estate fundamentally strong.
In the middle part of the century, idealists dreamed certain things for America. They dreamed that stocks, bonds and mutual funds, once the province of the very rich, would become commonplace among the American people. This dream has come true. Although the market is down, most people are staying with their stocks and waiting for history to correct itself.
Those same mid-century idealists dreamed of other things that were not available in the 1950s. America now has affordable energy. We do not have full employment, but we have unemployment that is low by historical standards. We have broad access to home ownership, which is at 63 percent, a historical high. We have low interest rates, and almost no inflation. All of this is available for the first time in history, especially in the South.
Daniel Acts, business writer for the New York Times, has posed this question: "The late '90s are gone, but prosperity isn't. So why all the pessimism?" He blames most of the gloom on the media recession. The sharp advertising downturn that started in early 2001 has resulted in media layoffs and many other cutbacks. This has resulted in a grimmer-than-usual attitude in the fourth estate, he says.
Dean Benson has given us a wake-up call. Could Georgia become the New Jersey of the South? Could Atlanta look like Newark? We should pray that this prediction doesn't become a self-fulfilling prophecy.