True Gridiron Grit
Tech's Eddie Lee Ivery overcame injury and personal problems to triumph on and off the field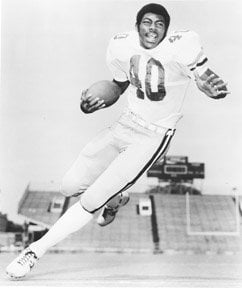 He grew up in poverty. He never knew his father. He was raised by his mother and grandmother, both of whom were on welfare. Knee and ankle injuries almost ruined his football career. A drug and alcohol problem almost ruined his life.
Most mortals would have quit under such adversity, but Eddie Lee Ivery overcame every obstacle in becoming one of the greatest football players ever produced in Georgia and one of the true role models in the Greater Atlanta community.
At Thomson High School, about 35 miles west of Augusta, Ivery was the most sought-after running back in America. In his senior season of 1974, he gained a record-breaking 1,710 yards. He averaged 10.2 yards per carry ? first-down yardage every time he touched the ball. He had 90 scholarship offers from colleges as far west as Southern Cal and as far south as Miami. He committed to the University of Georgia before Coach Dick Bestwick, then a Yellow Jacket and now a Bulldog, convinced Ivery he belonged at Georgia Tech.
At Tech, the 6-0, 200-pound Ivery scored 22 touchdowns for 158 points. He set an NCAA single-game rushing record of 356 yards and a single-season rushing record of 1,562 yards. In his Tech career, he rushed for 3,517 yards, the third-highest total in Tech history. He had 4,325 all-purpose yards, also third-best in Jacket history. He broke seven Tech rushing records and was selected to the Associated Press and United Press International All-American Football teams.
Ivery's most memorable game came in 1978 when Tech visited the Air Force Academy. In a blinding storm, with a wind-chill factor of zero and an accumulation of three inches of snow that made it difficult to walk, much less run, Ivery set his NCAA single-game record. With the stadium turf a frozen tundra, the game should have been cancelled. Instead Ivery slogged his way through for touchdown runs of 80, 73 and 57 yards.
Franklin C. "Pepper" Rodgers, who coached Ivery from 1976 to 1978 at Tech, said, "Eddie Lee is the greatest football player I ever coached. He was a complete player, a gifted runner; he blocked, caught passes, returned punts and kick-offs and passed the ball.
"Although he was probably the greatest football player in America in his senior season, he practiced every day like he was trying to make the team."
Russell Charles, who coached Tech running backs during the Ivery era, said, "He was the only football player I ever saw who could do it all. He could run around you or over you. He could make the best tacklers in our conference miss. He could fake you out of your drawers."
Ivery is a member of the Georgia Tech Athletics Hall of Fame and the all-time Tech football team during the Carson-Fulcher-Rodgers era. He was a first-round draft pick of the Green Bay Packers in the National Football League, where he played nine seasons and twice led the team in rushing.
Today, at age 45 and still in playing condition, Ivery is back at the Flats as assistant director of player development. As strength and conditioning coach, he works in the weight room with the swimming team and cheerleaders as well as the football team.
Relaxing in his weight-room office underneath the Wardlaw Building at the south end of Bobby Dodd Stadium, Ivery answered questions about everything from growing up in poverty to his bout with booze.
He was raised in Thomson by his mother and grandmother; his father left home when he was a baby. "The only time I saw him," Ivery says, "was at his funeral. Thank goodness for food stamps. Neither my mother nor my grandmother worked.
"My mother was determined that when I grew up I wouldn't be on welfare. She was a first-grade dropout. Never went back. She used to come in my room in the morning and say, ?Boy, you better get your butt out of bed, get dressed and go to school.' Those words still ring in my ears.
"She had my clothes laid out, firewood in the stove and a hot biscuit on the table. And then she pushed me out the door.
"She and my grandmother were special. I have often looked back and drawn strength from what they endured. It helped me overcome some of my problems."
For Ivery, there were no problems at Thomson High School. With encouragement from his family, he played football, basketball and baseball and ran track. In his senior football season, he gained 1,710 yards, averaging 9.4 yards per carry. He was named to All-State, All-Southern and prep All-America teams.
When football scholarship offers came pouring in, his mother sat him down and told him how blessed he was to have an opportunity to get a college education.
"She reminded me that when she and her brothers were growing up there was no chance for blacks to have an opportunity like this. She told me that whichever college I attended, not to let football be my first priority, that the reason for attending college was to get an education and that she expected me to get one and a college degree."
Ivery had been looking forward to playing college football ever since he was a tot. His uncle, Jimmy Lee Ivery, a halfback for the local black high school, always brought his uniform when he came over to visit. "I used to put on his jersey and dream of the day I would be playing football," Ivery recalls.
Ivery narrowed his choices to Tech and Georgia. He had his heart set on Tech, but Thomson was Bulldog country and its citizens were making visits to the Ivery household night and day. Ivery committed to Georgia.
"When Coach Bestwick came to Thomson to recruit me for Tech, I knew I had made a mistake. I was trying to please the people around town, not myself. I thought about my visit to Tech and how impressed I was with Coach Rodgers and the players I met. I hugged Coach Bestwick and signed a Tech grant-in-aid."
Thirteen years after he finished his Tech playing career, he returned to the campus and earned his degree in Industrial Management. The same determination that made him successful on the football field brought him back to the classroom.
There were those who said the Packers' No. 1 draft pick in 1979 would never make it. No one questioned his heart; they questioned his ability to recover from injury. On the third play of his professional debut, he tore the ligaments in his left knee. His rookie season was finished before it ever got started.
"I accepted it," Ivery says of the injury, "and I was willing to pay any price to rehabilitate it." He underwent surgery, physical therapy, workouts with weights. When the 1980 season started he was ready, mentally and physically.
He not only dislodged Terrell Middleton, who had been a three-year regular, from the starting running back job, but led the team in rushing and was second in pass receiving. He led the team in rushing again in 1981.
Ivery was on a professional high, but it was not the only high he was on. Drugs and alcohol almost did him in.
"I got into the fast lane," he says, "drinking, using and smoking. I wasn't being a father to my two children or a husband to my wife. I was selfish and self-centered. I thought I was the center of the universe and that everything revolved around me."
The fast lane cost him his marriage, which was enough to get him back on track. With the same determination he has exhibited throughout his life, he checked himself in to a long-term recovery center.
"It gave me an opportunity to reflect on how I was living my life. I learned I was only one cell in a vast network of human cells. I made the effort to conquer the self-life."
Ivery played six more seasons with the Packers, going to player meetings and practices during the day and AA meetings at night. Back home in Atlanta, he has been clean and sober for five years. When he is not in the Tech weight room, he is speaking to elementary schools, middle schools and high schools throughout metropolitan Atlanta.
"I share my experiences," he says, "in hopes they will not go down the same path I did."
Eddie Lee Ivery not only had the courage to change but the unselfishness to help his fellow human beings as well.