Special-Team Huddle
Members of the Fourth Quarter Club gather monthly to recall the glories of Tech High football.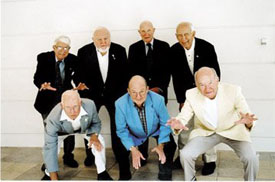 It has been 56 years since Atlanta Tech High had a football team but its spirit lives with the Fourth Quarter Club.
In the '30s and '40s Tech High and its neighbor, Atlanta Boys' High, dominated prep football in Georgia. Tech High's unbeaten '37 team won the mythical national championship and its unbeaten '46 team, with only a tie to mar its record, claimed the Southern crown.
In a reorganization of the Atlanta City School System in 1947, Tech High and Boys' High were merged into Grady High School but nothing could erase the memory of Tech High football and its Fightin' Smithy spirit.
Bill Paschal, Preston West, Bob Greer, Lee Burge and John Williams, all Tech High football greats, met in the fall of 1985 to form a club to preserve the school's memory and honor its last football coach, the late Sidney Scarborough. The club was called the "Fourth Quarter" because all members are in the fourth quarter of their lives.
There are 12 members, all former Tech High football players, and each hosts a luncheon meeting for each month of the year. So, on the second Tuesday of every month you can spot a group of 12, mostly youthful-looking old-timers having lunch at either the Druid Hills Golf Club, Atlanta Athletic Club or Fernbank museum. Charter members include Ray Barnes and Phil Timberlake. Charter members who have died are LaMar Sheats, Wayne Watson, Sam Lyons, Gus Cullins, Tommy Tucker, Coach Scarborough and John Williams. Members who have replaced the deceased are this writer, Ben Rainey, Ray Chaney, Jim Hale, Jimmy Morrison and Dr. Sid E. Williams.
Although having played football at Tech High is the only requirement for membership, Greer, Paschal, West and Williams were named on All-Southern teams and were selected along with Burge, Childrey and Watson on the All-Time Tech High Team, covering a span of 35 years. Few people ever miss a meeting.
There is no agenda at the Fourth Quarter meetings. The guys just sit around and talk, mostly about memories of bygone days: "Who was it who scored the winning touchdown in the 1942 Milk Bowl?" Greer might ask. And someone across the table will yell, "Donnie King!" And then Paschal will recall how the '37 Tech High team took the train to Erie, Pa. and beat the socks off the unbeaten Pennsylvanians. Chaney was the man of the hour in his senior year ('42) at Tech High when he blocked a punt and carried it 15 yards to set up the winning touchdown in a 15-7 victory over Boys' High.
During World War II, he served with the Army's 88th division in Italy where he was wounded and received a Purple Heart. He is a retired union contractor. He and his wife, Betty, live in Peachtree City.
Garland Childrey played football, baseball and basketball at Tech High. He served in the Pacific during World War II. After the war he opened and operated Garland's Dry Cleaners in Buckhead for 27 years. He and his wife, Gerry, live in Grayson. He will be 84 years old this month but does not look a day over 50.
William Lee Burge could put Horatio Alger to shame. He scaled every corporate rung in a 52-year career at Equifax that culminated in his selection as chairman of the board. He was named one of the shapers of Atlanta in 1976 and 20 years later he was continuing to shape Atlanta. He spearheaded the Summerhill project, solving neighborhood economic and housing problems. At Tech High he was named the "most outstanding" student in school.
Burge is another who does not look his age (84). He lives in Buckhead.
In his Tech High senior year of 1946, Greer was named Lineman of The Year by the Atlanta Touchdown Club. He was a starting guard and devastating blocker for the 1947 University of Georgia freshman team, but a knee injury during his sophomore season cut short his Bulldog career. He had an impressive coaching career at Atlanta Southwest High School and then spent 27 years in the construction business pouring sidewalks for the cities of Atlanta, Decatur and Hapeville.
A favorite Fourth Quarter topic is the four passes, including two one-handed catches, Jim Hale made in the 1944 Tech High-Boys' High game. But no discussion of Hale would be complete without his one-hand push shot and one-hand jump shot which revolutionized prep basketball in the state of Georgia. Hale was named the best athlete in the Tech High National Athletic Scholarship Society.
He went to Georgia Tech and graduated in three years. Retired after a 40-year career with the British Oxygen Co., he is now in a second career as a travel agent. He and his wife, Martha, live in Dunwoody.
At age 72, James A. (Jimmy) Morrison is the youngest member of the Fourth Quarter. He was a one-man wrecking crew on the '44 and '45 teams, each of which lost only one of 10 games. He served in the Marine Corps during World War II and spent 40 years as a regional sales manager with Westinghouse. Morrison and his wife, Louise, live in Smyrna.
William A. (Bill) Paschal was the greatest all-round back Tech High ever had, punting, passing and running his team to an unbeaten season. He played professional football for the New York Giants and led the National Football League in rushing two consecutive years. He was named Rookie of The Year in the NFL in 1943. Today his bonus would be more like $2,500,000. When Paschal retired from professional football in 1949, he took over the family sheet metal business and operated it for 40 years. Retired, he and his wife, Carolyn, live in Terrell Mill Estates in Marietta. Eighty-six-year-old Phil Timberlake is a regular luncheon attendee. "I don't know how much longer I will be able to make the meetings," he says, "but as long as the breath of life is in me I am going to try."
Timberlake was the founder and operator of Timberlake Toyota in Decatur before moving to Buford and starting Timberlake Oldsmobile-Buick, which he operated for 40 years.
Ben Rainey was a three-sports star at Tech High. During World War II, he landed on D-Day with the Army's Second Ranger Battalion. Ben and his wife, Marsha, live in Buckhead.
Like other members, Ray Barnes, a four letterman, comes to the Fourth Quarter meeting for the camaraderie, to hear about Paschal's 99-yard run or the way Greer punished those Boys' High guards in 1945. "For me," he says, "a Fourth Quarter luncheon is one of life's blessings."
Although Preston West was a superstar at Tech High, he was a bigger star at Georgia Tech where he was an All-Southeastern Conference tackle. The legendary sportscaster, Ted Husing, called West's performance against unbeaten Notre Dame in 1942 "maybe the best single game performance I have ever seen." West played the entire game in a 13-7 upset victory over the Irish, making 16 tackles on defense and knocking down two and sometimes three opposing defenders on offense. West joined the Navy after the '42 Tech season. He served in the South Pacific in a P.T. boat squadron with President-to-be John F. Kennedy.
Fourth Quarter member Dr. Sid Williams was president of Tech High, cadet colonel of the ROTC and winner of most every other superlative the school had. He played end at Georgia Tech where coach Bobby Dodd called him, "pound for pound the finest football player I ever coached." Williams is founder and he and his wife, Nell, are co-presidents emeritus of Life University.
What makes these men come back month after month for the luncheon? They all feel as I do, that Tech High gave them more than they could ever repay and that as long as they live so will the memory of Tech High.