The Quiet Pain
Business Casual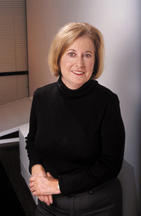 In the foreword to J.B. Fuqua's memoir, Fuqua, Tom Johnson writes that his friend's monumental accomplishments are "all the more amazing because he has battled severe depression for over fifty years. As someone who has also fought this debilitating disease for over twenty years, I know firsthand the quiet pain and life-draining reality of depressive illness."
With that literary equivalent of a shot heard round the world, Johnson, former head of CNN and former publisher and president of the Los Angeles Times, began a sustained effort to combat what he calls "a depression epidemic" and point others to the help that can bring them "up and out of this darkness which permeates so many."
It was another "A-list" heavy-hitter's candor about his depression that spurred Johnson to make his own admission and commit himself to speaking up and speaking out.
"Larry Gellerstedt's decision to go public convinced me of the importance of more of us who suffer in silence [being] open about it," Johnson said in an interview at his house one late-summer morning. "We need to do more to diminish, if not eliminate, the stigma associated with depression."
Gellerstedt revealed in 2000 that he had stepped down as president of American Business Products because of his depression.
"Too many," Johnson says, "do not understand the consequences of this debilitating mental illness that affects job performance and stability and all other behavior. I think depression, much as any other illness, needs to be out in the open. It's very troubling that those who have depression feel that by revealing their illness they cannot be promoted . . . that their jobs would be jeopardized."
His message: "I want other depression sufferers to know that the medication and therapy available today, in most cases, will help them to deal with depression. There is no need for people to continue to take their own lives because they have not been able to resolve their depression."
He mentions the late Vince Foster, who took his life while he was a high-ranking official in the Clinton Administration. "He had reached out for the first time . . . in the days before his death."
Johnson is working closely with the Skyland Trail Health and Education Center in Atlanta and the George West Mental Health Foundation, at the invitation of Dorothy Fuqua, wife of J.B. Fuqua and a long-time supporter and director emerita of the foundation. Johnson and J.B. Fuqua are serving as honorary chairs of the foundation's "Benefits of Laughter" fundraiser Oct. 24 at the Swissotel in Buckhead, at which Art Buchwald, who has also battled depression, will appear.
Johnson has been doing a lot of speaking out – on the "Today Show," in interviews and, last summer, at the annual Bohemian Grove gathering of the super-powers that included, by his estimation, about 80 CEOs. "I don't ever remember having more eye contact during a speech," he says.
The former CNN head is especially driven to enlighten CEOs and top government officials about depression and is troubled that it remains so poorly understood. "There should be no major difference in dealing with depression than any other disease," he says. "People who are depressed can be very effective in the workplace if they deal with depression properly."
Many depression sufferers don't realize they are clinically depressed; others fear repercussions if they make their illness known.
He understands that fear and the isolation it breeds. "I coped with my depression as publisher of the L.A. Times almost alone, without telling anybody [at work] but two assistants."
A friend asked him to go public with his disease when he was in L.A., but he declined, worried about the response from his board of directors. "I thought they would see it as a weakness. I also felt that knowledge could be used as a 'bullet' one of my critics could fire at me."
He understands, too, the difference an informed and compassionate employer can make in an employee's ability to deal with depression. He recalled a meeting with Ted Turner when he was being offered the top CNN job.
"When I met with Ted I said to him, 'I cope with depression.' He said, 'Hell, pal, let me tell you about myself.'"
When he spoke at Bohemian Grove, Johnson told the assembled power-wielders they have a responsibility to help employees who are depressed. "Isn't the most important 'equipment' in the company your own employees?" he asked them. "You have regular inspections of the trucks your company employees drive." Aren't the employees themselves at least as valuable? "If one of them is in an automobile accident, you'd be the first to want them to go to the best emergency physician." It follows that their mental health should be equally important.
Johnson recites without hesitation 10 warning signs that can signal depression:
Prolonged periods of sadness and loss of interest in activities you love
Contemplating suicide
Disengaging from friends and family — isolation
Frequent unexplained bouts of crying
Loss of energy or, as Johnson says, "loss of your spirit"
A sense of being enveloped in darkness
Loss of sex drive
Prolonged irritability or anxiety
Inability to sleep
Loss of appetite or change in eating patterns
"And I always add another one," he says: "Somebody who cares about you saying, 'You're just not your old self.'"
If any of these is present, he says, "Go to see a medical professional." His wife, Edwina, dragged him "kicking and screaming" to a doctor, setting in motion the treatment that helped him confront his depression and, ultimately, helped him find the medication that works for him.
Johnson, 60, who spent 11 years running CNN, says, "I got out before the stress got me again."
Ever candid, he volunteers, "I've asked myself what if people had come to me — if I had not experienced depression — how would I have dealt with it if someone said, 'Mr. Johnson, before I come to work here, I need to tell you I suffer from depression.' I hope I would have applied the same standards I'm now urging others to apply, but I don't know."