Ten Things You Should Do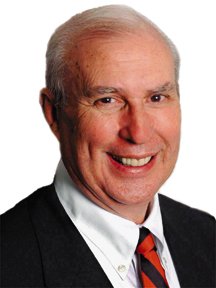 Dr. Tom Caras of Marietta has a saying; "They don't build pockets on coffins" — meaning if you have worked 50 to 60 hours a week most of your career, it's time to take the next few years to enjoy life.
Neal Barfield of Marietta made a list a few years ago. He selected five things he wanted to do in his lifetime. One was to go to a Super Bowl. Another was to attend a World Series. Next was the Masters, then the Rose Bowl. Last, he wanted to go to the Kentucky Derby.
He inspired me to make a list of my own. Several of these entries I can cross off, but some I still need to accomplish. Some of these thoughts come from a national magazine, which printed a similar list a few months ago. My list includes:
Visit the Grand Canyon: When my children, Jimmy and Ben, were young, my wife Kathy and I took them to see this awesome site. It's best viewed from the lodge on the north rim. We witnessed a distant thunderstorm coming toward us at twilight. It was an incredible site.
Stand on the Great Wall: I visited the wall with a group that included Bates and Dell Bailey of Dalton. The Great Wall is indeed great, but you'll find the sights and sounds of China will be the real value of the trip. You will have to learn to eat with chopsticks. You will also learn that bathrooms in China are called "Happy Houses."
Learn to speak French: I learned a phrase from when I was a teenager at Darlington School in Rome, and wanted to use it all my life. I had, however, forgotten what it means. When I traveled to France a few years ago I asked our tour guide what would happen if I asked a lady, "Voulez-vous couchez avec moi?" She replied, "You'll get your face slapped." (It means "Will you sleep with me?")
Take a balloon ride over the Serengeti: My wife was actually scheduled to take this trip. The views of the Masai warrior camps were supposed to be unforgettable. To her regret, the balloon ride was canceled due to high winds. You don't want to risk crashing into a lion's den.
Fly on the Concorde: Someday I want to take a few friends and fly on this beautiful airplane to Paris for the day, visit the Louvre, have a great meal at LaCirt, then return home. The flight is around $7,000 roundtrip, pretty rich for my blood. I decided it would be easier to take friends on a trip to the coast of Georgia, by car.
Visit Upper Egypt: While the Great Pyramids get all the publicity, Luxor and the Valley of the Kings provide the greatest sites. Our friend, Jack Wilson of Marietta, had told us before our trip that the Nile River is the most beautiful he has ever seen, and his description was right on.
Leave a large charitable gift in your will: Our attorney friend Ben White will tell you that the greatest gift in the world is the chance to help someone less fortunate than you. If you have made a little money you can do it during you lifetime, or after you pass to your great reward. After your family is taken care of in your will, share some of the remains with your church or your favorite charity.
Go to the land your ancestors call home: Although I visited Ireland once, we didn't travel to Londonderry. This is where my ancestors were, according to legend, Church of England priests. My late uncle, Dr. Roy Hand, visited this area and said you can find all about your family from the county courthouse, and from visiting church cemeteries. You might find something you don't want to know.
Write a book: With the new technology, publishing has become an inexpensive venture. You can write an autobiography, or just some short stories about some events in your life. Your family will love it, and you might find a new profession after retirement. The late Jimmy Townsend from Jasper wrote a book when he retired called "Mountain Echoes" and to his surprise, it was a big hit. He went on to publish eight more, and wrote a weekly column for newspapers all over the state. Dick Yarbrough, the ex-BellSouth exec, is having a similar experience.
Make a new list: When you have crossed out all of the items, you can always extend your list. For instance, Martha Ezzard, who writes a column for the AJC, and her husband John, planted a vineyard in North Georgia. Dick Bauer of Midway, Ga. retired and built a large wooden model of the USS Constitution. He now has a going concern building ship models for profit.
I hope you will take the time to list 10 things you want to do in your lifetime. In business, it's called strategic planning. In life it's making dreams come true.