A City That Works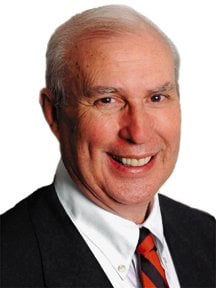 Chicago works because of its mayor. The city preached this message to 90 leaders from the Atlanta region during their recent annual LINK visit. LINK, which stands for "Leadership, Innovation, Networking, and Knowledge," is sponsored by the Atlanta Regional Commission and other regional organizations. There was a lot of networking and leadership on the trip — and some blood on the floor. More on that later.
Each May representatives from 13 counties in the Atlanta metro area visit other regions to meet with their counterparts. The idea is to learn how things are done in other major cities and how community business, government and charitable leaders here in Atlanta can better work together. There was more excitement on this trip than in the past, because new Mayor Shirley Franklin was in attendance.
Regional diversity was evident in the group that included Mayor Randy Mills of Conyers, Catherine Ross of GRTA, Pete McTier of the Robert Woodruff Foundation, Douglas County Commission Chairman Rita Rainwater, Atlanta Homebuilders Association Executive Mark Fitzgerald, Spurgeon Richardson of the Atlanta CVB and Bill Cooper, president of the Cobb Chamber.
Impressions of the previous five LINK cities were mixed. Dallas, for instance, was a city that didn't have a clue. It proved to be a boosterish city that didn't show us anything about how to cope with problems like air quality, traffic or clean water. San Diego was a city that didn't work.
But Chicago showed the LINK participants what Atlanta could hope to be. The city is lead by a strong mayor, Richard Daley. His leadership is omnipresent. There is no trash on the city streets because street cleaners work around the clock. Police are everywhere, so you feel safe. The city at night beats with excitement, with first-class restaurants and jazz nightspots centered on the downtown district.
Mayor Daley took over the city's school system, and his efforts resulted in improving test scores and graduation rates. Chicago and the surrounding 273 municipalities get along because Daley started a Mayor's Caucus that meets regularly to discuss problems.
The city's transportation system is wonderful. Commuter rail connects all the major suburbs, and the bus system is the envy of most all American cities.
How does he do it? Chicago has a weak mayor, strong council structure of government. In every layer of city government the mayor dominates because he engages and promotes an ongoing dialogue with the community's business, nonprofit and governmental leaders.
Daley explained, "When I meet with other leaders in the community we focus on the things that we agree on. If there is a subject we don't agree on, such as the airport, we put that issue aside." He is a strong mayor because he focuses on the positive.
Over three and a half days, LINK participants were treated to a bevy of presentations and panels on how things get done in Chicago.
Former Atlanta resident A. D. Frazier, now head of the Chicago Stock Exchange, presented a blistering speech comparing and contrasting the Atlanta region and Chicagoland. Frazier headed up the Atlanta Olympic Committee under Billy Payne.
Here was the blood on the floor.
While he has strong admiration for Shirley Franklin, he says she has a tough job because the city hasn't had a decent mayor in so long citizens don't know what one looks like.
Other comments: "Many people in the city and region would like to see Atlanta fail. Chicago wants a strong mayor, Atlanta doesn't. Former Mayor Bill Campbell built a chain link fence around the city to shut out the surrounding communities. Atlanta tolerates incompetence. Chicago doesn't. He said Atlanta had the worst police department in America.
"In Chicago a train wreck will be fixed. In Atlanta problems don't get fixed because they get mired in trivia and blame. Chicago's transportation system is designed to link the suburbs with the city. Atlanta's is aimed at keeping them separate. Chicago: service and function. Atlanta: race and politics."
His advice: "Support Mayor Shirley Franklin. She can be a strong mayor. Use more power to start things, instead of trying to stop things. Don't put up with incompetence. Until you get over race, the rest of Atlanta's problems are intractable. Merge Fulton County and the City of Atlanta."
The next afternoon ARC Chairman Crandle Bray, county commission chairman from Clayton County, said A.D. Frazier was "full of crap" and "Atlanta is the envy of other cities in America."
While Bray is correct — Atlanta is not as bad as Frazier makes it out to be — some of what Frazier said rang true to most of the group.
Still, he didn't put a damper on the trip. Most of Frazier's criticisms were aimed at former Mayor Bill Campbell. Today there is a new spirit in Atlanta and the region. New leadership under Mayor Shirley Franklin can prove our city can run as well as Chicago.
Of the six LINK trips I've participated in, this was the best. We learned a great deal about a great city, and we had to fly on Delta all the way to Chicago to find that great city-be: Atlanta.