Georgia Trend Daily – May 12, 2023
May 12, 2023 Georgia Ports Authority
Georgia Ports Authority Executive Director Griff Lynch said GPA's Network Georgia plan to develop rail hubs around the state is gaining momentum, with federal environmental approval for an inland terminal near Gainesville, Ga. "Moving more cargo by rail eases interstate traffic and reduces the carbon footprint of the state's logistics industry by making the most efficient use of the Georgia's logistics infrastructure," said GPA Executive Director Griff Lynch.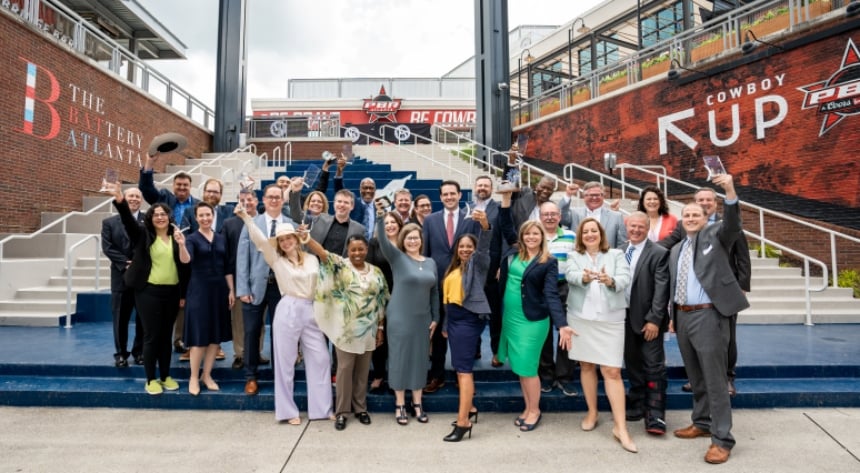 May 12, 2023 Georgia Trend – Exclusive!
Staff reports that small businesses got some welcome recognition in Cobb County this week, as the Cobb Chamber of Commerce named architectural and interior design firm CDH Partners its Small Business of the Year. Founded in 1977, the Vinings-based firm is no stranger to recognition: President and CEO Melissa Cantrell has served on the Georgia State Board of Architects and Interior Designers since 2015.

May 12, 2023 Atlanta Journal-Constitution
Zachary Hansen reports, a potential reckoning in U.S. commercial real estate is looming and Atlanta is unlikely to be spared. Skittish banks already hold a lot of real estate loans, and fears of recession mean many institutions are likely to further tighten their lending standards.

May 12, 2023 Augusta Chronicle
Abraham Kenmore reports that with talk of national default, rising interest rates, high inflation, and a strong labor market, it's not entirely clear what is happening with the economy right now. But if the worst should happen, Augusta may be a little more insulated, even if it does not entirely avoid a hit.

May 12, 2023 Georgia Dept. of Education
Staff reports that the State Board of Education today approved State School Superintendent Richard Woods' recommendation to adopt the new K-12 English Language Arts (ELA) Standards. The 2023-2024 and 2024-2025 school years will be dedicated to teacher training on the new standards, with implementation to follow in future years.

May 12, 2023 Georgia Recorder
Ross Williams reports, members of the Georgia Professional Standards Commission, which oversees educator training rules, voted on a change removing the diversity definition. Commission Chair Brian Sirmans said the changes came at the request of the University System of Georgia and are intended to remove words that "have taken on multiple and unintended meanings" but not change the care teachers show for their students.

May 12, 2023 The Center Square
T.A. DeFeo reports, short-term rentals are a hot-button topic nationally, particularly around high-profile events like the Super Bowl. How states and local jurisdictions handle regulations around rentals varies widely, and Georgia is no exception.

May 12, 2023 The Brunswick News
Taylor Cooper reports that the city of Brunswick has a "staggering" challenge when it comes to affordable housing, the Brunswick Planning and Appeals Commission heard on Wednesday. Russ Marane, a consultant with the city's planning, development and codes department, presented the results of the study of the city's housing situation.

May 12, 2023 Valdosta Daily Times, CNHI News
Asia Ashley reports that the Georgia First Amendment Foundation is making another attempt through the courts to allow public access to records related to the state's medical cannabis commission. In a Feb. 9 order, Fulton County Superior Court Rachel Krause upheld Administrative Law Judge Stephanie Howells' June 2022 decision allowing Georgia Access to Medical Cannabis Commission matters and judicial happenings to be designated confidential.

May 12, 2023 The Current
Mary Landers reports that U.S. Rep. Buddy Carter is selling his nearly 500-acre parcel of land near the proposed site of the now moribund Spaceport Camden, a county government project that Carter once championed. The Georgia Supreme Court in February scratched the county's dream of launching rockets when it upheld the results of a 2022 referendum in which local voters rejected the controversial spaceport.

May 12, 2023 Savannah Morning News
Marisa Mecke reports that Georgia Attorney General Chris Carr joined a coalition of five state attorneys general opposing the National Oceanic and Atmospheric Administration's proposed rule to create stricter boat speed regulations to reduce collisions with the highly endangered North Atlantic right whale.

May 12, 2023 Atlanta Journal-Constitution
Patricia Murphy, Greg Bluestein and Tia Mitchell report, during his ill-fated run for U.S. Senate last year, Herschel Walker repeatedly declined to answer even simple questions about his policy stances, his background and how he would vote if elected. He appears to be taking a similar strategy as a defeated candidate as he faces new questions about his campaign finances.