Where Education and Employment Intersect
Targeted investments in people and programs enhance and expand Georgia's innovative technical college system.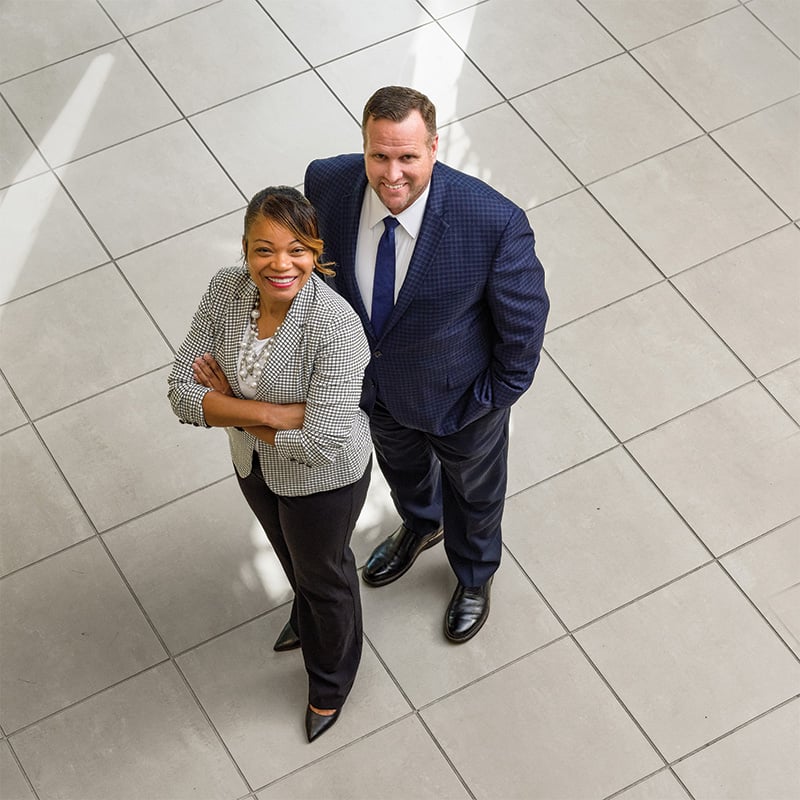 The Technical College System of Georgia (TCSG) inhabits the space where two critically important priorities intersect – education and workforce development. And as economic development investment poured into Georgia, creating as many as 17,500 new jobs in the first half of Fiscal Year 2023 according to the Georgia Department of Economic Development, the state recognized the need to do some investing of its own.
Throughout 2022, TCSG, with legislative and financial backing from Gov. Brian Kemp and the General Assembly, announced a flurry of funding for new initiatives and the enhancement of current programs to transform postsecondary career and technical education and strengthen Georgia's workforce.
These initiatives include expanding the state's successful network of college and career academies, along with investing $1 million in registered apprenticeships and helping adult learners boost their earning potential by providing $1.8 million in HOPE High School Equivalency (HSE) Examination Grants.
Though each initiative targets different postsecondary communities, the goal is the same: to provide pathways and improve access to education that will lead to greater employment opportunities for Georgians.
---
Expanding Equivalancy Access
"We have a very simple but very powerful mission," says TCSG Commissioner Greg Dozier. "It's to create a well-educated, globally competitive workforce for the state and its industries. My vision is that each citizen has the opportunity for economic prosperity. When we look at workforce, we look at changing the financial outcome of an individual, which impacts the family, which impacts the community, and the state as a whole."
Workforce education starts with the individual, and in Georgia just over 1 million working adults (18 and older) lack a high school diploma or high school equivalency. Research from Georgetown University's Center on Education and the Workforce found that those with high school diplomas or equivalents typically earn $400,000 more over their lifetimes than those without diplomas. The HOPE HSE Exam Grant announced in December 2022 expands access for Georgians to pursue high school equivalency.
Cayanna Good, TCSG assistant commissioner for adult education, says the grant – $1.8 million to assist HOPE-qualified adult learners seeking their high school equivalency – removes a significant economic obstacle for students who are often juggling other challenges including transportation, childcare or finding reliable broadband access.
"The grant pays for the entire battery of the assessment needed to earn the credential," she says. "This tackles one of the chief barriers for individuals looking to earn their high school equivalency credential."
Eligible adult learners can receive an award of up to $200 to cover GED exam fees. Students can also access GED prep classes for free at adult education locations across the state. Good says classes are available morning, afternoon and evening, as well as online.
Earning high school equivalency offers even more opportunity for students, thanks to a program called Integrated Education and Training.
"We refer to it as 'training on the go,'" says Good. "Every program in Georgia offering adult education, whether for English language learners or individuals seeking to earn their HSE credential, [enables students to] be involved in their class while also working on industry training [credentials]. We have hundreds of individuals across the state who are now recipients of industry-recognized credentials – welding, phlebotomy, forklift, the list goes on – and we're able to provide that to our students, free of charge."
The HOPE HSE Exam Grant funds have eligibility requirements: Recipients must be a Georgia resident for a consecutive 12 months before applying, a U.S. citizen or eligible non-citizen, not in default on a student loan, registered with Selective Service if their gender was assigned male at birth, and they must have successfully completed a high school equivalency readiness test. And the grant won't last forever.
When the $1.8 million runs out, that's it. "We are getting the word out," Good says. "We have a fairly active social media campaign across all platforms with the exception of TikTok, and we're actively pursuing ads in The Atlanta Journal-Constitution or regional papers. We have also placed ads in movie theaters."
A member of Good's team, Jonathan Sullivan, coordinator for the HOPE HSE Exam Grant, traveled across the state to personally meet with parent groups at schools receiving Title I funding (assisting economically disadvantaged students) and other state agency partners to answer questions about the program.
"We are certainly trying to get the message out that once these funds are exhausted, we're hopeful for another appropriation," says Good. "But we want to get as many people on this pathway as we can, given the limitation with our current funding."
---
Funding Long Term Success
Apprenticeships have long been touted as a unique opportunity to deliver institutional workforce knowledge from one generation to the next. To assist companies in shoring up the workforce of tomorrow, the state announced $1 million in awards for registered apprenticeships as part of the High Demand Career Initiative (HDCI) program. These investments add 120 new apprenticeships across the state in multiple industries including healthcare, advanced manufacturing and construction.
The apprenticeship investment was authorized by SB 379, which received bipartisan support from the General Assembly in 2022 and was signed into law by Governor Kemp. The program awards up to $50,000 to businesses looking to upskill workers through apprenticeships. Students in the program learn skills, earn wages and receive a certificate from TCSG.
"The program works in a tiered system," says Danny Mitchell, HDCI program manager in the Office of Workforce Development at TCSG. "A one-year apprenticeship would receive a $5,000 award; a two-year apprenticeship receives a $7,500 award; and a three-year apprenticeship receives a $10,000 award. The awards are per apprentice. A company can have up to five apprentices. If a company had five apprentices go through a three-year program, they would receive a $50,000 award."
Mitchell says the focus is on bringing a minimally skilled person on board and advancing them to what is called a journeyman-level worker. Aligning the young worker with a mentor is a vital component in the process.
"We want that young person in the program to have a career in the field they're going into, but then to advance to the place where they would be able to bring on the next apprentice and teach them like they were taught," says Mitchell. "We're trying to decrease the talent gap by utilizing the personnel there that understand the processes best and can teach it to the people who will continue on."
Apprenticeships are industry-driven, wherever that industry is located. In the first half of Fiscal Year 2023 (July 1 through December 31, 2022), 92% of the investment involved projects outside the 10-county Metro Atlanta region. Each of Georgia's technical colleges are registered apprenticeship sponsors, which means they can work with a company to create and formally register the apprenticeship program with the U.S. Department of Labor.
"Apprenticeships provide access for the local community to those high-paying jobs," says Brandon Ona, director of business services at TCSG. "Other workforce development programs do also, but apprenticeships provide a defined pathway."
The state-funded apprenticeship initiative will undoubtedly resonate with economic development professionals and location specialists.
"When site-selection consultants come to communities on the workforce front, technical colleges and local workforce development boards are at the table as part of that process," says Ona. "Apprenticeships oftentimes are success stories that are shared. Seeing the state's commitment and investment, and the partners involved, will inherently attract jobs and investment to the state."
---
Creating Local Training Centers
TCSG also approved grants totaling $6 million in bond funds to create two new college and career academies (CCA) – $3 million to each. The new academies will be located in Dooly (Dooly CCA) and Monroe (MPower CCA) counties. College and career academies are unique institutions offering accredited college-level and technical certification programs to high school students. They operate as training centers for local workforce development, convening community partners – the local school system, a technical college or postsecondary institution and business leaders – to serve on the CCA's governing board. With the addition of CCAs in Dooly and Monroe Counties, the total number grows to 57. Central Georgia Technical College (CGTC) will serve as the technical college partner for both Dooly CCA and MPower CCA.
"In the case of Monroe County, they will also partner with Gordon State College, and Crawford County Schools students will be allowed to bus to the CCA," says Ben McCumber, executive director of secondary education initiatives for TCSG. McCumber has firsthand experience with day-to-day CCA operations: He worked for 14 years at the Rockdale Career Academy in Rockdale County, including over three years as CEO and principal, before moving to the TCSG.
Each CCA offers career pathways that align with community needs. Based on existing industries, Monroe County chose to focus on logistics, manufacturing and healthcare pathways. According to McCumber, Dooly County has local canneries and is creating a culinary arts career pathway. Dooly CCA will also include a welding lab and offer cosmetology and barbering.
Local workforce development is the essential mission of CCAs, says McCumber, but so are the exposure and opportunity these institutions provide, especially in rural areas of the state.
"Going to CCAs gives students access to labs at technical colleges and partnerships, internships and apprenticeship opportunities with business and industries," he says. "Students are getting in the doors of companies they wouldn't have gotten near before because of relationships we have built."
---
An Evolving Mission
Technical college programs vary, owing to the workforce needs of the region. Augusta Technical College (ATC) recently announced the launch of the Augusta Advantage initiative, a partnership between ATC and Augusta University. After earning an associate degree at ATC, students in the program receive accelerated admission to Augusta University in one of eight career pathways: business administration, communication, computer science, kinesiology, nursing, political science, psychology and social work.
Ogeechee Technical College (OTC) in Bulloch County (with locations in Evans and Screven County) is the site of one of only 15 Fuji Automatic Numerical Control Authorized Satellite Training sites in the country and the only one in the state. The industrial robotics lab changed the trajectory of OTC, says Lori Durden, president of the college.
"We evolved from providing a limited scope of training in robotics to incorporating robotics into our overall programming, as it relates to Industry 4.0 and manufacturing automation in a larger sense," says Durden. "We are also in the process of creating a robotics certificate of credit, as well as expanding our general robotics training to include an introductory course in manufacturing robotics. We know that automation is coming at a very fast pace, and we must prepare our workforce for the changes that are imminent. In short, we are very busy."
In Fiscal Year 2022, OTC provided more than 102,000 hours in industrial systems/industrial robotics training. Many of those hours were delivered to the employees of industrial partners in the region and those from outside regions as well, like Amazon's Mechatronics and Robotics Apprentices that traveled to OTC from all over the country.
The U.S. Department of Defense is also a customer through a program called Operation Next. It provides training for soldiers – like those from nearby Fort Stewart – who are separating from the U.S. Army. "We provide training in advanced manufacturing for active-duty personnel who are within six months of separating from service," Durden says. "Right now, we are the only one in Georgia."
Interest in popular OTC programs – such as heavy diesel maintenance technicians and diesel engine service technicians, commercial truck driving and all 11 healthcare programs – remains strong. Durden says the college is in the process of launching an Associate of Science in Nursing (ASN) program that would prepare licensed practical nurses to become registered nurses. The college will accept the first cohort of ASN students in January 2024, she says.
---
New Vistas with Visas
Study abroad programs aren't the norm at technical colleges but JoBen Rivera-Thompson, marketing and international outreach coordinator at the Office of Global Initiatives at Central Georgia Technical College (CGTC), wants to change that.
"We're trying to extend the same opportunities that students have at any institution across Georgia, whether they go to a University System of Georgia institution or a smaller institution," says Rivera-Thompson. "We want to give our students global learning opportunities, but also support students coming here from other parts of the world."
The Office of Global Initiatives assists students in finding study-abroad financial resources including fellowships, grants and scholarships for the two active programs it sponsors. The college sponsors a course aligned with Humanities 1101 (General Studies) that visits Donegal, Ireland, and is open to dual enrollment students. In 2021, the college partnered with the Trinity School of Medicine in St. Vincent and the Grenadines to create a health-sciences, technical-focused, service-learning study abroad program. Thirteen students took part in the two-week trip in January 2023. "Students got to learn more about the healthcare system in St. Vincent and, in a limited capacity, got to use some of their skills working as volunteers," Rivera-Thompson says. "That's the kind of thing we want to do. We want them to have study abroad options – the generic experience, which is great and good and has value – but amplify their career goals by being willing to take their skills beyond their community."
TCSG's long-term investments in technical education and workforce development are considerable but necessary – for the state and for individual Georgians. "We have a huge commitment to workforce and economic development in our state because we know that's what makes communities better, when you bring in jobs," says McCumber. "But career-tech programs, and what's offered through TCSG, also offer generational change for families."