Sports Desk: A Tradition of Tales
The locker room is a place for champions and would-be champions. It also is where many humorists and raconteurs abound.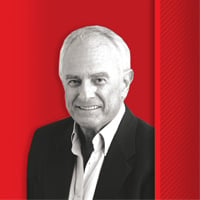 There is a certain wry humor that has been a staple of locker room commentary dating back ages – maybe even to the first Olympic games in 1896.
Even without locker rooms, it would be safe to suggest that some lighthearted banter took place before the competition began, perhaps under an olive tree in Athens (Greece).
And it's a tradition that persists today. Many bards and colorful storytellers have traveled the sports beat, such as Fred Russell, the highly acclaimed sports columnist and editor for the Nashville Banner. He wrote a book, and his publisher arranged book signings across the South.
Several years later, he was in Atlanta for a Southeastern Conference function and was browsing around a bookstore on Peachtree Street when he saw, on a corner shelf, a copy of the book from his signing event years earlier.
Having run out of copies of the book, he decided to purchase the fading copy for sentimental reasons. He asked the proprietor the cost of the book. The proprietor opened the book and saw Fred's autograph and replied, "It is supposed to sell for $5, but some S.O.B. wrote his name in it so you can have it for $2."
Freddie once recalled his first trip to a University of Georgia-Vanderbilt football game in Athens (Georgia). He said he went by the Georgian Hotel to visit with three sportswriter friends who had spent the afternoon with a jug of moonshine. "They were playing an interesting game," he said. "One would leave the room and the other two tried to guess who had left."
Dan Henning, head coach of two National Football League teams (Atlanta and San Diego), also was the head coach at Boston College in the early '90s. He decided to become acquainted with the department heads on campus and began to call on them, letting them know that the football staff was supportive of the academic process.
The head of one department was not overjoyed to meet the new coach and commented, "Mr. Henning, I am a tenured professor who has spent my life in education. I have been a department head for many years. In your first year on campus, you make more money than I do. Why is that?"
Dan replied: "It is very simple. When your students fail, you get rid of them. When mine fail, they get rid of me."
This is a reminder of what took place at UGA's first football game, in Athens on Jan. 30, 1892, when the home team defeated Mercer by the score of 50-0.
Years later, a player on the team told UGA's preeminent historian, John Stegeman, that the score was wrong. The player explained that the scorekeeper missed two scores when he went across the street "to buy some booze." I have always maintained that this was not only UGA's first football game but also the first tailgate party.
The late Furman Bisher, an Atlanta sports columnist and editor who could turn a phrase with the best of his profession, was not that much of a raconteur, but you couldn't wait for his next column. He said that his favorite newspaper lede involved a pitcher with a minor league team in his native North Carolina. The pitcher's name was Arthur Sims Southerland.
The beat writer wrote this lede on a day following Southerland's outing on the mound. "Arthur Sims Southerland pitched his initials off yesterday but lost a heartbreaker, 2-1."
One of the classic stories involving Joe DiMaggio had to do with his honeymoon with Marilyn Monroe, which took place in Tokyo.
While they were there, Bob Hope was visiting U.S. troops in Korea and he invited Marilyn to join the USO tour. Joe didn't want her to go, but she went anyway and was a big hit with both Hope and the troops.
Joe stayed in Tokyo and when she returned, the story goes, Joe asked her about the tour. She smiled and said, "Oh Joe, you have never heard so much cheering in your life."
To which the Yankee Clipper said, "Oh yes I have."
In the late fifties, Casey Stengel, the long-time baseball manager who was a fan of the legendary Ty Cobb always pointed out the merits of Cobb's great hitting ability. One day when he was "soap-boxing" about Cobb's hitting talent to his premier sluggers Mickey Mantle and Roger Maris, Mantle interrupted and asked what Cobb's batting average would be currently.
Casey thought for a minute and said, "About .275. You have to remember Cobb is about 75 years old."
The locker room is a place for champions and would-be champions. It also is where many humorists and raconteurs abound.