South Metro Atlanta: Friendly Competition
Distribution, filmmaking and industrial sites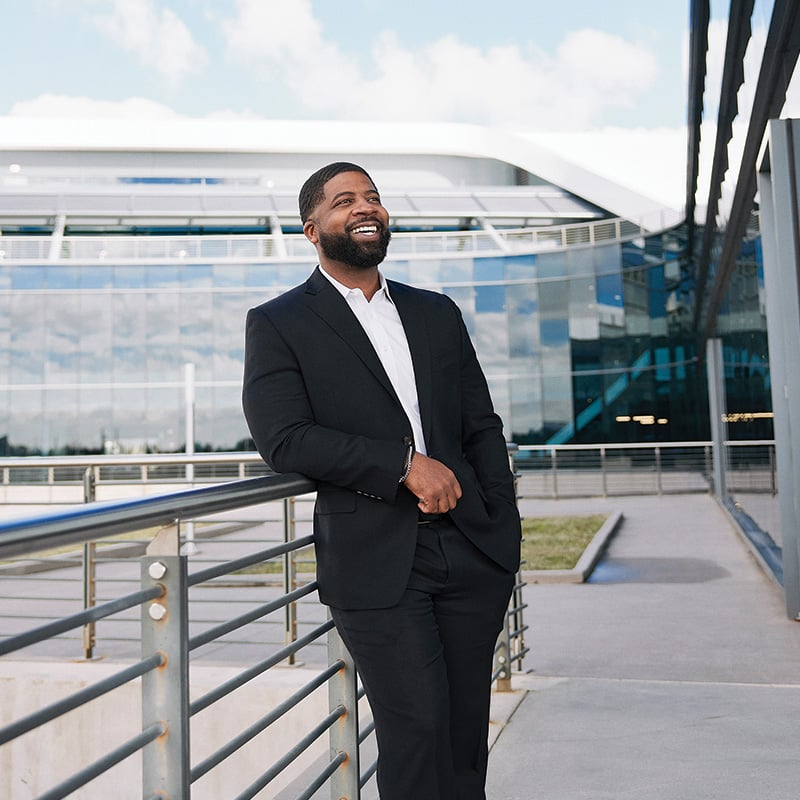 Cooperate or compete? In the South Metro region, that's not a choice the counties have to make, thanks to a spirit of "coopertition."
That's a way to describe cooperative competition, and it's a new way of doing business on the south side of Atlanta, according to Shannon James, president and CEO of the Aerotropolis Atlanta Alliance, a public-private partnership working to improve the regional economic competitiveness of the area around Hartsfield-Jackson Atlanta International Airport.
"I think five years ago, [economic development efforts] felt discombobulated. Everyone was doing their own things and operating in silos," he says, "and today it feels more cohesive and more collaborative, which is more encouraging for the potential of our future."
Thinking regionally allows civic, business and residential stakeholders to capitalize on the region's greatest asset, the airport, James says. Hartsfield-Jackson is a major driver of the state's economy, generating $34.8 billion in economic impact for Metro Atlanta and providing more than 63,000 jobs on-site.
"We're talking, we're communicating, we're finding ways to work together," James says. "Now everyone sees themselves as [part of] a region. I think at the end of the day we have to remember at the center of all of this is Hartsfield-Jackson [Atlanta] International Airport. We're thinking holistically about the growth of the airport and the region; [as] goes the airport, so goes the region."
Fulton County Director of Economic Development Samir Abdullahi has a similar saying: "As Fulton goes, so goes Metro Atlanta and the state of Georgia." Abdullahi leads Select Fulton, an initiative responsible for overseeing business development in Fulton County in coordination with the county's 15 cities and the state.
"What we can offer up as a great opportunity for the state and the cities is we're a one-stop shop. If you come to us, you can have one conversation instead of seven conversations," Abdullahi says. "We're not speaking on behalf of cities, we're just trying to attract companies to the area."
Potential prospects interested in Georgia usually call the Georgia Department of Economic Development first, and if a prospect is interested in the Metro Atlanta area, there's a "good shot" at getting them to land in Fulton County, according to Abdullahi.
"We work very regionally, very collaboratively together and you can see that in things like the Aerotropolis Alliance and the cities we collaborate with," he says.
"We work with companies on things like site selection. East Point is very filled-in versus [the undeveloped land of] Chattahoochee Hills; companies don't know the nuances of East Point or Chattahoochee Hills, and we're able to tell them, 'Here's where we think your company would be a better fit.'"
---
Aspirations to Opportunities
By helping companies find their ideal location, Abdullahi and his team also help determine future growth patterns in the county.
"Our goal is diversifying the type of com-panies that consider South Fulton," he says. "We don't just want distribution facilities." Abdullahi cites Microsoft's 2021 opening of two data centers, one in East Point, the other in Palmetto, as recent "wins" for the county.
"These are great revenue generators for the communities with low service costs," he says. "We have a complete new slate of how to build out where South Fulton is now. We have lots of aspirations, so how do we convert those into real opportunities?"
Converting opportunities into reality is at the heart of the Aerotropolis Atlanta Alliance's Blueprint. The original Blueprint was a first-of-its-kind strategy for leveraging the airport as a major asset to drive economic investment, job growth and quality of life in the airport area that was launched in 2016. By 2022, several transformational projects were underway, including Six West, a more than 311-acre mixed-use development in College Park, and the first phase of an envisioned mixed-use development in Mountain View, an unincorporated area in Clayton County.
"Mountain View is near the International Terminal on 400-plus acres," says the Alliance's James. "We're working with OA Development on Phase I, which includes industrial sites that we're hoping will attract some advanced manufacturing." Victory Landing Logistics Center is a 700,000-square-foot logistics park that sits on 90 acres and will eventually consist of five buildings. According to the company's website, the first two Class A industrial buildings were scheduled to come online in the fourth quarter last year, while a third building is slated to come online during the third quarter of this year. The last two buildings, which are located adjacent to I-285, are listed as "build to suit."
"Blueprint 2.0 is the center of my universe right now," James says. "We're in the final stretch of planning. We've got some really key sites in areas in this region that have been disinvested and we have the opportunity to move the needle for our corporations and our communities. These sites have to be activated; they can't remain dormant."
---
Hollywood Conversion
Site re-activation is also top of mind in Forest Park where Fort Gillem's old headquarters building, which was left abandoned when the base closed in 2011, is being brought back to life. BlueStar Studios is converting the building into the centerpiece of its 53-acre Forest Park campus, which will boast 18 stages for movie production.
"I first mentioned Hollywood is coming to Forest Park three or four years ago," says Mayor Angelyne Butler, "and now, Hollywood is actually here."
According to Butler, in her initial discussions with BlueStar Studios CEO Rich Goldberg, the studio executive said he wanted to invest $75 million in the project at the old Army base, but the mayor suggested "rounding up to an even $100 million." In the end, BlueStar Studios is investing $180 million, Butler says. "The headquarters building is 109,000 square feet and the renderings are absolutely spectacular," she says. "Of all the studios in the U.S. only a small handful have a sign on a water tower. The water tower at Fort Gillem will bear BlueStar's logo, which just adds to the excitement of them being here."
Since Fort Gillem was originally owned by the federal government, the city previously collected no taxes on the property. Not only will Clayton County's first movie studio be an income generator, it is estimated to create hundreds of jobs, depending on the number of productions going on at any given time, be a catalyst for new and existing businesses and provide career pathways in an industry that continues to thrive in Georgia.
"What I'm most impressed with is their commitment to connecting with the local college and university," Butler says. "Their presence will allow residents to be exposed to an industry that they may not have been exposed to before. The behind-the-scenes and technical jobs that go into making a film are also going to be a huge benefit to us. Local businesses will be able to prosper as well." The old headquarters building is the last part of Fort Gillem to be redeveloped. Phase I of BlueStar Studios is expected to be complete by the end of this summer.
---
A Very Good Year
While the airport is at the heart of the Aerotropolis, its economic impact and influence extend far beyond the fence that surrounds it. Other South Metro counties benefitting from their proximity to the world's busiest airport are Coweta, Fayette, Clayton, Henry and Spalding counties.
Henry County had no sooner announced the largest single investment in the county's history, of more than $333 million, in 2022 than that investment was bested by the announcement of a $420 million investment in January 2023, according to Josh Fenn, executive director of the Henry County Development Authority.
"Things have been going very well in Henry County," Fenn says. "We had a record year for investment in Henry County in 2022 – well over $575 million in investment that created just over 1,000 new jobs last year."
In October, Netherlands-based NewCold, a global leader in automated storage and cold chain logistics, announced it will build and operate an advanced, large-scale distribution facility at the Midland Industrial Park in McDonough that will create 170 new jobs. On the heels of the NewCold announcement came news onJan. 3 that Renewal by Andersen, the full-service window replacement division of Andersen Corp., will open its first manufacturing facility in Georgia at The Cubes at Locust Grove.
"Anderson windows is bringing a new advanced manufacturing facility to Henry County, along with 900 new jobs and $420 million in new investment," Fenn says. "Now that's the largest investment in Henry County."
These two economic development wins are proof the county's strategy of lever- aging its supply chain network, as well as that of the region, is working, Fenn says. In addition to attracting manufacturing jobs that need to be close to a supply chain hub, NewCold's new automated facility, which is expected to be operational next year, will bring jobs not just in logistics, but mechatronics and robotics, as well.
"Historically, we've been a supply chain hub and those jobs only pay up to a certain level," he says. "That's why we've been very focused on the manufacturing sector. In manufacturing, there are more engineering jobs, more R and D jobs, that require a higher skill set and higher wages come in with these jobs."
Additional announcements last year included Ryder System Inc. building a new $52 million distribution center in Locust Grove that will create 270 jobs and Bowery Farms investing $40 million in a vertical farm, also in Locust Grove, that will create 100 new jobs, according to Fenn.
"We're building a very diverse portfolio of business and industries," he says. "I feel very strongly we could be the next hub for data centers and the technology industry. We have the infrastructure with fiber and power, we've got land, we've got water, and we're 20 minutes from Hartsfield-Jackson."
Last year was also a good year for economic development news in Coweta County, according to Sarah Jacobs, president of the Coweta County Development Authority. In 2022, 64 new projects that will bring more than 1,000 new jobs and more than $2.5 billion in new investment were announced and will be realized over the next few years, she says.
"Collectively, over 5,000 jobs have been created in the previous three years," Jacobs says.
In November, FREYR Battery, a Norwegian developer of clean, next-generation battery cell production capacity, announced the purchase of a site in Coweta County for its planned Giga America battery plant. The new flagship manufacturing plant will be located at the Bridgeport Industrial Park, and it benefits from state incentives that extend through 2029, when the buildout is expected to be complete.
"FREYR's investment of $2.57 billion, along with 723 new jobs paying 127% of the county's average wage, is exactly the kind of project we want to attract," she says. According to Jacobs, globally, investments in clean energy were $1.1 trillion in 2022. The Coweta County Development Authority captured much of those investments.
"The development authority continues to attract interest in advanced manufacturing and bio and life sciences," she says. "Location of companies in Coweta County on the forefront of technology bring incredible job opportunities for Cowetans."
Jacobs says numerous other industrial facilities located or came online in 2022, including:
• Dollar General's 1.2 million-square-foot distribution center
• Kellogg's 1 million-square-foot distribution center
• Cassioli's 25,000-square-foot North American headquarters (the Italian company produces automated industrial material handling solutions)
• Massanna Construction's 28,000-square-foot headquarters.
---
Green Valley
Over in Spalding County, there's good and bad news when it comes to economic development, says David Luckie, executive director of the Griffin-Spalding Development Authority.
"The good and the bad news is our latest industrial park, The Lakes at Green Valley, is full, so we're in search of more industrial land. The good news is we're full and the bad news is we're full," he says.
In addition to The Lakes at Green Valley, the county's other three industrial parks are also full, a sign that developers recognize the industrial growth that is happening in Spalding County, Luckie says.
"A number of private developers are now purchasing industrial land in Spalding County," he says. "We're partnering with the private developers since we're out of land ourselves. Before there was not a lot of interest from private developers, but now there's a lot of interest and private developers are buying tracts of industrial land. People are finally recognizing the [industrial] growth that's been happening here."
The Lakes at Green Valley isn't your typical industrial park. It's a 570-acre mixed-use development that will include an aquatic center, which is under construction now, as well as retail and commercial space.
"In the aquatic center part of the park we're also in the process of trying to develop a retail/commercial space on 15 acres for companies in the park, [with] services like restaurants, maybe a bank and a dry cleaner," Luckie says. "All of our industrial parks are on the east side of the county. They all sort of line up one after another, so we have a mass of maybe 4,000 jobs in one area of the county and there are not that many retail/commercial establishments over there.
"We're trying to get some restaurants and other services that the people who actually work in those plants can take advantage of."
And, while a mixed-use industrial park may sound like an unconventional idea, Spalding County pioneered the concept back in 1996 when it built a daycare center in its Green Valley industrial park.
"People asked why a daycare center in an industrial park, but it's the perfect place for it," Luckie says. "It opens early and stays open late. They do well."
Next door in Fayette County, the city of Fayetteville is busy expanding its downtown footprint to bring more restaurants, retail and housing options to its residents. According to Downtown Development Director Brian Wismer, the 2021 construction of a new city hall and park on 10 acres of land a couple of blocks from downtown has created a plethora of new development opportunities.
"As we're trying to attract all the fun stuff, all that cool stuff, that we want to have, we have to have a 24/7 presence downtown, so we need that residential base to get the businesses we were actively recruiting," Wismer says. "Things that will create that quality of life that you normally associate with more urban-driven centers."
To that end, the city welcomed multifamily developer Walton Communities to town. Walton Fayetteville is a 270-unit development on 30 acres fronting the city park. The first units began leasing in February, according to Wismer.
"It's a beautiful development," he says. "It's like New York Central Park-style. There's zero setback and the development is right on the edge of the park. The first floor facing the park will be flexible commercial space, and we're working to help secure a tenant mix that's going to complement the vision we are looking for – interesting retail, food and beverage."
Wismer says the city hopes to continue diversifying its housing inventory downtown to one day include small cottages, townhomes and two-story live-work buildings.
"Historically everything has been large-lot residential and there's a demand for something else," he says. "Those [large-lot houses] are still good to have, but it's not all you need to have."
For many years the airport-adjacent counties of South Metro have been a diamond in the rough, but thanks to visionary leaders, strategic planning and pivotal partnerships that diamond is beginning to shine brightly.