Savannah | Chatham County: An Exciting Time
Manufacturing, tourism and education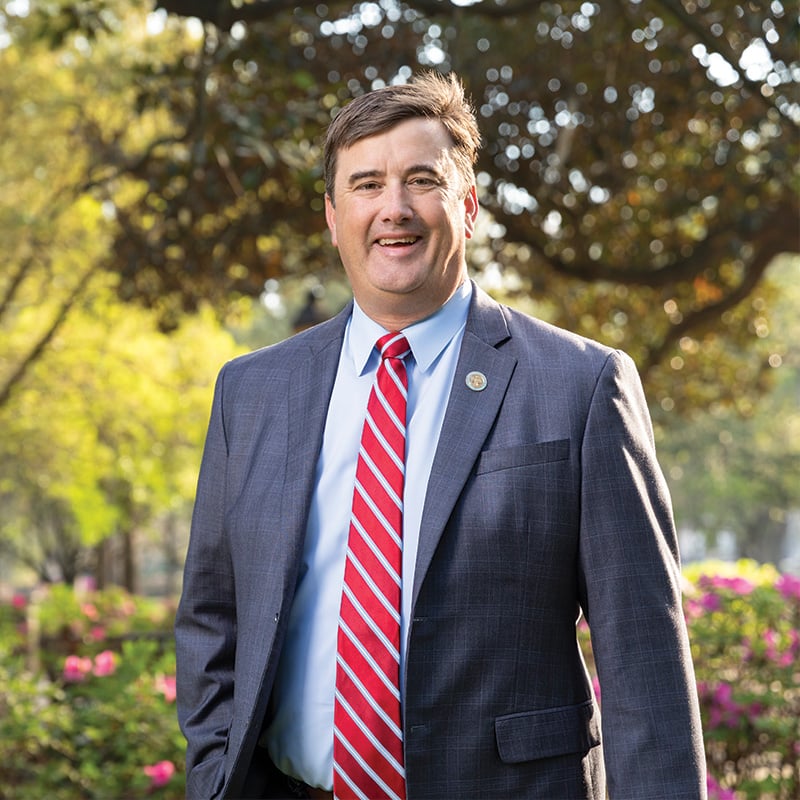 The Port of Savannah stands ready to absorb its share of the massive impact from the $5.5 billion Hyundai electric vehicle plant taking shape in neighboring Bryan County. A policy of advance planning and a dose of experience with the automotive manufacturing industry came in handy.
"We try to retain 20% of our capacity for growth," says Joel Wooten, chair of the Georgia Ports Authority (GPA), the governing body for the ports in Savannah and Brunswick.
In the case of the coming automotive plant, GPA has the advantage of experience. Kia, a corporate sister of Hyundai, opened an automotive plant in West Point, Ga., in 2009, and since then the port has handled a steady stream of inbound parts and raw materials via the Port of Savannah and outgoing shipments through the Port of Brunswick, the state's specialized vehicle Ro/Ro (roll-on, roll-off) facility.
"Based on our experience with Kia, we expect an additional 80,000 to 100,000 containers a year," says Griff Lynch, GPA executive director. With the first vehicle expected to roll off the assembly line at Hyundai in 2025, that business is right around the corner.
Staying ahead of demand in a capital-intensive and competitive environment makes for some high-stakes predictions. "We have very bright executives and staff that try to look into the crystal ball and figure out where we need to be," says Wooten. "Every other year, we do a 10-year capital plan. We are trying to look 20, 25 years down the road and figure out where we need to be. The type of projects that are required for GPA are projects that take can take three, five, seven, eight years, so you have to have a lot of planning. You have to be ready for new opportunities."
Development at Savannah's port has been exponential. Lynch points out that GPA currently has $1.8 billion worth of construction projects underway in various stages of completion; the total for the past 10 years was about $2 billion.
The port's Ocean Terminal – which previously handled a mix of break-bulk (non-containerized) and containerized freight – is being converted to a two-berth facility to handle the largest container ships.
"We've just broken ground in early January and expect to open the first renovated container berth in January 2025 and the second in early to mid-2026. We are going to go from a capacity of 200,000 TEUs to 1.5 million TEUs, if not a little bit more, and able to handle two of the largest vessels on the water simultaneously," Lynch says.
One crucial decision affecting the port is out of GPA hands. The Georgia Department of Transportation will be responsible for solving the problem that the Talmadge Bridge has become. The span across the Savannah River has become a barrier to some of the largest ships – Lynch estimates 20% of vessels on the water cannot clear it – so debate is now underway on whether it should be raised or replaced. Cable replacement – at a cost of $150 million or more – will increase the bridge's clearance.
---
Regional Impact
The Hyundai plant dominates activity at the Savannah Economic Development Authority these days – even though the plant site is near, not in, Savannah's Chatham County. SEDA also serves as headquarters for the Savannah Harbor-Interstate 16 Corridor Joint Development Authority (JDA), made up of the development authorities of Bryan, Bulloch, Chatham and Effingham counties. It was the multicounty group that finally landed Coastal Georgia its long-sought automotive plant.
SEDA President and CEO Hugh "Trip" Tollison described the Hyundai plant as "the fastest-moving project of this size you'll find anywhere" and pointed to the timeline: a January 2022 invitation to bid, a May 2022 announcement of the location decision, the January 2023 delivery by the JDA of three vertical-construction-ready pads out of an eventual 14 or 15 pads, and the start of actual construction early this year, all in pursuit of a production start in early 2025.
"You're going see impacts in all areas. You're going to see an uptick in net migration to the communities, you're going to see people who live here, local folks who want a better job and folks from Ohio who want to be closer to the ocean and have better winters," he predicts.
The JDA has retained a consultant from Alabama, where Hyundai opened a plant in 2005, as a resource on what to expect and is also gathering expert advice on South Korean culture and language resources, Tollison says.
The focus on regional impact and cross-county cooperation continue – but Chatham County economic developers cheered when Seoyon E-Hwa chose a SEDA-operated industrial park, the Savannah Chatham Manufacturing Center, for its plant. The company, which makes door trims, headlining and tailgate trims that will be used by the Hyundai plant, will invest almost $76 million and create 740 new jobs. Already, suppliers have announced plans in all four of the participating JDA counties: two in Bryan County, one in Bulloch County, one in Chatham County and one in Effingham County.
An array of entities cluster under SEDA's umbrella, among them the Savannah Regional Film Commission, charged with shepherding the Savannah area's presence in movie and TV production.
In 2022, the film industry (including feature films, TV productions and major commercial photography shoots) was responsible for about $207 million in direct spending across 102 professional productions. High-profile celebrities included Ralph Fiennes in the black comedy/horror The Menu, which filmed on Tybee Island as well as other islands on the Georgia coast. In addition, Devotion, a fact-based drama about Korean War fighter pilots, made use of filming locations on Tybee, River Street and Savannah Hilton Head International Airport.
Entering Savannah's film world and its bustling economic development is a new face this year. The Savannah Area Chamber of Commerce got its first new president and CEO in 24 years, as Bert Brantley was selected to replace William Hubbard, who retired.
Prior to taking the Savannah position in February, Brantley was deputy chief of staff for Gov. Brian Kemp.
"This is an incredibly exciting time for the Savannah region and it's a critical time in terms of the decisions that are made. I'm incredibly thrilled and really honored to play a small role in that," Brantley says. "I do think with all the excitement and the spotlight that's on the Savannah region, it's really imperative that we're working together and pulling in the same direction."
---
Booming Business
Savannah's tourism industry set new records last year. It may be a trifle early for celebration since the annual commissioned report on tourism dollars in Savannah won't be in until April or May, but hotel/motel occupancy rates are a solid indicator that business is once again booming.
Year-over-year statistics haven't been that much use in the tourism industry lately, since COVID pushed the industry off a cliff in 2020 and 2021. However, it looks like Savannah tourism not only bested the pandemic-impacted 2021 but surpassed the previous record year of 2019.
Hotel occupancy in Savannah was 71% last year, beating 69% in the banner year of 2019 and easily eclipsing 2021's 65%, according to Joseph Marinelli, president of Visit Savannah. And while others are bouncing back too, he says, Savannah is bouncing higher.
"Whether you look at the 2021 comparison or the 2019 comparison, Savannah outperformed all of the cities that we compete with directly," he says, citing culture/ history-rich destinations Atlanta, Charleston, Nashville and Asheville.
"In 2022, hotel/motel revenues saw a 22.5% increase over 2021. That is significant. It indicates two things – the number of visitors is strong and rates they were paying at area hotels were higher than ever before. The year started with some concern [over the Omicron variant of COVID-19] and finished as our strongest year ever," says Marinelli.
The average daily hotel rate was $149 countywide in 2022 and $228 in the downtown Historic District. The occupancy momentum will grow with the anticipated opening in January 2024 of the Savannah Convention Center expansion, which will roughly double the facility's size and increase the conventions it can handle.
"I think the shining star success story of 2022 is the new Enmarket Arena, which opened in February 2022. It seats 10,000 people and last year we had an incredible array of live music performances from rock to opera to country –Alan Jackson, Andrea Botticelli, big-name concerts that in past years people would have had to travel to Charleston or Atlanta or Jacksonville to see," Marinelli says.
Savannah Mayor Van R. Johnson II agrees about the city-owned arena. "The arena has been a juggernaut – 325,000 tickets sold over year one [Feb.-Dec. 2022], 100-plus events and 13 sold-out shows, plus the inaugural season of Savannah Ghost Pirates Hockey. We have Janet Jackson coming in April, Barry Manilow here in February," says Johnson.
---
Career-aligned Degrees
The campus of Savannah College of Art and Design (SCAD) sprawls across the city's Historic District and beyond, ranging from iconic restored buildings to modern apartment-style dorms. Now, one of those iconic buildings – former home of the now-defunct Savannah Law School – has a new name, the Deloitte Foundry.
Deloitte, the international accounting and consulting firm, became interested in SCAD during a routine recruitment fair with its students in 2019, and since then has built a relationship with the private art school with multiple hires of its graduates and utilization of SCAD-pro's services, according to Gretchen Brainard, principal, government and public services for Deloitte Digital.
The Deloitte Foundry houses SCADpro, a student/faculty research and design consultancy firm which performs contract work for industry. The group has produced work ranging from toys (a ride-in motorized fairy-tale carriage) to visual branding (the Atlanta Police Department's new patrol vehicles). The rechristened building also houses other services, including high-tech, hands-on studio facilities for SCAD students and alumni to practice for job interviews.
The same services are available on SCAD's Atlanta campus. The college has about 12,000 students in Savannah and 3,500 in Atlanta, with about 1,000 online-only students.
For Georgia's public colleges and universities, reversing enrollment declines is a major issue since funding is linked to enrollment. State-wide, enrollments declined slightly for the second year in a row this academic year, but there were more extreme drops for both Savannah-based institutions. The Savannah campus of Georgia Southern University shed 500 students between fall semester of 2021 and 2022, leaving an enrollment of 4,621, a 10% decline. (Georgia Southern, over its three campuses, saw a 5.9% drop in enrollment to 25,506.) Savannah State University enrollment declined by 12.8%, for a total at the beginning of this academic year of 2,962 students.
Declining birth rates loom large in decreased enrollments, Savannah State University President Kimberly Ballard-Washington pointed out, but the university is attempting to combat them by offering degrees aligned with career-oriented interests. Among those efforts is a proposal to bring elementary education back to Savannah State – a proposal that will require approval from the University System of Georgia.
"As an HBCU, we recognize that most of our students are not coming from generationally wealthy families and it's their motive to change the trajectory of their family by coming here," she says.
Meanwhile, Ballard-Washing- ton says she deactivated four majors earlier this calendar year– English, history, Africana and environmental studies. The latter is being combined with another degree.
Explaining the deactivation of the Africana studies major, she says, "It is a thriving program but it is not a thriving degree program. It takes 18 credit hours in order to get a degree. We'll continue the classes; we just won't be offering that as a major." She says the same goes for history and English, which are part of the core curriculum.
Savannah's economy is so diverse – higher education, tourism, manufacturing, logistics, the military with Hunter Army Airfield – that it can be hard to get a handle on the overall economic landscape. But game creator Hasbro is willing to try: The manufacturer of the venerable board game Monopoly announced in February that it will produce a Savannah edition, which should be in stores by fall.
---
Local Flavor
Flowering Facility
April Visitors to the Coastal Georgia Botanical Gardens can step inside a living Monet painting – a veritable "river of iris." And the flower bed those rivers flow around is sort of a life raft for the variety that grows wild in a handful of Southeastern states. In those beds, garden volunteer Stan Gray nurtures rescued Louisiana iris that were in danger of being destroyed by habitat loss.
"They grow in the wild and historically there were a lot more. They thrive in freshwater wetlands," says Gray, an iris expert. "Examples and populations have basically been destroyed. … Now, collectors have gone out and saved remnants of the last stuff that is out there."
As one of six national stewards of the Louisiana iris, Gray's mission is to preserve the species for future generations. "The objective is to get these species back to safe locations within their historical territories," he says. "There may be only three or four clumps left anywhere and I may have one of those clumps."
Gray, who volunteers his services at the gardens, graduated from West Point to launch a 22-year Army career. He attempted to bring his family's collection of bearded irises from New Jersey to the area when he retired. Most of those irises didn't survive the humidity, but Gray then got involved with iris varieties like the Louisiana, better suited to the coastal Georgia climate.
Tim Davis, Ph.D., directs the facility, part of the University of Georgia Extension Service. The gardens serve multiple roles: outdoor classrooms, training grounds for the Master Gardener Extension Volunteer program, a tourist attraction with year-round bloom cycles, a gathering place for flower shows and events staged by aficionados of everything from day lilies to orchids and host to a popular holiday light display.
"We have probably the largest collection of varieties and species of camellia – maybe 850 – in North America.
There are places that have more camellias, but we have more species," Davis says. Locals still call the gardens "the old bamboo farm," harkening back to its days as a farm that tried growing a stand of Japanese timber bamboo. The bamboo is still there, among multiple other specialized gardens, and Davis says the staff gets more questions about how to eradicate or control bamboo than they do about growing it.
The Coastal Georgia Botanical Gardens at 2 Canebrake Road in Chatham County are open daily except Mondays and major holidays. Admission is $5 for adults and $3 for youth over 5.