Georgia Trend Daily – March 2, 2023
March 2, 2023 GPB
Benjamin Payne reports that trade has slowed down in recent months. But the drop-off doesn't bother Georgia Ports Authority executive director Griff Lynch. "The best time to build out facilities in a containerized or terminal operation environment is probably when it is a little bit slower," Lynch said.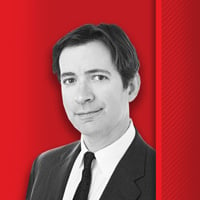 March 2, 2023 Georgia Trend – Exclusive!
Ben Young writes, it's exciting to read about the transformative projects taking place throughout Georgia in this month's issue. The BeltLine section on page 90 was particularly interesting because of the impact it's had on Atlanta and the potential to replicate it in other Georgia communities with similar rail-trail potential.

March 2, 2023 Atlanta Journal-Constitution
Michael E. Kanell reports that the Federal Reserve's determination to cut inflation can only end later this year with job losses and an economic slowdown, if not a full-fledged recession, according to the Economic Forecasting Center at Georgia State University. But the pain will not be spread evenly, said Rajeev Dhawan, the center's director.

March 2, 2023 Macon Telegraph
Gautama Mehta reports that an unusually strong bipartisan show of support in Georgia's House of Representatives has given environmental advocates hope that a bill to block future mining near the Okefenokee Swamp could pass, if given a floor vote. The bill does not affect permits for a controversial proposed titanium mine currently under consideration by the Environmental Protection Division.

March 2, 2023 The Current
Mary Landers reports that Chatham County is on its way to adding the 400-plus acre Green Island to its portfolio of county parks. State Rep. Jesse Petrea (R-Savannah) last week announced the award of a $3 million grant from the Georgia Outdoor Stewardship Act program to aid the county in purchasing the island, currently owned by Savannah's Lewis family.

March 2, 2023 Fresh Take Georgia
Madgie Robinson reports that Senate Bill 62 contains several initiatives related to the homeless. One of them would authorize government-sanctioned camps for homeless people statewide. The bill recently cleared a key legislative committee on a 4-3 vote but its sponsor, state Sen. Carden Summers, said in a Rules Committee hearing this week that he would remove the provision on homeless camps before it came up for a vote on the Senate floor.

March 2, 2023 Marietta Daily Journal
Chart Riggall reports, after a lengthy presentation before the Board of Commissioners on Tuesday night, District Attorney Flynn Broady touched on everything from the rising rate of abuse and domestic violence locally, to his own childhood experience defending his mother from his abusive father with a baseball bat. "But she never called the police," Broady said. "We've got to give people a place to go so they can get the help and get away from their abusers."

March 2, 2023 Rome News-Tribune
Ethan Johnson reports that State Sen. Colton Moore, R-Trenton, and state Rep. Charlice Byrd, R-Woodstock, have introduced legislation aimed at stopping Georgia law enforcement from enforcing federal gun regulations. Byrd is the chief sponsor of House Bill 293, also known as the "Second Amendment Preservation Act."

March 2, 2023 GPB
Stephen Fowler reports that the Georgia Senate Ethics Committee passed a version of an elections omnibus bill Tuesday night that might violate federal law and includes a last-minute ban on absentee drop boxes. A Republican majority on the committee approved a substitute to Senate Bill 221 that was only available to lawmakers and the public for about 10 hours before the vote, including several amendments that, in some cases, were crafted in real time or after lawmakers and legal counsel for the committee questioned the need for certain language included in the substitute.

March 2, 2023 The Center Square
T.A. DeFeo reports that a Georgia Senate committee has advanced legislation to allow high-ranking company executives and government officials to avoid testifying in cases if they have no direct knowledge of the issue being litigated. The Senate Regulated Industries and Utilities Committee signed off on Senate Bill 200, the Civil Practice Act.

March 2, 2023 Georgia Recorder
Ross Williams reports that a watered-down version of a bill opponents called Georgia's version of "Don't Say Gay" legislation appears dead in the water after failing in a crucial Senate committee Wednesday. The first version of the bill would have restricted schools, camp counselors and other authority figures from answering children's questions about gender identity or sexual orientation.

March 2, 2023 Dalton Daily Citizen, CNHI News
Asia Ashley reports that education bills are making their way through the Georgia General Assembly, some viewed as good and others viewed as bad by state education leaders. Lawmakers and educators have all been vocally supportive of fully funding the Georgia's Quality Basic Education (QBE) K-12 student funding formula.

March 2, 2023 Capitol Beat News
Dave Williams reports that legislation elevating the crime of rioting from a misdemeanor to a felony cleared the Republican-controlled Georgia House of Representatives Wednesday. House Bill 505 passed 98-73 along party lines and now moves to the state Senate.

March 2, 2023 Atlanta Journal-Constitution
Greg Bluestein and Zachary Hansen report that the chief executive of electric vehicle startup Rivian took to the State Capitol on Wednesday. A celebratory "Rivian Day" with state leaders was a show of unity that came at a tumultuous time for the company, which said on Tuesday it lost $6.8 billion in 2022 as it struggled with supply chain problems that dogged the vehicle manufacturer last year.