Valdosta | Lowndes County: South Georgia Capital
Transportation, retail and industry recruitment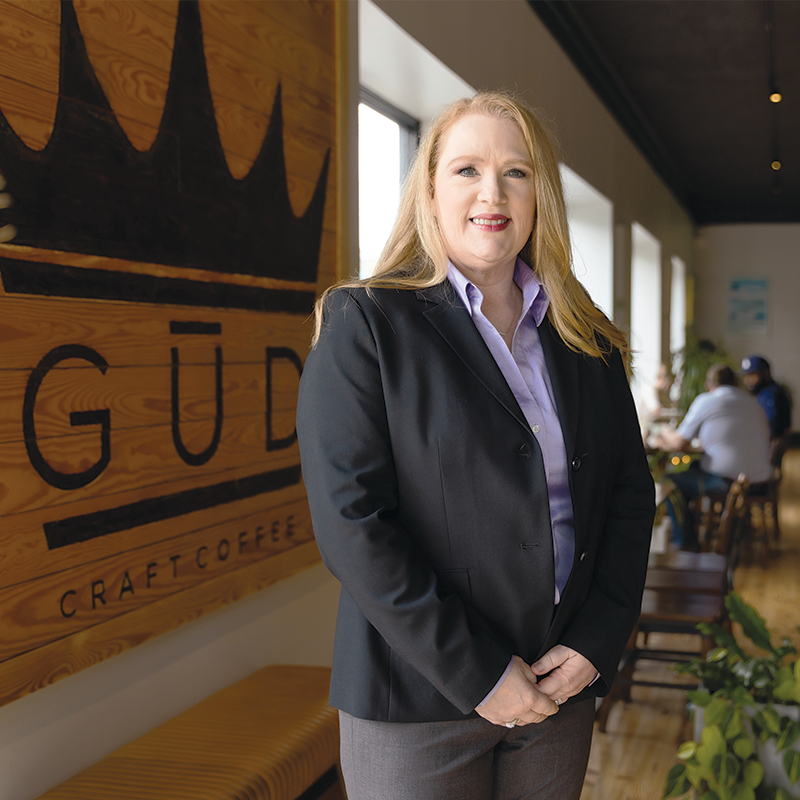 Valdosta has become way more than a stop on I-75.
Valdosta and Lowndes County are on the map more prominently than ever. That's because civic leaders are one-upping the Bipartisan Infrastructure Law requirement for EV charging stations along federal highways. They are putting them not just along I-75 but also in downtown Valdosta through a partnership with Georgia Power.
The first two EV stations were installed in the parking lot of the Lowndes County Judicial and Administration Complex in January. The upshot is that downtown Valdosta shows up on dashboard screens on the interstate, where weekly traffic averages over 250,000 vehicles. That, says Lowndes County Community Development Manager Rachel Thrasher, is exactly the point. "The downtown charging stations let travelers know that Valdosta and Lowndes are more than a stop on I-75. We want people to come into the core. We have a lot going on."
"This is an economic development statement," says County Manager Paige Dukes. "To have Lowndes County show up on car maps in a rural part of Georgia is huge for our economic development." The city charging locations will direct people to what she calls a vibrant destination with shops, entertainment and restaurants, including Downtown Social, Georgia Beer Company, Jessie's Restaurant and Catering, Kremkles Ice Cream and GUD Coffee.
With a timeline for the federally required I-75 charging stations not yet set, county leaders say they will look for strategic places to install EV stations in rural areas. The goal, says Dukes, is to attract people to amenities around the county, such as Valdosta Wake Compound, Fifth Day Farm, Wild Adventures, Woodstack BBQ Tavern and Fairway Tavern.
The EV charging initiative carries a big dose of regional pride. "We're not blind to Florida using us as a gateway to their state," says Thrasher. "But Lowndes County with I-75 is a gateway to Georgia. So, our approach is to position ourselves as an ambassador for Georgia and a welcome center." The Valdosta-Lowndes County Conference Center and Tourism Authority (aka Visit Valdosta) has their backs on that claim. The organization has branded Lowndes County as the Capital of South Georgia.

---
Progressive Southern City
City leaders believe drivers who follow charging station maps into Valdosta will get charged up about one of Georgia's cities of excellence while charging their batteries. "We are a progressive Southern city that has a lot to offer," says former City Manager Mark Barber. "Two stars of the show," adds Mayor Scott James Matheson, "are Georgia Beer Company and GUD Coffee."
Georgia Beer Company has three new reasons to attract tourists and brewery-trail enthusiasts. Co-owners Chris Jones and Jack "J. Ryce" Martin won three medals in the 2022 U.S. Open Beer Championship – a gold in the Blueberry Beer Category, a silver in the American Stout Category and a bronze in the American Amber/Red Category. The brewery, with an on-site taproom and beer garden, is open seven days a week and the beer is distributed statewide.
GUD Coffee is on the ground floor of a building that co-owner Daniel Bayman is developing into a 12-room boutique hotel with event space. The hotel was scheduled to open in February with GUD Coffee doubling as the lobby. "I fell in love with restoring old buildings and bringing life back into our downtown after remodeling an 1886 building for my first business, a fitness studio," says Bayman, who recently chaired the Downtown Development Authority. GUD Coffee has opened a second location in Hahira and a third site was to open in Quitman in February.
The real star, though, says Mayor Matheson, is Unity Park, a new ADA- compliant green space and amphitheater. In what was formerly a blighted area, University of Georgia engineering students undertook the park concept as a revitalization design project. City engineers turned their plans into reality. The park opened in August 2022 and was the setting for the city's Christmas tree lighting. It will host a jazz festival in March and a blues festival in April, which Matheson has dubbed the Bluesberry Festival after the award-winning beer.
As much as Valdosta values preserving its past, the word progressive is often used to describe how the city looks to the future. Two examples are its internationally recognized smart-traffic management system connecting all 128 city traffic lights and an Uber- or Lyft-like Valdosta on Demand transit service, which has wildly exceeded expectations. The traffic signal project was selected from entries from 46 countries as a finalist for the 2021 World Smart Cities Award in the mobility category. "There was Valdosta, a little South Georgia town, on the international stage with Barcelona and Beijing," says Barber. "We didn't win [Barcelona did], but we got tremendous recognition and continue to get accolades today."
Valdosta on Demand is a microtransit service featuring 10 easily spotted yellow and black vans, four of them ADA-compliant. "We get more than 500 rides a day, or about 120,000 rides annually," says Mayor Matheson. "A pleasant surprise," he adds, "is that 57% of rides are to a job." The service is operated by transit innovator Via. "We are the most successful launch of a microtransit system Via has done," adds Barber.
At the center of this activity is a $14 million project to restore the historic 1905 Lowndes County courthouse, make the courthouse grounds friendly for events such as concerts and create the nearby Griner Park greenspace. The restored courthouse will include a regional tourism and welcome center. Trial scenes from the movie Bandit, a drama about a career criminal with a cast that includes Mel Gibson, were filmed in the historic courtroom before restoration began. "We are returning more to that facility and the community than just the building," says Dukes. "We are returning the heart of our community. And it will be open to everyone."
Another major downtown attraction, the Annette Howell Turner Center for the Arts, is creating the Meta Shaw Coleman Children's Imagination Station. "This interactive station will inspire young people through STEAM activities and encourage them to dream big, utilizing Georgia's resources," says Executive Director Sementha Mathews. A spring groundbreaking is planned.
Beginning this year, the arts center will offer two free outdoor music series, its current Music in the Art Park and a new Art Park event courtesy of a three-year $90,000 grant in matching funds from the Mortimer & Mimi Levitt Foundation.
The city is also using $16.1 million in American Rescue Plan Act funds to provide grants to approximately 200 businesses and to revitalize what Mayor Matheson calls the Southside's forgotten Griffin Avenue Corridor. Among the revitalization efforts are building new apartments, expanding a library into a community center and creating a new park.
---
Industry Drivers
Visit Valdosta came up with a creative theme last year to help meet its mission of increasing the economic strength of the county and its cities. "We launched a fun campaign called Valdostahhh to help local residents and visitors find their ahhh moment," says David DiSalvo, Visit Valdosta executive director. The campaign is too new to gauge its impact, but in 2021 "county visitor spending was $389.4 million," he says. "That spending generated $30 million in state and local taxes and sustained 5,124 jobs in the county. Our mission is to expand those numbers." Visit Valdosta is one of three entities aimed at driving people, industry and business to Lowndes, says DiSalvo. The others are the Valdosta-Lowndes County Development Authority and the Valdosta-Lowndes Chamber of Commerce.
"The Valdosta-Lowndes County Development Authority takes a three-legged approach to business activity," says Executive Director Andrea Schruijer. Those legs, she says, are supporting existing business, which she calls "the heart of our mission;" recruiting new industry with partners such as the Georgia Department of Economic Development; and supporting small business entrepreneurship, which the chamber of commerce heads up.
"While 2022 was a banner year, the past four years [2019-2022] were extremely strong for recruitment and growth of existing industry, with more than 48 projects announced, including 11 new ones and 37 expansions," says Schruijer. "This [activity] represents about $824 million in investments and approximately 2,000 new jobs."
Highlights in 2022 include an expansion by Ace Electric and new investment by GAF Materials, one of North America's largest roofing and waterproofing manufacturers, in a $146 million facility that will create 135 new jobs.
In addition, Grupo Bimbo, a leading global baking company, is putting more than $200 million into a second production facility, creating 295 new jobs; Salvus LLC, which serves the food, agriculture, life sciences and specialty chemical industries through innovative detection technology, unveiled a new facility; and Virtual World Technologies, an information technology services provider, moved into a new home in the Hahira Business Park.
To ensure existing and prospective industries have access to a pipeline of trained workers, the development authority sponsors a program called Wired for Workforce. "The program works with career, technical and agricultural education [CTAE] teachers in secondary schools and with Wiregrass Georgia Technical College to identify students who want to get an entry-level industrial certificate," says Schruijer of the workforce production aspect. Lowndes County Schools, for instance, offers a work-based learning (WBL) program that allows selected students to work in local industries for school credit and participate in dual enrollment at Wiregrass.
"The end game is for the county to retain our most talented students," says Jason Van Nus, director of Work-Based Learning & Youth Apprenticeship Programs at Lowndes County Schools. At Wiregrass, the goal is to answer the question prospective industry representatives often ask Schruijer: Where will the workers come from?
"When the authority tells us what a prospective employer needs, we want to make sure we have a program tailored to those needs," says DeAnnia Clements, president of Wiregrass, which opened a new health science building in 2022. "If we don't have a program that trains people in an area that a business or industry needs, we can start one very quickly. Wired for Workforce was designed specifically for this."
Valdosta State University (VSU) is a key partner in preparing students for management jobs.
"As South Georgia's flagship institution of higher education, Valdosta State University knows that a strong and healthy network of talent is necessary to help our region's businesses thrive," says university President Richard Carvajal, Ph.D. "That's why we are so committed to finding fresh ways to meet employer demands while also preparing our graduates for lifelong success."
For example, he says, VSU's new strategic plan calls for more focus on degree programs that are most in demand by today's employers and then expanding internships and other real-world learning opportunities in those programs.
In addition, "our innovative new Online College for Career Advancement helps by providing adult learners a tailored degree-completion option made just for the way they live and learn, so that they, too, can become leaders in their chosen careers," he says.
Lowndes and several cities in the county, Valdosta, Hahira and Lake Park, got a boost from the state Water and Sewer Infrastructure Committee to help manage business and residential growth – Lowndes grew by 9.8% in the last census. The committee awarded the three cities $22 million in grants to ensure safe drinking water and wastewater systems. The county received another $5.2 million in grants. "We are considered a rural county," says County Board of Commissioners Chair Bill Slaughter, pointing out that the census showed that "a majority of Georgia counties had no growth or actually shrank, especially rural counties. The water-sewer grants will allow us to manage some of our growth."
When it comes to small businesses, Christie Moore, president and CEO of the Valdosta-Lowndes chamber, is proud of the SEEDS Center, a program that offers free support to startups or businesses seeking to expand.
Another initiative that excites her is One Valdosta Lowndes, a recently launched forward-looking, public-private partnership that maps future growth. "Whether it's bringing in big companies that employ 400 or assisting small ones with two [workers], our community and leaders support business across the board. I think that is pretty rare," she says. "These companies wouldn't be looking at us if we weren't providing the quality of life they want." They come to Lowndes County, she says, because "we break the mold."
Among the assets available to the Lowndes County Board of Commissioners, the most important are key staff members who were born and raised in the county and are passionate about it, says Chair Bill Slaughter.
Two of them – Rachel Thrasher, community development director, and Meghan Barwick, public information officer, got together on their own last summer for brainstorming sessions to develop a grassroots campaign to spread their love for Lowndes among the county's 119,000 residents. The sessions stemmed from the belief that many residents aren't aware of the variety of activities and assets in the county. Their solution was to ask citizens to become brand ambassadors and use Instagram from places they visit to market things to do in the county to fellow citizens.
Thrasher and Barwick proudly admit they went loco – in a good way – in creating the plan; they called it GoLoCo. In this case, the term stands for LOwndes COunty. The commissioners were crazy about it, too, says Slaughter. "They adopted the plan without a single negative comment."
"GoLoCo allows us to push a message or content posted by citizens, local businesses or even community event planners to a larger and more diverse audience," says Thrasher. Valdosta Wake Compound is an example. "A lot of people don't know that we have the No. 1 training center for wakeboarders in the world right here in our backyard."
Slaughter loves it when people post photos from the wakeboarding compound, walking trails, Wild Adventures theme park, Downtown Social, historic homes and landmarks and other quality-of-life amenities Lowndes County has to offer. "They become stakeholders and don't even realize that is what they are doing," he says. A hidden benefit of GoLoCo is there's no cost to taxpayers. "The only money we have invested in this is $200 crowdsourced for the logo and staff time," says Thrasher.
As a measure of the initiative's success, GoLoCo gained almost 750 followers in a soft launch mostly during the Christmas season. Analytics show that the most active followers are women ages 25-44 seeking things to do with their children, families and friends. Businesses have taken notice, as well, saying they want to use GoLoCo to help brand their events. "That's exactly the kind of interest we want," says County Manager Paige Dukes.
"I got so excited about it," Slaughter says of GoLoCo, "I even got an Instagram account!"