Macon-Bibb County: Building on Success
Tourism, training and workforce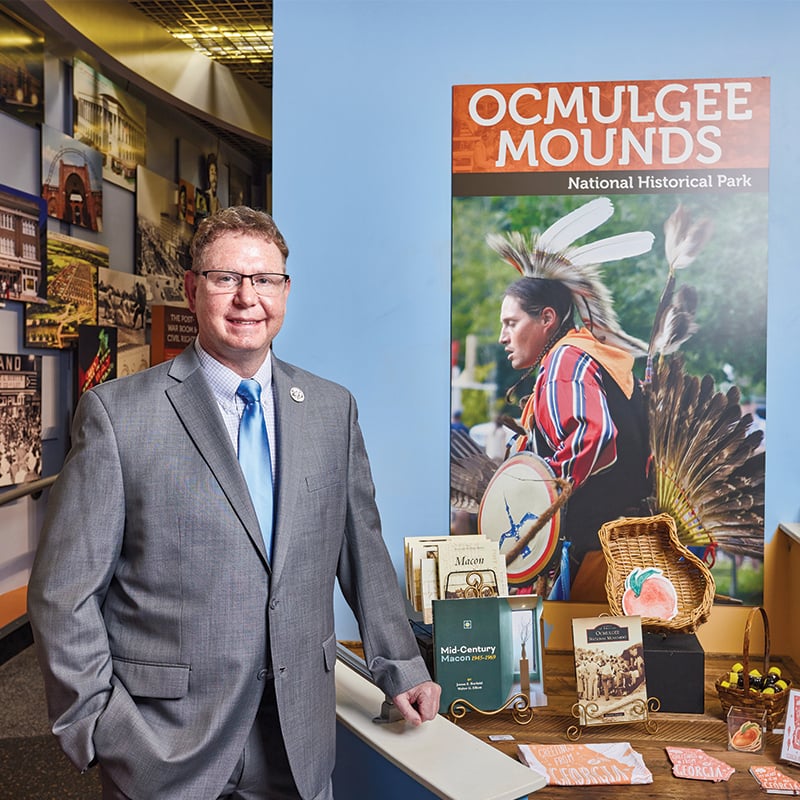 Two hundred years is time enough to create a lot of stories, and Macon and Bibb County are ready to tell them. Celebrating a bicentennial in 2023, Macon-Bibb leaders are working together more than ever to promote the area's strengths and its propensity for attracting new business and industry. With a lot of positive press regarding its desirability as a travel destination, not to mention its commitment to historic preservation, Macon finds itself in the spotlight.
---
Where Soul Lives
Visit Macon has successfully launched new initiatives that are already showing strong tourism numbers, says Gary Wheat, president and CEO of Visit Macon. Helping drive those numbers is recent media attention from some big hitters such as Conde Nast Traveler's "The 23 Best Places to Go in the U.S. in 2023," and travel publisher Frommer's "Best Places to Go in 2023."
"We're really starting to see significant growth [in tourism], and I'm very optimistic about what the spring and our next Cherry Blossom Festival will hold for us as well as our bicentennial," says Wheat, of this year's celebration.
While Macon's incredible music history has long been a draw, Wheat says the recent revival of the live music scene is really taking hold, especially in downtown. Grant's Lounge, for instance, started a weekly Macon Music Revue to showcase local artists. In addition, plans are underway for a singer/songwriter series being organized by former Georgia Music Hall of Fame executive director Lisa Love and the Georgia Music Foundation, says Wheat.
To further its tourism draw, Visit Macon recently revamped the Macon Music Trail, says Wheat. The historic marker trail throughout downtown and across the county offers self-guided tours and audio and video resources for visitors to enjoy. Stops along the way include the renovated Capricorn Sound Studios and Museum, Rose Hill Cemetery and H&H Restaurant, all with strong ties to The Allman Brothers Band.
---
Strength in Numbers
Bibb County closed 2022 with $652 million in private investments, comprising six projects among new and existing industries, says Stephen Adams, executive director, Macon-Bibb County Industrial Authority (MBCIA). The investments created 660 new jobs and helped retain 525.
Among the projects is Agile Cold Storage's fourth warehouse in Georgia. The 275,000-square-foot facility is Phase I of the company's three-year plan to invest over $150 million in Bibb. The multi-temp storage warehouse supports Agile's domestic and export markets.
Also expanding is Nichiha USA, manufacturer of architectural wall panels, which announced its $150 million investment last October. The expansion will add 100 new jobs, from production to management, as well as a second plant and a new warehouse.
Another 100 new jobs will come from a $125 million expansion by YKK AP, maker of vinyl windows and doors, at its Macon facility. The company, employing 900 workers across Georgia, will locate its new state-of-the-art facility at the Macon-Bibb I-75 Industrial Park.
A 2022 fourth-quarter announcement from Coca-Cola brought another $80 million investment to expand Coca-Cola Bottling Co. UNITED's Macon sales and distribution center by 260,000 square feet. The project should begin this year and add 50 jobs, says Adams.
"We take a lot of pride in our existing industries. We make efforts to have gatherings where our existing industry partners can get together with each other, and you'd be amazed at what can come from some of these meetings," says Adams.
For example, a recent partnership between existing industries Irving Tissue and Armstrong Consumer Products benefits both companies and the environment, diverting more than 3,500 tons of fiber waste annually. Irving is now sending its tissue fiber waste for use at Armstrong's mineral fiber plant.
For 2023, Adams says MBCIA will use the momentum from recent successes as well as the recommendations from existing industries to continue to tell Macon's story to new potential industries.
"That's really our best sales pitch: 'Look who has come before you. They did a considerable amount of due diligence in our community and decided that Macon and Bibb County was the best place for them to set up shop,'" says Adams. "We feel like that's a strong success story. Anytime you have existing industry reinvest, it just really validates the direction the community is going in."
In yet another benefit to doing business in Bibb, qualified business property owners can now take advantage of stormwater tax credits, says Lisa Golphin, former senior executive of strategic planning with the Macon Water Authority (MWA). As part of MWA's Stormwater Management Program, the credits are offered to help qualified property owners reduce their stormwater utility bills. At the same time, the efforts will also help reduce the burden on the infrastructure system and associated costs, she says.
---
Busting Blight
Macon Mayor Lester Miller heard concerns of area blight over and over during his campaign for mayor, so he took on that issue as soon as he entered office in 2020, creating the Blight Fight program the following spring. Blighted buildings in neighborhoods were the major concern, and in the past two years, more than 400 blighted structures have been removed from residential areas, he says.
Today, those empty lots have been filled with affordable housing, using money from the American Rescue Plan. With the Knight Foundation matching the $1.6 million in federal funds, $3.2 million is being spent to build new rental units and renovate existing ones in the Beall's Hill community, says Miller.
Another 14 affordable living homes are being built by the Macon Area Habitat for Humanity using $1 million in funding split between Macon-Bibb and matching donor The Peyton Anderson Foundation. Mortgage payments from those 14 homes will go into a revolving fund, providing funding for home construction projects for years to come.
Also on his to-do list is the revitalization of Macon Mall, a 75-acre property in the center of the community, which, like many malls across the country, has become nearly empty and almost blighted, he says.
"We wanted to figure out a new, creative way to revitalize this area that has become kind of depressed over the last 10 or 15 years," says Miller, adding that this was an opportunity to highlight the area's musical heritage by building an amphitheater with capacity for 12,000 on about 15 acres there.
Conveniently located between I-75 and I-16 and boasting some 5,500 parking spaces, the mall will soon be home to the offices of seven city departments, he says.
Taking advantage of a growing sport, the city plans to construct what Miller says is "probably the world's largest indoor pickleball courts" facility on that property. The two-story structure will house 32 indoor pickleball courts, making it big enough to host events and tournaments that will draw tourism dollars.
About 10 miles south of the mall, after several years of planning, the Middle Georgia Regional Airport broke ground in January on a runway extension – from 6,500 feet to 7,100 feet – the capacity needed for larger aircraft to land and depart.
The ability to handle larger aircraft benefits not only the county's maintenance operations at the airport but also Dean Baldwin Painting, "one of the top aircraft-painting companies in the world," says Miller.
"We already have people wanting to have their hangars out there now, so we're going to start increasing that opportunity and looking at having a new terminal there as well as a cargo terminal."
Also potentially huge for Macon: Anticipating Ocmulgee's status as the country's newest national park, the city purchased about 21 acres for $14 million. Currently referred to as "east bank," the former Bibb Mill property has been abandoned for the past 40 years, says Miller.
"The most important aspect about this property is it sits contiguous to what we hope to be Ocmulgee National Park. That could create a new gateway to that park," with opportunities to add housing, restaurants, hotels, retail and medical facilities to the area.
"Right now, we get about 150,000 visitors per year to Ocmulgee. We're expecting that to increase almost to 1.3 million [with the] national park designation. That's going to be huge to Macon and probably one of the biggest things that we've had going on in the last 20 years," says Miller.
---
Molding Future Generations
Now in his 28th year in education, Dan A. Sims, Ph.D., joined the Bibb County School District as superintendent at the start of the current school year after serving as associate superintendent of Atlanta Public Schools.
"The size of this community puts us in a space where we can literally gather up this entire community for the success of our district. … On top of trying to improve literacy and the performance of our students and trying to keep everybody safe in the midst of unique circumstances from a safety standpoint, I know how important it is to ensure that there's a human aspect to everything that we do," says Sims.
Included in that human aspect are his fellow school system employees, such as Lori Ward-Rogers, Ph.D., assistant superintendent of district effectiveness and federal programs. She serves as president of the recently created Bibb County Education Foundation, established to allow the school system to receive charitable donations.
"It allows us to be able to do some things that we're unable to do otherwise. And as the foundation, we're able to apply for certain grants that we can seek out to provide additional funding for our teachers," says Ward-Rogers.
She's also focused on the increasing dual-enrollment numbers that can be attributed to new programs at the W. S. Hutchings College and Career Academy, such as a cybersecurity pathway. Hands-on experience is available in many fields like culinary arts, where students will soon get to experience working in a food truck. Participants in a recently added emergency medical technician program have access to a partial ambulance inside the classroom, allowing them to simulate working with a patient during a stressful situation. A sports medicine program has also been added, says Ward-Rogers.
Cultivating a desire to learn is Sims' aim for the field of education.
"The big idea is that when you get to the time of graduation, we want to empower you to make an executive decision about what you plan to do based on good exposure, rich experiences and the level of encouragement and enlightenment that brings you to that decision," says Sims.
---
Necessary Tools
The Greater Macon Chamber of Commerce is on a mission. Zeroing in on workforce development and talent recruitment and retention, the chamber recently launched greatermaconworks.com, a free digital career navigation and exploration tool that connects local employers, students, career-seekers, educators and other workforce partners to meet the needs of employers and potential employees. It's accessible both online and through a mobile app.
Bearing one of Macon's most recognizable names, Jessica Walden is the chamber's new president and CEO. (Her father, Alan Walden, and uncle, Phil Walden, were music executives in Macon, known for working with artists like Otis Redding, Al Green and The Allman Brothers Band.) She is well positioned for success given her longstanding roles to promote the city and its music heritage. She's working with Lynn Farmer, director of workforce development and talent retention and recruitment for the chamber, on this initiative and others.
"Why is the chamber getting into workforce? For us, it's about our relevancy and value as a convener, and that's why a digital hub like this is so relevant right now. As a chamber, it's our job to bring the partners to one central place so that we're all working together," says Walden.
The website was launched in partnership with Bibb County Schools, says Farmer. In January, over 300 business or organizational partners were actively using it.
"Our partnership with the local higher education community and local K-12 schools is our best opportunity to tailor training to the needs of business and industry partners," says Farmer, noting workforce needs in the areas of advanced manufacturing, healthcare, avionics and others.
The platform also serves as a resource for employers who want to post their jobs. Companies can create their info page at no charge, and students and job seekers in the community can go through the list of organizations to see who is hiring.
Macon was recently named one of the 50 most desirable cities for remote work, so a companion site, maconworks.com, shares resources useful for individuals or industries looking to locate in Macon.
"It's a snapshot of what it's like to live, work and play here," says Farmer.
Also this year, the chamber moved to downtown Macon and now operates in the midst of the community it works diligently to support. The move will allow the chamber to better leverage its resources and build new connections to further its vision to position Macon-Bibb as a great place to do business.
---
Everyone at the Table
What better way to grow and promote a community than to have everyone at the table working together for the same outcome? That's what is happening right now in Macon and Bibb County with education, workforce, economic development and tourism.
"The partnerships have never been better, and [the partners'] successes have allowed us to have our successes," says Adams. "Success is built upon success, and it's a really great time to be in Macon-Bibb County, Georgia."
---
Local Flavor
Southern rock is alive and well in an unassuming residence at 2321 Vineville Avenue in Macon.
While the musicians that comprised The Allman Brothers Band haven't been there for a half-century, their stories live on in the collection of The Big House Museum now located there.
"When the band lived there, it was kind of the communal hub," says Executive Director Richard Brent, of the years 1970 to 1973. "Some of the band members lived other places, but The Big House was headquarters, so rehearsals took place there. It was the gathering spot on Sundays when they were all in town. They'd meet at the house and have dinners together with friends and family.
"When the guys were on the road, it was the wives and the children that were there. They were there more than the guys because the band was on the road for over 300 days out of a year, especially in 1970, so they weren't home a lot."
In 2004, The Big House Foundation formed and purchased the home from the previous owners. Renovations began a couple of years later and the museum opened to the public in 2009. Today, it welcomes about 20,000 visitors a year from around the world.
Brent says many visitors who live within 100 miles come back multiple times a year to tour the house, so the staff often changes things up to give them something new to see. The band's belongings are of most interest and so these are kept on display year-round, while other pieces of a growing collection of memorabilia are displayed on rotation.
"We're always finding stuff and taking stuff in on loan or by donation, whatever the case may be. And in certain cases, we're able to buy some pieces," says Brent. Safely storing the one-of-a-kind items can be tricky. To that end, the foundation recently purchased a couple of properties adjacent to the museum that will be used to archive the growing collection.
Built in 1904, the house requires constant maintenance and upgrades, so donations are always welcomed.
Today, the property also serves as a venue for weddings, corporate events and private parties, providing added income for the museum.
To donate online or to plan a trip to The Big House, visit thebighousemuseum.com.