Agents of Change
Four women who are leaders in their fields share how they influence and inspire.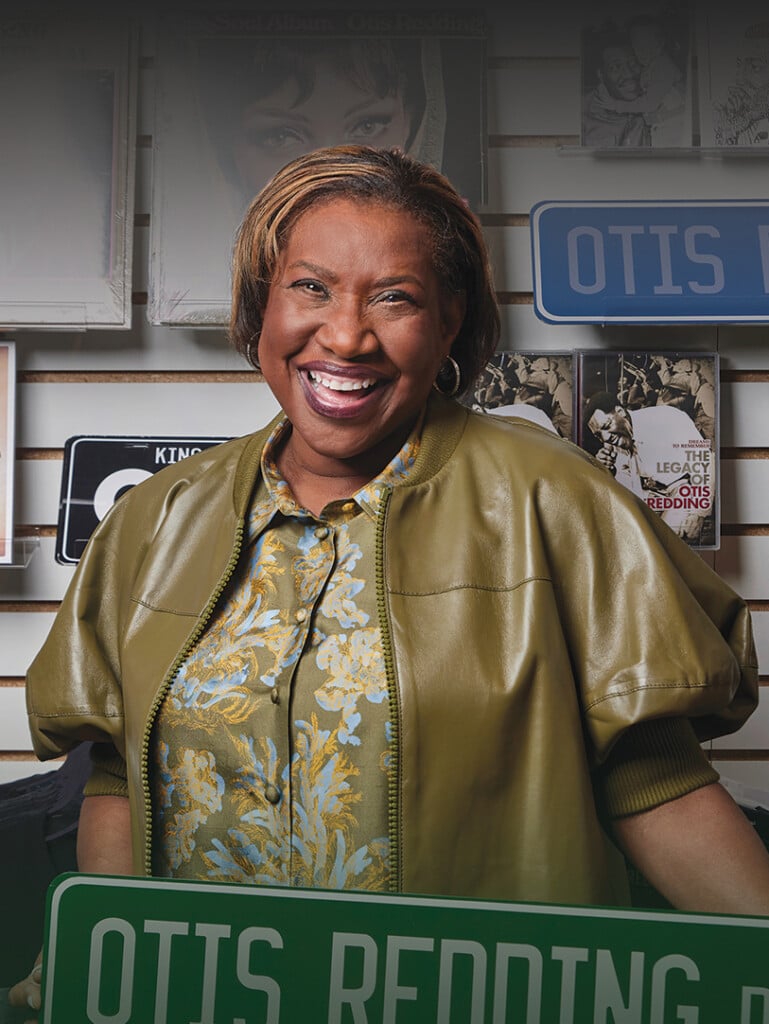 What does it mean to be a leader? For some, it's helping others find their strengths and empowering them to advance in their own careers. For others, it's growing a consensus and making sure everyone's opinions matter. For these four women who are leaders in their fields, it's that and more. They're not just excelling in their day jobs; they're making a difference in their communities, too. From music education and STEM learning to advocating for agriculture, each of these women is encouraging others and investing in the next generation.
---
Seeing Opportunities Everywhere
When you talk with Sally Riker, you'll probably hear words like integrity, honesty and trust. At Atlanta-based Lowe Engineers, where she is a partner, those ideals are key to its positive client relationships. But you'll also hear words like fascinating, fun and curious, and you can tell right away that this is a person who loves her job and helping others.
She once swore she would never go into engineering – her dad is an aerospace engineer, her mom a teacher – and instead she got a journalism degree from the University of Georgia. But after working at an architecture and construction firm right out of college, she surprised herself by falling in love with engineering. She joined Lowe in 2003 and is celebrating 20 years with the company this year.
"I see what we do and what we're able to provide as a way of helping people with their infrastructure and real-world needs to make communities better," she says. "I love that aspect of it. All of our clients help people in some form or fashion, whether it's a new hospital, making a roadway improvement or making their city work better."
Riker has a supportive style of leadership – "empowering people and working on their strengths is something that I love to do" – and she makes sure that everyone has a seat at the table.
"I'm definitely someone who wants the consensus and the buy-in, [who] is open to ideas all the time," she says.
She's also dedicated to encouraging others to go into a STEM-related career, speaking about engineering as a career at countless schools, from elementary to college level.
"We still don't have enough people going into STEM careers," she says. "It's really important that kids start to think in that direction at a very early age."
She's heavily involved with the Urban Land Institute and its Center for Leadership. She also volunteers with the organization's Women's Leadership Initiative, which aims to raise visibility and the number of women leaders in real estate. And she's active with the Society of American Military Engineers and recently joined its foundation board, which focuses on STEM education efforts. When she finds the time, she mentors women to be leaders themselves.
"Especially in what I do, there still aren't a lot of women," she says. "We have to reach back and continue to pull each other up, especially the younger women."  Sally Riker, partner Lowe Engineers
Whether it's mentoring other women, encouraging kids to get engaged in engineering or empowering employees at Lowe, for Riker, there's a connecting thread.
"A lot of the things that I've been able to be a part of, it's for the greater good – whether it's been for the region, for STEM or for women," she says. "It's been one of my favorite things to be able to be a part of so much in the community."
---
If there's one thing to know about Dinah Gretsch, it's that she cares.
That's a big part of what makes musicians seek out the Gretsch Company's guitars and drums, made famous by the likes of George Harrison and Lady Gaga, Phil Collins and Charlie Watts.
Celebrating 140 years in business, Gretsch is one of the few family-run instrument makers left in the music industry. And Dinah, CFO and executive vice president, and her husband Fred, president, make sure to extend that care to artists who play their instruments. They have an open invitation for musicians to stop by and say hello in the Savannah area, and they even send birthday cards to all their artists.
"We take care of our fans and our artists, and they can talk to us and shake our hand and come visit us," she says.
She's been recognized numerous times for her leadership and community outreach, including by the Atlanta chapter of the National Academy of Recording Arts and Sciences and the Women's International Music Network. She was also inducted into the Georgia Music Hall of Fame in 2008.
Since 2010, Dinah has also overseen Mrs. G's Music Foundation, which funds music teachers, supports artist residencies and supplies musical instruments for schools across the Savannah region.
Her primary focus is making sure kids have access to music education. And she does that through so many organizations, it's hard to keep count. Through a partnership with Music Will (formerly Little Kids Rock), the largest nonprofit music program in U.S. public schools, she helps raise funds and gathers donations to supply music programs in some 30 schools in Chatham County. For roughly 25 years, she has served on the Georgia Music Foundation board, which provides grants to schools and nonprofit music programs across the state – in 2022, the foundation gave away around $1 million.
In October, she was named to the board of the NAMM Foundation, a national organization focused on music education. And she provides scholarships to kids to attend drum and guitar camps.
"What I do is just really promote music for young people. It enriches their life. It gives those who never would've had the opportunity, the opportunity." Dinah Gretsch, CFO and executive vice president, The Gretsch Company
She and Fred are also supporting music in a big way with the Fred and Dinah Gretsch School of Music at Georgia Southern University. In 2021, the couple pledged $3 million along with a collection of historic drums, guitars and company archives to support the university's music school.
"I would love to see that music program develop and be like a Berklee College of Music," she says. "I hope in five years we'll really see a big increase in young people that come to college to take music."
Gretsch is a big planner and she's always looking ahead. "It's not about today, it's also about the next five years," she says. "My leadership [style] is showing … the vision of what can be done."
She's also a big idea person – for example, she'd love to create some sort of free instrument bank for children who can't afford their own – and she is always looking for new ways to give music to children.
"For me, it's 'How many kids will this impact?'" she says. But if she learns of even one child who wants a chance to play music, she will make it happen. "If a kid came to me and needed a clarinet," she says, "then yeah, I'll make sure he's going to get a clarinet."
---
Agriculture Advocate
For Cynde Dickey, being CFO of a farm that's celebrating 125 years of existence means doing a little bit of everything.
She's OK with that.
Since she became part of Dickey Farms in Musella – her husband, state Rep. Robert Dickey (R-District 145), is the fourth generation to work the land – she's helped launch a retail store, a thriving mail-order business, farm tours and field trips. And she's become a passionate advocate for agribusiness and agritourism across the state.
The farm is known for its pecans, strawberries and especially its peaches, growing 25 varieties on about 1,000 acres of land. Its 1936 packinghouse is the oldest one operating in Georgia and a landmark in historic downtown Musella, which lies about 30 miles west of Macon in Crawford County.
It's rare these days for a farm to be family-owned, even rarer to keep it that way for more than 100 years. (Dickey's son Lee and his wife Stacy are now the fifth generation involved on the farm.) And while a lot of the technology behind growing the produce and getting it to stores has changed over the past century, "we still do a lot by hand," Dickey says, like pruning the trees and picking the fruit.
Dickey is very active in the community, where she's treasurer of both the Community Foundation of Central Georgia and the Roberta Crawford County Chamber. She also sits on the Georgia Agribusiness Council board and was appointed to the Governor's Tourism Foundation board in 2021.
"I just feel that what is expected of you as a person on this earth is to encourage others to rise up and help others. And I've always enjoyed that. I feel passionate about helping others and encouraging others and just trying to make the world a better place." Cynde Dickey, CFO, Dickey Farms
Dickey is the type of leader who doesn't like the spotlight. She'd rather shine it on those who work around her.
"I like to see others grow in their position and feel good about themselves. I don't need a pat on my back necessarily," she says. "I just want others to do well, and I want the organizations I [support] to do well and be fruitful in what their missions are."
And she recognizes that being a good leader means listening to others and being open to new ideas. "You learn so much from other people. You can read all you want to, but then when you get in a conversation with people, you can learn their perspective," she says. "Whether you agree with it or not, at least it gets you thinking."
She uses those conversations to come up with new ways to support the state's agriculture community, such as featuring Georgia Grown products in the farm's newly expanded retail space or being a part of the Georgia Farm Bureau's Farm Passport program, which encourages agritourism across the state.
Whether it's managing the finances of the farm or working with others to advocate for the agriculture industry in Georgia, Dickey knows that collaboration is key to moving ideas forward.
"It's just amazing what you can do when everybody pulls together and works together."
---
Making Music
Empower, enrich and motivate kids. That is Karla Redding-Andrews' goal as vice president and executive director of the Otis Redding Foundation in Macon.
Each year, the foundation hosts two camps – Camp DREAM for elementary-school-age children and the Otis Music Camp, where kids ages 12 to 18 learn songwriting, music theory, vocal and performance technique, theater and dance, as well as some ins and outs of the music business from industry professionals. Attendees then collaborate to write songs and put on a performance at the end.
More than 40 kids participated in the Otis Music Camp last summer, and Redding-Andrews notes that each year at least half attend on a scholarship. For many campers, it's a life-changing experience, even if they don't grow up to make a career out of it.
"It offers kids that creativity and self-confidence, and they don't know that they're learning math and literacy and history, but they are," says Redding-Andrews, daughter of the late Otis Redding, who was known as the "King of Soul." "You create a well-rounded individual when they're exposed to music and the arts."
Many of the kids come back year after year, then return as adults to teach other campers – like one of this year's coaches, who's now attending medical school.
"He says the camp and being involved with the foundation not only helped shape his commitment to what he's trying to do, but also his commitment to music and the arts," she says.
Otis Redding's legacy lives on through the coaches and their students, who have fallen in love with music and go on to find success in life.
"[Otis Redding] knew the importance of giving back in his community and making a difference.That was instilled in me and my brothers as children, that we should be accountable for what's happening in our community. If we can make a difference, be that difference." Karla Redding-Andrews, vice president and executive director, Otis Redding Foundation
Now, the organization is set to grow and spread its influence even more. After a decade of planning, the foundation will be moving into a new, larger space this year.
The 15,000-square-foot Otis Redding Center will feature classroom, practice and studio space for students to explore their creativity through songwriting, production and performance, along with an outdoor amphitheater that will also serve as a community gathering space in downtown Macon.
Redding-Andrews insists she's not the only one steering this ship. She makes sure to emphasize that it's the coaches and volunteers, the staff, donors and supporters and even the kids who attend camp each summer who really make the organization a success.
"I may be the leader, but really you have to have a dedicated, true, committed team to do everything that we do," she says. "If I didn't have those people who have been with me since 2007, none of this would happen."
Partnering with other organizations and the surrounding community is also key to her leadership style.
"I'm all about partnerships and collaborations and just communicating with others," she says. "The changes that we all make in our community, it only works if we work to help each other."
But ultimately, it all comes back to the kids.
"They come through and they talk about what the foundation has done for them. And that means so much," she says. "If my team can inspire one kid [or] 5,000 kids to be their best and to go off to college or the workplace and do their best, that's what they instill in them. And that's what makes me happy."