Sports Desk: My Ty Cobb Experience
Reflecting on a 1961 interview with the man considered by many to be the greatest baseball player ever.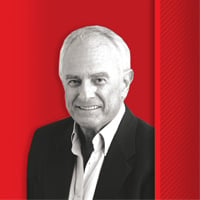 In the spring of 1961, I was pursuing a journalism degree at the University of Georgia and writing about sports for the Athens Banner Herald – too busy to let a little thing like a passing grade in Spanish spoil the good times that accompanied golf, beer with Bulldog icon Dan Magill and enjoying the galaxy of women on campus who were every bit as beautiful as the azaleas and dogwoods that dotted the landscape.
With all that making my day, every day, there still was a work ethic to embrace and enterprise to be exploited. One day, I asked a friend who was the manager of the local Western Union office to send a message to his counterpart in Cornelia, inquiring if he knew where Ty Cobb lived. I had read about Cobb returning home to live near his old hometown of Royston, 37 miles away.
The message came back promptly. "Ty Cobb staying at Propes Apt."
In those laid-back days, long-distance information calls were not accompanied by any surcharges. I was overwhelmed that Cobb had a listed number. I placed a call to him from the Athens Banner Herald. (The newspaper made me pay for the call.) I told him, stammering with apprehension, that I wanted to drive up and interview him.
He replied as pleasantly as possible, "Well, come on up."
A couple of days later, I drove to Cornelia, the hub of Georgia's then- thriving apple industry. Joining me was a photographer friend, Dan Keever.
Cobb, considered by many the greatest player ever to play the game, greeted us warmly. We spent about three hours with him, his patience never waning as I asked him a long list of questions.
I wrote a three-part series from that excursion and then authored a piece that was distributed by the Associated Press with Cobb saying that athletes should get their education before embarking on a professional career, something his father had doggedly advised before Cobb became a budding major leaguer at age 18.
Cobb did not heed his father's advice but later put together a foundation in memory of his parents, Herschel and Amanda Cobb, that has enabled many needy boys and girls in Georgia to obtain an education.
That long-ago day in 1961, Tyrus Raymond Cobb welcomed Dan and me, wearing a flannel shirt, a tie and a polka-dot house coat. I was so anxious talking to this immortal athlete that it did not dawn on me until later that when he excused himself a couple of times, he may have been enjoying a shot of Jack Daniels, his favorite drink.
At no point was he ornery, edgy or ill-tempered. I asked no question that he had not been asked before, but he didn't appear bored or exasperated. He talked about how quail hunting in the off-season kept his legs in shape for baseball over the years; how proud he was of the Ty Cobb Foundation which today has provided more than $16 million dollars in scholarship funds for kids in Georgia, who otherwise might not have been able to earn a college degree; how equally proud he was of the hospital in Royston, which bears his family name and has become a major healthcare system in North Georgia; how the press had told lies about him; how much he was looking forward to building a home near Yonah Mountain for his retirement years. Unfortunately, he would die a few months later before construction started.
A few years ago, while in New York, I searched out an accomplished author named Charles Leerhsen, who lives in Brooklyn. His book, A Terrible Beauty, offers disclaimers about Cobb's unsavory reputation. Leerhsen's research confirms that many of the stories about Cobb being a racist and a miserly character were untrue.
With a fiery temper, Cobb was a beleaguered man (his mother shot and killed his father when she mistook him for an intruder breaking into their home). That plagued him all his life, but it made him a driven man as his major league records confirm:
• Lifetime batting average of .366.
• Most hits, lifetime 4,191 (American League).
• Most steals of home, lifetime 54.
• Most times hitting over .400 in a season, 3 (tied)
• Batted .320 or over for 22 consecutive seasons
• First player elected to the Baseball Hall of Fame (1936).
When I hear anything negative about the Georgia Peach, I tell them about my visit to Cornelia in the spring of 1961. I then suggest to them that they read Charles Leerhsen's book.