Cherokee County: Location of Choice
Manufacturing, retail and entrepreneurialism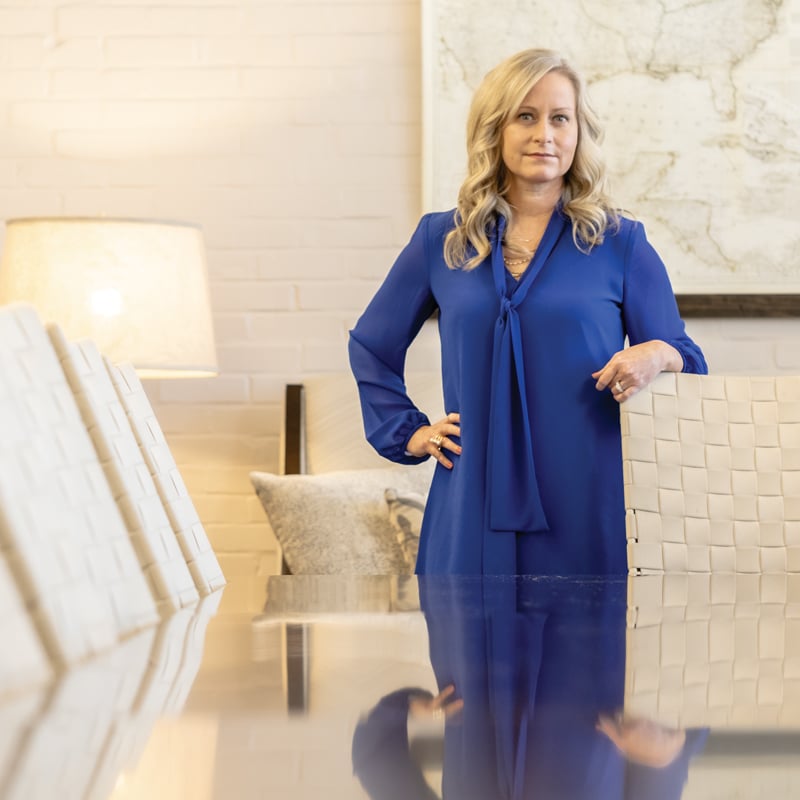 Cherokee is like that commercial – we're not your grandmother's Buick anymore," Cherokee County Office of Economic Development (COED) President Misti Martin declared during the 2022 State of the County presentation last January. Repeatedly recognized as one of the fastest growing counties in the region, and boasting excellent schools and top-notch healthcare, Cherokee County is emerging as a place you don't have to leave for increased retail and restaurant offerings, recreational activities and employment opportunities. It's now easy to live OTP (Outside the Perimeter).
"This has been an incredibly active year," Martin says of 2022. "We had about $140 million in capital investment from new and expanding companies that created almost 1,000 jobs."
COED represents two economic development authorities and one nonprofit public/private partnership, all supporting economic development in the county and its five cities. Target sectors include corporate and regional headquarters, advanced manufacturing, technology, commercial developers, film and digital entertainment and startups.
"We've had two new North American headquarters locations come to Cherokee: Becker Robotics, a German company, [with an] overall capital investment $74,750,000 and 304 jobs, and Gerflor, a Belgian company, is investing $15,162,000 and creating 103 jobs," Martin says. "We've had eight industry expansions and all-time-high prospect activity."
Becker Robotic Equipment specializes in cable management systems for all robotic applications and is a global supplier for many of the world's leading manufacturers in the automotive industry. When it was announced, Johan Broekhuijsen, CEO of Becker Robotic Equipment Corp., noted the company's investment follows its previous success in Georgia and praised the new location as "a mixed-use, campus-style development with beautiful homes and astonishing recreational areas."
Gerflor manufactures commercial and sports floors, wall coverings and accessories. "We visited 36 buildings across multiple states and counties before finding the right one in Cherokee. COED's approachable team and shared values were some of the major reasons why Gerflor chose to do business here. Cherokee's team thinks with a long-term strategy and invests in the future, and that's exactly what we want to do as well," says Dries Devos, managing director of Gerflor Extrusion Inc.
Another key strategy for business development is entrepreneurship and innovation. Just a few years ago, 80% of residents were commuting outside the county for work, and even with the rapid residential growth that's happening, that number declined to 77% as of 2019, Martin says.
"Our local co-work options are also providing opportunities for residents and companies to work in Cherokee," she says. "Five years ago we had no coworking spaces. Now we have The Circuit, Thrive, the Innovation Spot and the Oak House. People want to work where they live and this is all part of being a self-sustaining live, play and work community."
Helping to build the county's ecosystem for entrepreneurs is a business incubation space created and run by Woodstock's Downtown Development Authority (DDA), called Made Mercantile. Located in a 4,000-square-foot historic building on Main Street, Made Mercantile provides makers of retail products access to workspace, a storefront and educational opportunities.
"Everything that's in the retail store is made by one of the retailers in the maker space," says Brian Stockton, executive director of the DDA. "There are 16 companies in the space right now."
Products range from candles and makeup to leather goods and reusable tote bags, among other things, Stockton says. The program has had five graduates; three moved into their own spaces and two decided to go in a different direction.
"We offer very limited retail hours because the main part of this is production," he says. "The entrepreneurs are supposed to be focused on growing their businesses and moving out. Sales are up 150% over last year; they'll do close to $300,000 in retail sales this year [2022]."
---
Checking All the Boxes
The Cherokee County Chamber of Commerce serves businesses with a mission "to promote business and the community while expanding the economy and enhancing the quality of life." Of its 1,086 members, the majority of businesses have 10 or less employees.
"As of mid-November, the Cherokee County Chamber experienced an 88% retention rate for membership in 2022," says Pamela Carnes, president and CEO. "Of course, like any community, Cherokee County has experienced challenges over the past three years. However, our businesses have creatively continued to provide services and market themselves in order to continue to grow and serve their customers."
Carnes says to help accomplish its mission the chamber does a lot of programming on topics that include leadership and professional development. In 2022, the chamber hosted nearly 100 events that were attended by more than 3,900 people, Carnes says.
"Whether it's a conversation with a business person or a family, the focus comes back to the community in Cherokee County," she says. "We pride ourselves on it and we want to share that with others who are looking to grow their successful business or their family. This is the place they should be.
"We check all the boxes: strong education system, variety of healthcare services, the quality of life, the sense of family, beautiful landscape, lower taxes. We check all of the boxes for someone who is evaluating their options."
Carnes says the chamber is also always looking for opportunities to encourage residents to be tourists in their own town. Destination Cherokee is the chamber's tourism and marketing website and showcases area attractions, shopping, dining and recreational opportunities.
"For 2023 we're going to work harder than ever to remind people who are right here at home in our community about what is available to them to experience and enjoy without having to cross the county line," she says.
Along those lines, the Office of Economic Development launched the "Filmed in Cherokee" mobile app in 2021, a behind-the-scenes driving tour of 20 fan-favorite films shot in Cherokee County, including the Oscar-nominated Hidden Figures, starring Hollywood heavyweights Octavia Spencer and Kevin Costner, the Tom Cruise-helmed American Made and the Netflix series Ozark. The app won a "Best in Class" award from the Southern Economic Development Council last summer.
---
Popular Destination
The award-winning app was created by a Woodstock-based digital product design and development firm, Black Airplane, which in a full-circle kind of way launched from The Circuit coworking space in 2017. Today, the company has almost 30 fulltime employees.
"It's a pretty neat example of what a space like that can yield for a community," says Michael Caldwell, Black Airplane's cofounder and managing partner. Caldwell also happens to be mayor of Woodstock and one of Georgia Trend's 2022 40 Under 40. "I represented Woodstock for eight years in [Georgia's House of Representatives] before this. Why wouldn't you want to be mayor of Woodstock? It's the best job in the world."
Thirty years ago, the city's population was 4,500, while today 36,000 residents call Woodstock home, Caldwell notes. All of that growth makes the city the 28th largest city in the state, he says.
"We had 3.2 million visitors in the downtown shopping district last year," Caldwell says. "They come from all over the nation. We are one of the most popular destinations in the Southeast. We have built a place where people want to be. The challenge now is to make sure we're building a place where my kids want to live, work and play."
The key to that, Caldwell says, is making sure Woodstock is walkable, bikeable and commercially diversified. To that end, as part of a public-private partnership, the city has embarked on a project that will bring 50,000 square feet of office space to its center, a 647-space parking deck (where the old Ace Hardware store used to be), a 120-room boutique hotel and several new restaurants and retail shops.
"Our goal is to build the best city in Georgia," he says. "We're not trying to build a place that people pass through, we're building a place that people want to be."
Caldwell expects a groundbreaking for the new parking deck to happen early this year, and he estimates the city center project will take about three years to complete.
---
Dreaming Big
One of Woodstock's sister cities in the county, Canton, opened a new downtown parking deck next to city hall in October. The 102-space deck is one of the city's largest SPLOST-funded projects in recent years and cost approximately $2.5 million, according to Mayor Bill Grant. The top level of the two-level parking deck is partly covered by an 80kw solar array.
"It took one year to the day from groundbreaking to construction to opening," Grant says. "A new parking deck doesn't sound exciting, but ours includes 10 electrical-vehicle charging stations that are powered by a solar canopy that also contributes up to $2,000 a month toward the utility costs of city hall."
The deck is designed to pay for itself, Grant says, and parking and charging are free.
In December 2020, the mayor and council created a 15-year plan to guide Canton's growth that contains eight tenets that each have dozens of goals and projects attached to them, Grant says. The plan is called "Roadmap for Success."
"At a council retreat [in November], we reviewed the roadmap and by the end of this year [2022], we will have accomplished a little over 70% of that 15-year plan," he says. "It's very rare that a group of elected officials can sit around the table and say, 'We didn't dream big enough,' but that's what we did at our retreat."
Canton is also home to Cherokee's newest adaptive reuse project, The Mill on Etowah. The historic 120-year-old Canton Cotton Mill has been transformed into a sustainable mix of uses, including office, recreation, restaurants and retail. Plans for the 250,000-square-foot former denim factory also call for a residential component.
"Another big thing we have is a reservoir in Canton – Lake Canton," Grant says. "The city [recently] purchased the remaining 325 acres around the reservoir. The primary reason we did it is to control and protect the land around the lake for trails and recreational opportunities around the lake."
In recognition of all of the great things happening in the city, last January Canton was awarded one of nine Visionary City Awards presented by the Georgia Municipal Association and Georgia Trend. The Visionary City Award honors cities that have established positive community change through effective civic engagement and collaboration
"I'm very proud of what we're accomplishing," Grant says. "We plan our work and work our plan and that strategy has really been productive for us."
---
New Identity
While Holly Springs Mayor Steve Miller doesn't think his city is growing quite as fast as Woodstock or Canton, it's "growing at a pretty good clip," he says, noting the big news continues to be construction of the city's new Town Center, which will include a new city hall, a grand lawn event space and residences.
"The Town Center gives us an identity," Miller says. "Holly Springs is over 100 years old, and we've never had a downtown."
The Town Center project has been in the works for about 20 years, Miller estimates. Previous mayors and city councils started buying up the land for the project over the last decade or so, Miller says, to control the development.
"We as the city, we own all the property," he says. "We'll sell the property to developers and that money goes back into paying for the new downtown."
The city itself is investing $20 million in infrastructure, a new city hall and a parking deck, Miller says. The parking deck will be the first "vertical" erected this spring and the new downtown is expected to be complete by the end of next year.
"This will really put us on the map," he says. "I get two or three emails a week from businesses asking, 'When is downtown Holly Springs going to open? Is there going to be space for us? We'd like a spot.' And, this is no exaggeration. It's going to be fantastic."
With bold plans, new investments and continuing growth, Cherokee County and its cities are becoming communities of choice where residents can live, play and work without the commute.
---
LOCAL FLAVOR
Coffee with Friends
The Woodstock campus of Chattahoochee Technical College awards certificates, diplomas and associate degrees in more than 50 programs of study for students to become skilled professionals in some of the nation's most in-demand careers.
In addition to the college's traditional offerings, there is a space where young adults with disabilities are learning job skills, like customer service, as well as life skills to build more connected and independent lives.
Located on the site of the historic Woodstock Elementary School, the college operates The Circuit, a student center and coworking space for local entrepreneurs. The Circuit is a collaboration among Chattahoochee Tech, the Cherokee Office of Economic Development and the Woodstock Office of Economic Development. Also located on the site is Circle of Friends, a nonprofit organization founded in 2019 that seeks to enrich the lives of adults with disabilities through social engagement, supportive employment and one day, supportive affordable housing.
"Within The Circuit we operate a coffee shop, in the old gym," says Nick Carberry, vice president of operations for Circle of Friends. "I actually played basketball in there when I was 11 years old.
"We are focused on socialization. How do we integrate our friends who are neurodiverse, those who have disabilities, into the community?" Carberry says. "We want to provide opportunities for those who have intellectual and developmental disabilities."
According to Carberry, 40 to 75 people participate in the group's monthly events, including board game and card nights and a prom-night experience. Two years ago, Circle of Friends partnered with locally owned Alma Coffee to provide employment within the Circuit Café, where eight young adults who are neurodiverse serve a proprietary blend of java called "Flourish."
"Our friends – that's what we call our employees – serve 15 to 25 cups of coffee a day, Monday through Friday," Carberry says. "Our supportive employment takes into consideration the adaptive needs of our friends, whether their mind functions differently than ours or their hands don't work like ours." He says one gentleman uses a wheelchair and communicates mostly through an assistive device. In November, Circle of Friends hosted its inaugural gala, raising nearly $80,000 – money that is earmarked to procure land and build a mixed-use community to support people with intellectual and developmental disabilities. The goal is to build a community that is multi-age, multi-functioning and includes affordable housing tailored to the needs of public servants such as teachers, police officers and firemen, who often cannot afford to live in the communities they serve.
"There are very few of these communities in the nation right now, so there is not a cookie-cutter model for this," Carberry says.