Georgia Trend Daily – Jan. 9, 2023
Jan. 9, 2023 Fox 5 Atlanta
Rob Dirienzo reports that on Monday, the Georgia General Assembly is expected to start a new 40-day session. One of the biggest issues on their plate is money. The state has an extra $6 billion dollars, and some lawmakers want to give some of that back to you.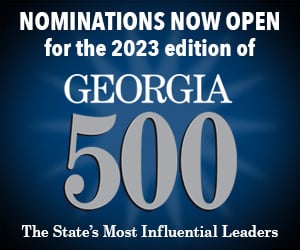 Jan. 9, 2023 Georgia Trend – Exclusive!
Staff reports, it was one of our most-talked about publications last year – the first-ever Georgia 500: The State's Most Influential Leaders. Spotlighting those responsible for economic development and local investment all across the Peach state, the first list showed us just how many leaders are working to make Georgia the great state it is.

Jan. 9, 2023 Atlanta Journal-Constitution
Michael E. Kanell reports that after several years of double-digit increases in home prices, higher costs combined with unease about the economic future has meant months of deceleration and a virtual end to climbing values: In the region's 12-country core, the median sales price of a home sold last month was $370,000, up just 2.8% from the same month of 2021, said John Ryan, chief marketing officer for the Georgia MLS.

Jan. 9, 2023 Macon Telegraph
Becky Purser reports that a $25 million mixed-use development proposed for the heart of downtown that's expected to add 95 luxury lofts and three new storefronts is gaining momentum. "It really hits every piece of what we want to have happen for downtown," said Josh Rogers, NewTown Macon's president and CEO.

Jan. 9, 2023 Columbus Ledger-Enquirer
Mark Rice reports that Ma Rainey, the Columbus native known as the "Mother of the Blues," is among the 2023 Recording Academy Lifetime Achievement Award recipients. She died 84 years ago, when women and people of color weren't given opportunity and credit as today.

Jan. 9, 2023 Savannah Morning News
Nancy Guan reports that the City of Tybee Island is facing a second lawsuit from Tybee Alliance, a coalition of property managers and owners who have accused the local government of overreach in their short-term vacation rental (STVR) regulations. Tybee Alliance, which formed at the height of the STVR debate last year, filed its second complaint against the city on Nov. 28, about two months after their first lawsuit, according to Chatham County Superior Court records.

Jan. 9, 2023 Rome News-Tribune
Adam Carey reports that Rome and Floyd County signaled their interest in the continued expansion of the local trail system this past week by bringing on former TRED director Julie Smith as the transportation and trails planner for the Rome Floyd Planning Department. TRED is a local nonprofit created to boost trails for recreation and economic development.

Jan. 9, 2023 The Center Square
T.A. DeFeo reports that the association of Georgia's community hospitals says it is prepared to fight a push to repeal the state's certificate of need requirement. Last month, Americans for Prosperity-Georgia announced it plans to push state lawmakers to repeal the state's CON mandate, saying the requirement limits access to quality care and drives up prices.

Jan. 9, 2023 Georgia Recorder
Stanley Dunlap reports that a landmark U.S. Supreme Court case could have significant ripple effects on the government's ability to protect the nation's waterways. The court is expected to decide the battle over property rights and environmental regulations in the coming months in a longstanding lawsuit involving the U.S. Environmental Protection Agency fining an Idaho couple for not getting a permit before starting to build a home on protected wetlands.

Jan. 9, 2023 Albany Herald
Alan Mauldin reports, when Georgia lawmakers return to the Gold Dome on Monday for the start of the 2023 legislative session, some of the usual suspects will be on the list of priority issues. And for this year, one of the biggest is crime.


Jan. 9, 2023 Capitol Beat News
Dave Williams reports that the 2023 session of the General Assembly beginning Monday is expected to get off to a slow start. With the Georgia Bulldogs vying for their second straight college football championship on Monday night and Thursday's inauguration of Gov. Brian Kemp for a second term, there won't be a rush to get down to legislative business on the session's front end.

Jan. 9, 2023 Atlanta Journal-Constitution
Mark Niesse reports that the Georgia Capitol might look a bit like the first day of school on Monday, with a bright-eyed freshman class joining more senior lawmakers who have ascended to powerful leadership roles. This year's annual legislative session will begin by swearing in 53 new representatives and senators — more than one-fifth of the total of 236 lawmakers.