From the Publisher: New Industrial Revolution
Federal funding for clean energy sets the stage for a new industrial revolution that aims to clean up the previous one.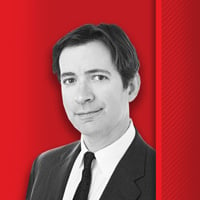 The first issue of the new year contains a feature on the energy sector and how Georgia utility companies are faring with the federal government's transformative investment in advancing clean energy.
It's already a big year for clean energy in Georgia, with the first of two new nuclear reactors at Georgia Power's Plant Vogtle expected to come online this year. Units 3 and 4 will be the first new nuclear facilities to be built in the United States in 30 years. They will produce enough carbon-free energy to power a million homes in Georgia.
The Bipartisan Infrastructure Investment and Jobs Act signed into law last November created $550 billion in new spending through FY 2026. The Inflation Reduction Act (IRA) creates another $369 billion for infrastructure investments to cut carbon emissions by 40% over the next decade. That totals nearly $1 trillion to transform and secure domestic energy. And let's not forget the $1.9 trillion American Rescue Plan, passed to stimulate the economy during the pandemic.
Georgia is arguably at the front of the line to get a piece of the action. Those in the energy field say it's too soon and too difficult to hazard a guess on the implications, but the potential to blow up the state's economy boggles the mind.
Sources on job creation vary. The Biden Administration says the infrastructure act could add as many as 1.5 million jobs a year over the next 10 years. The BlueGreen Alliance, a partnership of labor unions and environmental organizations, estimates that 9 million jobs could be created in a decade as a result of clean energy investments by the IRA.
The infrastructure act created more than $65 billion for clean energy transmission and grid improvements. It includes a $2.5 billion Transmission Facilitation Program for new, replacement or upgraded transmission lines; $3 billion to expand the Smart Grid Investment Grant Program; and billions more to enhance grid resilience and prevent power outages.
The IRA provides production tax credits for nuclear power plants, up to $15 per megawatt hour for the electricity produced by the plants, available for facilities in service in 2024 and lasting through 2032. The infrastructure law also created a $6 billion Civil Nuclear Credit program to help preserve the existing nuclear reactor fleet and the jobs associated with it (including some 8,000 in Georgia).
Other tax incentives for clean energy technology related to advanced reactors include a technology-neutral production tax credit of $25 per megawatt hour for the first 10 years of a plant operation or a 30% investment tax credit on new zero-carbon power plants operating in 2025 or afterwards, both of which include a 10% bonus if built on a brownfield site or in a fossil-fuel energy community. That's one of many equity components to the stimuli.
Reactors can leverage new production tax credits for up to 10 years to generate clean hydrogen, and the funding includes $700 million to develop a domestic supply of uranium, to wean off our dependence on Russia for 20% of our consumption. Southern Company leaders are no doubt sighing with relief that nuclear plays a strong role in the federal strategy.
Further helping our utilities, funds from the Bipartisan Infrastructure Law and the American Rescue Plan more than doubled funding, to $8 billion, for the Low Income Home Energy Assistance Program to help residents reduce home energy costs. The American Rescue Plan provided $21.5 billion to help renters with past-due utility bills and ongoing energy costs, and the Bipartisan Infrastructure Law invested $3.1 billion for the Department of Energy's Weatherization Assistance Program.
To help rural communities develop renewable-energy projects that will reduce energy costs and emissions contributing to climate change, the U.S. Department of Agriculture has created $10 million grants through its Rural Energy Pilot Program. The funds will target historically underinvested or disadvantaged communities.
For public-sector investments, the IRA includes a provision providing non-taxable entities participating in clean-energy incentives with a direct payment option in lieu of tax credits for the next 10 years. For a qualified commercial clean vehicle purchased during this window, for instance, the entity could receive up to 30% in direct-pay tax credit. This promises to expedite the process for cities and counties to switch to clean fleets.
Love the government or hate it, these developments set the stage for a new industrial revolution, which ironically intends to clean up the previous one. Georgia will win big.