Industry Spotlight: Engineering and Construction – Have Investment, Will Build
New federal laws promise funding for much-needed infrastructure projects in Georgia.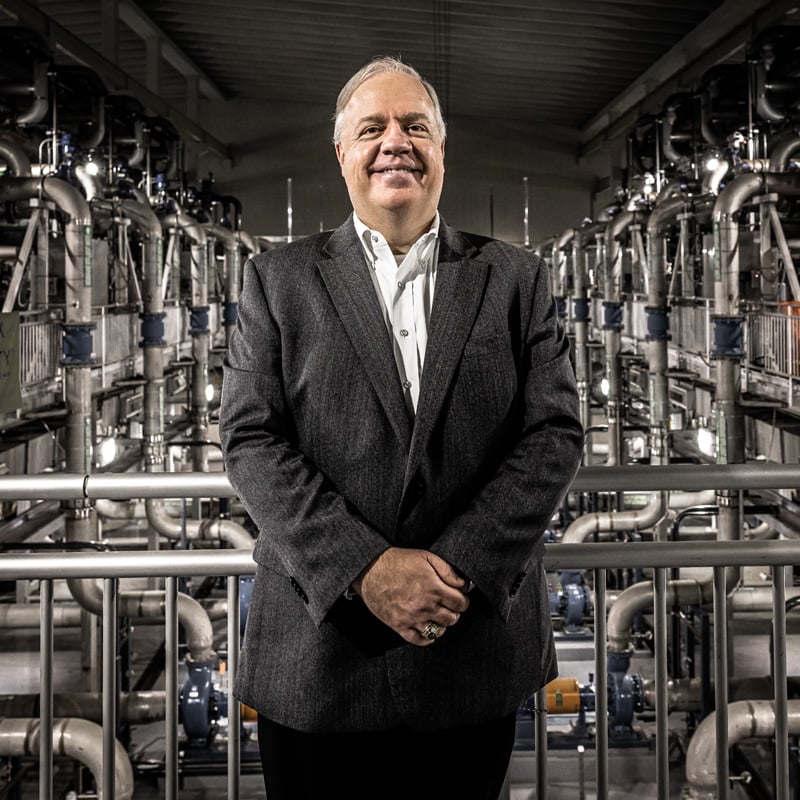 The flood of funds being funneled by new federal laws into green infrastructure projects in Georgia is setting the stage for a better, more sustainable future for the state. It's a prospect that has engineering and construction companies keen to get started, and rural areas, disadvantaged communities and environmentalists hoping to see significant benefits.
The engineering and construction industries in Georgia were already doing well before the Biden administration won passage of the American Rescue Plan Act (ARPA), Infrastructure Investment and Jobs Act (IIJA, also known as the Bipartisan Infrastructure Law) and the Inflation Reduction Act (IRA), which promotes energy security and climate protection among other goals.
"We were tremendously resilient during the pandemic, especially thanks to the governor's executive order allowing projects to continue and firms to continue working. We didn't miss a beat," says Michael "Sully" Sullivan, president and CEO of the American Council of Engineering Companies of Georgia. "Projects did not get shelved, so we didn't see the loss of public-sector revenue and funding sources some states experienced."
He foresees an even more significant opportunity for engineering firms under the new laws because of the diversity of the targeted investments, including broadband, roads and bridges, energy, water and sewer, resiliency and electric vehicles.
The IIJA alone directs nearly $12.4 billion to Georgia over five years. Of this amount, according to a White House fact sheet, $913 million is for water infrastructure, $106 million for climate-change resilience, $100 million for broadband and $135 million for electric-vehicle charging stations. Public transportation will receive $1.4 billion.
ARPA adds at least $17.4 billion in federal funding, according to the Governor's Office of Planning and Budget. The state will also get a portion of $386 billion the IRA provides nationwide for climate and energy spending and related tax breaks.
The most significant chunk of money will go to reinforce Georgia's freight, logistics and supply-chain traffic, Sullivan expects, especially to and from its ports, which will require significant investment in road and rail infrastructure.
As for green infrastructure, Sullivan says the amount of money going into resilience, environmental and power infrastructure represents a generational-level investment of a scope and scale the federal government has never undertaken, creating new opportunities.
Certainly, Georgia's record speaks to the need for more investment.
In its 2019 Report Card for America's Infrastructure, the American Society of Civil Engineers (ASCE) awarded Georgia infrastructure a cumulative C+ rating – an upgrade from its previous grade of C – while the United States as a whole earned a grade of C-, up from a D+ in 2017.
Nevertheless, Georgia's grades for environmental and water resources were hardly encouraging. Drinking water was rated B-, stormwater C-, solid waste C, and wastewater D+, a score lower than the C awarded in 2014. Roads and bridges were rated C+, while dams earned a D.
Small wonder, then, that the Atlanta Regional Commission calls the IIJA a game-changer, enabling many infrastructure projects to get off the ground much sooner than expected. According to the commission, the IIJA programs will continue the ongoing regional work for improved air quality, water conservation and clean energy.
Even without the new laws, Sam McCachern, CEO of Thomas & Hutton, a regional engineering and design firm headquartered in Savannah, says the arrival of new industries and major corporations that build plants in Georgia – such as Rivian in Morgan County and Hyundai near Savannah – will generate more work for engineers. "These plants need infrastructure like water and sewer and roads," McCachern notes, adding that his company is expanding into water and wastewater infrastructure engineering.
The commercial construction industry is also salivating at the prospect of new opportunities. "Everybody is very busy," says Mike Dunham, CEO of Associated General Contractors of Georgia, which represents companies of all sizes around the state. "Next year will be big with lots of work, in spite of supply-chain disruptions and workforce inflation." He predicts projects like the Hyundai plant will generate a need for housing and other types of construction. The need to replace aging infrastructure and upgrade institutions of higher learning and other facilities also keeps work flowing.
For Georgia's water engineers, the prospects look good. The field encompasses drinking water, wastewater, stormwater, sewers and flood-risk management. Last February, Gov. Brian Kemp announced more than $422 million in "preliminary" awards to ensure safe drinking water and wastewater systems for high-need areas.
Caroline Smith, chair of the Environmental and Water Resources Institute Georgia Chapter for ASCE and a project manager with national engineering and construction firm Dewberry, says historically not enough has been done in the water resources field to make design a priority. "The new federal funds enable a serious overhaul of existing systems as well as an opportunity to create new systems, with the focus on resiliency and disadvantaged areas," she says. The infusion of funds also presents an opportunity to make a lifetime investment in these areas and supports collaboration across groups.
The new funding for resiliency will enable engineers to plan for severe events resulting from climate change and make communities stronger, Smith says, while encouraging increased monitoring of emerging contaminants and the adoption of smart technologies.
James Moore, stormwater specialist with the Georgia Association of Water Professionals, says one impact of the green infrastructure funds will be through provisions that explicitly direct money for certain uses. However, its indirect impacts could be even greater since almost any funding for development projects will have a stormwater element. Moore cites award-winning Rodney Cook Park in Atlanta's Vine City as an example of green infrastructure that creates resiliency through a design that stores stormwater that previously flooded the neighborhood, in addition to providing recreational opportunities. Another sign of the increased focus on Georgia's water resources is Gwinnett County's new $30 million Water Tower Global Innovation Hub near Buford. Named a 2022 Project of Excellence by ASCE of Georgia, it aims to become a hub for research, technology, training and engagement for water utilities, as well as a business incubator.
While state and local authorities and the private sector are eager to tap into the new federal money, all recognize that the path ahead won't be easy. The funding is coming at a time of rising costs due to pricier materials, a crippling shortage of skilled workers and engineers and a "Buy American" provision that may make it more challenging to source necessary, reasonably priced components. In addition, the IIJA funding is for five years – and it can take five years just to get the necessary permits for certain projects, Smith notes.
Above all, understanding the new laws requires skill in interpreting them. "It is difficult. These laws all have different levels of detail, and the funding flows in different directions," says Caroline Whitehead, federal marketing manager who conducts research and analysis for Dewberry.
The IIJA is over 1,000 pages long, with more than 380 new and existing funding programs through which the money is channeled via different federal agencies, she notes. Some rely on formula funding, based on certain criteria.
Others are competitive discretionary grant programs, many brand new, and applicants must make the case for why their project should be funded. There must be an eligible participant and eligible project, and often the applicant must put up a percentage of the cost as seed money, which is sometimes a challenge for small communities, Whitehead says.
The aim is not just replacement, Mitch Landrieu, White House senior advisor and infrastructure implementation coordinator, said at a September meeting of the Council on Foreign Relations. "You want to build it higher and bigger and stronger, and with cybersecurity in mind." Despite the challenges, McCachern says the money passed through the state is now moving more efficiently. "This is a unique time for America to resolve some of its infrastructure problems," he adds. "We have been behind the rest of the world and not up to what Americans consider their high standards."