A Journey of Growth and Innovation
University of North Georgia celebrates 150 years of transformation while adhering to valued traditions.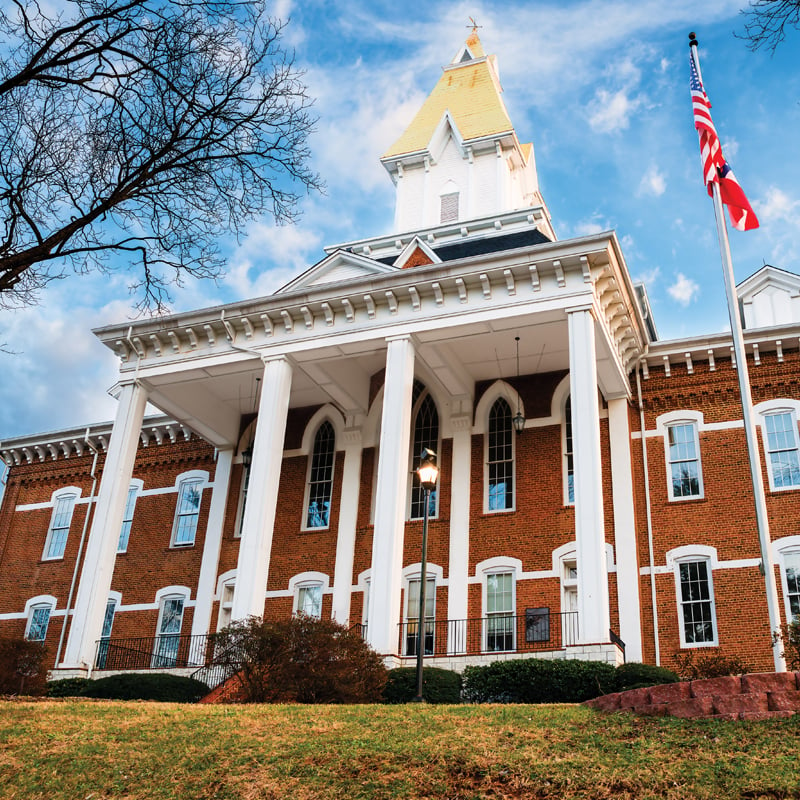 It was an unlikely beginning: an abandoned federal property turned over to the state and made the home of a military school, only eight years after the end of the Civil War. At the time, surely no one imagined the school would one day celebrate its 150th anniversary – much less as a major pipeline of U.S. military talent.
Yet from that modest start grew the University of North Georgia (UNG), which turns 150 this year. It has weathered multiple name changes, seen its mission expand and change, diversified its student body and grown through consolidation with other postsecondary institutions into five campuses that weave from the Blue Ridge Mountains near the Tennessee border to the exurbs of Atlanta.
But a thread of consistency runs through all that change. Since its inception, the university has maintained a military tradition with its Corps of Cadets, serving as a big part of the small number of routes that can lead to officers' ranks in the U.S. Army. It is one of only six senior military colleges in the United States, and while its cadets make up only a fraction of today's UNG enrollment, the military looms large in the school's history and image.
"A lot goes with our military tradition. Our cadets learn how to follow and they learn how to lead. Our Corps of Cadets has done extremely well," says UNG President Bonita Jacobs, pointing to 50 Army generals, past and present, who were commissioned out of UNG.
Joseph Matthews, a retired Army colonel with a background in military intelligence, currently serves as the 43rd commandant of cadets at his alma mater, which puts him in a good position to explain what a senior military college (SMC) is, since the term is likely alien to most civilians. SMCs are private and public universities that offer intensive military leadership training but are not necessarily exclusively military in focus. Upon graduation, participants earn, in addition to a diploma, a commission as a military officer, should they so choose. In addition to University of North Georgia, SMCs include Norwich University in Vermont, Texas A&M, The Citadel in South Carolina, Virginia Military Institute (VMI) and Virginia Tech.
Think of it as a continuum, with the service academies like West Point as tuition-free and all-military, all-the-time, and the SMCs as conventional tuition institutions with civilian components varying from school to school, and finally, the hundreds of colleges and universities nationwide that offer various ROTC programs that don't necessarily call for daily commitments.
"I define success as when a cadet graduates, 80% have a job the day they graduate and the others have a job within six months," says Matthews.
That 80% all have the same job upon graduation – a commission as second lieutenant in the U.S. Army, the Army National Guard or the Army Reserve. The other 20% who make up the Corps of Cadets are on what is known as the leadership track, designed to prepare them for non-military leadership positions in business or, often, among the federal agencies devoted to national security, such as the NSA and CIA.
For a litmus test of success, consider the UNG Corps of Cadets class of 1988, which produced five generals.
What was in the water that particular year to yield those results? Well, says one of the five, picture the environment that was created by a bunch of civilian commuter students, the presence of women on campus and fraternities in which cadets could participate.
"For a variety of reasons, it was a great leadership laboratory," says Lt. Gen. James Jarrard, now serving as deputy commanding general of the U.S. Army Pacific, based in Fort Shafter, Hawaii. Jarrard and his twin brother, Maj. Gen. Joe Jarrard, are among the five generals from that class. He cites a long list of leaders and instructors at the school at the time who contributed to the Class of 1988's record.
---
Better Together
Unless you are in the Corps or are a residential student on the Dahlonega campus who can hear the sung cadences of the group as the morning dawns, you might not even be aware of UNG's military status, however. The university has been flirting with, and nearly reaching, the 20,000-student enrollment mark across all five campuses for the past few years. It stood at 18,985 in fall 2021. (At press time, fall 2022 figures had not been released by the University System of Georgia.) Dahlonega and Gainesville are the largest campuses, and those in Blue Ridge, Cumming and Watkinsville are satellites.
"We are growing. We are now at 23% enrollment growth since 2013," says Jacobs, who has announced her retirement at the end of this academic year.
Jacobs was appointed to the president's office in 2011 and in short order found herself tasked with shepherding a share of the massive consolidation projects the University System of Georgia carried out among its multiple institutions. Colleges and universities were reorganized into larger entities – reaping the benefits of scale, but sometimes taking hits to their traditions, identities and alumni support. North Georgia College and State University, as the Dahlonega campus was then known, merged with Gainesville State College about 20 miles away. Satellite campuses in Cumming and Watkinsville were part of the union, and since the merger, a new satellite campus has been established in Blue Ridge. All of the campuses except Dahlonega are commuter campuses.
"The bottom line is, yes, we have transformed as we consolidated. We made each of us better. We can now offer so much to so many more," Jacobs says.
"An interesting thing, when I look at North Georgia over the last decade – we have created great momentum and it is based on a legacy. There are not a lot of schools that have that luxury. We had an alumni event in the [Washington] D.C. area, and it was amazing to hear their stories and how much they credited their success to the school," she said.
The state of Georgia has validated that success with funds to grow. UNG broke ground on expansions at its Blue Ridge and Cumming campuses, both funded in the fiscal year 2023 budget, and has received permission to begin planning an additional classroom and office building at the Dahlonega site for the military program, all on the heels of this fall's opening of a major new building for the Mike Cottrell College of Business.
---
Business and Beyond
The $35 million, 86,000-square-foot Cottrell Center for Business, Technology and Innovation opened in the current academic year, providing a new home for the business program that accounts for about 25% of the enrollment across all campuses.
"The building was designed by faculty and staff with student learning in mind," says Mary Gowan, dean of the business school. That's a tall order, particularly for UNG, because the business school includes the computer science programs that many other universities locate elsewhere. It means a constant appetite for upgraded equipment.
"We wanted to have our signature programs on the first floor, like cyber, a growing program, and innovation space for things like our VITA [the IRS's Volunteer Income Tax Assistance program, providing free tax assistance to the elderly and others], entrepreneurship and the digital Syfan Logistics lab, which is one of two programs in the country that have the McLeod Logistics software," Gowan says, referring to the industry-leading logistics software. Auburn University is the other university with McLeod access, she notes.
The building's other floors contain a mix of active and cluster classrooms designed to make it easier for students to work together in groups as well as individually, all with the backup of whiteboards and computer monitors to further enable collaboration. The computer science spaces include labs devoted to cybersecurity, forensics, hardware and networking
External validation of the quality of UNG's cyber education comes from the National Security Agency's annual NSA Codebreaker Challenge Competition. The NSA has staged this contest since 2013, asking students to break a cybersecurity challenge of the type that is the NSA's daily bread and butter. "We ranked third in 2018, first in 2019 and 2020 and second in 2021, out of 631 schools," says Gowan. This year's version of the competition calls on participants to track down a ransomware attack, unravel the source and recover the hostage data, and UNG students are in the hunt.
The Cottrell name that both the college and the building sport honors two separate naming gifts from Mike and Lynn Cottrell. Mike Cottrell purchased his father's business of building over-the-road car haulers, took it global and eventually became the world's largest manufacturer of the specialty vehicles before selling the company and retiring. The couple is active in philanthropy in the region and has singled out UNG's business school for particular attention.
The business school is also taking advantage of the virtual side of things. Beginning this year, UNG took its MBA degree to an online-only format – no more hybrid programs, no more traditional grad-school classrooms. Gowan says the change has brought about an expected boost in applications.
---
More Innovations
Jacobs points with pride to the breadth of programs available at UNG. Physical therapy, nursing and teacher education, for example, are all fields that call for state certification exams, and the university has performed in the 95%-to-100% pass rate on those, she says.
Another feather in the cap of the university is the number of foreign language programs available on the two larger campuses – not just Romance languages, but Russian, Mandarin, Farsi and Arabic, among others. For example, 190 UNG students in Dahlonega and Gainesville are currently studying Japanese.
So how did a native speaker of Japanese wind up teaching Japanese to college students in North Georgia? When the university received a $400,000 grant in 2016 from the Japan Foundation to create a Japanese program for East Asian studies, it advertised and Tomoe Nishio, then a master's degree student in Illinois, spotted it, was intrigued and applied.
"It turned out to be a great start of my career," says Nishio, who is now an associate professor of Japanese at UNG. "In a way, it was hard because there was nothing related to Japan in North Georgia, so I had to start from scratch."
Jeremy Williams knows first-hand about the challenges of staffing teaching positions, especially in high-demand, low-supply situations. After all, the year he graduated from UNG as a teacher specializing in physics, he was the only one who qualified in that field from education schools across the state.
These days, though, he is superintendent of Gainesville City Schools and in his professional role, he hires one of the products his alma mater produces – teachers.
"At the end of the day, UNG was the foundation for me that opened doors as a teacher but now, as a superintendent, it's always good to see their innovative approach to serving students and communities," Williams said.
One of those innovations, UNG's teacher residency program, launched this fall. Under that plan, preservice teachers enrolled in a teacher preparation program can be hired by Gainesville and Hall County school districts to be full-time time teachers during their senior year of college. They are paid half the standard teaching salary, which works out to about $23,000 annually. The program is meant to replace traditional student teaching, in which tuition-paying students typically work for free to complete the important apprenticeship phase of their education.
Other innovations include a partnership between the Gainesville school system and the university known as the Aspiring Teachers Program, which seeks to build a pipeline of teachers of color.
In its earliest days, what is now the University of North Georgia focused heavily on mining, a reflection of the Dahlonega region's long-ago-played-out gold-mining industry. Today, the service to local industry continues. Nearby, Gainesville has earned the nickname "poultry capital of the world," and the presence of poultry-processing plants has drawn large numbers of Hispanic workers to the area, which means the school system's enrollment is predominantly Hispanic. Education majors from UNG frequently serve as English tutors at Gainesville High School.
One hundred and fifty years down the road, UNG continues to innovate and serve its region while maintaining valued traditions.