2023 Georgian of the Year: Successfully Selling the State
Pat Wilson, Georgia Department of Economic Development Commissioner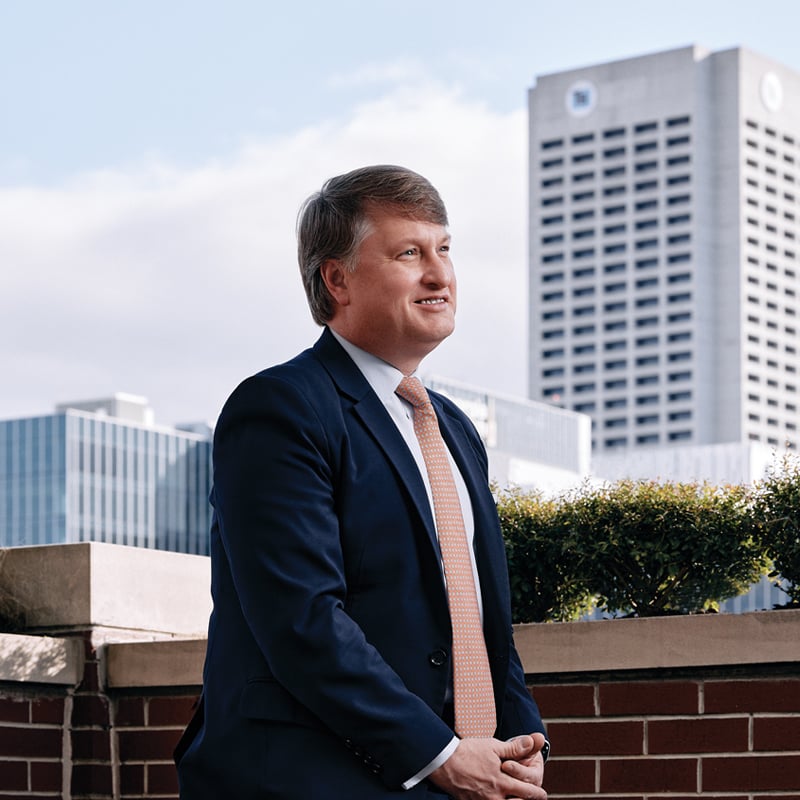 It was 2010 and Gov. Sonny Perdue's last legislative session had ended. And Pat Wilson was tired. He'd served as director of government affairs, promoting the legislative agenda of the first Republican elected governor in Georgia since Reconstruction, for the past three years. As you might guess, relations between the state's legislative and executive branches weren't exactly stress-free.
Wilson, who had worked for Perdue in D.C. as federal affairs director and before that in the offices of U.S. Rep. Nathan Deal and the late Sen. Paul Coverdell, wasn't sure what he wanted to do next. "Gov. Perdue sat down in my office and said, 'What do you want to do?'" Wilson remembers. "I said, 'Governor, I don't know but I can tell you what I don't want to do – I don't want to be a lobbyist. I'm really tired of doing what we're doing.'
"And he said, 'You've done an amazing job selling my policies and I think it would be great if you went to sell something you love – the state of Georgia.'"
With that, Wilson headed to the Georgia Department of Economic Development (GDEcD) as deputy commissioner for global commerce. Although he says he didn't know much about the department or being an economic developer back then, he "fell in love with what the department does" and learned fast, serving as chief operating officer from 2011 to 2016, when he was appointed commissioner of GDEcD by then-Gov. Deal.
Heidi Green, managing director of policy and government relations at Deloitte and a long-time associate of Perdue's who has worked with the former governor in multiple roles, including chief of staff when Perdue was U.S. Secretary of Agriculture, was GDEcD commissioner in 2010. Green remembers she and Perdue "felt like Pat was [the right person for deputy commissioner] because he was so good at building relationships … One of the things I found at GDEcD was that it is a team culture, and Pat loves that team atmosphere."
"I saw the nascent seeds of Pat and his passion for economic development there, and it's been just truly fulfilling for me to watch him grow in this role to be a consummate diplomat in presenting not only to an international audience but in pursuing domestic opportunities as well," says Perdue, now chancellor of the University System of Georgia. "I think Pat, while he's had great gubernatorial support, deserves a lot of the credit for Georgia being one of the best places to grow a business by communicating all the great things that the Georgia governor and the legislature have done during those years."
During the six years Wilson has led GDEcD – the state's main sales and marketing agency, whose responsibilities include creating jobs and investment through business recruitment and expansion, growing small business, international trade and tourism, plus the arts, film and music industries – Georgia has continued to be named the No. 1 state to do business (now the only state that can claim the title for nine years running). It has set multiple records for jobs created and investments in new and expanding businesses, most recently posting numbers of more than $21.2 billion in investments and 51,132 new jobs in FY2022.
Lee Thomas, deputy commissioner for film, music and digital entertainment at GDEcD (and herself Georgian of the Year in 2019), says the entire department benefits from Wilson's institutional knowledge. "He has a great understanding of what all of us are doing, which really helps us – whether he's talking at a Rotary [meeting] or to the legislature, he really understands what is important to us."
Although the state also notched the No. 1 and No. 2 biggest projects in its history last year – Hyundai Motor Group's new electric vehicle plant in Bryan County and Rivian's EV factory in Newton and Morgan counties – Wilson notes even without those transformational projects, Georgia would still have set a job-creation record and just about equaled the investment total from 2021.
And keeping that jobs number going up is how Wilson measures his own job. He grew up on his grandfather's peach farm, "picking peaches and following a tractor" from the time he could walk. His parents still live in the same house in Franklin County and his father serves on the City Council of Franklin Springs, a city of about 1,000. Those rural roots, he says, helped him "really see the impact jobs can have on people's lives, and on schools and communities. It's the generational health of a community, when you add jobs and opportunity and hope."
The numbers were a little different when Wilson first came to GDEcD in 2010 in the aftermath of the Great Recession. "I remember the first project I pitched to Gov. Perdue … It was a Caterpillar project that was looking in Griffin – it was 300 jobs. I just remember Gov. Perdue saying, 'This is an amazing project.' Three hundred jobs in 2010 was huge. Now, a 300-job project is very common all over the state."
But it's not just the new recruits that keep the jobs coming. Part of Wilson's sales pitch to prospects – especially now, in a tight labor market – is to pick a state that has a track record of working with companies after they've set up shop. "When a company chooses Georgia, that's the beginning of a relationship," he says. "The focus is on our existing industry first. We can't grow new companies in Georgia if existing industry is not prospering." Kia, he says, is a great example of that partnership, where the state has continued to help with workforce needs as the plant in West Point has expanded.
---
Inside the Biggest Deals
Wilson thinks the COVID pandemic actually sped up some industry timelines, as companies came out of the shutdown ready to invest and make up for lost time. He remembers the eerie feeling of being just about the only passenger on a Delta Air Lines transatlantic flight during the pandemic, determined to keep building relationships with international companies. "Since the companies could not get into Georgia, I went to them," he says. "To make the effort during COVID – it really gave us a leg up and now we're starting to see that play out."
The seeds of the two blockbuster deals, Hyundai and Rivian, were sown long before the pandemic. In the case of Hyundai, it started with Kia's Georgia plant in West Point (the company's first in the U.S.), announced in 2006. And the state had already landed a big EV project with SK Battery's production facility in Jackson County announced in 2018, which Wilson says gave Georgia a head start in the industry.
But he credits Gov. Brian Kemp's 2020 trade trip to Stuttgart, Germany, home of Mercedes-Benz and Porsche, both of which have their North American headquarters in Atlanta, with supercharging Georgia's EV efforts. Both companies were eager to tell the Georgia group about their EV plans. Back at the hotel, as the group was talking about the tours and meetings, Wilson recalls Gov. Kemp saying that they had spent the day with two companies that had built reputations on creating the most impressive internal combustion engines in the world – and yet they were completely concentrating on EVs. "From the very beginning, [the governor] said, 'You guys really need to be focused on electrification,'" Wilson remembers.
The state had swung and missed on a couple of other carmaker plants in the past. The site in Newton and Morgan counties had been pitched to Toyota-Mazda and to Tesla, but both companies chose other sites. "I've said a number of times that you learn more from a loss than you do from a win, because you really have to sit back and think about where you can do better on the next one," Wilson says.
When Rivian came calling, it led to a long-term courtship with ups and downs, as Georgia was in the company's top three at one point and then was bumped down the list, Wilson says. But "we just built a relationship with them and continued to talk," he says. "On so many of these projects, you're playing a long game. The company may choose to not do business with you today, but many times if they had a good experience in Georgia, things come back around."
Something like that happened with Rivian, as the state worked its way back on the short list and then sealed the deal in a meeting at the proposed site between Rivian CEO RJ Scaringe and Kemp, who took the wheel in a Rivian truck with Scaringe riding shotgun and Wilson in the back seat. "Both of them realized this was a great partnership," Wilson says.
With Hyundai, the relationship was long-standing but the project moved very fast. "They came to us in January and they made a decision by April," Wilson says. At first, there was some secrecy around the project. "We didn't know who it was," Wilson says. "But the president [of Hyundai Motor North America], José Muñoz, wore a Hyundai backpack and that's how we figured out who it was." Later, Muñoz told Trip Tollison, president and CEO of the Savannah Economic Development Authority, he had done it on purpose so the team would go full-bore after the project.
No worries on that end – and in fact, Hyundai had a level of comfort and knowledge about Georgia that certainly helped. Wilson says that when Kemp was touting the benefits of Quick Start, the state's much-lauded workforce education program, to Hyundai chair Chung Euisun, Chung – who was previously Kia's president – stopped him and said, "Governor, you don't have to talk to me about workforce. We know Quick Start. We know the state of Georgia is going to live up to its promises in workforce solutions." That, says Wilson, was when he felt like Georgia was going to land the project.
---
The Georgia Way
For someone who says he found his calling as a result of happy accidents, Wilson has cultivated a number of habits that are rigorous and intentional. Green, who shared tight office quarters with Wilson when they were both working in Sen. Coverdell's Atlanta office, remembers how Wilson would study the business cards of people he had just met. "All week, Pat would review that business card," she says. "The next time he would see the person he would remember their name, their company and immediately renew the connection with them."
That was a systematic process that required discipline, she says. "Pat is a very affable guy, but there's a seriousness there that impressed me, about him understanding how important that relationship is…to know and remember someone so that when you see them again, you have that immediate connection."
Thomas says that Wilson "is such a team person…he wants to give credit back to the department and all of our partners." On international trade trips, Thomas has watched Wilson immerse himself in various cultures, from eating local cuisine to donning lederhosen. "He rolls up his sleeves and gets into it," she says. "He doesn't go halfway in."
Georgia takes a team approach to recruiting new business – Wilson likens GDEcD to a quarterback who brings in the other players, from utilities to workforce solutions teams to community leaders. "Anybody that is going to provide a solution for that company is part of the team," Wilson says. Everyone focuses on getting the company to Georgia; only after the state's been selected does any competition between communities begin.
Wilson remembers that after hosting one prospect, the site consultant told him that they walked out of a dinner thinking that regardless of whether the prospect had been there or not, the team would have had dinner and enjoyed each other's company. "You like each other, and you work well together," Wilson recalls the consultant saying, adding that is what makes Georgia's approach special. (And yes, the state got the business.)
Being Georgia's salesperson takes a big investment of time, and Wilson is honest about the effect on family life. Asked how he balances the demands, he says ruefully, "Can I just say I don't?" Time on the road means missing "a lot of really cool things in my kids' lives," he says, "but if you ask me what I do for a hobby or on weekends, I'm watching [my son play] baseball or I'm at a choral concert or taking my daughter to the symphony for her birthday. You try to maximize the time you have together and I absolutely adore the times we get to spend together."
Thomas thinks Wilson may be selling himself a little short. "He's a great dad," she says. "There was a meeting here one time and he was carrying his daughter's doll – she had asked him to bring her doll to work. I think many dads would have put it in the car and left it there. But it sat next to us in a chair at a staff meeting. Because he wasn't going to tell her that he would take it to a meeting and then leave it in the car."
Keeping relationships strong – with his family, his colleagues, existing businesses and partners as well as those he's pitching – is why Wilson is Georgia Trend's Georgian of the Year. That, and his unending love for the state.
"It's my home, right?" he says. "This is the place that I grew up, that shaped me, that gave me opportunities. I grew up on a farm. I had a HOPE Scholarship. It's a very Georgia life.
"I love the beauty of this state and I've got a passion for selling it. I get a little emotional sometimes when I talk about the people who've come up and told me how their jobs have changed their lives. This is a special position to be in and I'm grateful every day for the governors who've given me the chance to do this. I've loved every minute."