When the Need is Urgent
From walk-in availability to weekend hours, hospital-affiliated urgent care centers are a convenient and much-needed option.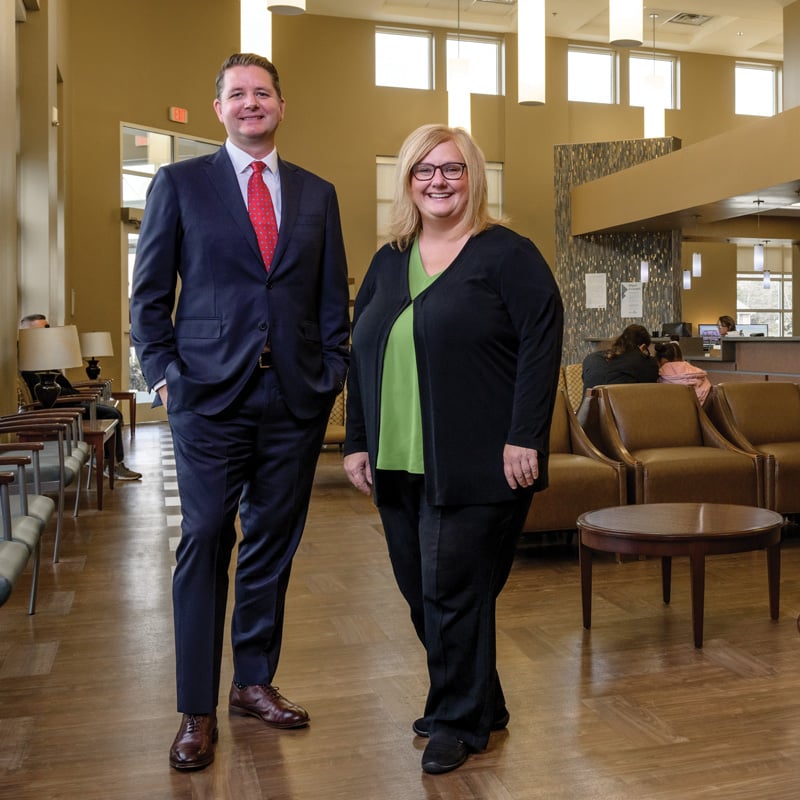 Someone may choose to go to an urgent care center for any number of reasons — convenient location, insurance coverage, lower medical costs, late-night and weekend hours or walk-in appointment availability.
But for Jordan Hemphill of Carrollton, it came down to two important factors when her two young children got sick on Labor Day weekend: proximity and extended hours.
"My 2-year-old son Hendrix developed a really bad cough that progressively got worse. He also got a really high fever, between 101 and 103 degrees, that didn't go away, even while rotating Tylenol and Motrin," says Hemphill.
The pediatrician's office wasn't open, so Hemphill looked for a nearby urgent care center. Her mother recommended Tanner Urgent Care/Carrollton.
"We walked right in, explained the symptoms Hendrix was having, and one thing we were really impressed with was that they did not make any bones about testing him [thoroughly]," says Hemphill.
Hendrix tested positive for strep throat and RSV (Respiratory Syncytial Virus), a common but highly contagious virus that causes a child to cough, have a runny nose and run a fever.
So it didn't surprise Hemphill when just two days later, her 1-year-old daughter, Tatum, started to develop a similar cough and high fever.
Knowing that the urgent care center was open on Labor Day, Hemphill returned to Tanner Urgent Care/Carrollton that Monday. Tatum also tested positive for strep and RSV, but after two days of antibiotics, she didn't seem to improve as Hendrix had.
For a third time in less than a week, Hemphill and her husband, Miles, returned to the urgent care center with Tatum.
"The nurses were really great once again, and they decided to check her oxygen levels," Hemphill says. "They were hovering between 82 [and] 90%."
Oxygen levels below 95% are considered abnormal, so the urgent care center team recommended Tatum be transferred to Tanner Medical Center in Carrollton. Tatum was admitted to the hospital and stayed for five days.
"Without the urgent care taking her oxygen levels, we would have never known they were that low," Hemphill says. "I don't think we realized the severity of the situation. We just knew Tatum wasn't getting well. We are thankful that they acted quickly and got her the care she really needed."
Today, Hendrix and Tatum are doing well. Tatum literally bounced back after her hospital stay; she is her happy and spunky little self, says Hemphill.
---
Access to Quality Care
According to 2022 data collected by the Urgent Care Association, patients at urgent care centers range in age from young children like Hendrix and Tatum to those 75 and older, with the highest number of patient visits coming from young adults 20 to 24 years old.
Urgent care centers provide easy access to quality healthcare and often are a point of care for people when they can't get in to see their primary care physician – and, as with the Hemphill family, they don't think emergency care is necessary. However, people are choosing to go to urgent care centers more often than visiting their primary care physician, as patient volume is up approximately 60% from 2019, which includes traditional and COVID-19 visits.
"We always want patients to seek emergency care if they feel that they are having an emergency," says Anna Adams, executive vice president of external affairs at the Georgia Hospital Association. "But with all of the challenges hospitals are facing right now with workforce, if patients are experiencing a medical situation where it may be best handled by a primary care provider, and they aren't available, urgent care is going to be a better option from a waiting standpoint and [for lower] cost to the patient."
Tanner Health System, which operates three urgent care centers in and around Carroll County in northwest Georgia, serves about 220 patients a day at its locations. The hospital system purchased its first urgent care center in Douglasville in December 2003.
"They are all very busy and very successful," says Kristie Dunson, operations director at Tanner Medical Group. "We have about 60% recurring visits so people come, like us and come back again."
Clint Hoffman, senior vice president, Tanner Medical Group, says that in addition to urgent care center walk-in needs, these locations serve as centers for occupational health services.
"We work with a lot of local employers to provide their employee health needs, screening services, annual physicals and DOT [Department of Transportation] physicals," Hoffman says. "It allows Tanner Health System to really contribute to the employers in the community by offering these services."
Many of the Piedmont health system's nearly 70 urgent care centers and 25 retail care clinics across the state serve a similar clientele.
Michelle Fisher, president of Primary Care and Retail Services at Piedmont, says they serve more than 6,000 employers within their urgent care center network for occupational health and workers compensation needs.
"It's not just an access point for patients, our sites are also available to the employers in our communities," Fisher says. "We offer occupational health for pre-employment services and also provide worker's comp services for when an employee is injured on the job."
Piedmont began operating urgent care centers about 10 years ago and grew its network through acquisition and new site development.
"As Piedmont partnered with location health systems, Athens Regional and Columbus Regional, for example, they already had a set of urgent care centers that came with the partnership," says Fisher. Piedmont also operates retail care clinics in Walgreens stores that provide same-day, walk-in services. These are low-acuity clinics staffed by a nurse practitioner for conditions that are not life threatening and can be treated safely in an outpatient setting, like colds and flu. Sports physicals and immunizations are among the other services that the clinics provide.
Demand for this type of care has been growing. Piedmont treats approximately 1 million patients annually at its urgent care centers and retail care clinics, and depending on the size of the location, anywhere from 40 to 140 patients per day.
"These locations help address an access-to-care issue in a given community," Fisher says. "Having these locations for after-hours, after- work and weekends, patients love it," she says. "They know that we are there for them seven days a week, and they have access to a high-quality provider at a lower price."
Not everyone has access to such convenient care. That's why Piedmont is looking at filling what Fisher calls "white space," which is where people may have access to a primary care physician or hospital system, but there are no urgent care centers or retail care clinics.
Leadership at Atrium Health Navicent began looking at improving access to acute care in the early 1980s. Today, it operates three urgent care centers in Macon – Urgent Care North, Urgent Care East and Urgent Care Northwest.
"Our CEO at the time, Damon King, had a vision to really try to get some acute care locations out into the community, and it was kind of novel for this area," says Patrice Walker, MD, chief medical officer at Atrium Health Navicent. "It was really about access to care that would keep people closer to home and out of the hospital, but still give them the level of care that they need."
It wasn't meant to replace a person's primary care physician, Dr. Walker adds, but to compliment the practices outside of regular office hours and on weekends.
Further north, Atrium Health Floyd in Rome operates six urgent care centers in Calhoun, Cartersville, Cedartown, Rockmart, Rome and Summerville, serving about 108,000 patients a year.
"We've been pretty cognizant about where we placed our urgent care centers over the years," says Keerthy Krishnamani, MD, vice president, associate chief medical officer and executive medical director of Primary Care at Atrium Health Floyd. "As we've seen physician retirements, we have continued to keep a very close eye on how we are going to expand our market across the board, and in some cases, some of these urgent cares in rural areas function as primary care.
"It's not ideal, but that's the access of care to many patients, and they are also then able to refer these patients to the right primary care physician or subspecialist so that then the patient can receive the adequate amount of care."
---
Urgent vs. Emergency
How do you know where to go – to the ER or the urgent care? It's not always clear, as was the case with the Hemphills. But there are some guidelines that may help.
"Lacerations, and maybe a fishhook in the finger, are the sorts of conditions we see in our urgent care centers," says Dr. Walker. "But we also treat cold and flu, as well as minor infections, such as urinary tract infections. Those types of conditions, the urgent care centers are well-equipped to do."
With X-ray machines on site, urgent care centers also have the capacity to treat fractures. They can also do basic labs.
"If anything extra is required – for example, an ultrasound or a CT scan – we have the ability to send a patient to the hospital to get it done. But the advantage is, depending on the seriousness of the illness, you don't have to go to the ER, you can still get the imaging ordered and the physician will follow up on it," says Dr. Krishnamani.
Atrium Health Floyd has also looked at urgent care as an entry point into its healthcare system, says Matt Gorman, vice president, Corporate and Network Services.
"A patient who seeks care with an urgent care, we are trying to care for them in that moment, but then also setting them up with access to take care of their chronic issues and creating that medical home where they have continuity of care," Gorman says. "It's a point in the continuum of care in the services that we offer in the ambulatory space."
"When a patient experiences conditions like shortness of breath, high fever, chest pain and abdominal pain, those are symptoms that should probably lead a patient to come to an emergency department. And many times, they are routed here from urgent care centers," says John Sy, DO, director of Emergency Services at Memorial Health in Savannah, which operates three urgent care centers (two in Savannah and one in Pooler).
These serious conditions require more advanced imaging, such as CT scans and ultrasounds, and diagnostic testing that can be done in an emergency department setting or referred to a specialist within a hospital.
Dr. Walker adds that if someone experiences any serious trauma like a gunshot wound, losing consciousness or symptoms of a stroke, they should immediately go an ER. Urgent cares just aren't equipped to treat that level of trauma, she says.
---
Freestanding ERs: Filling Rural Gaps
For patients in Georgia's rural communities, the closest emergency department could be nearly an hour away. So, if someone is experiencing a life-threatening condition like a heart attack, stroke or trauma, getting them care quickly could be a matter of life or death.
This is one of the biggest reasons why healthcare systems across the state are opening freestanding emergency rooms, which operate as an extension of an emergency department in a hospital system, typically providing 24-hour access to emergency physicians, nurses, labs and radiology technicians.
Piedmont opened the first freestanding ER in Georgia – Piedmont Mountainside Emergency Services – in March 2017, in an Ellijay location previously occupied by the North Georgia Medical Center, which closed a year earlier. The nearest hospital at the time was 20 to 30 minutes away for area residents. The facility houses medical equipment for emergent care, including a CT scanner and X-ray, as well as a pharmacy and laboratory equipment.
When the ER opened, Piedmont Mountainside CEO Denise Ray noted that Gilmer County residents had been completely without immediate medical care and that Piedmont Mountainside acted on that need.
Atrium Health Floyd in Rome saw a similar need in Chattooga County, which is why it broke ground on a freestanding ER in September. Upon completion in May 2023, the location
will be the first freestanding ER built from the ground up in a rural market in Georgia. The facility will provide 24/7 emergency care to residents in Summerville, Trion, Lyerly, Menlo and surrounding communities.
"We are very excited about the opportunity to help patients in that region," says Ken Jones, MD, senior vice president and chief medical officer at Atrium Health Floyd. "Historically, they have had 30 minutes to an hour drive to the closest ER, and we know that by building this facility in that area, we will be able to provide much quicker access [for] patients who need emergency care in the Chattooga County market."
The $18.4 million facility will include six treatment rooms, along with an on-site laboratory and imaging services, including X-ray and a CT scanner. It will employ about 44 people.
Collin Lane, senior vice president of Atrium Health's facilities management group, says construction of the freestanding ER will use an innovative pre-fabrication method, with most of the construction done in a controlled environment in Alabama.
Pre-fab has several advantages, according to Lane, who says it leads to higher-quality, faster delivery, reduces the likelihood of construction injuries, mitigates supply chain disruptions and improves access to limited construction labor.
Memorial Health in Savannah received approval in early 2020 from the Georgia Department of Community Health to build two freestanding ERs: one in Richmond Hill and one in Pooler.
However, the approval was revoked after other area hospitals appealed the decision; Memorial Health then filed its own appeal to move forward. A hearing was held in January and Memorial Health is still awaiting a final decision. If approved, the facilities will each be more than 12,000 square feet in size, with 12 beds (including one trauma bay), and will employ 32 staff members, not counting physicians and other healthcare providers. The ERs will be open 24 hours a day and offer full lab, radiology, imaging and telemedicine services.
"Unfortunately, there isn't a one-size-fits-all solution when it comes to healthcare delivery in rural communities. In Chattooga County, we completed an extensive analysis of the unique challenges present, including geography and traffic patterns, and determined that a freestanding emergency department offers the best delivery system." says Tifani Kinard, vice president of Rural Health for Atrium Health Floyd.