Sports Desk: Remembering Vince Dooley
When Coach Dooley passed away, he left a legacy that may never be matched in Georgia sports history – and outside of sports, too.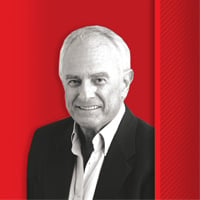 In the first week of September, Vince Dooley, the former University of Georgia (UGA) coach and athletic director, turned 90, a milestone for this Mobile, Ala., waterfront-born kid who was not just the most beloved coach in Georgia but also a breaker of icons.
And then, just eight weeks later, he was gone. When Coach Dooley passed away on the eve of the annual Georgia-Florida game in Jacksonville, he left a legacy that may never be matched in Georgia sports history – and outside of sports, too. We look back and remember him as a special and extraordinarily accomplished man.
A product of a strict Catholic upbringing, Vince Dooley grew up to be a classic overachiever whose affection for history and unwavering discipline in all he did brought him a degree of fortune and a fulfilment of dreams he never could have forecast.
He's remembered, of course, for coaching UGA to the national collegiate football championship in 1980, the centerpiece of a College Football Hall of Fame career. During his tenure as coach of the Bulldogs, he won six Southeastern Conference championships and 201 games. Later, as UGA athletic director, he oversaw national championships in many other sports, from swimming to gymnastics – one of the few to have such success. All heady stuff.
Most Georgians, however, probably are less familiar with the other Vince Dooley who, with his inquiring mind, had a remarkable off-the-field resume that featured an insatiable desire for learning – about flowers and plants, Civil War history, international travel and histories of almost any subject to which he was introduced – all ensuing with a Renaissance flair.
He even became an author, and while he was not born with a gifted writing style, no writer has ever been more dedicated to research than he was. An avid reader of books and journals, his treatises were chock full of facts that made his stories gleam with insightful takes.
A master gardener, Dooley could claim to be the only coach in history to regularly speak to both garden clubs and touchdown clubs. He couldn't wait to visit the Keukenhof Gardens, near Amsterdam, browsing through picturesque gardens at peak bloom. He spent his life touring gardens, landmarks and historical sites. There is even a hydrangea named after him.
Coach Dooley began broadening his horizons exponentially when he earned a master's degree while employed as an assistant coach at Auburn University, a job that followed active duty with the Marines.
After settling in at Athens, one of the first things he did was visit the UGA library. The director of the library, Porter Kellam, was flabbergasted. He had never heard of a head football coach hanging out in the library.
Not only did Coach Dooley frequent the stacks, but he also made a significant gift to the library and created the Vincent J. Dooley and Barbara Dooley Library Endowment Fund, which aims to support and enhance the UGA Library.
With his unrelenting passion for history, he traveled to places like Nuremberg to learn all he could about the post-World War II trials. He visited World War II battlefields in both Europe and the Pacific. He never met a historical museum, battlefield or cemetery he didn't like – from Antietam to the Punchbowl at Oahu, from Andersonville to Gettysburg and from Normandy to Waterloo. One could guess that when he was in grade school, the highlight of his year came when there were field trip opportunities for his class.
He gave deep and abiding study – as if he were reviewing a scouting report of an opponent before a big game – to places he embraced, such as Monet's Garden at Giverny, the Villandry Gardens in the Loire Valley and the Chateau de Chenonceau. His life followed a "have encyclopedia, will travel" path.
There are many places in the world where he could have shown up and served as a tour guide. All he would have needed was an ID badge and a walking cane for gesticulation and direction.
Inducted as a Georgia Trustee by the Georgia Historical Society in 2011, Dooley was always curious about many things, not just how to attack a 5-3 defense.
There was a written quote on his desk from the great Renaissance artist Michelangelo, spoken at age 87: "I'm still learning." That may be the most accurate description of Vincent Joseph Dooley, too.