Southwest Georgia: Working Together
Agriculture, manufacturing and marketing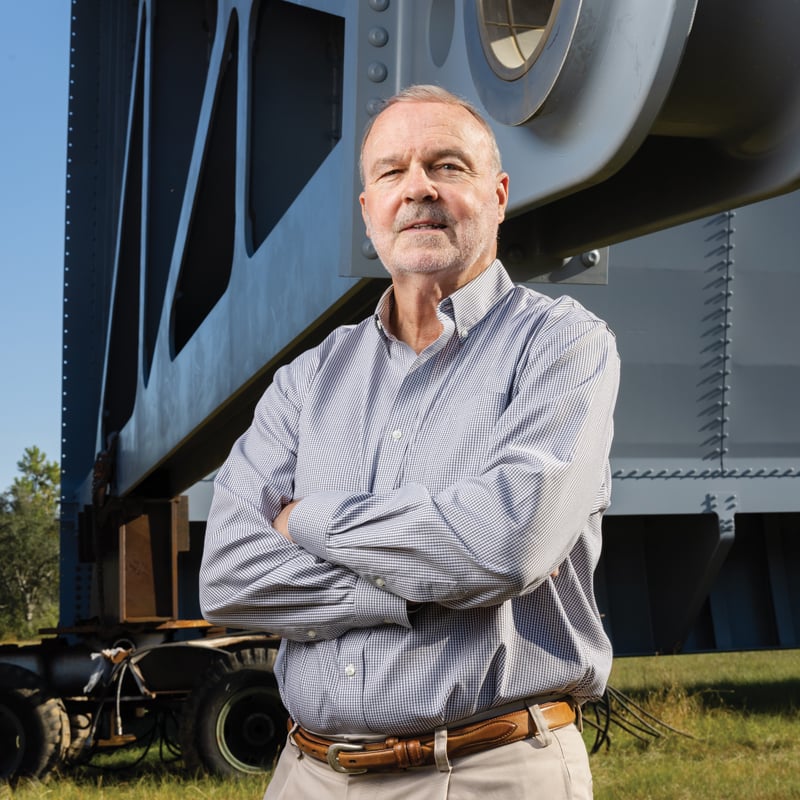 Collaboration and innovation are driving big changes in Southwest Georgia. From regional marketing efforts to community-based problem solving, economic development leaders are working together to make the region a desired destination for businesses, residents and visitors alike.
What makes the region unique is also what unifies it. "The land itself sets us apart from other regions in the state," says Grant Buckley, executive director of the Cordele-Crisp County Industrial Development Council. "In my opinion, we're tied to the land from a productivity standpoint."
In 2020, food and fiber production and related industries represented $69.4 billion in output to Georgia's $1.1 trillion economy and more than 352,430 jobs, according to the University of Georgia's College of Agricultural and Environmental Sciences.
"In South Georgia, in general, there is a lot of agriculture and associated industries," Buckley says. "Take cotton for example – you have to have cotton gins to get the seeds out. You need peanut sheller plants, processor plants, and there's lots of timber. There is such a huge amount of timber. You have lumber mills and paper mills and various mills that can process that timber into products. From a very high-level standpoint, there is more land and more production from that land than you may have in North Georgia."
Georgia's agricultural economy, which includes all food and fiber production in the state, is valued at more than $12.2 billion, and Southwest Georgia is a top producer of three of the state's top 10 commodities based on value, including cotton, peanuts and timber. The region is also renowned for the production of pecans, one of three Georgia commodities ranked No. 1 nationally by the U.S. Department of Agriculture National Agricultural Statistics Service in terms of total production. (Broilers and peanuts are also ranked No. 1.)
Albany-based Sunnyland Farms is a 1,760-acre pecan farm and pecan products manufacturer that was named mid-sized Exporter of the Year for Georgia in 2020 by the Georgia Department of Economic Development. Sunnyland Farms is one of several pecan orchards in Dougherty County and surrounding counties, according to Jana Dyke, president and CEO of the Albany-Dougherty Economic Development Commission.
"It's a big commodity in this area," she says. "What's unique about our pecans is that they export all over the world and so, that's amazing – it's just great to know our community has a reach like that."
While Albany is not as heavy in the production of peanuts, Dyke says industries based there can look to neighboring counties, including Worth and Terrell, to source their peanuts. That includes Tara Foods, which produces peanut butter for Kroger.
"It's an opportunity for us to rely on our neighboring communities for products that our industries process here," she says.
Located about an hour south of Albany via GA-253 and GA-91 is Bainbridge, the county seat of Decatur County, where 60% of the economy is based on agriculture, according to Rick McCaskill, executive director of the Development Authority of Bainbridge and Decatur County.
"If you look at a Google Earth shot of Bainbridge, all the circles around us are crop irrigation systems," McCaskill says. "We're heavy in agricultural."
Decatur County adjoins Baker, Grady, Miller, Mitchell and Seminole counties in the southwest corner of the state and shares its southern border with the Florida state line. There's a "huge" peanut processing facility in the county that makes peanut butter and dry roasted peanuts, McCaskill says, noting there are also "quite a few" cotton gins.
"A lot of farmers are sending raw material into Decatur County to be processed," he says. "We've put in a lot of infrastructure that makes the agricultural community work [well] here." He adds that the county has a lot of truck farming of vegetables and sweet corn – produce grown to be sold fresh – and the sweet-corn packing facility operates year-round.
Making the growing of that corn even sweeter is the county's prime position atop the Floridan aquifer, which is one of the most productive aquifers in the world. Decatur County is also bisected by the Flint River.
"The aquifer is a tremendous asset," McCaskill says. "We have lots of water."
---
Jobs Drive Housing Demand
Capitalizing on its access to water and waterways, Bainbridge is home to an inland port, owned and operated by the Georgia Ports Authority. Located on the Apalachicola-Chattahoochee-Flint Waterway, or Tri-Rivers System, the Bainbridge Inland Port handles a variety of bulk cargo via barge traffic, including bridge spans and doors for dams "as big as a two-story house," made by Bainbridge-based Steward Machine Co.
"[Steward Machine] is here because of the river and the barge traffic. It's got to be a high-water event in order for them to ship [their products] out," McCaskill says, referring to the need for barges and tugboats to have higher than normal river flows before they can traverse a short stretch of the river.
Taurus, a firearms manufacturer, also calls Bainbridge home. According to McCaskill, Taurus relocated its national headquarters from Miami a few years ago, moving all of its North American production to the city. The company invested $38 million in its new facility and created more than 300 jobs.
This year, A1 Truss moved to town, building a $28 million, 180,000-square-foot manufacturing facility that is expected to create 130 jobs over the next two years, McCaskill says. He notes there's even more good news for the city.
"Danimer Scientific, which makes a biodegradable plastic, [is] building a $600 million facility and creating 400 jobs," he says. "The facility is under construction now and should be complete sometime in 2024."
The new facility is an expansion of its existing operations in Bainbridge, where the company has been headquartered for more than a decade.
More jobs means an increased demand for housing. The Taurus relocation to Bainbridge created a housing shortage, McCaskill says, which the community is working hard to address.
"We've been real aggressive in going after housing projects," he says. "We have six different large apartment complexes in different stages of construction in development now. We also have a new subdivision of 128 homes under construction; the first 30 houses are going up now."
And, as the cycle of development goes, more housing means more residents. According to McCaskill, despite a projection that the 2020 census would show a population loss of 5% over the past decade, Bainbridge grew by 6.5%. He estimates the county grew by 12%.
"We've really done a good job of bringing in a lot of residents and new jobs to the community," he says. "There's a renaissance happening in downtown with breweries opening and more than 50 apartments downtown now. Ten years ago, there were more empty buildings [than occupied ones], and the last empty building just sold. It's phenomenal what's happened in our downtown, so when you bring people in, they love it."
---
Team Effort
While McCaskill gives credit to "a really good team" of local leaders helping to facilitate all of the positive changes, he also gives kudos to Locate South Georgia, a 21-county collaborative working to attract agribusiness, distribution and logistics, manufacturing and bioscience industries to the region.
"Locate South Georgia has been very successful," he says. "It got us thinking more regionally than we did before. All of us have got to work together to land these projects, and we do. I do know that before it was always difficult for us to look outside our immediate neighbors, and now we're looking 20 counties or so out."
"We have banded together to create Locate South Georgia and our main purpose is to market ourselves together to the state and to the U.S.," says Shelley Zorn, director of the Thomasville Payroll Development Authority and vice-chair and treasurer of Locate South Georgia. "We just feel like we have more resources collectively."
Locate South Georgia started about 20 years ago, but it was a "different version of itself back then," Zorn says. After the initial effort stalled, regional economic development leaders came back to the table, added more counties and created a strategic plan to identify target markets.
"We expanded the region and then it became more successful," she says. "We upped our game and started spending more money on the marketing efforts. I think it's had its most success in the last five years."
Six years ago, Locate South Georgia launched South GeorgiaLEADS, a leadership immersion program designed to facilitate an awareness of issues that are central to the future success of the region, says Barbara Grogan, who chairs the program.
"We have built a network of active, energetic leaders across this region, who know how to partner and use the resources of their region to see progress and to address topics," she says. "There are many ways citizens and businesses can advocate, mentor, support and participate in the growth and success of our region."
Tackling topics such as the need for sufficient broadband and how to address workforce evolution in the region, LEADS is hosting its sixth class and boasts 160 alumni, Grogan says.
"A citizen can be just as engaged as staff and elected officials," says Grogan, who is the former president of the Moultrie-Colquitt County Development Authority and is now government affairs director for Kinetic.
---
Broadband Boost
Thanks to the American Rescue Plan Act (ARPA), rural Georgia is about to get a big boost in broadband. In February, Gov. Brian Kemp announced grant funding of nearly $408 million to help provide communities, households and businesses in 70 Georgia counties access to faster and more reliable broadband. Many of the 49 ARPA grant projects represent public-private sector partnership, including a winning proposal from Kinetic, a business unit of Windstream.
"The total we won in the last round of funding from the state was around $174 million," says Michael Foor, Kinetic's president of operations for Georgia. "There were 18 counties we were working with for that and much of that funding is going to Southwest Georgia."
Foor says Windstream is providing a $133 million match, bringing the total investment to more than $300 million. The company is also providing matching funds for grant funding received from the Rural Digital Opportunity Fund, much of which will also be invested in the Southwest Georgia region. "Nearly 100,000 households across Georgia will be fiber-qualified as a result of these investments," he says. "We're in the engineering phase for most of those awarded projects and construction will begin by the end of the year on portions of them. The completion timeline the state has given us is until 2026, but we'll be working aggressively to pull that timeline in."
Each year, Locate South Georgia representatives travel to the Capitol in Atlanta to give state economic developers a collective report showcasing deals that were landed.
"We want to let them see there are really important things happening in Southwest Georgia," Zorn says. "We want them to see these folks can close a deal."
Thomasville and Thomas County know a lot about closing deals. They have been home to the corporate headquarters of Flowers Foods and Baking for more than 100 years, as well as other corporate headquarters.
"We're home to five corporate offices in a county of 44,000 [residents]," Zorn says.
Ashley HomeStore is building a $20 million furniture distribution center in the new Red Hills Business Park that will create 105 jobs, and in September, Troy Acoustics announced it's investing $40 million in a new manufacturing facility, also in the business park, that will create 88 new jobs. The company engineers sound-wall systems used in highway noise barriers, broadcasting and film production facilities and gun ranges, among other uses.
Ecrimesa is another new company that will open its doors in Thomasville in February. Based in Spain, Ecrimesa manufactures small gun parts and small parts for the aerospace and automotive industries.
"They will be manufacturing in the U.S. for the first time," Zorn says. "They'll start with 30 jobs and a $5 million investment."
---
Ready for Close-ups
Thomasville Pictures is also contributing to the regional economy while helping to nurture a budding film industry in Southwest Georgia. Thomasville native Allen Cheney and his business partner, Ryan Smith, opened the film production company three years ago, and since then, the film-making duo has brought five movies to Thomasville, Zorn says.
"Their office is downtown in a historic house," she says, "but they have filmed movies all over the region, including Tifton, Moultrie and Valdosta."
Thomasville Pictures' credits include Tiger Rising with Queen Latifah and Dennis Quaid, which Zorn estimates was filmed mostly in Thomasville, but a large part of the 2022 family film was also shot in Tifton at the Town Terrace Motel, locally known as "the pink hotel."
"We've had some big names come to town; Mel Gibson, Dustin Hoffman, Sissy Spacek and Anne Heche were here two years ago," she says. "We helped a movie starring Kevin Bacon and Machine Gun Kelly with locations, and we help with the Georgia film tax credits, so there's a role for us – but I'm not hanging out with the movie stars or anything."
Due east of Thomasville is another Southwest Georgia community that's ready for its close-up. Valdosta and Lowndes County are camera-ready destinations that are no strangers to the bright lights of Hollywood.
Home to the South Georgia Film Festival and the RKDS Film Fest, Valdosta and Lowndes County boast many outdoor spots, local landmarks and entertainment venues that are easily recognizable on screen, including the Converse-Dalton House; The Crescent, a historic home built in 1898; Brooks County Courthouse and the Okefenokee Swamp.
"We've kind of piggybacked on what Thomasville has been able to do," says Andrea Schruijer, executive director of the Valdosta-Lowndes County Industrial Authority. "We have had some of those movies filmed here in Valdosta and Lowndes County."
---
New Industries and Expansions
Perhaps the most recognizable Lowndes County attraction to be seen on the big screen is Wild Adventures, a 170-acre theme park, water park and animal park located five miles south of Valdosta in Clyattville. The amusement park took center stage in the final scenes of the 2009 flick Zombieland. In more recent news, the theme park announced a major construction project for next year featuring all new experiences, Schruijer says.
"It's a three-acre expansion of the park called the Oasis Outpost," she says. "It will have adventure rides for kids, a tortoise habitat and a reptile life-cycle exhibit."
GAF Materials, one of the largest roofing and waterproofing manufacturers in North America, also announced in September that it will invest $146 million over the next six years in a new manufacturing facility in Lowndes County and create 135 new jobs.
"They chose Lowndes County because of the fact that we are located on I-75, and we're in close proximity to I-10," Schruijer says. "The average manufacturing salary here is approximately $56,000 annually and the average wage for our community per worker has increased 4.9% from 2019 to 2021, which got us to $41,291 in annual average wage per worker."
North of Lowndes, Adel and surrounding Cook County also bank on the proximity to the interstate and other transportation assets. The small town of 5,507 has a Class 1 rail line, which is defined as a "main artery," and a bypass road on the east side of town will soon be under construction, says Lisa Collins, executive director of the Cook County Economic Development Commission.
"We have really good infrastructure because we have been putting that in place for a while," Collins says.
The city has been preparing for the arrival of Trulieve Cannabis Corp. The company announced last year it would invest about $20 million in an indoor marijuana cultivation and manufacturing facility in the Cook County Industrial Park where it will make low-THC oil products.
"We sold them land in our industrial park in August of 2020," Collins says. "We've been in a holding pattern until now."
In September, the Georgia Access to Medical Cannabis Commission awarded Trulieve a production license that allows the company to cultivate medical cannabis in a 100,000-square-foot indoor facility and produce cannabis oil with THC content capped at 5%. With construction of the facility already complete, Collins believes the company can be fully operational in four months.
"They'll have 50 employees to start," Collins says, "and probably once they are fully ramped up, they'll have 100 employees."
Continuing north on I-75, the Tift Regional Medical Center opened a new, five-story patient tower in Tifton about a year ago. More recently, Orgill, the nation's largest independent distributor of hardware and home improvement products, announced in October that it will replace its 650,000-square-foot distribution center with one that is 800,000 square feet. The expansion will allow the company to incorporate new technologies and the larger facility will likely mean more jobs in the future.
Whether heavily agricultural or more industrial, each county in Southwest Georgia is unique and each has something to offer when it comes to the continued growth and prosperity of the region.