From the Publisher: Education Wishlist
Retaining teachers and restoring funding of Georgia's educational system should be top priorities.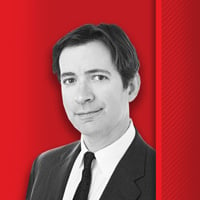 I wrote last month about homelessness and housing, and how reducing millage rates and property taxes could negatively affect funding for government services. Getting into the impact on how the funding of our public schools would also be adversely affected by these cuts almost seems too much. But a little perspective may be in order.
Georgia is already in a pretty rough position when it comes to funding for our public schools. Ranking 6th in public school enrollment nationally, we rank 35th in per-student funding.
This month's feature on the Georgia Partnership for Excellence in Education [page 20] delves into efforts to help Georgia teachers on multiple levels, through state-level raises and bonuses as well as expanded efforts to partner with local services to address impediments to learning such as transportation and malnutrition. It's a real tribute to those who have worked diligently to support our public schools.
However, teacher recruitment and retention as an issue for Georgia dates back to when the state adopted education qualification standards in 2014 for both educators and their students. The University of Georgia College of Education has reported a 33% drop
in prospective enrollees, and a Georgia Department of Education (GDOE) survey of 53,000 teachers in 2015 revealed the biggest reason teachers are unhappy was not compensation but the mandated student testing that the new standards created.
Georgia dropped nearly half of its student test requirements in 2020 due to COVID-19 but testing has resumed in schools across the state. And students' performance on state tests counts for 30% of teachers' end-of-year assessment. That's right, student scores make up nearly a third of a teacher's job evaluation, giving them little wiggle room to adjust their own curriculum beyond that required by all the testing. "Teacher Evaluation Method" was the second-biggest reason teachers are unhappy, according to the GDOE survey.
Believe me, teachers need all the wiggle room they can get, both to deliver on educating our students and to teach them to enjoy education itself.
The ongoing focus on K-12 student testing is at odds with what's happening at the college level. Standardized tests have lost their luster in college admissions. One reason they are less popular with colleges is that they favor the privileged – those with access to tutors and other resources such as standardized-testing prep courses. It's demoralizing to see those who are less privileged evaluated unfairly against more fortunate students.
Further burdening communities' education systems, Georgia is one of only six states that does not provide extra funding to schools based on their proportion of students from low-income families.
The state's education funding system does provide equalization grants to rural districts where local property taxes do not keep up with school funding needs and sparsity grants for schools that have smaller enrollments. These sparsity grants have been funded at 25.5% of the amount dictated by the last formula change in 2014, resulting in $22 million less for sparsely-
populated rural districts alone in 2021 and contributing to $961 million in lost funding since FY 2011.
Revising this formula to include an "opportunity weight" that would allot additional money for districts with more students living in poverty could at least help address the education disparities that are gnawing at the heart of the teaching profession. Creating a needs-based scholarship program for potential Georgia college students would also bring more HOPE to the youth of these communities.
And since it's Christmas, let's go for it – why don't we restore the $10 billion that has been cut from Georgia's public education system since 2003? With a budget surplus of $5 billion this year, we could get halfway there pretty fast. Does that sound crazy?
Consider that Tennessee overhauled its school-funding formula recently to create more than $1 billion in additional K-12 funding. Last year, Maryland passed legislation to increase education funding by $3.8 billion each year over the next 10 years. After years of disinvestment similar to Georgia's, a pending case filed on behalf of underfunded systems in North Carolina could lead to $785 million in new funding for its public schools.
I hope the temporary bump in COVID-related funding will lead to a similarly sustainable reward – one of recalibration and justice – for the teaching profession that lasts beyond the next few years. It's small compensation for professionals that get unfairly blamed for everything.