A Drive to Thrive
Q&A with Verónica Maldonado-Torres, president and CEO of the Georgia Hispanic Chamber of Commerce.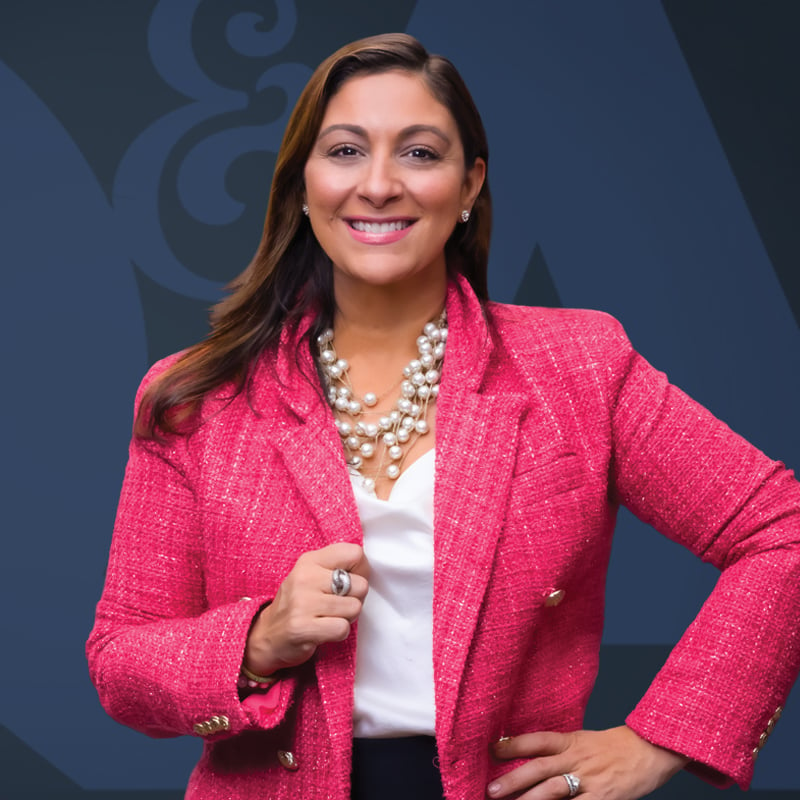 For Verónica Maldonado-Torres, the goal in business and in life is to thrive. It's part of a trademarked mindset and approach – "Driven to Thrive" – she made the centerpiece of her consulting company, VMT Consulting, and now of her position as president and CEO of the Georgia Hispanic Chamber of Commerce (GHCC).
Having inherited an entrepreneurial mindset as a daughter of immigrants, Maldonado-Torres brings a wealth of experience working with small and large companies to GHCC, including fostering more than 130 Fortune 500 corporate relationships and producing more than 85 business conferences and events during her time as program director for the Georgia Mentor Protégé Connection. Prior to that, she served as director of strategic alliances and partnerships for the Georgia Minority Supplier Development Council. Even at the age of nine, she was helping out at her family's printing business.
For her, thriving is about staying mission-focused as a "family woman" – she says her children and husband are at the core of everything she does – and being grateful to steward the GHCC during what she believes is a pivotal time.
Georgia Trend talked with Maldonado-Torres about how her life experiences influence her leadership of the GHCC and why diversity is key to Georgia's success. These are edited highlights from the interview.
Q: How have the experiences of your parents, who are immigrants and entrepreneurs, influenced you?
Maldonado-Torres: I come from a very entrepreneurial family. My grandfather was always a very entrepreneurial man. He had gone to high school [in the U.S.] for a little bit when he was young and had to go back [to Cartagena, Colombia] because his father was ill. But he always wanted to come to America. He felt like this was the place where opportunities were. My mother and father moved [to the U.S.] first. … Then my grandmother and my grandfather, with my aunts and uncles, came about two years later.
They had heard that there was a lot of opportunity in Atlanta. My grandfather, who was colorblind, had enough money to open a franchise – not the one he thought he was going to get, but a Minuteman Press franchise. We lost my grandfather last year, but that business is still here, it's in its third iteration. We've graduated from being a [printing] franchise to being a full-fledged digital and communications agency with a lot of focus on diversity, equity and inclusion, and doing business with Fortune 500s, which was always my grandfather's dream.
My mother runs that as president and CEO and my family's still very engaged. So I grew up watching what I believe is the American dream. The American dream – to me, it's really economic freedom, it's the opportunity to come here and be prosperous. And I often think that the lens through which I see the world is of the economic freedom and economic prosperity that comes from the pathway of entrepreneurship for many of us.
I've been fortunate to see women trailblazing. I grew up seeing my mom face her fears every single day and in a very male-dominated world. I always tell her that one of the things [that makes me] feel so blessed is that she exposed me to the skinned knees, the bumps and the bruises and not just the glory – but she showed me the guts it took to get to the glory. And it's through a lot of work.
Q: As an entrepreneur yourself, and as head of the chamber, what would you tell somebody who's thinking about starting a small business?
Maldonado-Torres: I think we've never been in a more incredible time to start a business. Just the mere fact that you can start a business if you have a laptop or a phone and you have access to technology, being able to network to make connections, to get your own website up and running quickly. That used to require a great deal of investment. The key question is to make sure [to] think about where the gaps are in the market, so that starting a business adds great value. If you have a [business] plan in place,
if you have a really strong bold vision of where you want to be, I think you can accomplish anything.
Being an entrepreneur is hard work – it has many days of glory, but it's a lot of guts and bravery in order to get to the glorious moments, and those glorious moments are also fleeting. If someone has a spirit of change, challenge, determination and perseverance and a burning desire to make a mark, I think entrepreneurship is the way to go.
Since the day I stepped foot here, [the focus has been on] how do we 'reimagine the next' for our Hispanic business community, and how do we ensure their long-term economic sustainability? How do we make sure that we build resilient companies and provide them with the network opportunities to build the pipeline, to get them access, advocacy, opportunity and connection? That takes a very results-driven mindset, but also a people-driven mindset.
Q: How does diversity benefit everyone?
Maldonado-Torres: [When I played] fast-pitch softball in school….The common mission was the win. It taught me what it was like to work with people from all facets of life. [There were] people with different skill sets, different knowledge, different levels of competence or understanding, where we could leverage the best of each person and through that diversity find a way to win. My tagline is 'together we thrive' and at the end of the day, the goal is to win together as a society, as a community. The opportunity to be able to lead the Georgia Hispanic Chamber now and to sharpen, if you will, the sword of our own community, and then to be able to fully and more immersively integrate with all communities and with all economic opportunities, is for me the biggest win. We can all find commonalities in ways of working with each other and build a really prosperous economy because everyone is playing a part.
Q: Immigration has become such a polarized issue, yet as you say, the health of Georgia's business community depends on diversity. How do we depoliticize the issue and work on expanding opportunities for everyone?
Maldonado-Torres: We've never lived in a time [like] now. We have the gray tsunami of senior citizens leaving the workforce. We have [too few] children being born. We have more jobs than we have people to fill them. I believe that it is economically beneficial to our state, to our communities, to be able to provide a pathway for opportunity, a pathway for work, and to leverage the incredible diversity that we have in our backyard. People are hurting, businesses are changing the way that they operate, they're changing the behavior because consumer behavior has changed, buying behavior has changed, supply chain behavior has changed. And everywhere that I go, all you hear is the impact of the workforce woes.
It is an opportunity that we'll never have again, to be able to set the course that there are people here who want to work. And that in our differences are exceptional opportunities to drive innovation and positive change. It's just up to us about how we navigate that 'next.'
Q: Why is it important for DACA recipients to be able to pay in-state tuition instead of out-of-state rates?
Maldonado-Torres: We have folks that have been brought here through no fault of their own, growing up in our communities, going to our schools and wanting to contribute and be a part of this amazing engine that we have in the state of Georgia. And yet we're making it super difficult for them to get educated. We're creating more blocks that are completely unnecessary [when] what we need is a resilient, strong, educated workforce. When we see these amazing companies come to Georgia, and they're driven here by the diversity that we have, I think it's impeding us from being as competitive as we can be by creating these economic barriers that are impacting our workforce. We have every opportunity to be able to provide those that have lived in our communities, have gone to our schools, to provide them a pathway to contribute and continue to dream. It really is impeding us in a big way and we pride ourselves in being globally competitive, competitive statewide.
We need skilled folks to be able to participate in the jobs of the future. And it saddened me the other day that I had the chance to speak to somebody who was excited to go to college, only to then understand that she had to pay three times the rate for a semester and just couldn't do it. She was crushed and her dream was crushed. It is a disheartening story and there are so many out there. This is the only home that they know, [and] they can't get the education that they want. I think it's a missed opportunity for us to take the brilliance of these young minds that want to contribute and join our workforce in a way that's going to continue to position us to be a very strong state and economy.
Q: What are some of the initiatives the Hispanic Chamber has to encourage business and economic development?
Maldonado-Torres: We're one of the largest Hispanic chambers in the nation. We've been around for 38 years. One of the things I love about what I've seen is a lot of folks starting businesses and a lot of folks wanting to sharpen their tools with educational resources that we've been able to provide. Our membership is a great combination of small Hispanic- owned businesses [and] corporations and corporate partners who want to support that ecosystem with the diversity, equity and inclusion standpoint.
While our goal is to be the economic development engine for Hispanic businesses, we are also the bridge between the non-Hispanic community and our community. Because again, that's where we win together, where we thrive together. So, we've seen a great influx of other folks that want to be a part of our membership and want to do business, want to procure, to partner and form strategic alliances, and that's been a beautiful thing to see.
We've got signature events that keep our community very well-connected. [One event] is our legislative breakfast, because one of our pillars is legislative advocacy. We were one of the organizations that vouched for the supplier diversity initiative and we're grateful that the governor signed that executive order [to create the position of small business and supplier diversity manager in July 2022]. That's a big win for Georgia, to make sure that a percentage of contracts and outreach opportunities of the billions of dollars that the state procures is able to go to Hispanic, African American, Asian communities, LGBTQ communities.
And we've got our gala, where we focus on highlighting the importance of the Hispanic businesses and how we're driving the economy and highlighting those great companies that keep us inspired to continue to do the work.
This past year we did Innova, [a one-day symposium] igniting innovation, leadership, talent and technology. One of the initiatives that we saw as a need when I came on board is ensuring that our businesses have access to technology, to understanding how to bridge the digital divide.
We just completed a 200-business survey to understand what is impeding our Hispanic businesses from leveraging technology and using technology. We saw that as an opportunity to make sure we are moving the needle forward and giving them the resources and the tools that they need.
We've got our business networking groups that are like our chapters in different pockets around the state. And we've built some really amazing partnerships with our local chamber partners to support them with their DEI efforts. Those initiatives [help us] have a statewide presence. And, as we are the Hispanic business voice, ensuring that we are keeping tabs on what's going on in those communities.
Last year, [we launched] our 501(c)(3), which is basically our foundation – the Georgia Hispanic Business Center. We've got free mentoring and business consulting, and [other] services here. [It] allows us to…have that mentorship, that consulting in their own language as well as in English. We have four accelerator programs, one that [lasts] six months and another one that's going to begin at different life cycles of the business. And one specifically that [is] focused on supplier diversity that will be launching this fall. So we have [a program to support you] in English and in Spanish at whatever lifecycle of your business.
Another big one for us is that women, Latinas, are starting businesses six times faster than the average group. So, we see a huge need to continue to elevate and support Latinas, Hispanic women, on their quest to grow their firms. One of the biggest statistics that just bothered me was that only 3% of Hispanic businesses surpassed a million dollars in annual revenue. I just felt compelled to say, 'Well, what are the barriers impeding our Hispanic businesses from passing this $1 million mark?'
And that's kind of been my mission and my team's mission. I have an amazing team, and we all know that we are on a mission. Someone asked me the other day, 'What's the line that you would like to see in the newspaper about the Georgia Hispanic Chamber in the next five years?' I said, 'Well, what I'd love to see is that that Georgia has the highest rate of multimillion-dollar Hispanic businesses in the country.' And that's my goal.