Peach Plate – The Hart & Crown Tavern: British-style Southern
Tradition is recreated at Hart & Crown Tavern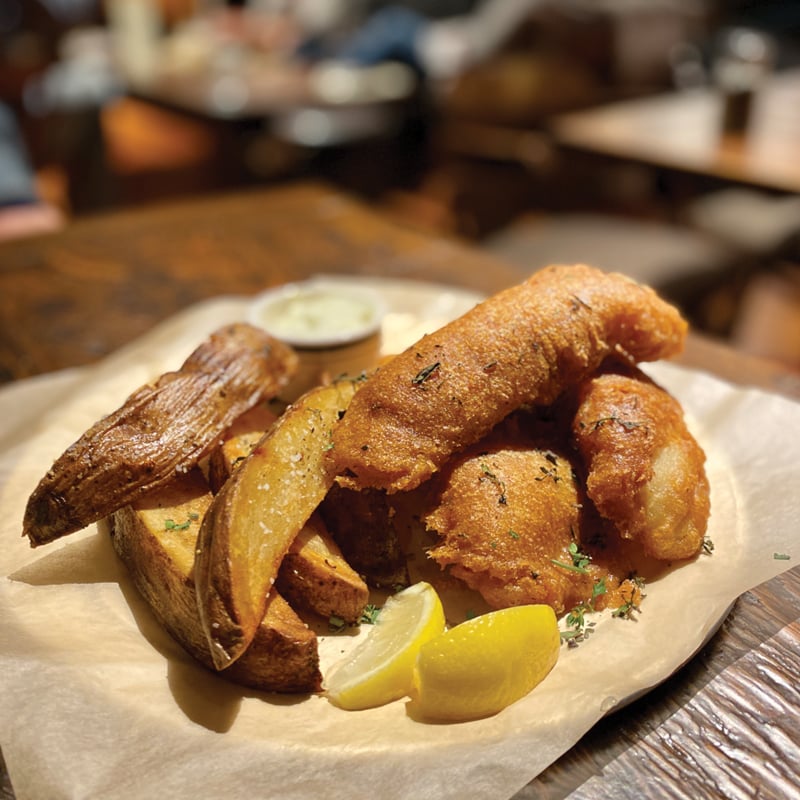 Portraits of King Richard and a young David Bowie are featured on exposed brick walls. Original hardwood flooring and a wide wooden bar complement a dark interior with low ceilings. The ambiance reminds you of a traditional pub you might find in England. But this one is located at the historic square in the Southern town of Madison, in what was once Simmons Funeral Home.
Hart & Crown Tavern opened in early 2022 as the latest offering from MAD Hospitality. The company, headed by CEO Preston Snyder, is on a mission to restore Madison's old buildings to create a series of new cafes, restaurants and shops in a part of downtown that's lacked attention. Snyder won a Preservation Excellence Award for returning the L.M. Thompson Building to its 1902 Wagon Works appearance, which is now home to Hart & Crown Tavern and Mad Taco.
On a weekend evening, Hart & Crown Tavern is full of locals and tourists who have flocked to this cozy neighborhood bar and restaurant. Some snuggle on the comfortable antique leather couch by the wood-burning fireplace, with a gin and tonic in hand. Others are seated at one of the booths or in chairs shipped from a pub in England. They gaze at artwork depicting London parks. The background of cocktail shakers, chattering people and ringing telephone adds to the watering-hole sound bites.
The menu created by Atlanta-born Culinary Director and Executive Chef Ryan Caldwell (previously at Michelin-starred Picholine, New York City, and Malibu Beach Inn, Malibu), promises a fresh take on traditional Southern and English offerings in a casual pub-like setting.
For snacks, try the classic Scotch egg, halved soft-boiled eggs wrapped in spicy ground pork, coated with breadcrumbs and deep fried to a crisp. With pickled cucumber relish and tangy mustard, it is a hearty starter, especially with a glass of whiskey.
The plates section of the menu offers many English and Southern classics. Liberty Farms lamb-shoulder cuts simmer with turnips, carrots and parsley to make a brothy lamb stew. Beer-battered Atlantic cod, seasoned with onion, garlic and curry powder for color, is fried crispy golden-brown and served with homemade tartar sauce and mashed green peas, as fish and chips. Bangers and smash offer hearty Irish sausages, spiced with mace, nutmeg, onion and garlic, on a bed of caramelized fingerling potatoes topped with a delicate parsley sauce.
A straightforward Springer Mountain chicken pot pie with seasonal vegetables and puff pastry crust was a bit disappointing. The velouté is runny, lacking the rich thick texture that holds up the pie.
In the South, you can hardly go wrong with shrimp and grits and this one is perhaps the best dish on the menu. The Atlantic shrimp are buttery on top of white-cheddar cheese grits and tangy charred tomato-and-creole cream sauce.
If you plan to drink and nibble, order a bunch of the sides – each one is filling. The mac and cheese comes with orecchiette pasta scooping up smoky and creamy gouda cheese sauce with a hint of salt and garlic. Topped with cream and bread crumbs, the side is quite rich and makes for a meal in itself. The truffle English-style chips (no, they're not the same as fries) offer hints of truffle oil and parmesan. Large pieces of triple-blanched and fried potatoes are more starchy than crisp. Farm vegetables of the day include lightly grilled and heavily seasoned, locally sourced summer squash and kale.
If you are not already full from the substantial plates, try the sticky toffee pudding for dessert. The decadent moist sponge cake has lots of rum, chopped dates, toffee caramel sauce and whipped cream. A lighter option is lemon posset – silky lemon custard with fresh blueberries (available seasonally).
The bar is a focal point at Hart & Crown Tavern, and there are plenty of cocktails and spirits to appeal to everyone. Ponder over the extensive whiskey collection, a dedicated Scotch list and a long list of gins, as well as beers on tap.
This country pub is not just a place to eat – it is a place to relax, mingle and experience British culture in Madison.