Georgia Trend Daily – Oct. 19, 2022
Oct. 18, 2022 GPB, Georgia Recorder
Stanley Dunlap reports that on Monday, thousands of Georgia voters descended upon early voting sites like the Smyrna Community Center on a record-setting first day of early voting in the high-stakes midterm election looming on Nov. 8. Across Georgia, some voters waited in long lines and the state's voter registration system crashed multiple times, with reports from voting rights groups that in about a dozen counties some people waited more than an hour to cast ballots for governor, secretary of state, attorney general, state Legislature, and U.S. Senate.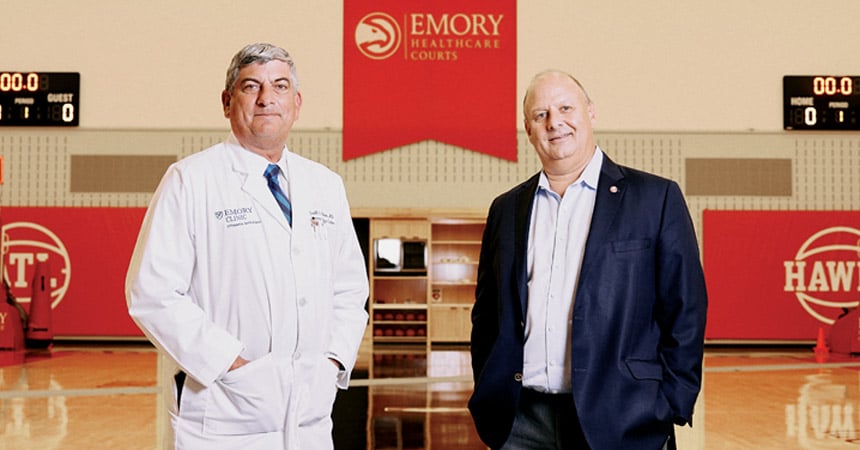 Oct. 18, 2022 Georgia Trend – Exclusive!
Lindsay Field Penticuff reports that sports medicine is about more than treating a sports-related injury. Whether it's an eight-year-old Little League player or a 35-year-old WNBA basketball player, being observed and treated by a healthcare provider who specializes in sports medicine – or a team of them – can help athletes return to play faster and can prevent injuries in the future.

Oct. 18, 2022 Atlanta Journal-Constitution
Kelly Yamanouchi reports that aircraft mechanics at UPS voted to ratify a labor contract extension that will give them a 3.3% hike in pay annually for three years, the International Brotherhood of Teamsters union announced Tuesday. The roughly 1,675 aircraft maintenance workers represented by the Teamsters will also get cost of living increases, along with larger pension contributions by the Sandy Springs-based shipping giant.

Oct. 18, 2022 Savannah Morning News
Nancy Guan reports that for decades, Chatham County and its neighbors have both contended with and benefitted from industrial development and the economic boon that follows. Now, with the Hyundai plant in tow and the continued growth of the Georgia Ports Authority, Chatham County's municipalities are playing defense and taking a hard look at their own growth management plans.

Oct. 18, 2022 Gwinnett Daily Post
Curt Yeomans reports that leaders from around metro Atlanta — including officials from one Gwinnett County city — took home some hardware at the Metro Atlanta Redevelopment Summit in Duluth last week. The Suwanee Downtown Development Authority and Terwilliger Pappas won the Large Redevelopment Award for developments that are larger than 10 acres during the MARS Awards presentation at the summit.

Oct. 18, 2022 UGA
Maria Lameiras reports that a multidisciplinary team of researchers at the University of Georgia and two partner institutions have been awarded a $15.8 million grant over five years from the U.S. Department of Energy to reengineer poplar trees (Populus sp. and hybrids) to be used as a sustainable energy source.

Oct. 18, 2022 The Brunswick News
Hank Rowland reports that Georgia's congressional delegation is asking the U.S. Secretary of Commerce to consider "narrow" changes to NOAA's proposed expansion of federal regulations designed to protect endangered right whales. In a letter to Gina M. Raimondo, Georgia's two senators and all 14 members of the U.S. House urge the Commerce Secretary to exempt ships calling on the ports of Brunswick and Savannah, as well as harbor pilot boats, from the proposed seasonal speed limit rules.

Oct. 18, 2022 The Current
Jake Shore reports that candidates for Coastal Georgia's congressional seat faced off in their first debate, which had the candidates answering tough questions on healthcare costs, inflation, and personal wealth. Hosted at the Atlanta Press Club, Tuesday's early evening debate featured incumbent Rep. Earl "Buddy" Carter, a Republican, and Wade Herring, a Democrat.

Oct. 18, 2022 Capitol Beat News
Rebecca Grapevine reports that Georgia's secretary of state candidates each sought to portray themselves Tuesday as the best protectors of democracy and elections – past, present, and future – during a debate in Atlanta. The three candidates emphasized their strong support for free and fair elections but disagreed over details.


Oct. 18, 2022 Georgia Recorder
Jill Nolin reports that Gov. Brian Kemp and Democrat Stacey Abrams met on the debate stage Monday night for the first time in their closely watched rematch as a record number of voters turned out for the first day of early voting. The Republican incumbent touted his record and emphasized the strength of the state's economy coming out of the pandemic.

Oct. 18, 2022 Atlanta Journal-Constitution
Greg Bluestein reports that Georgia's top Democrats are leaning on star power to attract even more attention to their campaigns. U.S. Sen. Raphael Warnock's campaign will host Lin-Manuel Miranda, the famed "Hamilton" creator and artist, at a Wednesday event in Atlanta designed to mobilize Latino voters.