Georgia Trend Daily – Oct. 10, 2022
Oct. 10, 2022 Georgia.gov
Staff reports that Governor Brian P. Kemp on Friday announced that Georgia's September net tax collections totaled almost $3.1 billion for an increase of $279.2 million, or 9.9 percent, compared to FY 2022 when net tax collections approached $2.82 billion. Year-to-date, net tax revenue collections totaled roughly $7.62 billion for an increase of $513.8 million, or 7.2 percent, through the end of this quarter.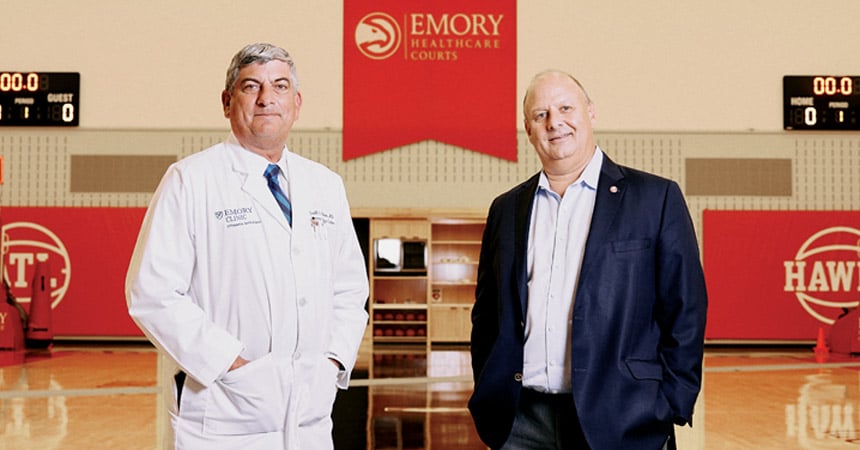 Oct. 10, 2022 Georgia Trend – Exclusive!
Kenna Simmons reports that college football fans are familiar with the sideline medical tent, a portable, on-field triage spot where players can get treatment for minor injuries and be evaluated for more serious ones. It's just one example of how sports medicine continues to innovate in treating student-athletes – and the sports medicine field can benefit us regular weekend-athletes, too.

Oct. 10, 2022 Atlanta Journal-Constitution
Kelly Yamanouchi reports that Delta Air Lines said Thursday it will work with the Massachusetts Institute of Technology on a study examining the environmental impact of airplane contrails. The focus of the study is how to eliminate persistent contrails, which make up about 10% of all contrails and create clouds that trap heat and warm the earth, according to Delta.


Oct. 10, 2022 Rome News-Tribune
Staff reports that the state released official economic impact data this week that show tourists spent $136.4 million in Floyd County during 2021, the most recent year that data is available, according to a Georgia's Rome Office of Tourism release. This spending is a 24.8% year over year increase surpassing pre-pandemic numbers.

Oct. 10, 2022 SCAD
Staff reports that the Savannah College of Art and Design (SCAD) is proud to announce the opening of the university's second state-of-the art extended reality (XR) stage for virtual productions at SCAD Atlanta's recently expanded SCAD Digital Media Center. The debut of the XR stage, or LED volume, will take place during SCAD AnimationFest, the university's annual festival dedicated to exploring the latest trends in animation, motion media design, visual effects, virtual production, and all facets of creative technology in entertainment.

Oct. 10, 2022 State Affairs
Tammy Joyner reports that Michael Register has spent the better part of his four-decade career rooting out evil either on the battlefield as a soldier and special operations expert or the streets as a police officer and commander. Now as the newly-appointed director of the Georgia Bureau of Investigation (GBI), the seasoned law enforcer is leading the state's top law enforcement agency into a new arena of crime-fighting: Elections.

Oct. 10, 2022 The Brunswick News
Gordon Jackson reports that Camden County officials and residents have their own reasons for paying close attention to the pending Georgia Supreme Court decision on Spaceport Camden. Both sides are battling over the validity of a special election in March where 72% of the vote favored prohibiting the county from spending more money to pursue a spaceport.

Oct. 10, 2022 Albany Herald
Alan Mauldin reports that drivers making the trip from Albany to Moultrie are getting a new greeting in the small town of Doerun, with a cow and chicken highlighting a mural that spells out the city's name in brilliant letters. Doerun, located some 20 miles southeast of Albany, is on a roll of sorts, with a new restaurant, a YMCA facility available for members to use 24/7 and a liquor store all locating there within the past year.

Oct. 10, 2022 The Center Square
T.A. DeFeo reports that a Georgia study identified more than $103 million in air cargo investments at Georgia airports to keep up with growing demands, and state taxpayers may fund at least some of the projects. The Statewide Air Cargo Study conducted for the Georgia Department of Transportation recommended the state create an Air Cargo Working Group to, in part, advocate for funding from the state legislature.

Oct. 10, 2022 Augusta Chronicle
Abraham Kenmore reports that Fort Gordon is one step closer to being Fort Eisenhower. On Thursday, Secretary of Defense Lloyd J. Austin III issued a memo accepting the recommendations of a congressionally authorized commission to rename U.S. Military assets honoring Confederate soldiers.

Oct. 10, 2022 Capitol Beat News
Rebecca Grapevine reports that Georgia Secretary of State candidates Republican Brad Raffensperger and Democrat Bee Nguyen both claim to be strong defenders of voting rights for Georgians, though they hold starkly different visions about how to protect the state's elections. One of the Secretary of State's main jobs is to administer elections.

Oct. 10, 2022 Atlanta Journal-Constitution
Tia Mitchell reports, for months, U.S. Rep. Drew Ferguson has been campaigning to become the third-highest-ranking Republican in the House. If the GOP retakes the majority after the November elections, which is widely predicted, Ferguson has a chance to become the highest-ranking Georgian in Congress.