A new ballgame for sports medicine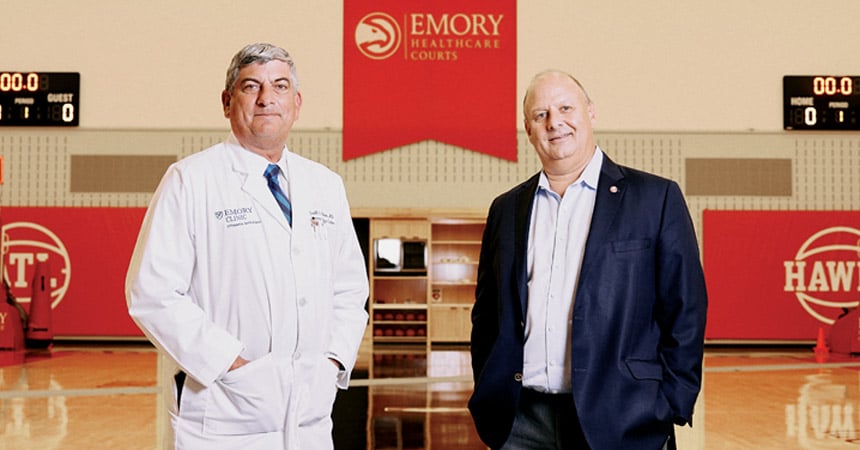 College football fans are familiar with the sideline medical tent, a portable, on-field triage spot where players can get treatment for minor injuries and be evaluated for more serious ones. It's just one example of how sports medicine continues to innovate in treating student-athletes – and the sports medicine field can benefit us regular weekend-athletes, too.
Take Georgia Tech's Homer Rice Center for Sports Performance. It may be located at the north end of Bobby Dodd Stadium, but it's not limited to players. Students, employees and their families can access its physical therapy and chiropractic services. Physical therapy requires a referral, but anyone in the aforementioned groups can call directly for a chiropractic appointment. Most major insurance is accepted.
At the pro level, efforts are being made to broaden the field of practitioners. For three Morehouse School of Medicine students, that brought the opportunity to be selected to the NFL's inaugural Diversity in Sports Medicine Pipeline Initiative, a hands-on training program which seeks to increase and diversify the pipeline of students interested in sports medicine careers and ultimately help to diversify medical staff at NFL teams. The three students, Omolayo Dada, Paolo Gilleran and Eddie Gontee, completed a one-month clinical rotation – Dada worked with San Francisco 49ers team physicians while Gontee and Gilleran worked with Atlanta Falcons doctors.
Like the Falcons, the Atlanta Hawks rely on sports medicine to prevent as well as treat player injuries, even going so far as to attach the team's new practice facility to Emory Healthcare's state-of-the-art sports medicine center. Read about that decision and how it pays off in "Specialized Care for Athletes" in the October issue of Georgia Trend.
Photo by Ben Rollins. Shown are Dr. Scott D. Boden, director of the Emory Orthopaedics and Spine Center and vice president for business innovation, left, and Andrew Saltzman, executive vice president and chief revenue officer for the Atlanta Hawks and State Farm Arena.
Do you follow us? Find us on Linkedin, Facebook, Twitter and Instagram.