Attracting students to banking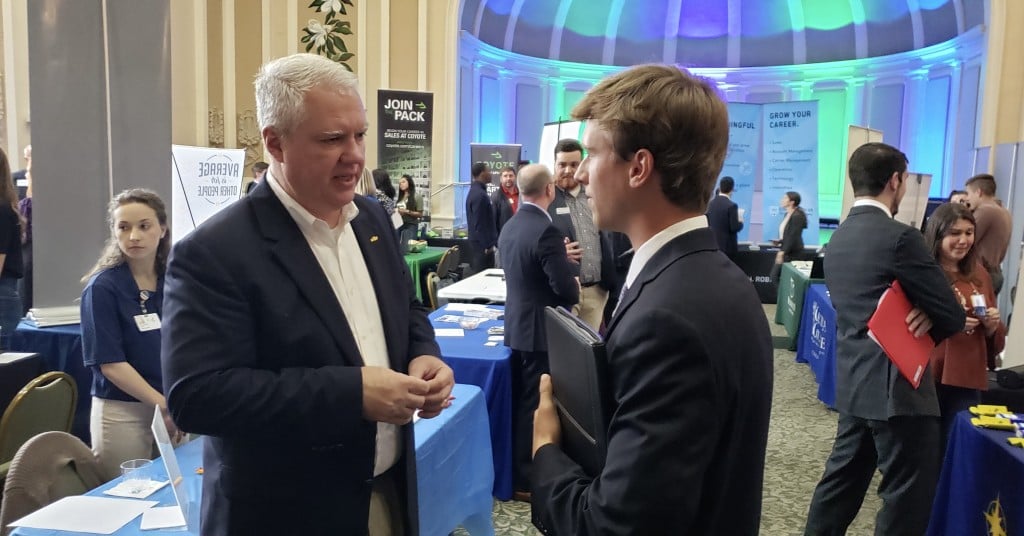 Finding qualified workers is the number one challenge facing companies across sectors, but it can be doubly difficult for companies located in rural regions of the state. When every company is attempting to attract the most talented workers, how can smaller companies in dynamic industries like finance compete with their larger counterparts? What can community banks, often located in rural areas of the state, do to differentiate themselves and to capitalize on local talent in an increasingly tight job market?
John McNair, president and CEO of the Community Bankers Association (CBA) of Georgia, latched onto an intriguing idea. After learning that most in-state students graduating from college moved back to their hometowns, he encouraged CBA members to participate in local campus career fairs to meet students seeking internships, full- and part-time employment.
"That's a lot of potential customers or potential employees," McNair says.
Starting in 2019, CBA began participating in campus career fairs around the state including the University of Georgia (Athens), Georgia Southern University (Statesboro), Georgia College (Milledgeville), Kennesaw State University (Kennesaw) and others. Students have shared their resumes and often learn about jobs on the spot.  Obviously, the pandemic put a halt to face-to-face career fair interactions, but during that time, McNair said they were able to link up students whose resumes they'd collected (either in person or on CBA's online portal) with internships in local banks in their communities.
The CBA also partners with the Georgia Fintech Academy, a talent development initiative working to bring diversity into the fintech industry, using the career fair strategy to  educate students about community banking.
McNair says community banking often has great appeal for today's service-minded young adults who are often looking for a calling as much as career.
"A lot of today's students want to connect with a mission," he says. "They want to feel that they're giving back to their community. There's no better industry to do that than the community banking industry. We help small businesses get started, we help people get jobs, and help fund people's homes in local communities. We make people's dreams come true. We find that message resonates with young people. We've had success placing students who otherwise weren't thinking about community banking. It's been good for them and good for our bankers."
Learn more about other programs and partnerships that are helping to build Georgia's workforce pipeline in this month's feature, "Outfitting the Toolbox."
Photo provided by CBA. Shown are Derek Williams, president and CEO of Century Bank & Trust, Milledgeville, and board member of CBA of Georgia, left, and a student attending a career fair at Georgia College in Milledgeville.
Do you follow us? Find us on Linkedin, Facebook, Twitter and Instagram.