Reconnecting to the River
The plan for a 100-mile water-and-land corridor along the Chattahoochee envisions many benefits.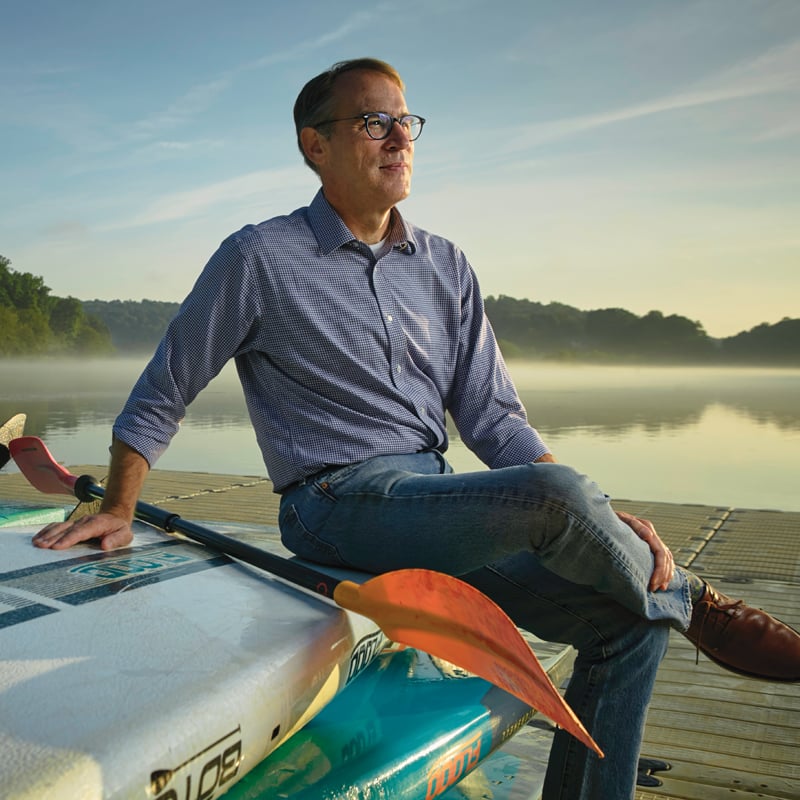 It's hard to go anywhere in Atlanta without being reminded of its history as a railroad town. From bumping across tracks to skirting the downtown Gulch to traversing the BeltLine (created from repurposed rail lines), the city's early claim as the transportation hub of the Southeast is hard to ignore. You can be forgiven if you don't realize that a river also runs through it.
"Atlanta has a complicated relationship with the river," says George Dusenbury, vice president of the Southern Region and the Georgia state director for the Trust for Public Land (TPL), of the Chattahoochee River. Running the length of the metro from Buford Dam to Coweta County, it provides some of the area's drinking water (along with Lake Lanier) and, depending on where you live and drive, is a place for recreation or a source of traffic backups due to a lack of bridges and crossings.
But an ambitious plan for a 100-mile green-and-blue corridor aims to change that, reconnecting the city and its residents to the river while also providing equitable access, an alternate way of getting around, conservation and protection of the water and land, and a tool for economic development.
The Chattahoochee RiverLands would start at Buford Dam on Lake Lanier and wind down through 19 cities and seven counties to Chattahoochee Bend State Park in Coweta County. It would encompass 125 miles of greenway (trails) and 104 miles of blueway (water) with 25 new trailheads and 42 access points. A system of "tributary trails," many developed by cities or counties near the RiverLands, would connect communities to the RiverLands trails, expanding the reach.
It is, as all involved note, a "generational project." The master plan for the RiverLands is flexible and designed to be tackled in sections. Dusenbury, whose TPL joined the Atlanta Regional Commission (ARC), city of Atlanta and Cobb County to produce the master plan, jokes that his 10-year retirement plan is to take the opportunity to build a 19-mile, 6,000-acre section that would connect from Peachtree Creek to Boundary Waters Park in Douglas County.
But a "showcase project" is already underway in South Cobb County, a build-it-and-they-will-fund effort that will produce a 2.7-mile section that spans Mableton, unincorporated Cobb County and a small slice of Smyrna. And although it may indeed take a generation, the river's checkered history has also made such a grand plan possible.
---
Hidden Waters
Before 1860, the Chattahoochee powered mills and industry, and you'll see remnants of that time in some street names, like Powers Ferry and Howell Mill roads, and ruins like the mills at Sweetwater State Creek Park and Sope Creek Park. As Atlanta rebuilt its infrastructure and its identity after the Civil War, the city leaned into rails and the river often became a barrier to be crossed – or not crossed, as it served as a racial dividing line. Those barriers persist in the relative ease of access to the river and sheer acreage of parklands in the north metro compared to the lack of access points and greenspace in the south.
"Over the past 100 or even 200 years, a lot of infrastructure has crossed the river repeatedly, whether it's been rail bridges and crossings, or ferry crossing, even earlier," says Gena Wirth, design principal at Scape, a New York City-based landscape architecture and urban design firm that led the team that produced the master plan. "Today it's highway crossings. So there might be these moments where you're driving and get a glimpse of the Chattahoochee or [you] see a sign that says you're crossing [it]. But those moments are so infrequent and quick, there really isn't that sense of the identity of the river."
North of Atlanta, the river is a respite; but inside the city, it was harnessed for industrial uses and south of the metro it enables agriculture. In 1973, the Chattahoochee got some help from the Metropolitan River Protection Act, signed into state law by Gov. Jimmy Carter, which created a 2,000-foot buffer on both sides of the river from Buford Dam to Peachtree Creek and was later extended through Fulton and Douglas counties. But sewer overflows led to the river being included on an annual list of "most endangered rivers" by the American Rivers environmental organization in the 1990s. (It's made the list again since then, though for other reasons.) That sparked the creation of the Chattahoochee Riverkeeper, which focused on water quality, and the launch of TPL's Chattahoochee River program, which focused on helping protect land along the river, says Dusenbury.
Those efforts meant that there's a lot of greenspace along the river south of Peachtree Creek, Dusenbury says, which means a big plan like the RiverLands is more possible than if the land was already developed. "There's actually space to work within and space for ecological protection [where] we can – very sensitively – weave in public access," says Wirth.
And that public access is sorely lacking south of Peachtree Creek. In fact, it's practically nonexistent downstream from the Chattahoochee National Recreation Area which sprawls along 48 miles of the river in north Atlanta. Almost 40% of the land within one mile of the river is greenspace, but there are many fewer parks, access points and even highway crossings in the south metro.
"What kept surprising me was just how difficult it often was to access the Chattahoochee, even when it was so close to us," Wirth says. "We'd be staying in a hotel or having dinner at a nearby restaurant and someone would look at Google maps and say, 'Wow, the Chattahoochee is right behind us.' And then you would look at Google's walking or driving distance to get to the river, [and] it would say 48 minutes with some roundabout way to get to a publicly accessible point."
"Very few people in our region of 5 or 6 million have a chance to go down to the river and be in it," says Byron Rushing, bicycle and pedestrian program manager at ARC and a member of the Chattahoochee Working Group involved in the RiverLands plan. The working group includes more than 70 local stakeholders including city, county, state and federal government agencies and officials and environmental nonprofit organizations.
---
Cobb County Showcase
To envision a different way, look to what the RiverLands plan calls its "showcase project" in South Cobb, located within County Commissioner Monique Sheffield's majority-minority district which, she notes, hasn't really piqued the interest of developers in the same way that North or East Cobb has. She believes the new trail, and especially a regional trailhead and boat ramp, will "really bolster that end of the county…. Developers will normally follow green space, parks, blueways, waterways because those are the things that, in part, help to increase property values," she says. "Developers are always drawn to that because homeowners are also drawn to having those amenities right outside their front doors." With funding from ARC, TPL, Cobb County and other funders, work is scheduled to start next year on a mile-long multimodal trail along the river on county-owned land in Discovery Park at the River Line. The longer 2.7-mile segment will eventually stretch between Mableton Parkway and Riverview Landing, north of Veterans Memorial Highway.
This pilot project will cost about $44 million and be open by the end of 2025, says Dusenbury. A tributary trail will run from Mableton, bringing residents into the greenway.
Sheffield is excited by the prospect of a regional trailhead that would be not just a parking destination but "a real community asset," with possibly a picnic area, playground, restrooms or even concession stands. "Typically you don't find those assets in [majority-minority] communities and it's not that the desire isn't there, it's just that the focus and attention hasn't historically been given to those communities with those types of assets," she says. And, she says, having access to the river will not only encourage development, it will enhance residents' mental as well as physical health.
Dusenbury notes that this first RiverLands trail will exemplify one of the big draws of the entire project – how people can enjoy the changing nature of the river and the land around it as they travel along its path. For example, he says, if you're traversing the wetlands in the park around Nickajack Creek, you'd never know you were within a few miles of downtown Atlanta. But if you're closer to the Smyrna portion, you're near mixed-use development where you could step off the trail to get a beer or some coffee at one of the shops. He likens it to the BeltLine in that regard and says that the RiverLands will adapt to the communities it passes through just as the BeltLine does.
After the showcase greenway project, next up is a pilot project for the blueway – a 48-mile camping and paddle trail that runs from Atlanta to McIntosh Reserve in Carroll County. Dusenbury notes that there's no place currently to camp on the river, so this would be a unique experience. It's currently in the permitting and design phase. "Probably by 2024, you'll be able to head out on the Chattahoochee and spend four days and three nights camping and paddling," he says. "Our strategy is to show people what the greenway can be, what the blueway can be, and combine that with tributary trails, and that is what the [entire] RiverLands [could be]."
---
Jumping the Last Mile
Like the river itself, the design and creation of the RiverLands is complicated. It requires some coordination between many municipalities and counties in the metro area's famously fractured governance. "It's not like there was one over- arching entity or authority that controlled all that space," says Wirth. "It was a very complex process" to come up with the master plan.
Economic development and ecological protection both play a role and must be balanced. "There are certain zones where we need to be very ecologically sensitive because they're important migratory bird or native fish areas or areas of large intact forest, and we can't be slicing and dicing them with trails," says Wirth. "There are also other parts of the project that are much more urban, and it's important to connect to popular destinations and bring people to the system."
Within that framework, the system can be a real economic driver, says Dusenbury. "It's something that is going to help us compete, not just nationally but globally," he says. "When we have spoken with folks like the Georgia Chamber of Commerce or the Metro Atlanta Chamber, they understand that as we compete for talent and business, having an asset like this can be truly transformational."
Addressing issues of equity, demonstrated by the difference in access to the river as you go from north to south Atlanta, is also an ongoing concern, so that improving access doesn't lead to "green gentrification." The first step is to be aware of the risk, Dusenbury says, and to work with the communities to address it. "We [TPL] believe that everybody should have access to parks, to the outdoors and to quality recreation," he says. "It's incumbent on us to work with the jurisdiction and say, 'Just because you are poor doesn't mean you have to have a choice of either having a park or getting priced out of where you live.'" He mentions efforts like the Westside Future Fund, a nonprofit organization devoted to helping revitalize neighborhoods in Atlanta's Westside, which establishes funds to help residents offset rising property taxes after neighborhood improvements.
Those issues, combined with the sheer length of the RiverLands, make it a generational endeavor. But, says ARC's Rushing, work was already happening in many areas, from the city of Atlanta's Proctor Creek Greenway (opened in 2018) to the Chattahoochee National Recreation Area improvements happening now to plans for the Chattahoochee Greenway on National Park Service land in Johns Creek. "So many pieces were already in place," he says. "It will not be easy to make those connections, but they're really short. All we have to figure out how to do is jump that mile in between."