Gainesville | Hall County: Regional Powerhouse
Manufacturing, healthcare and education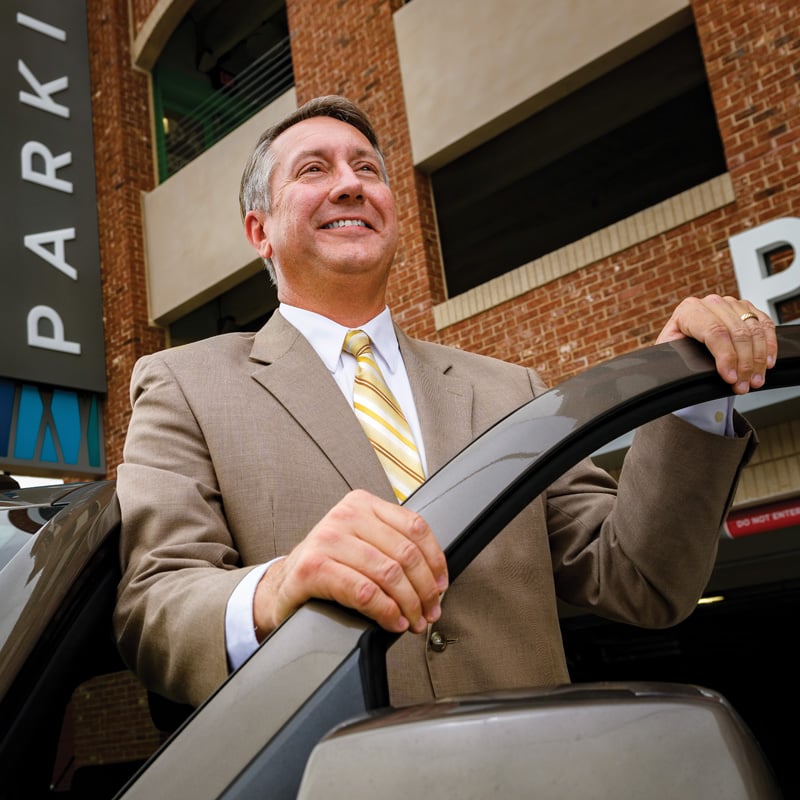 For an unprecedented eighth straight year, Georgia has won America's best-place-to-do-business crown. One of the brightest jewels in that crown belongs to the Gainesville-Hall County metropolitan statistical area (MSA). During the incredible run of No. 1 rankings, the area has been the state's top job-producing MSA on a per capita basis.
For the fiscal year that ended June 30, 18 new and expanding firms have announced 1,770 new jobs and $295 million in new capital investment in the MSA. Since 2015, the Greater Hall Chamber of Commerce's Economic Development Council has assisted 142 new and expanding businesses that have announced more than 8,100 new jobs and $1.9 billion in new capital investment.
The business world has taken notice. In 2021, the MSA was named the Top Small Metro Area in Georgia and No. 9 in the nation for Best-Performing Small Metros by the Milken Institute Report and one of the top Small Metros in the Nation for job creation and investment by Site Selection magazine. Not to be outdone, Forbes magazine has rated Gainesville and Hall County one of the Best Small Places for Business and Careers for eight years running.
The accolades have caught the attention of local governments across Georgia. "A question I get all the time," says Bryan Lackey, Gainesville city manager, "is 'what's going on up there?'" What's going on is that Gainesville and Hall County have become a regional powerhouse of employment, industry and healthcare for the 2 million people in Northeast Georgia.
Underlying this growth is work of the Economic Development Council, a 30-year public-private partnership between the Greater Hall Chamber of Commerce and four cities: Gainesville, Flowery Branch, Oakwood and Lula. One of the council's cornerstones is an industry program that facilitates the entry and expansion of 330 manufacturers and processor- and manufacturing-headquartered firms and 57 international company locations representing 19 countries. These firms are the county's largest source of capital investment growth and make up almost 30% of its employment. "It's the main reason we are Georgia's only single-county MSA," says Tim Evans, Greater Hall Chamber of Commerce vice president of economic development.
Healthcare is another major job source. Two anchor hospitals, Northeast Georgia Medical Center (NGMC) Gainesville and NGMC Braselton, plus nearly 500 healthcare providers, account for 15% of Hall's 106,000- member workforce.
"Growth is coming to and through the Gainesville-Hall County metro area," says Kit Dunlap, Greater Hall Chamber of Commerce president and CEO. "What sets this community apart is the strong sense of working together between the business community, healthcare, education and local governments as we meet the long-term growth needs of being a regional center for Northeast Georgia. Working together has never been more important so that we can ensure the best quality growth for our future."
Recent expansions by Kubota North America and Zebra Technologies are helping drive economic investment. Kubota, which makes agricultural machinery and implements, construction and turf equipment and utility vehicles, will add a new $140 million facility to its growing county presence with a new manufacturing facility in Gateway Industrial Centre. It will employ 500 full-time workers when finished in mid-2024 and bring Kubota's county employment to more than 2,500. Kubota also opened a North American R&D facility in Hall in April.
Zebra Technologies, which makes bar code printers, scanners and labels, is expanding into a new warehouse and shipping facility in Flowery Branch. "Because of the growing demand for its products and solutions, Zebra needs a separate, dedicated warehouse and shipping facility," says Pao Sengkhammee, senior operations manager.
To accommodate industrial growth and local expansion, Gainesville is developing a 1,300-acre Gainesville 85 Business Park. Marquee signage will designate the park as Gainesville's eastern gateway. Named for its easy access to Interstate 85, the business park already has a tenant: Cottrell Inc., which Lackey says makes about two-thirds of U.S. car carriers. Cottrell has begun a $125 million expansion backing up to present operations. Another appeal to corporate expansion is a Georgia Ports Authority-Norfolk Southern partnership to develop a new Northeast Georgia inland port terminal adjacent to Gateway Industrial Centre. Construction is expected to start in the fourth quarter of 2022 with operations beginning in 2024.
---
Vibrant Downtowns
More than $250 million in downtown retail and commercial developments are underway in Gainesville, Flowery Branch and Oakwood. Residential, hotel, entertainment and mixed-use projects worth $200 million in Gainesville's city core are a spinoff of economic interest in the MSA, says Lackey. Gainesville's newest residential project is Midland Gainesville, a 214-unit, $57.2 million apartment project by Marietta-based McNeal Development. The first units are due in early 2024. "We were drawn to downtown by the economic story," says William Norris, McNeal Development principal.
A highly visible project nearing completion is a Courtyard by Marriott and an adjoining apartment building. The hotel, to be managed by McKibbon Hospitality, will have seven stories and 130 rooms and will connect to the apartments via a pedestrian plaza. The hotel and apartment building are collectively called The National in recognition of The First National Bank of Gainesville that was once on the site. The apartment building will have 157 units and will also be named The National. Both buildings are being developed by local developer Capstone Property Group, with McKibbon Places providing consulting on the hotel. The combined project is valued at around $75 million. The hotel is scheduled for completion in May 2023. The apartments should be ready next June.
Two other major developments are opening in phases. One, the three-story $22.4 million mixed-use Gainesville Renaissance, takes up an entire side of Gainesville Square. It was designed to match the 1900s-era buildings on the other sides, says developer Fred Roddy. Construction was sequenced to finish the second floor first, which was occupied in April by Brenau University's new Lynn J. Darby School of Psychology and Adolescent Counseling plus faculty offices for the university's Ivester College of Health Sciences. Work is finishing on the first floor, which will have retail and dining and feature two restaurant anchors, Taqueria Tsunami and Cotto Modern Italian. Onward Reserve, a men's clothing store, and a Brenau art gallery will also be on the ground floor. After this retail is leased, the third floor of seven luxury condos will be leased.
The other phased development is Solis Gainesville, a $48 million, mixed-use project with retail, restaurants and apartments. Phase one opened in the spring, with phase two scheduled for completion in late 2023.
Walkability between downtown's new venues was enhanced in July when a city streetscaping project and a parking deck were finished. "The new deck provides parking on downtown's north side, where a lot of our vibrancy is happening," says Lackey. Adding to that vibrancy will be Bourbon Brothers Smokehouse and Tavern and the Hall at Bourbon Brothers Powered by Boot Barn, a $12 million restaurant and music venue being built by Gainesville's Carroll Daniel Construction. "The facility will be used for weddings, corporate, municipal and livestreaming events," says Robert Mudd, president and chief operating officer of Notes Live (formerly B Entertainment), which owns and operates the venues. Boot Barn, the largest U.S. western and work wear retail chain, is a marquee sponsor, adds Mudd. Anticipated construction completion is in early 2023.
For those seeking more than a downtown stroll, there's another – much longer – option. The Highlands to Islands trail cuts across the heart of downtown at Pocket Park, a small area between Gainesville Renaissance, Roosevelt Square and the Brenau downtown center. Plans call for the multiuse paved path to be 35 miles long and extend to Lake Lanier Islands, connecting along the way with the University of North Georgia Gainesville by Oakwood and downtown Flowery Branch. Adding to Gainesville's vibrancy, though not in its historic downtown, is a new youth sports complex named the J. Melvin Cooper Youth Athletic Complex. Better known as "The Coop," it will feature five baseball/softball fields, one multipurpose field, walking trails, playgrounds, pavilions and concession buildings.
Flowery Branch is in the middle of an ambitious two-phase public-private partnership to redevelop its downtown area, says Richard Atkinson, director of planning and community development. Phase one, which is wrapping up, includes a two-level mixed-use project on Main Street with 13 top floor apartments and 7,000 square feet of street-level retail and restaurant space, an event pavilion (see Local Flavor, page 89), streetscaping, road improvements and a park beside the Antebellum Restaurant.
Phase two, which is just getting started, features a mixed-use development across from City Hall and another development where planners hope to attract more retail and restaurants.
Oakwood is getting a new interactive learning center downtown. Interactive Neighborhood for Kids (INK) is relocating from Gainesville and was to break ground in September for a new facility that doubles its current size. "Interactive Neighborhood for Kids is a hands-on learning and interactive museum where kids learn how a neighborhood works and about careers they may be interested in when they grow up," says Mandy Volpe, the nonprofit's executive director. The Gainesville center has attracted about 78,000 visitors a year.
---
Keeping Pace with Demand
Industrial, residential and commercial growth means more and more people rely on the Northeast Georgia Health System (NGHS), which is headquartered in Gainesville, as their local health system. "We need to grow to keep pace with demand for our services," says Carol Burrell, NGHS president and CEO. The four NGMC campuses in Gainesville, Braselton, Lumpkin and Barrow have an impact of more than $3.5 billion on local and state economies. The centerpieces of NGHS growth are construction of a new tower at NGMC Gainesville and a new medical plaza in Braselton.
The tower will have 150 rooms, a new ER department and cardiac care services. It broke ground in March and is scheduled to open in early 2025. "That hospital [will be] the third-largest in the state by bed size and will streamline life-saving emergency and trauma care," says Burrell. The Braselton project also broke ground in March and will open in the first half of 2023. "This will add ambulatory surgery for that community," says Burrell. In addition, the NGMC Graduate Medical Education Program, now in its fourth year, welcomed its newest resident physicians class July 1. Its first 19 residents graduated July 12.
---
Workforce Development Focus
Brenau University has become part of the economic engine of Hall County, not only with its downtown Gainesville campus but with its expanding healthcare doctoral programs. "We have doctorates in all major healthcare areas, a doctorate in education, and we're building a doctor of psychology, which is one of our newest degrees," says President Anne Skleder.
The psychology doctorate will be offered at the Darby School in fall 2023, which also offers bachelor's and master's degrees and will start a dance and movement therapy certificate program in January 2023. Doctorates are in place in nursing, offered at the Brenau East and Norcross campuses, and in physical therapy and occupational therapy, provided at the downtown center. Physician assistant studies and physical therapy programs are also offered at the downtown center. Brenau has designated The Darby School and the downtown center, which is undergoing a $1.95 million facelift that will give it an appearance similar to the Gainesville Renaissance, a new downtown campus. A ceremony to celebrate the campus was scheduled for September. One of Brenau's goals, Skleder says, is to help solve a healthcare crisis in North Georgia she says is driven by a shortage of healthcare professionals and lack of mental healthcare.
Like Brenau, the Hall County secondary schools are focusing on workforce development. For example, the school system has expanded its career, technical and agribusiness education, including a new hands-on, 50-acre agribusiness learning center. When up and running, the center will feature a meat-processing center. "We are committed to providing our boys and girls real-life opportunities in the world of agribusiness," says Will Schofield, superintendent of Hall County Schools.
Gainesville High School continues to evolve with a $75 million redesign of the campus. "The redesign includes the Advanced Studies Center, where workforce development and advanced academics intersect," says Jeremy H. Williams, superintendent of Gainesville City Schools.
Along with workforce education, the manufacturing, healthcare and downtown development sectors are helping to power unprecedented growth in Gainesville and Hall County. And it's all happening with a spirit of working together to meet the community's needs.
---
LOCAL FLAVOR
A Swinging Place
Thanks to a new open-air covered pavilion scheduled to debut in mid-August, downtown Flowery Branch is becoming one swinging place. Literally. A concert by the Swinging Medallions, a 1960s beach-music band famous for Double Shot (of My Baby's Love), was to be the new venue's first community event on Sept. 1.
The much-anticipated pavilion off Railroad Avenue, with a walkway to Main Street, will host concerts, festivals, downtown block parties and the popular weekly farmers market. The concerts are free, and a grassy area in front of the pavilion will give concert goers a place to enjoy performances or picnics any time of the year. "It's going to be the hottest attraction that everybody has been wanting to come to," says Renee Carden, the city's downtown director and director of the 45-vendor farmers market.
Clearly, Flowery Branch residents agree.
Three weddings are scheduled for September and October and a Boy Scout festival is planned for October. The Christmas tree lighting will be held at the pavilion and an art festival and Boy Scout festival are planned for the spring. The pavilion will give the farmers market, open every Thursday, May through September and twice a month October through April, a permanent home.
"Our patrons will finally have consistency to find us," says Carden, pointing out the market has switched locations often.
"We are very excited about moving into our new farmers market pavilion," says Mayor Ed Asbridge. "This will enable us to have a more organized market for our residents plus give us a home for the many other events planned during the year."
"Local events are something we hope not only brings people in once, but continues to bring them in," says Katie Gettys, who, with her business partner, Caylen Foster, plans to open The Social Peach Boutique, a women's clothing, accessories and gifts store, on Main Street. "The farmers market draws in people each week, which was a determining factor when thinking about foot traffic," says Foster, adding that she and Gettys are long-time natives of Flowery Branch.
Bob Bradbury, who has been a beekeeper more than half his 90 years and has been selling honey and bee-related products at the farmers market since its inception, is thrilled the market will have a permanent home. "Sometimes we have been relocated several times during the same season, including this one." he says.
The city will hold a ribbon cutting later this year and the pavilion might have a formal name by then. "Right now, everyone just calls it the market pavilion," says Carden. "I think we can do better than that."