Safeguarding the Fields
Effective practices ensure the long-term viability of farmland.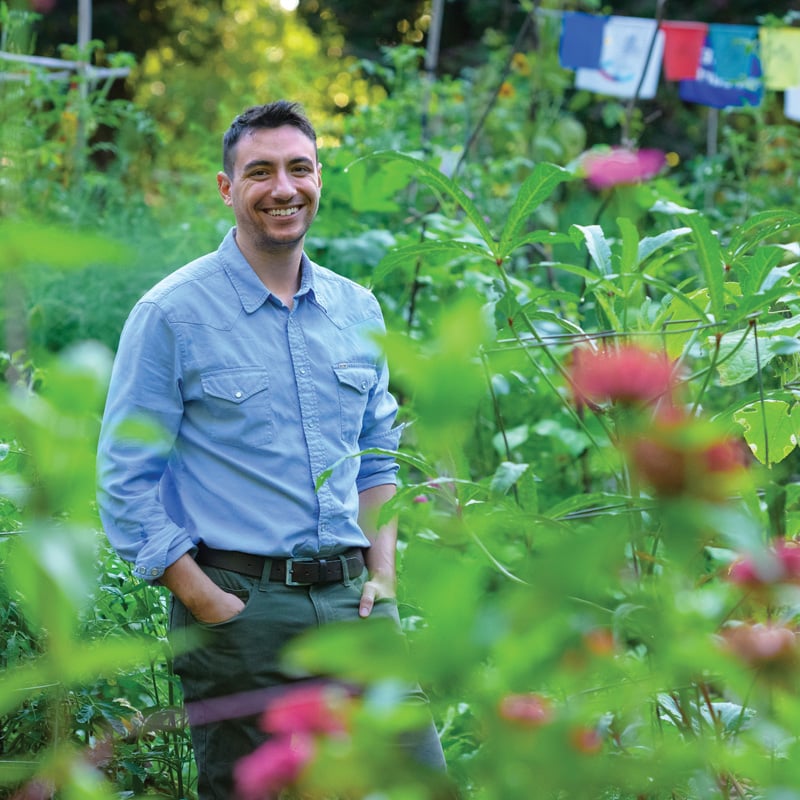 The Georgia Conservancy, which has advocated for conservation of the state's natural resources for 55 years, teamed up with Georgia Trend last year to initiate the Sustainable Futures Awards. The awards salute communities or business entities that are pioneering practices that result in wise stewardship of land, air and water – a recognition, in short, of those who found the balance where both the environment and the economy flourish.
The 2022 awards recognize farming operations that are embracing practices that protect farmland from development and ensure land currently under cultivation remains viable. It's a tall order in Georgia, where agriculture is the dominant industry.
"The Georgia Conservancy is interested in pretty much all things that involve the preservation of our land in one way or another, to serve both the ecological and economic needs of Georgia," says Luben Raytchev, a designer and planner at the Conservancy. "Agricultural lands are quickly disappearing because they are becoming the target of development, or they are becoming fallow because of unsustainable farming practices."
Nick Johnson, a senior planner with the organization, echoes that sentiment, pointing out the importance of agribusiness as Georgia's leading economic sector. "The Conservancy is really interested in not just [the] survival but the flourishing of the sectors of our economy that rely on the outdoors," he says. "We depend on the outdoors and our land for everything. We're interested in the conservation of farmland and its continued cultivation for the health of future generations. We've been engaged in a project to understand what has changed on the land in the last 50 years, particularly in how forest and farmland and pasture have developed and how those trends shape our future – so we can have one." Modern farming presents unique economic challenges but when it comes to land, farmers have tools that can help ensure their fields remain agricultural for generations going forward. Chief among these are federal programs where agricultural landowners can trade off the future development potential of their land via easements – permanently – in exchange for cash payments or income tax advantages. These programs include the U.S. Department of Agriculture's Natural Resources Conservation Service (NRCS), which offers the Agricultural Conservation Easement Program (ACEP).
A seemingly unlikely partner in land conservation is the U.S. Department of Defense, which has a vested interest in preventing development from interfering with training operations at military bases. When subdivisions or commercial development border once-rural areas beside bases, noise problems and safety concerns arise.
The U.S. Army's conservation mechanism is the Army Compatible Use Buffer (ACUB), a voluntary program involving an easement – again, in perpetuity – that restricts land use near bases to agricultural or similar low-density uses. It's an important program for a state like Georgia that's rich in military assets such as Fort Stewart near Hinesville, which at 279,270 acres is the largest military installation east of the Mississippi River. The Army determines which areas are eligible for ACUB. If a landowner applies for the easement, the application process includes appraisal of the land at its highest use. Approved ACUBs are paid for, depending on the situation, in cash or tax advantages.
The requirements for participation in the NCRS and ACUB programs are complex, and for good reason. The money involved comes from public coffers, and the deal truly is set in stone. The protected land has a decreased value, since its use is now restricted, and those restrictions travel with the land in perpetuity if it is sold or inherited, with no further compensation. Land trusts, such as the Athens Land Trust in Northeast Georgia and the statewide Georgia- Alabama Land Trust, are available to help landowners consider and apply for these programs.
The agricultural operations chosen for this year's Sustainable Futures honor provide examples of effective ways farmland can be preserved for the future.
---
Pooling Resources
Pretoria Fields Collective
Albany
You could say that Tripp Morgan, M.D., grows beer.
He raises small grains, fruit and hops organically on 200 acres in Albany, then brews a collection of mostly light beers and sells the results via distributors in Georgia and Florida, as well as in a downtown brew pub.
"Beer is water, hops and grain, with hops as both a preservative and a flavoring ingredient. Hops and barley are found all over the world, so that is why beer is found all over the world," Morgan says.
Where does the collective come in? "It's a German idea and it basically means we all farm together and pool our resources. Let's say I grow wheat this year and maybe next year I grow barley and Sam grows wheat," he explains. These pooled-land tactics make it possible to rotate crops even on a group of small farms, and crop rotation is essential to soil conservation.
Morgan, the son of a pharmacist who also farmed, is a practicing vascular surgeon with a degree in pharmacy. "I moved back to Albany and my practice was going pretty well after four or five years. Then I actually had some health issues and I chose a naturopathic way to treat it, with diet and destressing," he says. That's what spurred his interest in organic farming.
Crops vary annually, but Morgan estimates he has eight to 15 acres in blueberries and blackberries (which go in some varieties of his beer), two fields of about 86 acres in small grains like rye and barley, eight to 10 acres in young fruit trees and an acre of hops, part of which is hydroponic.
"Industrialized farming has fed the world, but industrialized farming is making us sick. If you are not involved in corporate agriculture, no one will argue with that," Morgan says.
When he decided to launch a brewery to utilize the fruits of his labors, Morgan had something small-scale and farm-based in mind. But the Downtown Development Authority of Albany got wind of his plans and talked him into thinking bigger. Now, Pretoria Fields Brewery has a brew pub in downtown Albany, giving that city a piece of the craft beer craze with the added twist of being locally grown. Morgan says Pretoria Fields brews range from 10% to 90% Georgia grown, depending on the variety.
Among the practices Morgan uses to help preserve his land are enabling crop rotation through use of a farming collective; use of conservation easements; employing organic and sustainable farming techniques; developing and sustaining a local market; and participating in research with Albany State University and Georgia Tech.
---
Smart Sustainability
Bland Farms
Glennville
It's ironic that some of the land on which the Bland family farms Vidalia onions is under Army Compatible Use Buffer (ACUB) protection. After all, the Army was responsible for shuffling the family to Tattnall County.
"My family was originally in Long County. The government condemned the land that is now Fort Stewart shortly after World War I," says Troy Bland, CEO of Bland Farms. That meant the family was on the move.
Now, approximately a third of Bland Farms' Georgia acreage – the part closest to Fort Stewart – is under an ACUB through the Georgia-Alabama Land Trust.
Bland's grandfather began farming in Tattnall County in 1948, but the family's onion specialty didn't get started until his father put in five acres of sweet onions in the early 1980s. Those five acres have now grown to 3,000, making the farm the largest producer of Vidalia sweet onions annually. The operation has grown to include sweet onions in multiple western states, as well as Peru and Mexico. (Only sweet onions grown in 13 Georgia counties and parts of seven others can be called Vidalia.) "We are always looking at different ways of doing things. We are not the largest grower and shipper of Vidalia onions by accident," Bland says. "There's some smart ways to do sustainability. Is there a smoking gun out there? If there is, we haven't found it – but agriculture is the ultimate sustainability. The onion is a very good oxygen producer because it comes along in the winter months when there is not so much green stuff growing."
Bland says the farm is plowing the money from the ACUB's tax breaks back into land purchases. "With us being primarily an agricultural business, this is farmland we want to keep. Farmland has never lost its value since the beginning of time, and with today's climate, it is very challenging. Of course, perpetuity is a long time, but we know that this land will always be farmland or timber tracts. There's a tremendous tax advantage for Bland Farms there, so we can buy more land, something that is a win for everyone when it comes to preserving good agricultural land.
"Every acre of land that I have that could go into ACUB, I would put in an ACUB," Bland adds. But he points out it's not a one-sided decision. How interested the military is in granting those buffers depends on the development pressures a given base might anticipate, he says.
In addition to ACUB protections, Bland is committed to sustainable conventional farming techniques.
---
More Produce, Less Land
Better Fresh Farms
Metter
From the outside, Better Fresh Farms doesn't look like a farm. It looks like a cluster of five trailer-sized boxes with sturdy utility hookups, all parked at the Georgia Grown Innovation Center in Metter, where the farm was among the agribusiness incubator's earliest clients. Aside from the limited footprint of those containers, the farm doesn't occupy any land at all. Yet inside those boxes, hydroponic crops grow year-round in temperature-controlled conditions under artificial light. Think of it as farming without the limitations of soil or season. And the selling point is freshness.
Grant Anderson named his operation Better Fresh Farms because he's impressed by the greater value offered by fresher produce. "Look at collards and kale from the West Coast," Anderson says, citing some of the leafy greens he has grown closer to home. "Think of the amount of time between when it's picked and shipped here. Within three days of harvest, you lose potentially 60% of the nutritional value. People think if it's not in the soil, it can't be as good, but all of your food is better fresh, and that's what I was thinking of when I chose this name."
Anderson has an equity partner, Joey Burke, whose BurkeSouth transport company hauls specialty produce. In total, the farm has eight employees including Anderson, and has about 6,000 square feet of growing space.
"We're in this kind of funky, midmarket size. We do great with direct-to- consumer sales and smaller market accounts like white-tablecloth restaurants and golf courses," Anderson says. But he hopes to grow and is looking at various distributors.
Lettuce, a cool weather crop with an unworkably short growing season for South Georgia, is Anderson's current major crop and comes in varieties with an array of colors and textures. A modern hydroponic container can generate 12,000 to 13,000 pounds of lettuce annually, he says.
Better Fresh is always experimenting with new crops – oyster, shitake, lion's mane. The farm is part of a USDA- backed study with Kennesaw State University and Cornell University to test the commercial viability of mushrooms raised in this way.
When Anderson first started experimenting with hydroponic containers, he tried to make use of repurposed shipping containers, ones that had outlasted their usefulness in the supply chain. As eco-friendly as that plan was, it didn't work out for Better Fresh Farms, which found purpose-built containers produced a better yield.
His hydroponic techniques, research efforts with universities and development of local markets through the Georgia Grown Innovation Center demonstrate the long-term potential for agricultural land preservation.
---
Maintaining Soil Health
Crystal Organic Farm
Newborn
One of the oldest USDA-certified organic farms in the Southeast is now in the midst of applying for conservation easements that will protect the rural nature of its land. Nicolas Donck has been growing vegetables, flowers and herbs at Crystal Organic Farm for nearly 30 years, but only applied about 18 months ago via the Athens Land Trust to put the farm's acreage under a conservation easement. The permanence and complexity of the process was a factor in the timing, he notes, and he and his wife Jeni Jarrard-Donck are waiting to hear if their application will be approved.
"We are certified organic, and in order to be certified organic you have to be inspected every year," Donck says. And when he talks about his farm's soil, he sounds more passionate about the dirt than what grows in it.
"The soil is a living organism. If it's weak or depleted, the bugs will sense that," he says. "Feeding your soil is similar to feeding your body."
Donck is the second generation of his family to work this 176-acre farm, which his mother purchased in 1980 after traveling here from Europe. He began farming in 1993 and bought it from his mother 19 years later. His grown children are unlikely to follow in his footsteps, he believes, but whoever ends up owning the land will be restricted to farming or other agricultural uses like orchards or forestry, if the easement is granted. That could be significant – the nearly 2,000-acre Rivian electric-vehicle plant is only about eight miles away. His application predated the announcement and was unrelated to it.
Instead of open rows, the farm consists of 29 "high tunnels" – semi-cylindrical frameworks covered in heavy-duty plastic sheeting with openings at either end large enough to allow a tractor to enter. Here, the Doncks rotate crops that include potatoes, squash, cabbage, tomatoes, sweet potatoes, lettuce, peppers and beets. To that, add the medicinal herbs – calendula, chamomile, lemon balm, hibiscus – the couple put in about three years ago and, on a smaller scale, flowers (mostly varieties of sunflowers).
"This kind of work we do is so romanticized, but when you make it a business, a lot goes into it," Donck says.
Along with pursuing conservation easements, his farm uses certified organic techniques such as crop rotation, avoidance of chemical fertilizers and shallow tilling – effective practices in helping to ensure the land's sustainability for the future.