Meaningful Impact
Georgia's new law is focused on fixing the state's mental health system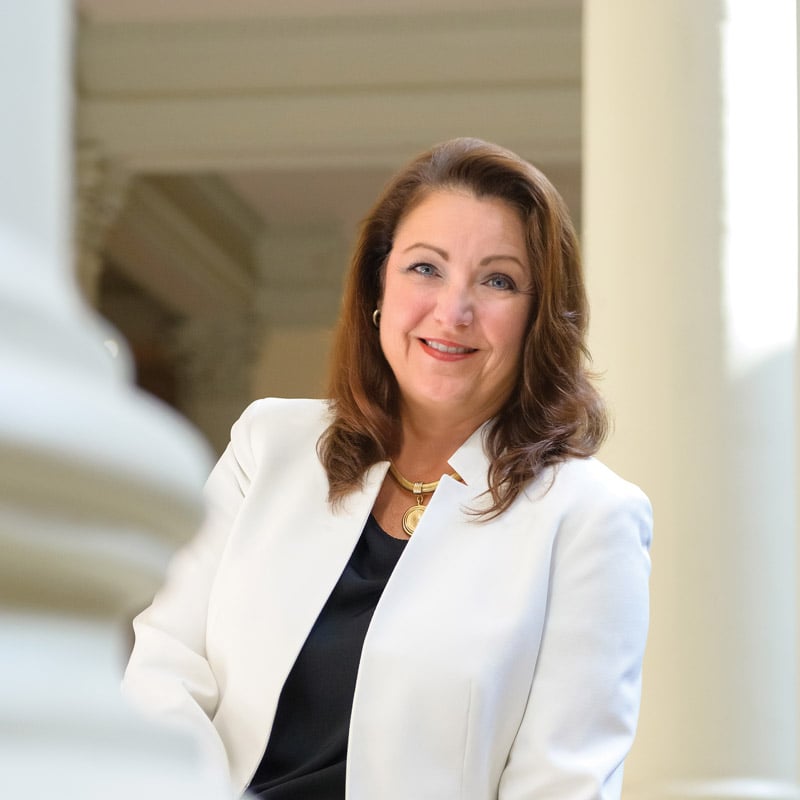 Monumental. Unprecedented. Transformative. Historic.
Those are not words you often hear from mental health advocates, experts and professionals in Georgia, a state that ranks at or near the bottom for mental healthcare, year after year.
In 2021, Georgia ranked 5th for the prevalence of mental illness and 51st in the access to mental healthcare, according to a report by Mental Health America, a nonprofit advocacy organization. It also ranked last in the number of mental healthcare professionals per capita.
"I'm going on my seventh year," says Kim Jones, executive director of NAMI Georgia (National Alliance on Mental Illness). "I think the highest we've [ranked] is 46th."
That's about to change – not overnight, but thanks to an effort that, like the new reform bill itself, also could be described using all those words above. When the legislature passed HB 1013 in 2022 and Gov. Brian Kemp signed it into law as the Mental Health Parity Act, it was a rare and unifying moment that showed just what a bipartisan, bicameral approach could accomplish. (The final bill passed unanimously in both the House and the Senate.) "Incredible" is how Jones describes the legislature's work.
State Rep. Kevin Tanner, R-Dawsonville, is chair of the Behavioral Health and Reform Commission, whose report served as the blueprint for the legislation. He recalls telling Speaker of the House David Ralston (the foremost champion of the bill) that he didn't think there was another issue that would have a larger and more meaningful impact on future generations of Georgians than mental health.
HB 1013 – named for the form used to send someone for an involuntary mental health evaluation – is "the most fundamental bill to pass the General Assembly in decades," Tanner says. "It's definitely the biggest move forward for mental health."
The law addresses a number of areas of need, including requiring insurers to cover mental healthcare with the same level of benefits as they provide for other physical illness (parity), attracting more behavioral health professionals to the field and increasing outpatient treatment facilities. HB 1013 also allows law enforcement more flexibility to take someone for an evaluation rather than to jail. "We got together and we rolled up our sleeves," says Tanner of the commission's non-political and nonpartisan approach. "And we focused on fixing the mental health system."
---
Parity First
Parity is the cornerstone of the law, and for good reasons. A federal law mandating that insurance companies cover mental health conditions at the same level as other health conditions has been in place since 2008. Under that law, insurers can't have higher deductibles, copayments or out-of-pocket expenses than what they require for medical care. Nor can they limit the frequency of treatment or days of coverage more restrictively than in medical care or review mental health treatment more often to see if it is necessary. But Georgia hasn't enforced the federal law or tracked those who aren't complying. In 2019, a Morehouse School of Medicine report gave the state a grade of D on parity.
Jones, who was appointed to the behavioral health commission by Ralston, says she explained the problem to legislators using an analogy familiar to anyone who's tried to drive in Atlanta: "It's like saying the speed limit on [Interstate] 285 is 65 miles an hour, but there's no cops out there to stop you," she says. "Yes, we have this federal law, but if we don't put some mechanisms in place to verify that our local insurance companies are following it, then it's unlikely they are following it."
The new law requires parity from insurers, including Peach Care for Kids, the state employees' health benefit plan and Georgia's Medicaid program. Insurers must report data to the Office of Insurance; the law includes funding for a dedicated staff person to enforce parity. "There's an audit process; there's a reporting process that comes all the way to the General Assembly, the governor and the commission so that we can make sure it's being done correctly," says Tanner.
The new law also calls for a study of Medicaid reimbursement rates compared to other states. Currently some beds in Georgia healthcare facilities are filled with out-of-state patients who need mental healthcare because those states pay more, says Jones. That means fewer beds are available for Georgians who need inpatient treatment.
Another key facet of enforcing parity goes beyond payments and coverage. In fact, Jones says it's just as important. And that's changing the stigma around mental illness.
"If we want people to address their anxiety as much as we want them to address their arthritis, then they have to have their insurance companies pay for, ensure access to and have the same options as people do with their physical health," says Mary Jo Horton, behavioral health manager at Memorial Health University Medical Center in Savannah.
Eve Byrd, director of the Carter Center Mental Health Program, recalls former First Lady (and longtime mental health advocate) Rosalyn Carter testifying for the federal law and saying that "if insurance covered mental illnesses, it would be all right to have them." The Carter Center Mental Health Program leads the Georgia Parity Collaborative, a group of 40-plus organizations that was "laser-focused on parity," says Byrd. The group worked with the behavioral health commission in the process to propose the new law and will help monitor its implementation.
When it comes to Medicaid, Georgia contracts with and oversees organizations that manage services in the state, including CareSource, Peach State Health Plan and Amerigroup. The state pays these organizations an amount for each person enrolled. The difference between what is paid and what is spent on patient care is called the medical spend or medical loss ratio (MLR). The federal standard for years has been that 85% should go to patient care, but Georgia didn't mandate a minimum MLR.
The new state law now requires that these care management organizations – which are the largest providers of mental health services – meet the federal standard and spend 85% on patient care services, thereby limiting the amount that can go to administration and profit. According to Jones, in 2019, Georgia's MLR rate was 83%. That may not seem like a major gap, but it's millions of dollars not going to serve patients.
"We want to make certain the funds are being spent where we need them to be spent, and that's on treatment," says Cindy Levi, a member of the commission and CEO of Avita Community Partners, one of 22 state-designated nonprofit community service boards that provide behavioral health services in Georgia.
---
Practitioners Needed
Enforcing parity will help in the long-term with another problem: lack of mental health professionals. Addressing the state's low Medicaid reimbursement rates and making sure insurers pay appropriately for mental health services will enable mental health providers to pay more to the professionals they employ, drawing more people into the field. "The rates we have been paid as providers are back from 2008," says Levi, whose community service board covers 13 counties in Northeast Georgia. "As providers, we have been struggling to get the workforce we need because the reimbursement rates are so low."
But the law also offers other fixes, most notably a program that will cancel educational loans for behavioral health professionals after a period of service in a rural or underserved area of the state. "I'm very excited about that portion of the bill," says Horton. A licensed therapist, she's still paying off student loans after working in the field for 20 years. "I'm fortunate that when I was young, I didn't really understand what future debt meant," she jokes. More seriously, she says that although there's a shortage of professionals now, the loan program takes aim at the "real crisis – who is in the pipeline? … When we think about access, we also have to think about, are we creating the next generation of mental health practitioners?"
Judy Fitzgerald, commissioner of the Georgia Department of Behavioral Health and Developmental Disabilities (DBHDD), says the shortage of licensed clinicians and behavioral health providers remains the biggest challenge. "Workforce shortages were a pretty important issue historically, and that only worsened during the pandemic," she says. While many patients and clinicians turned to telehealth during the pandemic and Fitzgerald says it remains an important component of the system, "in the end, mental health service delivery relies on a workforce of trained and licensed professionals, so those shortages are real." The service-cancelable loans, she says, are "an example of innovation and finding a way to lift up helpers and make it easier to come into the field."
The state should get some badly needed data that will show just where the shortages are the worst, both in geographic area and in area of specialty. Right now, Georgia doesn't track how many mental health providers work in a specific area of the state. "We know how many people are licensed in a certain area, but what we don't know is where they serve," says Tanner. "Are they even taking new patients? Do they take Medicaid? Do they take insurance? What insurance do they take? We don't know any of that, so we don't really know what our workforce gaps are." The new law will create a workforce database that tracks such information.
The database will be an important tool in addressing health equity. "We know that Black communities in our state are being underserved. Also, culturally diverse communities are being underserved. But we don't know [by] how much, and we don't know where those gaps are," says Jones. "This will allow us to have equity for service across the state."
---
More Kids' Services
The shortage of behavioral health services is even more acute for children and teens in Georgia. The Carter Center's Byrd believes that the requirements around parity, both in the financial and reporting areas, will help here, too. "The Department of Community Health will have to do an assessment of the rates that are paid for medical necessity, denials for adolescent behavioral health, coordination of healthcare for children who enter the foster care system, which will lead to improvements of child services," she says.
In 2015, the state began a program called Apex, where community mental health providers offer school-based services and support for pre-K through 12th grade students, including behavior assessment, crisis management and individual and group therapy for students. Fitzgerald says Apex is present in more than 700 schools with the goal of providing "clinical support right at that moment when a teacher thinks they see a kid who might need help or a kid identifies that they'd like to talk to somebody."
The Carter Center's Mental Health Program is an advocate of school-based behavioral health and has held forums across the state to bring key stakeholders together to share information. Byrd says the Carter Center intends to work closely with the behavioral health commission to identify policy barriers that make it harder to provide mental health services in schools.
But that's just one approach to a large and chronic problem. "When we're talking about children and families, we're talking about a wide range of needs," says Horton, who notes that the children's emergency department at Memorial Health in Savannah is seeing more young children with severe anxiety and depression and with suicidal thoughts. "What we really need is a variety of resources," she says.
The new law calls for a multi-agency approach, called MATCH (Multi-Agency Team for Children), to coordinate care for complex treatment needs. Jones describes it as "making sure that our DCH can speak to DFCS that can speak to DBHDD," referring to the Departments of Community Health, Children and Family Services and Behavioral Health and Development. "As simple as that may seem, there are a lot of logistics and systems being used," Jones says.
The law also requires creation of a comprehensive, unified Medicaid list of covered prescription drugs for 2023, called a formulary. Although that will benefit anyone who takes medication for mental illness, it will especially help kids, says Jones. "If you have a child with a mental health condition, it's a chemical imbalance in the brain," she says. It can be hard to find the right medication, and then if a child switches to a different doctor or CMO, that medication may not be covered.
Tanner recalls meeting a mother who broke into tears as she told him about her teenaged daughter's struggles with mental health. "She said, 'We get a good thing going and then the insurance company stops paying for the medication she's regulated on. It's like we start over.' So a lot of the things we've been talking about in theory, she was living in everyday life," he says. "I'm looking forward to being able to get that [formulary] in place."
---
Looking to the Future
As welcome and encompassing as HB 1013 was, it was really just a start. "We're back at work," Tanner says of the commission. "I firmly believe there will be another major piece of legislation next session." Among the issues the commission will examine are mental health needs among people who are homeless; Tanner says a special subcommittee will look at this issue. The commission's term has been extended from 2023 to 2025 because, as Levi says, "there's a lot of work to do."
Transportation is another focus. Currently, sheriffs' departments are responsible for transporting people who have been involuntarily committed for behavioral health treatment. Levi notes that not only is that a burden in rural areas, it's not clear who's responsible for moving a patient from one facility to another when needed.
There's also work to be done to implement the requirements, reporting and studies mandated in the Mental Health Parity Act. Passing the legislation was only the first step, says Byrd. "There's a lot of awareness-raising that needs to be done," she says, so that people know their insurance will pay for mental health services equal to medical services and are thus more likely to seek help. "There also needs to be monitoring of the implementation of the Parity Act," she says. "We feel like it's good legislation and it's a good beginning, but we have a four-page document of how this needs to be monitored moving forward."
It will be a slow rollout, Jones predicts, partly because the law addresses so many areas of concern, but she agrees that parity was the essential issue. "Will people feel this tomorrow, next week? In some ways, yes – we changed the way people are thinking about mental health, and that's one of the first steps that has to happen," she says. "We're better off today than we were last year at this time."
---
Additional Provisions
Georgia's Mental Health Parity Act, or HB 1013, is an omnibus law with many provisions in addition to those mentioned in the article. Among some of the others are:
• Accountability courts: Provides grants to fund mental health and substance abuse accountability courts.
• Assisted outpatient treatment: Creates a three-year grant program to fund five "pilot" assisted outpatient treatment programs (involuntary outpatient commitment).
• Co-responder programs: Funds at least five new co-responder programs in conjunction with another law – SB 403 or the Georgia Behavioral Health and Peace Officer Co-Responder Act – that requires each of the state's 23 community service boards to establish a co-responder program. Makes co-responder training part of law enforcement and public safety training responsibilities.
• Oversight: The Office of Health Strategy and Coordination will oversee coordination of policy and services for behavioral health across the various state agencies.
• Reimbursement rates: Enables comparison of reimbursement rates for mental health services to rates in other states.