Gwinnett County: Finding the Sweet Spot
Healthcare, education and downtown development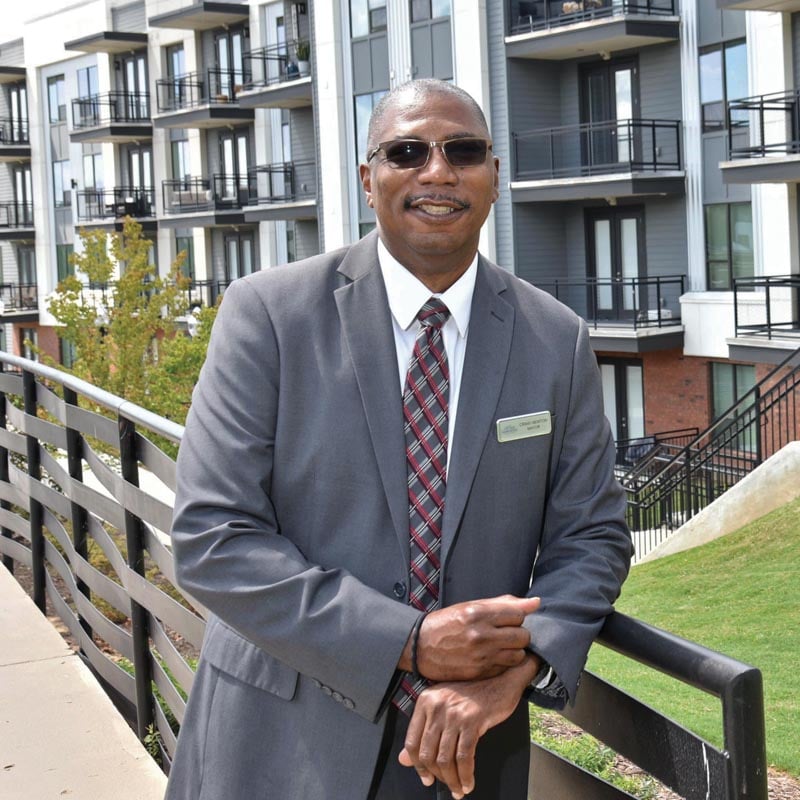 Nick Masino recalls a time when the chair of the Gwinnett County Board of Commissioners was given the moniker "The Sultan of Sprawl" for promoting rapid growth that spawned subdivisions, strip malls and congestion. Fast forward 30 years, and the imagery has changed. Masino, president and CEO of the Gwinnett Chamber of Commerce, says the county boasts 13,000 acres of parkland and today's development trends are redevelopment, infill and vertical density.
"We're no longer just suburban," Masino says. "We're maturing, as we continue to invest, reinvest and redevelop. We're investing in ourselves for our future."
Despite having 16 cities within its borders – the largest number of cities of any Georgia county – Masino says Gwinnett is only 30% municipalized, leaving 70% unincorporated. Taking a page from the playbooks of those cities, the county is in the process of redeveloping Gwinnett Place Mall and the Olympic Tennis Center, as well as planning for mixed-use development on 40 acres of surface parking around Gas South Arena, the county's largest event venue.
Gwinnett County bought the 39-acre Gwinnett Place Mall property last year for $23 million and has developed a revitalization strategy, "Gwinnett Place to Be," that includes thousands of residences, offices, retail, parks and bike paths that will replace the majority of the surface parking lots. A transit hub is planned at the western edge of the property. Fuqua Development, which is also building out the Exchange @ Gwinnett mixed-use development in Buford, was hired in December 2020 to create a master plan for the former tennis venue.
"Many of the municipalities are driving density, urbanization, into town centers and now the county also is doing it," Masino says. And what's driving that density is persistent, dramatic growth, according to Masino, who says the county permitted 4,000 new homes, 4,000 new lots and about 4,000 new home closings last year alone.
"Gwinnett County is leading the region in population growth, not in percentage, but in regards to sheer numbers," he says. "Just huge growth."
---
Increasing Capacity
A decade of growth in the county led to an increased demand for healthcare services, a demand that resulted in the merger of two major hospital systems, Northside Hospital and Gwinnett Medical Center.
Though the merger occurred in 2019, this summer Northside Hospital Gwinnett held a ceremonial crane christening and groundbreaking event for a $450 million expansion project that includes a new 10-story patient tower and a medical office building on its campus in Lawrenceville.
As the second-largest county in the state with nearly 1 million residents, Gwinnett has a deficit of in-patient beds to serve such a large community, says Debbie Mitcham, Northside Gwinnett president and CEO.
"It's almost been three years since Northside merged with the Gwinnett Medical System," she says. "From the beginning it was obvious that we had a real bed capacity issue. We were full all the time and patients were waiting in the emergency department."
Mitcham says Northside Gwinnett's current capacity is 408 adult medical, surgical and critical care beds. The new patient tower will ultimately add an additional 240 new private rooms, including 132 new inpatient beds to the hospital. At nearly 144,000 square feet, the new medical office building will house several physician practices, outpatient imaging and ambulatory surgery.
"Originally we were planning for a 10-story bed tower, but another projection came out from the state saying we would be full by the time we built those 10 floors," she says. "We will be filing a CON [certificate of need] to add seven floors and 146 short-stay beds to the project but a decision on that from the state won't come for a few months. At 17 floors, it's going to be the tallest building in Gwinnett County."
As the hospital grows its inpatient capacity, it will also be expanding the number of cardiac suites and bringing new types of services, such as thoracic surgery and neuro-interventional surgery, Mitcham says.
"The overall goal for Northside Gwinnett and Northside Duluth is to provide access to world-class healthcare closer to [patients'] homes," she adds.
Northside Hospital Gwinnett is Lawrenceville's largest electrical customer. As a result of the expansion, the city has spent more than $1 million renovating and expanding the electrical system at the hospital and other buildings on the campus.
"The Northside Gwinnett Hospital expansion benefits the entire community with increased capacity for healthcare services and upgraded facilities," Lawrenceville Mayor David Still says. "This is vitally important with the growth Gwinnett has experienced in recent years. For the City of Lawrenceville specifically, we greatly value our partnership with Northside Hospital and have invested in a state-of-the-art electrical grid that will support new construction and updates to existing facilities on the Gwinnett campus."
A new $2 million "slip ramp" is also under construction as part of the hospital's expansion. The project will add a separate exit lane from eastbound State Route (SR) 316 at SR 120 that will allow direct access to the Northside Hospital Gwinnett campus when it's completed next spring.
Northside's expansion efforts in Gwinnett County go beyond the new patient tower. The hospital system has purchased two buildings totaling about 45,000 square feet in Snellville's emerging town center for physician offices, a surgery center, an urgent care center and outpatient services. The $25 million project is under construction with completion slated for spring 2023.
---
Remaking Sprawl
The remaking of sprawl is referred to as "smart growth" or "New Urbanism" and each strategy brings urban-style amenities such as livable and walkable neighborhoods. In the case of Snellville, it means a new downtown. "There was an ARC [Atlanta Regional Commission] study done and it talked about creating a downtown for Snellville," says Mayor Barbara Bender. "We never had a downtown."
Construction of The Grove at Towne Center began in March 2021 and covers 18.2 acres in the center of Snellville. The city is investing $30 million in Phase I of the two-phase, $120 million development, with the remaining funds coming from private investment from Casto Southeast Realty Services, MidCity Real Estate Partners and Northside Hospital. Phase I includes more than 50,000 square feet of retail, restaurant, office and entertainment space, a new library and approximately 250 luxury apartments, which will begin leasing this fall, Bender says. The city- funded 750-car parking deck has recently been completed and Northside Hospital is just starting on its 45,000-square-foot medical office and surgical building with a mixed-use component next door.
The city will lease the second floor of the 44,000-square-foot Elizabeth H. Williams Library for a co-working space and the city-owned Mercantile building will have a unique food concept called The Hall, Bender says. "Instead of going to different food counters, you come in, sit down and order from eight or nine chef-driven kitchens," she says. "It's more of a restaurant feel." The Hall should open sometime next year and the building's second floor will provide event space for all types of special occasions with seating for 200 guests.
"Everything is centered around a one-acre green space," she says. "This will create that sense of place that Snellville has never had."
A decade ago, the city of Sugar Hill didn't really have a downtown either, according to Mayor Brandon Hembree. While it has evolved and grown over the years, there are now several mixed-use developments in the downtown area that have brought housing, office, retail and restaurant options to the community, he says.
"Most of our downtown is new," Hembree says. "We have some mixed-use development downtown now. We have a master plan that does aspire for certain things like more housing and retail, and we've been building toward that master plan and encouraging developers to build toward that master plan. We're just at the very beginning stages – the best is yet to come."
---
Executing the Master Plan
For more than 10 years, there have been "spirited conversations" about the redevelopment of Buford Highway, according to Norcross Mayor Craig Newton, and at long last, those discussions are bearing fruit.
"Now that our downtown core is saturated with redevelopment, in order to sustain our growth, we're expanding eastward and Buford Highway is sort of a natural progression," Newton says.
The corridor revitalization project, which has a projected 10- to 20-year timeline for completion, includes mixed-use residential, office and retail, a regional storm water park and a trailhead, along with new restaurants and a proposed performing arts center.
Situated on a 3.5-acre site on the corner of Holcomb Bridge Road and Buford Highway, the transformation began two years ago with construction of The Brunswick. The $40 million residential community was named for the old Brunswick Hotel that was located in Norcross in the 1800s, Newton says, and consists of 185 multifamily units and nine live-work units.
"This development establishes a standard for redevelopment along Buford Highway and is a key focal point for our Buford Highway master plan," he says. "Conscious efforts were made to blend the classic architecture of The Brunswick with the modern architecture of the new adjacent library."
The Gwinnett County Public Library opened its new $12 million Norcross branch last October. The replacement branch doubles the size of the old facility on Buford Highway to 22,000 square feet, including 1,500-square-feet of Maker Space complete with a 3D printer.
"It's the most-used library in Gwinnett County, with estimates of over 1,000 people [visiting] per day," Newton says. "The city's commitment was a storm water retention pond and underground utilities at a cost of $1 million, plus a $4.6 million parking deck."
---
Filling Educational Needs
With population growth comes new jobs. For example, when Northside's new patient tower opens in the fall of 2025, the need for additional staff will be a "tremendous driver for job growth in the county," Northside's Mitcham says. Five full-time employees are needed for every new bed, according to Mitcham. Over the next five to 10 years, officials expect 5,000 new jobs to be created at Northside hospital facilities.
Focused on helping meet the healthcare needs of the community is Georgia Gwinnett College (GGC) in Lawrenceville. The college graduates about 60 nurses a year, who score consistently about 93% on the National Council Licensure Examination (NCLEX), one of two standardized tests nurses must pass to become a licensed practical nurse or a registered nurse. GGC was recognized as one of the top three schools in Georgia for NCLEX pass rates for 2021 for pre-licensure baccalaureate programs.
Two new health science concentrations kicked off about a year ago – patient navigation and public health – enrolling students for the first time last fall. GGC President Jann L. Joseph says she saw the need for adding the new concentrations when she arrived at GGC in 2019 to give students more options in the health care field.
"There are a lot of students who want to graduate and stay in a health science profession and still support patients, just not at the bedside," she says. "Students are very excited about the programs."
According to Joseph, GGC recently signed a Memorandum of Understanding with Gwinnett Technical College to seamlessly transfer credits in health science courses from the two-year technical college to the four-year institution.
Gwinnett County has long been a leader in innovative education. When one metro county was opening its first STEM high school in 2019, Gwinnett County was planning its fourth. Lawrenceville's Gwinnett County School of Math, Science and Technology is the No. 1 ranked high school in Georgia and has been for years. And this fall, Georgia's largest school system (12th largest in the nation) will open Seckinger High School in Buford, the anchor for a cluster of four elementary schools and a middle school focused on teaching artificial intelligence (AI) in grades K-12. It's the first AI cluster of schools in the U.S., according to the chamber's Masino.
"We are excited to open Seckinger High School, a 'next generation' school that will provide opportunities for students to solve real-world problems, using AI and machine learning applications through the lens of creative problem solving and ethical decision making," says Principal Memorie Reesman. "Gwinnett County Public Schools recognizes the significant shifts in technology, especially in artificial intelligence and machine learning, that are and will impact life and work in the near future. Seckinger High is a strong learning community that is focused on making sure its students are being prepared for this new future."
---
Technology Creation
Future Seckinger High School graduates won't have to look far for inspiration – or maybe even for their first jobs. Peachtree Corners was home to Atlanta's first technology park in the '60s, and today it is home to Curiosity Lab, a smart-city living laboratory designed to facilitate the development and adoption of emerging technologies in a real-world testing environment. The 500-acre technology park provides about 10,000 jobs and homes for 2,000 residents.
"The modem was created in Technology Park by Hayes Microcomputer and we know that the color printer was developed in Technology Park and then, Scientific Atlanta – which we now know as Cisco Systems – began in Technology Park, so we have a very long history of technology creation in this area," says Louis E. Svehla, the city's director of communications. "So what city leaders decided to do was use that history of technology to create something to continue that tradition and that's when Curiosity Lab was developed."
The centerpiece of Curiosity Lab is a three-mile autonomous vehicle test and demo lane that is part of a completely connected public street that handles more than 9,000 cars daily and where vehicles can communicate with infrastructure and pedestrians on what is dubbed the "city street of the future." The 500-acre technology park is home to Fortune 100 and Fortune 500 technology companies, according to Svehla, including Siemen's Electrical Vehicle Technology Research and Development and Intuitive, maker of the da Vinci surgical robots.
"They recently moved their North American manufacturing headquarters here," Svehla says. "The facility is currently under construction. It's going to turn into about a $600 million investment and it's going to yield about 1,200 jobs with an average salary of $140,000. This is the single largest corporate investment in the history of Gwinnett County."
---
Community Partnerships
Innovation in education and technology aren't the only examples of transformational change happening in the county. A year ago, the Gwinnett County Board of Commissioners adopted a public service model that pairs a mental health clinician with a police officer when the officer is responding to a call involving a mental health crisis. Currently there are three officer-clinician teams. By the end of this year three additional teams will be added, bringing the total to six teams, one in each of the county's six districts.
Gwinnett County implemented its co-responder model before a new state law, passed in 2022, requiring community service boards to institute a co-responder program to deal with mental-health related calls.
"I campaigned on this, to basically decriminalize mental health but also to foster greater relationships between our public officials and the communities they serve," says Nicole Love Hendrickson, county commission chair. "We've made a significant investment in this and it's a needed investment. We see the return on the investment when we can decriminalize mental health and get people the help they need."
That return on investment isn't just about dollars spent and saved but in lives saved. In March, an armed man, who police said was having a mental health crisis, barricaded himself inside a Greyhound bus that stopped in Gwinnett County. The standoff ended with no one hurt.
"GSP [Georgia State Patrol] called Gwinnett PD and we ended up deploying our mental health co-responder to the scene," Hendrickson says. "What could have turned into a deadly situation ended up being a safe de-escalation. It could have ended up fatally, if it had been in another jurisdiction where officers are not trained to understand a mental health issue, but our officers are and this was a true success story in how to respond to situations like this."
In finding its place between urban and suburban, Gwinnett County is charting a new course of growth and in doing so, finding a sweet spot for its citizens where residents have access to increased health care services, vibrant downtowns and innovative education.
---
LOCAL FLAVOR
Art and History Combined
Everyone knows the basic tasks of a municipal government: providing clean water and maintaining roads to support local citizens and businesses. But what happens when a city expands its portfolio of services to include a focus on public art? The creative result can be found in Duluth.
Mayor Nancy Harris ran on a platform of historical preservation, but she has a broad view of how to honor the past. "I've learned that you can't restore everything because it costs too much," she says. "Sometimes it's just not the feasible thing to do. So when we build new things, we try to bring history into the story."
Case in point: the historic Rogers Bridge. Built to replace the ferry system that once transported cotton over the Chattahoochee River, the bridge fell out of use in the 1970s. City officials believe the 228-foot-long bridge dates back to 1912.
"We could not refurbish the old bridge, so for years we've been working on this model regional project to build a new pedestrian [and] bike bridge that will connect Johns Creek and Duluth," says the mayor, a Duluth native. The new bridge will cross the river and connect Rogers Bridge Park with a new park in Johns Creek.
Before the old bridge was torn down, the city invited a group of artists to come see it and submit proposals for a piece of public art to be installed next to the new bridge, using pieces of the old one.
The selected artist was Atlanta-based sculptor Phil Proctor. Proctor has been creating art in Atlanta since 2003, and his outdoor sculpture portfolio includes an exhibition at Hartsfield-Jackson Atlanta International Airport.
While Proctor's creation won't be unveiled until later this year when the new bridge opens, he says the sculpture will be approximately 30 feet tall and consist of 70,000 pounds of concrete. The concept of the "monumental" sculpture "is the interaction of the water with the bridge," Proctor says.
"One interesting factor of the concept is the sculpture creates a passageway that the viewer can pass through," he says. "Like a bridge, it connects two places."
Another public art project underway in the city involves large, oversized crickets created by Crabapple-based artist Michael Dillon – a nod to a former cricket box factory located on Main Street. A QR code by each cricket takes visitors to the story of the factory.
"They're a lot of fun; they're whimsical and lighthearted, but they do speak to the history of Duluth and I think that's important," Dillon says. "The city is really taking [the public art program] seriously and wanting their community to grow with art in their lives."