From the Publisher: A Welcome Turning Point
Celebrating the new state law that pairs police officers with mental health professionals in responding to emergency calls.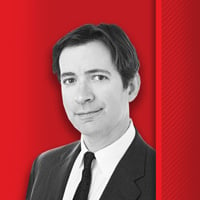 Treatment of mental health is truly at a turning point here in Georgia. It's about time, and there is much to celebrate.
On page 20 in this month's issue, you will find an excellent feature on the transformation of Georgia's mental health laws and how policy changes will impact local treatment. You may also note Gwinnett County Chair Nicole Henderson's passionate comments about the county's new co-responder law enforcement program.
The Georgia Behavioral Health and Peace Officer Co-Responder Act (SB 403) instructs community service boards to coordinate mental health public service professionals to ride along with law enforcement agencies that choose to participate on emergency calls to determine whether treatment is more appropriate than arrest. These professionals can also evaluate people in jail and, if appropriate, recommend that they be transferred to a behavioral health facility for treatment.
Anyone in public service will know what a huge deal this is. The potential to divert mentally ill offenders from jail to treatment would bring relief to Georgia's crowded, inefficient and at times unworkable incarceration system. This is because once they are in the system, it becomes difficult to get out, trapping them in layers of process that costs them time crucial to post-episode treatment.
The statewide program builds on models like the one in effect at the Forsyth County Sheriff's Department. Partnering with professionals from Avita Community Partners, the department reduced the number of mentally ill individuals jailed by 25% in the first year. This prompted Lt. Governor Geoff Duncan to push to replicate the program statewide, resulting in SB 403, which took effect in July. Among other departments that have had their own successful programs, the Savannah Police Department has had an in-house behavioral health clinician since 2020. When mental illness is suspected to be a factor, a non-uniformed officer responds with the clinician in an unmarked car – and with no flashing lights – to help rule out mental health treatment as an alternative before incarceration. The quiet approach is an effective form of "pre-de-escalation."
Building on the success of this and other similar local efforts, SB 403 requires the state's 22 Community Service Boards to help coordinate and fund professionals for law enforcement agencies that choose to implement programs. The potential benefits work both ways. If more cases are diverted from criminal courts there will be less burden on the entire system, letting detectives address actual crime and the justice system provide counsel to the incarcerated.
Those with mental health diagnoses join many others who are arrested – justly or unjustly – and forced to wait in jail for months before being assigned a court-appointed attorney. By then the debts have piled up because they have been unable to work. The system has made it almost impossible for them to get back on their feet once they are out.
An effective statewide network that receives the resources it needs would be able to compile data and address challenges that cause the mentally ill to have to suffer through this process, worsening their condition. This could also be a lifesaver to our public health and probate officers dealing with mentally ill recidivists caught up in the slow wheels of justice that deny them the treatment they need. I also encourage our government and elected readers to consider the Georgia Office of Public Safety Support peer counseling program for your first responders. Another statewide program based on successful local efforts, peer counselors and mental health professionals are available statewide to offer free counsel to first responders who have experienced traumatic events. Free training courses are available so responders can return to their agencies and counsel other colleagues.
Georgia has a way to go to truly address issues regarding crime and mental health. The public health department budget was slashed prior to COVID and "nod and wink" (unenforced) purchase and background checks at gun shows have been potentially putting guns in the hands of the mentally ill for decades.
However, realizing we are in a political climate where one faction views any police reform as "soft on crime," it is worth noting the courage of our state leaders to take on and reform policy that has perpetuated recidivism and slowed justice in so many Georgia communities. Mental illness must not be punished as a crime unto itself.