From the Publisher: Welcoming the World – Again
Atlanta's selection as a host city for the 2026 men's FIFA World Cup enhances Georgia's image and will have a huge potential economic impact.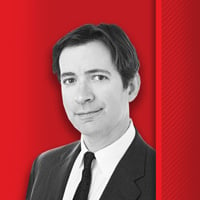 How exciting to learn that Atlanta will be a host city for the 2026 men's FIFA World Cup! It reestablishes the state capital as a world-class venue, much like the 1996 Olympics and three Super Bowls did. It also enhances Georgia's tourism and sports attractions, as well as the power of hospitality in our enduring appeal to visitors.
The World Cup announcement resulted from a lot of hard work by our city and state leaders, the Atlanta Convention and Visitors Bureau, Metro Atlanta Chamber and Georgia Department of Economic Development in negotiations going back to 2018. Ultimately Atlanta and 15 other North American cities were chosen to host matches in 2026.
It isn't hard to see what was likely the deciding factor – the unstoppable Atlanta United, the Major League Soccer team that calls Mercedes-Benz Stadium home. With an exploding fan base of fervent acolytes, the Five Stripes has become one of the most successful soccer franchises in the U.S., with the highest attendance of any MLS team in 2021.
Reports have estimated the World Cup's potential economic impact at $5 billion, with more than $400 million estimated to go straight to the state and local revenue. In addition, a $2.5 billion media deal between the MLS and Apple was announced and each match held in Atlanta is predicted to generate $4.6 billion in global media exposure. Atlanta could also be chosen as the World Cup International Broadcast Center.
Along with Atlanta United, Georgia's prowess at hosting big events was considered a factor. Certainly, the World Series and the College Football Playoff National Championship remain fresh in the minds of sports fans, and The Masters' return to its spring tee-off this year represented a marvelous return to form for Augusta National. (Quick Masters story: Teeing off on Friday, Tiger Woods suddenly stopped and looked over at my son Holden as though he recognized him. As Woods returned to task, a man behind us blurted, "he looked at me!" It was a giddy experience and a proud moment.)
Sports has been a huge part of Georgia's economy and culture. Our experience hosting NCAA Final Four events, the 2011 PGA Championship, the Atlanta Open tennis tournament, NASCAR events at Atlanta Motor Speedway, e-sports tournaments and even Wrestlemania have contributed to our reputation for optimizing the impact of massive sports events. Atlanta Sports Council, a division of Metro Atlanta Chamber, has worked to negotiate these host events for over 35 years, with a board representing hotels, event venues, pro teams, college teams, the tourism industry and corporate leaders. Arthur M. Blank Sports+ Entertainment and the Georgia World Congress Center Authority also played critical roles in negotiating the FIFA deal. (Blank owns Atlanta United.)
In a 2018 Forbes article, Atlanta United goalie Brad Guzan credited Blank with a vision for not only establishing the Five Stripes as a model MLS team, but perhaps solidifying the sport of soccer in the U.S. The thought of MLS games taking place in stadiums the size of Mercedes-Benz seemed ambitious years ago. It's still hard to believe the momentum the team has built in just eight years, with as many as 70,000 fans at games.
It is difficult to gauge the economic impact of sports on the state as a whole. Tennis events in Rome bring nearly $5 million annually; whitewater rafting in Columbus generates up to $10 million each year; and The Masters brings in more than $100 million annually to Augusta. Augusta receives another $20 million from 25-plus other events. The Atlanta Braves have an estimated annual impact of over $100 million, but that doesn't include the broader impact of having TK Elevator, Comcast, Papa Johns and Synovus locate in The Battery Atlanta, next door to the Braves ballpark.
Similarly incalculable is the impact of sports on brand. The name "Atlanta United" was no accident, resulting from weeks of polling and interaction with fans, but also a recurring theme during community conversations about bridging Atlanta's divisions. The marketing and outreach through events, giveaways and programs like Soccer in the Streets seemed to capitalize on and strengthen this healing process.
Atlanta United has been a success both on the field and as a concept. In this sense, the buzz leading up to 2026 will be significant, and good for the city's mojo. It will be great to have the world back in Atlanta.