Catching Up With … Christopher Nunn
The Georgia Department of Community Affairs Commissioner highlights DCA's role in supporting communities.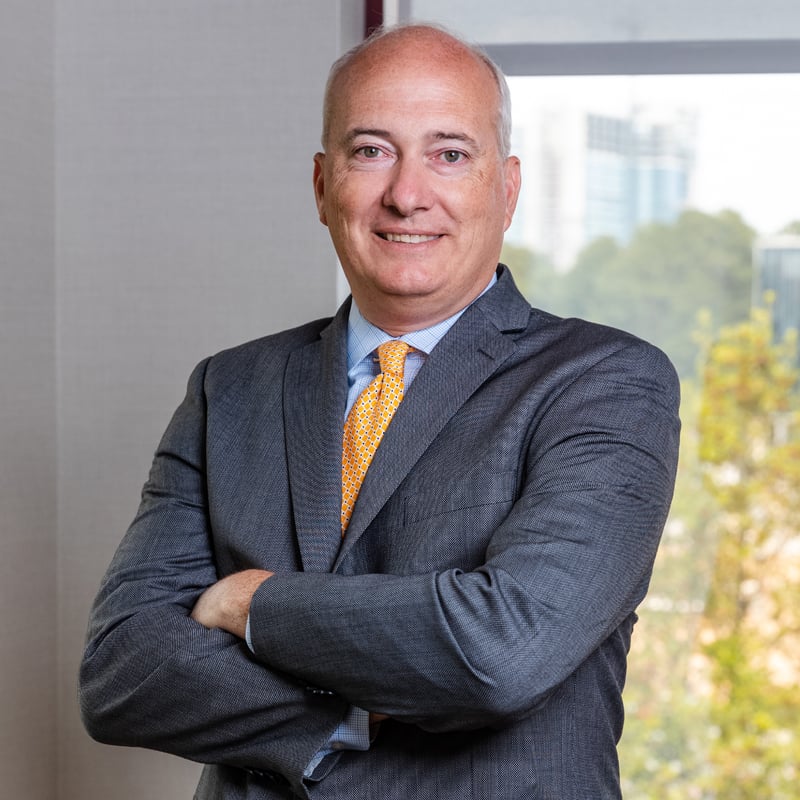 Since 2017, Nunn has served as commissioner of the department that provides funding and technical assistance to communities around the state in support of workforce housing, infrastructure and downtown development. These are edited highlights from an interview.
---
Q: Tell us a little about what DCA does.
A: We exist to help build strong, vibrant communities in every corner of the state. That involves housing; that involves infrastructure; that involves downtown development; that involves economic vitality and jobs creation. At our core, DCA is a financing agency. Everything we do is wrapped with support and technical assistance, but generally we are providing funding. Communities execute the work that we fund.
We help develop about 7,000 units a year of housing. We provide safe, clean drinking water to tens of thousands of households every year. We have helped create tens of thousands of jobs in communities in every corner of the state.
---
Q: How does the DCA help get affordable housing built?
A: Our role is primarily strategic and financing. The tools in our arsenal are housing tax credits, which are designed to help both seniors and young families. We also provide first-time homebuyer financing … through our Georgia Dream program … that enabled an average of 1,400 families per year for the last five years to move from renting to owning a house.
One of my favorite programs that we are involved in is called the Georgia Initiative for Community Housing. It's a partnership among DCA, the Georgia Municipal Association and the University of Georgia. For this three-year program, five communities are selected [each year] from a competitive pool. So you've got 15 communities at any point in time that are doing a deep-dive assessment and planning process to address their local [housing] needs.
---
Q: What are other challenges facing Georgia communities?
A: Certainly COVID has been an interesting challenge. Broadband is a significant need. Aging water and sewer infrastructure around the state is a significant need. But probably the biggest challenge is a perennial [one], and that is responding to the pace of change. We get so focused on who we are, and we're not thinking about who we're going to be. If we try to project out and say, "What is my community going to look like in 20 years," there are a lot of us whose response would be, "We want it to look exactly the way it is today." And the reality is, that is not reality. We are continuously challenged as leaders to build for the future, to plan for the future.
---
Q: And how does DCA help communities do that?
A: This is where I want to share a COVID example. During the course of the pandemic, issues of food insecurity were exacerbated. We worked with the statewide food bank network to help identify capacity constraints that we were able to help fund, so we could ensure that the food bank network was able to not only serve needs today but was prepared to address needs of our state going forward. We did this through an investment of about $67 million in regional food banks all across the state, using community development block-grant funding. That is one example of how we are looking out for the needs of the state going into the future.
---
Q: What are the state's strengths and how does DCA support those?
A: I think a positive thing that came out of the pandemic is a profound appreciation for the creativity and resilience of our fellow Georgians. I'm amazed when I travel the state and meet new companies or new ventures that were launched during the pandemic.
[We support those] through our programs and [funding] resources, like the Downtown Development Revolving Loan program, which enables us to lend to business owners who are starting up a new establishment in downtown Bainbridge or downtown Gainesville or downtown Rome. Through the new hotelier, who can tap into our state's Small Business Credit Initiative – that's a stimulus program that we administer – to pro- vide beds for the hospitality industry. We provide both the technical assistance, through training and partnerships, and we also provide funding resources to help make it happen.