Albany | Dougherty County: Capturing Opportunities
Workforce development, expansions and tourism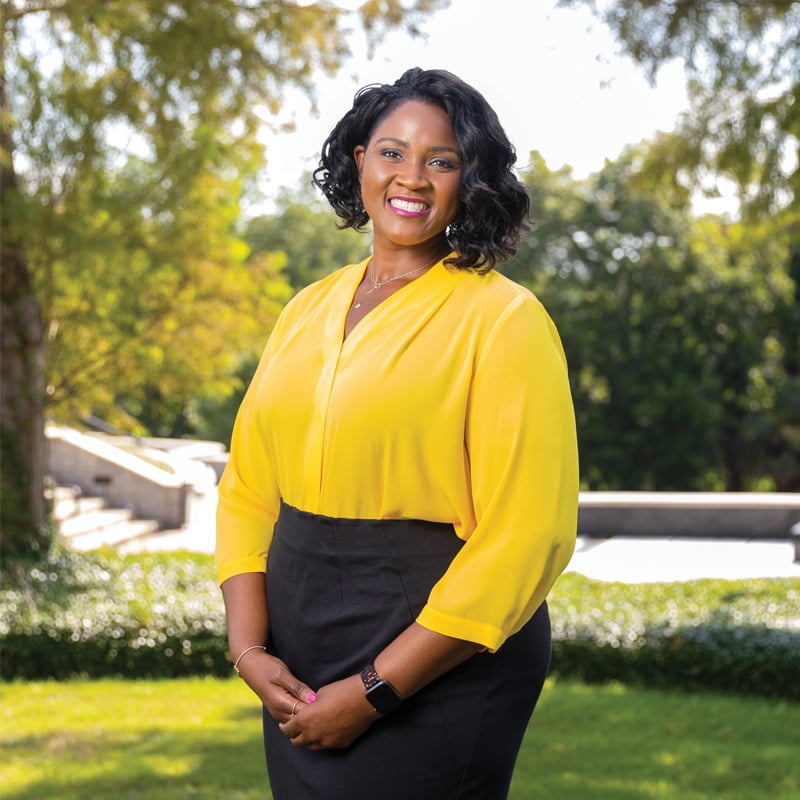 Albany and Dougherty County have had more than their fair share of challenges in recent years (straight-line wind events, a tornado, a hurricane and being Ground Zero for the COVID-19 pandemic in Georgia). However, residents and businesses in this Southwest Georgia county are resilient. They have worked hard to generate opportunities for a better quality of life that includes increased healthcare access, workforce development, a thriving downtown and improved economic prospects.
"It's an exciting time in Dougherty County," says Bárbara Rivera Holmes, president and CEO of the Albany Area Chamber of Commerce. "I see so much opportunity. Every day we're capturing that opportunity and turning it into a reality."
Holmes says the chamber is especially proud of collaborations with local educational institutions like the Dougherty County School System (DCSS), 4C Academy, Albany Technical College and Albany State University (ASU). These partnerships directly tie into talent development and retention in the community.
"[The schools] are working very closely with the business community, which is what we need because neither exists in a void," Holmes says. "They're providing students the education that our businesses need and what our students need to have career opportunities in the Albany area."
Holmes says the chamber's 800 members are a mix of small- to medium-sized family-owned businesses, entrepreneurs and large manufacturing giants like Georgia-Pacific, Molson Coors and Procter & Gamble (P&G). This array of business and industry represents a diverse portfolio that includes brewing, manufacturing, logistics and agriculture. Albany is also home to the largest online restaurant supply company in the world, WebstaurantStore.
---
Resource Connection
When the chamber created a new strategic plan in 2019, it sought to represent that diversity not just across industries, but among people, too, according to Jeretha Peters, chair of the chamber's diversity, equity and inclusion committee.
"One of the high-level goals that was a result of the strategic plan was to advance diversity, equity and inclusion for the chamber, its members and the Albany area community," Peters says. "We want to make sure we're not missing out on opportunities to promote inclusion and equity in the business community."
Following COVID delays, Peters' committee began implementation of its plan this year, focusing on connecting women and women-owned businesses with the resources they need to be successful. Those efforts have ranged from mentoring a woman in the soft skills she needed to move from the production line to an administrative role at a local manufacturing plant to helping female entrepreneurs achieve work-life balance or learn how to network.
"We identified and addressed the things that were important to the women in our community and their needs and we're able to be a resource and advocate to help them reach their ultimate success," Peters says. "Beyond mentorship, what's ultimately important is sponsorship – someone who behind closed doors will speak up on her behalf to ensure she has a shot at viable opportunity … Women who have a seat at the table can help identify talent."
---
Manufacturing Growth
Also looking to make connections is the Albany-Dougherty Economic Development Commission (ADEDC) through its work as a conduit for businesses and industries wanting to locate or expand in the community. As it celebrates its 50th anniversary this year, the Albany Procter & Gamble plant is expanding, according to ADEDC President and CEO Jana Dyke.
The Albany P&G plant manufactures Bounty paper towels and Charmin bath tissue. Continued high demand for paper towels helped fuel the $75 million expansion at the plant, Dyke says.
"P&G brought on a new line," she says. "The investment was more in equipment than the overall footprint, but they'll hire more than 100 new employees."
Dyke says the economic development commission continues to work on another expansion, with Outdoor Network, a marine and power sports company headquartered in Albany. The family-owned company is finalizing the expansion of its distribution center headquarters into the former McGregor golf facility on South Slappey Boulevard, a site that has been vacant for decades. The nearly $22 million expansion is expected to create 92 new jobs and includes the addition of a 230,000- square-foot advanced manufacturing facility on the site to produce motors for OXE Diesel Outboard Motors, which were previously made in Sweden.
"They have a partnership [with the Department of Defense] for being the only diesel outboard motors on DOD Marine equipment," she says. "For 20 to 30 years that building has been a blight on our community. There were brownfield issues and several other burdens to the community, and Outdoor Network has turned it into a facility the community can be proud of."
---
Military Innovations
The community can also take pride in being home to the first DOD base to become electrically "Net Zero." The Net Zero distinction means Marine Corps Logistics Base Albany generates as much electricity from renewable or green energy sources as it consumes from the local utility. These sources include a biomass steam turbine and landfill gas generators along with other energy-saving technologies and initiatives.
The Landfill Gas to Energy project began 10 years ago, according to the chamber's Holmes, as a partnership between the county government and the base. A pipeline from the Dougherty County landfill pumps methane gas to two generators on the base that produce electricity. In addition, geothermal technology captures and traps hot air underground during the warmer months to be used to heat the base's buildings during the cooler months, while captured and trapped cold air is used to cool the buildings in warmer months.
"They are completely energy self-sufficient," Holmes says. "It's a big deal. This is not just a bragging point for our community and the base, but it's [important for] national defense and energy security."
The Marine Corps Logistics Command operates two maintenance depots, one in Albany and one in Barstow, Calif. The Albany depot, where soldiers rebuild and repair combat vehicles and support equipment, is also home to the Marine Corps' Additive Manufacturing Center of Excellence. The center enables on-demand printing of parts for vehicles and other weapons systems, Holmes says, through the use of polymer plastic and metal 3D printers.
"These vehicles go to the front [lines] and come back to Albany where they strip them down, put them back together and extend their life cycles considerably," she says. "The pieces [of national defense strategy] here are directly supporting the innovation and the readiness capabilities of the U.S. Marine Corps."
---
Part of the Solution
Albany is also on the front lines of supplying nurses and other healthcare professionals. According to Phoebe Putney Health System President & CEO Scott Steiner, the state of Georgia is 28,000 nurses behind the national average of nurses per capita.
"The days of hospitals saying, 'Give us more [employees] – we have jobs' are gone," Steiner says. "We now need to be part of the solution."
As a result of COVID, Phoebe invested $1 million to purchase, outfit and operate two mobile wellness clinics to improve access to healthcare and health education in medically underserved communities throughout Southwest Georgia. The full-service mobile clinics, which began rolling in March of 2021, provide in-person primary care and virtual specialty care.
"These are not campers," Steiner says. "They each have two exam rooms and they're mobile hotspots to allow for the delivery of telemedicine. We delivered 10,000 vaccines to rural communities in Southwest Georgia that otherwise would have struggled to have access to them."
Congressman Sanford Bishop was so intrigued by the idea of the mobile clinics that he recently secured $1 million in federal funds so Phoebe could purchase two more. Steiner expects the new clinics to hit the road early next year, including one with a focus on workforce development.
"We'll take it to schools and do some virtual reality and try to get kids excited about a possible career in healthcare," he says. "And it's not just nursing. Some of these students might like to work in the lab or in radiology."
According to Steiner, the University System of Georgia (USG) turned away 4,400 students who qualified for nursing programs in 2021 because there wasn't enough room for them in the classroom. Phoebe is partnering with Albany Tech and ASU to educate and train more nurses and healthcare workers.
"ASU expanded its nursing program by 60 slots this year," Steiner says. "We helped them do that by sponsoring the faculty that will teach those [students] in that program. We also provide 10 scholarships for the EMT program for paramedics. We pay for the full ride. We're really trying to be innovative, but we need help and that's where folks like [ASU President Marion] Fedrick and ASU are really doing a great job."
ASU is Georgia's largest producer of associate-degree credentialed nurses and the nation's 10th largest historically black college or university, according to Fedrick. Other top degrees there include education, biology and chemistry.
"Even before COVID, we were graduating lots of nurses," she says. "Our nurses graduate and go to the bedside; they're hired immediately. Once they go into a hospital or medical setting that employer will often help them come back and get that four-year degree."
Less than four miles away via Oakridge Drive, Albany Tech is also producing nursing graduates by the dozens. The college graduated 22 students from its RN program (associate of science in nursing) in May and twice a year the college graduates 12 licensed practical nurses (LPNs) through its practical nursing diploma program, according to Lisa Stephens, dean of the Business/Healthcare Technology program.
"Both of those programs are accredited by the Accreditation Commission for Education in Nursing [ACEN]," she says. "To meet the accreditation standards speaks to the quality of the programs. We were one of six schools that achieved this accomplishment [accreditation for the LPN program] in Georgia."
Stephens says she believes well over 90% of Albany Tech's nursing graduates stay in the community and become important drivers of economic development.
"We want our graduates to be successful anywhere, however, one of the unique things about our program is that we do pride ourselves on being a local option and having our graduates stay here has an exponential effect our community."
According to Stephens, the average salary for an entry-level nurse is $70,000 and there are 300 jobs "on the table" at Phoebe Putney Memorial Hospital.
"That's a relatively great salary that enhances the quality of life for that individual and their families, but it also has an impact on our local economy," she says. "They buy homes here and raise their children here and that has a ripple effect on businesses. We have the talent here and we really want to tap into that; it can be really transformative."
Back at ASU, Fedrick takes pride not just in the nurses the university is preparing, but also in the fact that organizations like MCLB Albany, IBM and NASA are hiring ASU grads, as well.
"It's a high point for ASU, being able to graduate highly qualified students to go into these organizations and get high-paying jobs," she says. "We're making sure they are prepared to go to work as soon as they graduate."
As one of only three USG institutions that grew in enrollment this spring, ASU is on the precipice of a transformational change, says Fedrick. She envisions a future for ASU that includes more students, more degrees and more research.
---
Attracting Residents and Visitors
Just as ASU plans for its next evolution, so too, is the city of Albany through its ongoing downtown revitalization efforts. There's an upscale restaurant, The Flint, and a microbrewery, Pretoria Fields Brewing. New downtown living is available at The Flats and the much-anticipated opening of the new Gordon Hotel is on the horizon. Delayed by the pandemic, the opening of the nearly $20 million Gordon Hotel is expected next year and will include pocket parks, a second-floor ballroom and a "rooftop element."
"These [67] one-bedroom units [at The Flats] were filled before construction was completed, so there is a desire to live downtown," Mayor Bo Dorough says. "The Albany Museum of Art plans on coming downtown and when the Gordon Hotel opens, the whole experience of downtown Albany will really change."
There are 1,400 hotel rooms in the city, which generate more than $2 million in hotel/motel tax revenue, according to Rashelle Beasley Minix, executive director of the Albany Convention and Visitors Bureau.
"One thing we're focused on is giving hoteliers and visitors information on what they can do [around town]," she says. "We're making sure the visitors are aware of our adventure assets, including kayaking, canoeing, the bike trails; at Chehaw they have 11 miles of mountain bike trails."
The 800-acre Chehaw Park and Zoo is just one attraction that helps bring 15,000 people a year through the Albany Welcome Center alone, Minix says. Other attractions include the Albany Civil Rights Institute, the Flint RiverQuarium, the Thronateeska Heritage Center, which includes the Wetherbee Planetarium, and Ray Charles Plaza, featuring a life-size statue of the musician, who was born in the city.
"Domestic tourists contribute $277 million annually to the local economy," Minix says. "It's mostly leisure and group travel, but we're also a hotspot for family reunions during the summertime. We have some deep-rooted families here, and we also have a lot of the assets that bigger cities like Atlanta have. It's a much more economical way to do a family reunion."
From tourism to manufacturing expansions, Albany and Dougherty County are primed to continue growing and evolving as the Good Life City.
---
Local Flavor
Business Catalyst
Jud Savelle was like a lot of kids who grow up in rural Georgia, longing for the day he could leave his small hometown in the rearview mirror with no intention of looking back. Grownup Savalle is also like a lot of those people, who eventually return happily to their rural roots.
"I moved back here to set my roots deep and raise a family and I want to see Albany thrive," he says.
Savelle was recently hired by Georgia Tech's Advanced Technology Development Center (ATDC), the internationally recognized, state-funded business incubator that helps technology entrepreneurs in Georgia launch and build successful companies. Savelle is the new "catalyst" for ATDC@Albany. There are also "catalysts" in Athens, Augusta, Columbus, Macon, Peachtree Corners and Savannah.
"I'm a catalyst that will be networking with companies and looking for companies that want to build a physical product or create a service that is scalable," he says. "In my mind, there are a lot of young people, a lot of young entrepreneurs, [who] get their basic education here then say, 'I'm going to Atlanta and I'm not coming back.' I have thrived by returning to my hometown, and I want to help those who want to succeed and who want to stay in a rural area."
Savelle, who holds bachelor's and master's degrees in industrial engineering from Georgia Tech, is also a third-generation small-business owner. He and his family own Bishop Clean Care, a residential and commercial cleaning and restoration company that's celebrating 70 years in business. As a business owner himself, Savelle is all too familiar with the issues facing other prospective owners. "We want to reach entrepreneurs very early in the startup phase, maybe [when] it's just a concept," he says. "We'll talk through their ideas with them and see if ATDC can assist them. We have a lot of farmers and AgTech is a really growing field right now. We have third- and fourth-generation farmers down here and I'm sure they have ideas, solutions, for AgTech, so let's see if we can't build some really great AgTech down here as well."
Savelle says he sees his role as finding companies or individuals in any industry who are eager to solve a problem and connecting them to ATDC's coaching and educational resources. ATDC offers classes on understanding customers, marketing research, financial literacy and how to raise money through angel investors or venture capitalists.
"I believe we can accelerate our economy in ways that we haven't done before because we haven't had the ecosystem available for technology startups," he says, "and ATDC is offering those resources."