Visions Become Reality
The transformation of South Fulton CIDs is the result of successful partnerships, thoughtful planning and perfectly timed funding.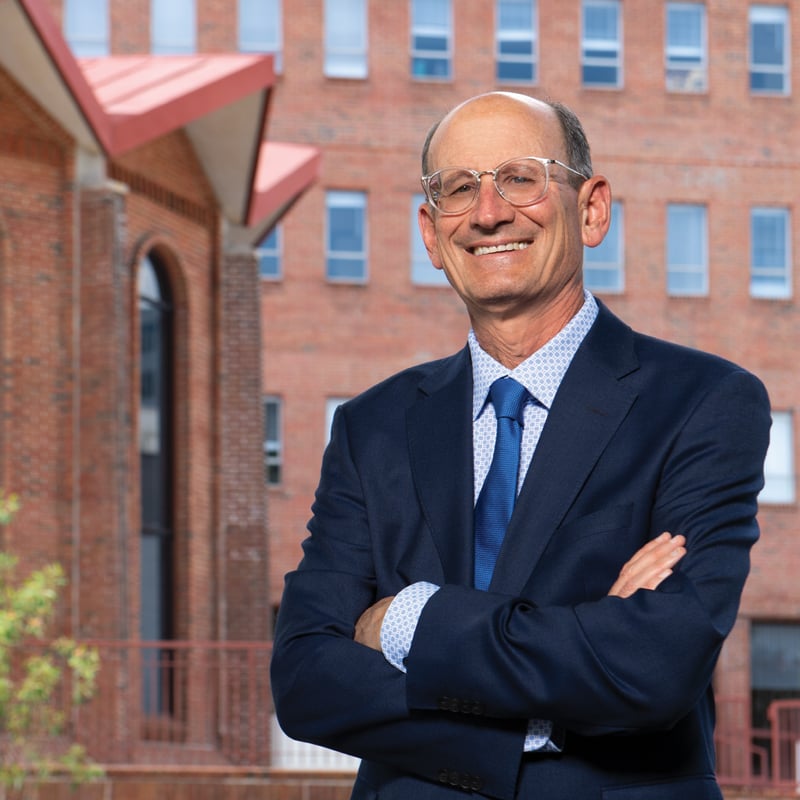 With passage of the bipartisan infrastructure law (Infrastructure Investment and Jobs Act) in November 2021 and the promise of federal infrastructure funds flowing to the states, self-taxing community improvement districts (CIDs) are in a sweet spot. Their mission, typically projects dealing with beautification, public safety and transportation, has never been more timely. For South Fulton, that means money and connections will enable some visions to become reality.
"Leveraging and providing matching opportunities with federal funds is a key piece that we'll see in the days ahead, especially with the infrastructure funding," says Michael Hightower, managing partner of The Collaborative Firm, an Atlanta-based planning and development firm with deep South Fulton roots.
Hightower's firm hosted the 20th South Metro Development Outlook Conference in March under the theme "Transform, Innovate, Elevate" – three words that perfectly describe the activities occurring in the five South Fulton CIDs.
CIDs are rethinking transit and partnering with the BeltLine. The CID surrounding the airport is working on smoother movement of traffic and freight while the downtown CID is welcoming a major housing boom. With new opportunities on the horizon, South Fulton CIDs are prepared to remake their districts through careful planning, judicious use of resources and inclusive partnerships.
---
Housing Boom
In his first State of the City address, Atlanta Mayor Andre Dickens outlined his affordable housing goals. These included developing and preserving 20,000 affordable housing units over the next eight years, which tracks with the Atlanta Downtown Master Plan goal to grow downtown neighborhoods. The Atlanta Downtown Improvement District (ADID) is part of the business ecosystem supporting that mission; A.J. Robinson, president of Central Atlanta Progress, is also president of ADID.
"We're going through an historic boom in housing downtown," Robinson says. "We haven't seen this kind of development in a long, long time. Almost all [the developments] are multifamily rental properties. Maybe one or two are condos."
New housing is exploding throughout the downtown district, which covers a 220-block area loosely bounded by North Avenue on the north, Memorial Drive on the south, Piedmont Avenue and the Downtown Connector on the east and the Norfolk-Southern rail line on the west.
According to data from the ADID, just over 1,300 residential units were delivered between 2012 and 2016 in the CID. That figure rose by nearly 70% between 2017 and 2021, with 2,254 units delivered. More are on the way. There are 1,300 units under construction and plans for an additional 4,200 units within the next five years. This represents a 25% increase in total housing inventory. Robinson says he's particularly excited to see the redevelopment of Centennial Yards in the area formerly known as "The Gulch" and in south downtown, the oldest commercial district in the city. German developer Newport has a project in that area, Broad Street Redevelopment, that is creating 300 units. "They are working on 100 different parcels of land in south downtown. Some of the buildings are historic," Robinson says. "This whole movement toward residential is big because it rounds out the downtown story."
The ADID also committed to planting 8,000 trees over the next decade to repopulate the urban canopy, in partnership with Trees Atlanta. Beyond the beautification, trees also lower the temperature in downtown's concrete heat island. Other greenery is on the way. The Centennial Yards development includes significant greenspace development, and the ADID will receive a competitive $900,000 Rebuilding American Infrastructure with Sustainability and Equity (RAISE) grant to continue the feasibility and engineering work on "The Stitch." The federal grant will aid this unique redevelopment project that aims to build a park over the Downtown Connector.
"We're trying to get that project aligned for all the future infrastructure dollars that are going to flow down from the federal government as part of the federal infrastructure bill," he says. "We feel like that's the next big project after the BeltLine."
---
An Affinity for Small Businesses
With a membership base combining mostly small, minority-owned businesses with prestigious historically Black colleges and universities (HBCUs) – Clark Atlanta University, Morehouse College, Morehouse School of Medicine, and Spelman College and the Atlanta University Center Consortium (AUCC) – the West End CID is unique.
"I've worked with multiple CIDs in Atlanta and this one is not typical," says Nicole Hall, administrator of the West End CID. "There are so many small businesses, it has a different makeup. It's very community-focused."
For the past couple of years, the West End CID focused on beautifying its gateway, which involved landscaping the en- trance and exit ramps at I-20 and Lee Street and Lowery Boulevard. Thanks to funding from a Georgia Department of Transportation (GDOT) grant and additional funds from the AUCC, that project is complete. Additional plants and fencing now protect the landscaping from damage from urban campers or teens selling bottled water along the street.
"Our partnerships helped us achieve a lot of our accomplishments," says Hall, highlighting collaborations with the Atlanta BeltLine and the Atlanta Police Foundation (APF) in particular.
"The BeltLine is a good partner," she says. "They come to our meetings; they are joining all the business associations that are in the community. They are becoming true community partners as they continue to develop this enormous economic development project."
As a result of listening to CID concerns at regular meetings, the BeltLine intends to add wayfinding signage to direct visitors toward CID businesses, such as restaurants, bars and breweries. To address public safety concerns, the CID is initiating a public safety patrol in partnership with the APF and the Atlanta Police Department zone commanders. Hall says the public safety patrol, which is comprised of on-duty police officers, is about establishing and maintaining a presence in the district. "We will have our own [branded] police car and our own group of officers," says Hall. "It's like a mini police force staffed with all Atlanta Police Department people. They will be focused completely on the West End for the time we've contracted for; we've talked about 10 hours a day, six days of the week."
Partnerships, like those with the BeltLine, APF and the City of Atlanta, are critical to West End CID.
"You may not have a lot of revenue, but when you have those types of partnerships, you can get a lot more done," says Hall.
---
Moving People and Freight
Talk to Gerald McDowell, executive director of the ATL Airport CIDs (AACID), about transit and mobility solutions and get ready for an adventure. The mobility challenges faced by south Atlanta require out-of-the-box thinking, and McDowell is up for it. The AACID is comprised of the Airport West and Airport South CIDs and includes portions of Atlanta, College Park, East Point, Hapeville and Forest Park in unincorporated Fulton County and in Clayton County. The area encompasses Hartsfield-Jackson Atlanta International Airport and is thick with warehouses and trucks moving freight in and out of the district. In 2020, the AACID developed a freight cluster plan with a list of priority projects for improving freight movement and infrastructure. These include adding a median barrier on Camp Creek Parkway, making multiple intersection improvements, adding wayfinding signage and cutting back vegetation to improve sight distances.
"We are aligning those projects with Georgia Department of Transportation programs for funding," McDowell says.
The AACID is considering a host of funding sources including Quick Response grants and the GDOT Freight Lump Sum Projects program, which is for freight projects only and limited to $2 million per project.
But McDowell is also looking for ways to improve through innovation – adding tech solutions like priority signalization in intersections so that technologies in the cabs of trucks and other vehicles can communicate with smart traffic signals.
"Those technology improvements are meant to improve traffic flow along the corridor, which then makes the movement of trucks and freight better as well," he says.
And it's not just trucks McDowell wants to move safely throughout the district; it's the people working there, too. The CID hopes to finally receive funding for three pilot programs that make up an automated transit network – personal rapid transit, autonomous shuttle and microtransit – and launch each by the end of 2022.
The autonomous shuttle demonstration project would operate eight hours a day, five days a week, in a business park where there are three MARTA bus stops. The project, which would run for two years, was presented to the Clayton County Board of Commissioners and is awaiting a decision on funding.
The microtransit solution is a ride-sharing minibus that would operate within a specific district in the airport region; those working at the airport could access an app to request a ride to and from work within the district.
"That project was shortlisted by the Atlanta-Region Transit LINK Authority (ATL) for funding," says McDowell. "They will decide by July 1. The request was for roughly $1.5 million for two years."
Finally, working with Fulton and Clayton counties, Hartsfield-Jackson, MARTA and the State of Georgia, the AACID is seeking funding for a third demonstration project – an airport circulator traversing a 20-mile network that would encircle the airport and make stops at strategic locations, potentially including Delta Air Lines and Porsche Cars North America headquarters, the domestic and international terminals and the College Park MARTA station.
"We're looking for partnership and funding from all five of those sources," says McDowell, "And we submitted our application for federal funding in March. We're also working with the Andrew Young Foundation to look for funding from the private sector."
---
Boulevard of Restored Dreams
In a region that is remaking itself, Gil Prado, executive director of the Boulevard CID, is having a good year. Named "Economic Developer of the Year" at the South Metro Development Outlook Conference, Prado was pleased but not resting on his laurels. The CID has 50 million square feet of industrial space (97% occupied) and is home to 28,000 jobs. And it's seeing exciting revitalization including the area around the Fulton Industrial Boulevard and I-20 interchange where Prado says the county has, over the past few years, acquired property – usually derelict motels – for redevelopment.
"We're in the process of facilitating a design charette with the CID board and stakeholders to help envision what should go in that area," Prado says.
A recently wrapped-up freight cluster plan created a to-do list of improvement items, large and small, to tackle over the next five to 10 years.
"The main project that was identified in the plan was intersection improvements at Fulton Industrial Boulevard and Donald Lee Hollowell Parkway," says Prado. "This is a major intersection as well as a gateway enhancement project. [It] is a critical entry point for trucks and vehicles to access the entire district."
The project includes extending the existing streetscape along Fulton Industrial Boulevard and improving sidewalks and pedestrian access, lighting, trees and a landscaped median. It will also include operational and safety improvements at the intersection by adding a dual left-turn lane from Donald Lee Hollowell Parkway to Fulton Industrial Boulevard southbound.
The CID committed $890,000 of its own funds and applied for $4.5 million from the ARC to pursue the project. They expect to hear back on the funding this summer. And like other CIDs, they're knocking on the door of the federal government.
"We've already had conversations with [aides to] Senators Ossoff and Warnock," says Prado. "A lot of that funding is going to flow through the state and through the ARC into the CID. But the timing is perfect. We have the plan, and the funding is there. We have 52 projects and we're ready to go."
---
Telling a Good Story
The 6,446-acre South Fulton CID, located primarily along the Oakley Industrial Boulevard corridor, is made up of warehouses, manufacturing and industrial sites. Right now, it's just what investors are looking for.
"I want to say it firmly: We are at the forefront of this wave of warehousing and manufacturing," says Joddie Gray, the CID administrator.
The biggest challenge Gray faces is the transportation piece of the CID mission.
"We have to focus on getting our trucks and people to the workplace efficiently and safely," she says. "A lot of the roadway projects we do now are very focused on safety and walkability."
To that end, the CID is still working on signage to alert truckers of trains blocking the roadway at McLarin Road outside the CSX Intermodal facility, where long trains entering the facility can cause delays. The CID has asked MARTA to be responsive to the needs of the patrons – mostly shift workers – along a well-used bus line (route 188) and adjust its service times throughout the day.
Gray does expect GDOT to begin construction on the overhaul of the interchange at I-85 and State Road 74 sometime in the next year. "Then, we'd like to build that gateway. It would be a missed opportunity to have your whole interchange reconstructed and not look at the beautification and signage opportunities," she says.
The CID is also seeking to expand further into Union City and Palmetto to capture the South Fulton market, create a connected transportation network and build even stronger partnerships. Gray says she's never seen the CID in such accord.
"We have a great relationship with all our cities, especially in our core city of Fairburn," she says. "Where they're spending their T-SPLOST funding is where we're spending our funding. We're in lockstep right now. This is 20-plus years in the making. Our public-private partnership is paying off."