Peach Plate: Southern Revival
Loom embraces Macon's history.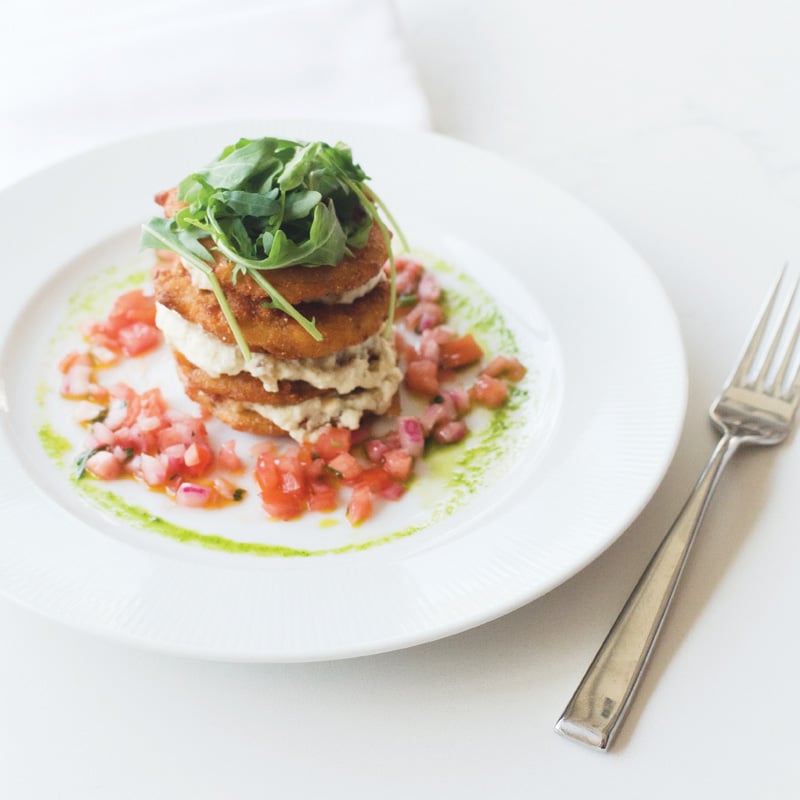 Before it got famous for music, Macon was a mill town. You can find echoes of both identities in the city's historic downtown, where Cherry and First streets intersect with Cotton Avenue at a 45-degree angle. Here stands the new Hotel Forty-Five, its name a nod to both the intersection (which supposedly made it easier for wagons loaded with cotton to traverse) and to the 45-rpm records cut by Little Richard, Otis Redding and The Allman Brothers Band, among others. Inside is another homage to the city's history: the new chef-driven restaurant, Loom.
Loom opened in February 2022 at Hotel Forty-Five, built in a once-abandoned 11-story skyscraper, which was considered the tallest building between New York and Miami after the Great Depression. The hotel's signature ground-floor restaurant weaves history and food, featuring textile mill workers in its backdrop mural and a ceiling textured in a cotton-weave pattern. The well-lit open space offers sweeping views of the Macon City Auditorium and pedestrian-friendly downtown. The outdoor patio is a popular people-watching spot on warmer evenings.
A large bar and retro cotton-ball-shaped chandeliers, hand-glazed ivy-green tiles and copper accents are focal points, giving subtle hints of the past – as in the green layer that forms on the copper over time due to oxidation. Wicker-backed chairs and beige-white interiors evoke laid-back living rooms in the South. Overall, the vibe is modern and informal.
When we dined there this spring, Executive Chef Steven Brockman described the menu at Loom as "Southern Revival, with equal parts tradition and innovation." (Brockman has since left the restaurant but the offerings aren't expected to change.)
We found familiar ingredients on the menu – such as kale, black-eyed peas, pimento cheese – though presented in untraditional combinations. The lunch menu had a Field Pea Falafel served with grilled pita and feta, a fresh twist on the Mediterranean staple. Not Your Average B.L.T. was certainly above average. With layers of cornmeal-breaded fried green tomatoes, tender smoked pulled pork and pimento cheese, it was a full Southern meal served as a sandwich.
The Sauteed Blue Crab Cake was heavily breaded with panko and dressed in Old Bay, butter and Jack cheese. Pimento Cheese & Mac combined two Southern favorites in one: pimento cheese with cavatappi pasta, topped with cornbread crumbs and bacon. It was not too cheesy, as one might expect. The Portobello Poutine used mushrooms instead of potatoes – they're made to look like French fries – served with roasted tomato coulis instead of ketchup. It was a healthier option if you ignored the deep-fried cornstarch breading. The Georgia Shrimp & Stone Ground Grit Cake was a home run. Diced spicy sausage and roasted red bell peppers added a nice kick to the grit cake.
Entrees were more familiar, though warranted better execution. The airline chicken breast was chewy and lacked the Southern-fried crispiness, while the accompanying seasonal succotash was drenched in sherry vinaigrette. The Gulf-sourced sautéed grouper was a lighter pan-fried option on the menu, though it tasted pungent with a sour black-eyed pea salad. Dessert featured adaptations to a Southern mama's recipes. The Carmelized Banana Pudding used a light Chantilly pastry cream instead of rich pudding, with sliced caramelized bananas folded in, and a runny caramel sauce. The Flourless Chocolate Cake was super-dense, rich gluten- free dark chocolate topped with a sour raspberry sauce.
There was no background music at Loom. If you go, you will likely need to hum your own Allman Brothers or Otis Redding tunes while sipping a cocktail inspired by Macon's music heritage. The Reddy Teddy, a kicky version of a traditional Old Fashioned made with spicy agave and Four Roses bourbon, is a play on a Little Richard song. The Berry Mills celebrates R.E.M. drummer Bill Berry and bassist Mike Mills. With blackberry puree, sweet floral chamomile syrup and Kettle One Vodka, it will get you in a rocking mood.
Loom is making a good effort to embrace the local history of Macon and add a soulful eatery to the revitalized downtown. It gives visitors an opportunity to stay longer and explore the city's heritage – and locals a place to taste new possibilities.