From the Publisher: Learning from Austin
Atlanta and Austin are similar in many ways. A recent LINK trip enabled discussions about how to overcome challenges.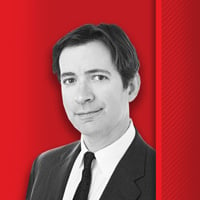 The recent LINK Trip to Austin was huge, in more than one way. Organized by the Atlanta Regional Commission (ARC), the trip included some 120 Metro Atlanta leaders traveling to learn urban solutions from other cities. This may have been the largest group ever and marked the return of the Atlanta mayor to the trip for the first time in nearly ten years.
We had three days of panels from Austin leaders mixed with lots of discussion among ourselves about how Georgia can borrow from their solutions. The ARC does a great job of weaving local experience into these fast-moving conversations with panels on such varied subjects as transportation, venture capital and affordable housing.
While some of these panels weren't focused on business, that's the lens I tended to see them through. In Area Development Magazine's Best States for Doing Business 2021 ranking, Texas is No. 2 behind Georgia.
Austin is also known as a cultural powerhouse in the music world, a rival to Atlanta in that arena. Each year its South By Southwest (SXSW) Festival, created in 1987 to spotlight independent, noncommercial music acts and now grown to include conferences and a film festival, brings hundreds of thousands of people and hundreds of millions of dollars to the city.
Atlanta and Austin are similar in many ways, but Austin lacks the suburban population of Atlanta and feels therefore like a much more mellow, less-congested city – because it is. But not for long. In part because of this quality of life (and, ahem, nightlife, bustling with years of SXSW cash infusions) it is one of the country's fastest-growing cities, with the metro area adding about 600,000 to its population (now 2.3 million total) in the last decade, an almost 34% increase. Both cities boast a large college-age population and booming economies. They both have housing shortages but Austin has a more acute case, with appraised-home values going up around 50% over last year.
Austin is in danger of blowing its cool by pricing out the townies that "keep it weird," as the city's unofficial motto says. And that's also true for the young workers that support its booming tech companies. It has been unable to update a zoning code that isolates people in poverty and prevents affordable housing.
With counties having no zoning control in Texas, leaders are banking on a $7.1 billion transit investment and multiple ground-level initiatives, including impressive efforts to comprehensively address homelessness. Austin Mayor Steve Adler noted the imperative to avoid the fate of Los Angeles, which has promised to spend up to $3 billion over the next five years to address homelessness levels. "We've got to get in front of this," he said.
Austin's growth is fueled by massive outlays from companies like Samsung, which recently committed $17 billion in investment to grow its factory just outside the city. Big tech and big money are feverishly relocating to Texas like the gold rush of early America. Texas is one of eight states with no income tax, but that's not the only reason companies keep coming.
The state has long benefited from a Texas-sized incentive package known as Chapter 313. The program has given a staggering more-than-$10-billion in tax cuts to companies over 20 years. That has blown away the recruitment competition from states like Georgia for years and most certainly lured the Tesla headquarters and its 10,000 jobs to Austin.
Consisting of reduced school-district property taxes for capital-intensive facilities that attract economic development, this incentive encouraged companies like Samsung to invest heavily in workforce. Problem is, Chapter 313 sunsets this year; nothing is in the works to replace it and the workforce mismatch (more jobs than workers) will likely grow.
In spite of these challenges, Austin has a great attitude and a passionate devotion to solving its issues. There is a recognition that the ability to accommodate artists and service workers will determine whether it remains a hot spot for young workers and tech companies. Lacking the philanthropic network of Houston (or Atlanta), Austin residents' love of the city nonetheless binds its different factions together, like a spunky garage band of misfit musicians.
Some noted that Atlanta needs to better leverage its own cultural assets, and that we are also pricing out young talent. There are many ways we need to engage this community and help our own indie musicians. South By Southeast, anyone?