Carrollton | Carroll County: Unparalleled Growth
Expansions, developments and revitalized downtowns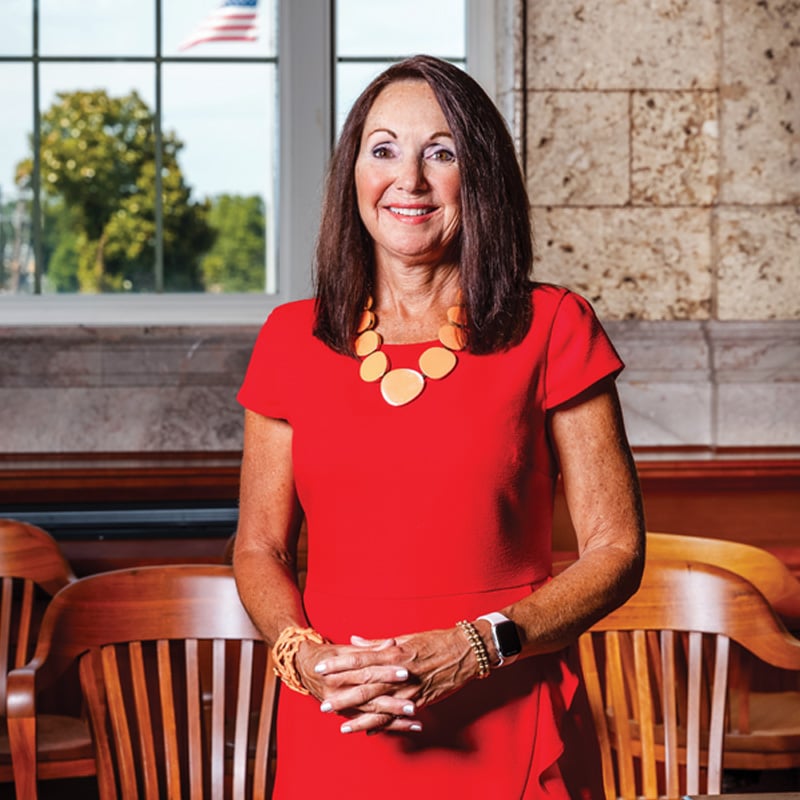 Brisk economic development is transforming Carroll County. As with any growth, it brings both opportunities and challenges for local governments, businesses and residents.. Managing the growth hurtling west out I-20 toward Carrollton and its six sister cities and retaining the area's small-town charm is a delicate balancing act fit for an Olympic gymnast. Fortunately, local leaders are planning ahead.
Established in 1826, Carroll County covers 504 square miles and has seven cities: Bowdon, Carrollton, Mount Zion, Roopville, Temple, Villa Rica and Whitesburg. Along with corporate headquarters and manufacturers, the county boasts Georgia's largest cattlemen's association. With more than 40 elected officials across the cities, two school boards and a county commission, striking a balance between the urban push out of Atlanta and preserving the county's rural roots comes down to one thing: effective communication.
"It's all of us working together to make sure we have the integrity to be what each of us wants to be," Carroll County Board of Commissioners Chair Michelle Morgan says. "Temple's going to look different than Bowdon. Villa Rica's going to look different than Whitesburg. We each have to have our own identity, and the question is how do we protect that – and it boils down to all of us conversing and communicating on a regular basis."
---
Vibrant and Expanding
As Carroll County's largest city and its county seat, Carrollton is capitalizing on its access to I-20 as well as its vibrant downtown, its Greenbelt paved trail and a large contingent of corporate headquarters, new and existing.
Several of the companies that call Carrollton home are expanding, including most prominently Southwire, one of North America's leading wire and cable manufacturers and an emerging influence in many important electrical markets. The company expects to complete a new 100,000-square-foot copper rod plant in Carrollton later this year. The new facility will use the company's patented Southwire Continuous Rod (SCR®) technology, which will have the capability to produce more copper rod than any other SCR system in the world.
Throughout the county, a number of additional expansions are planned or underway, including several in Carrollton:
• Mullins Mechanical, provider of plumbing, metal fabrication and HVAC, boiler and piping systems, is establishing a new headquarters.
• Auto fuel tank and sunroof manufacturer Yachiyo of America completed an expansion in March. • Superior Recreational Products is adding a new facility to its Carrollton footprint to accommodate the expansion of its commercial outdoor playground equipment product lines.
• Ed Miniat LLC, preparers of customized meat and poultry products for foodservice companies, is expanding.
• Crescent Kayaks, a major North American kayak manufacturer, expanded into a larger manufacturing facility in Carrollton to accommodate increased demand and sales growth.
• Tanner Health System is further investing in senior living facilities with construction beginning on a new community in Carrollton to complement its assisted living facility in Villa Rica.
"Currently, Carroll Tomorrow, along with our county and city partners, is assisting over a dozen existing companies with expansions planned over the next 12 to 16 months," says Karen Handel, president and CEO of Carroll Tomorrow, a public-private economic development organization. "These existing industry expansions will generate more than $75 million in capital investment and nearly 550 new jobs."
"I think the college [the University of West Georgia] is a big draw for us, but downtown has become a destination," says Carrollton Mayor Betty Cason. "We have several restaurants and shops downtown, a quilt museum and our cultural arts center."
While cities across the state are busy creating city centers and community gathering spaces, Carrollton was ahead of that trend when it built its amphitheater, the AMP at Adamson Square, nearly a decade ago. In addition to a summer concert series, the city hosts movie nights and special events, including showing last year's World Series on the big screen at the amphitheater. The nearby Carrollton Center for the Arts offers performances, classes and exhibitions.
"Everything's within walking distance downtown," says City Manager David Brooks.
The city also boasts a shared-use path for pedestrians and bikers that connects neighborhoods with the Carrollton City School campus, University of West Georgia, city parks and several commercial and shopping areas. With more than 18 miles of concrete path, the Carrollton Greenbelt is the longest paved trail in Georgia.
"The Greenbelt is complete, but we are consistently adding spurs," Brooks says. "The spurs give different subdivisions and different areas of town easy access." One such spur connected Tanner Medical Center to the greenway.
In addition to the University of West Georgia, Carrollton is also home to West Georgia Technical College (WGTC). Construction is almost complete on the college's new $49.4 million campus in the Buffalo Creek Technology Park, located off the Highway 166 bypass. The 40-acre property will replace the 52-year-old WGTC Carroll Campus on Newnan Road, the largest of the college's five campuses. WGTC serves seven counties: Carroll, Coweta, Douglas, Haralson, Heard, Meriwether and Troup.
Annually, more than 10,000 students attend WGTC, which boasts a job placement rate of 99%. It is the technology park's first tenant.
"Our goal is to be able to provide the type of jobs to keep our college graduates here, so we're looking for jobs that will pay the salaries those graduates are looking for," the mayor says. "That's what we're striving for with the technology park, to bring those jobs into the city."
---
Corporate and Residential Appeal
In Spanish, Villa Rica means "Rich Village," which seems apropos given that the area claims to be the site of the first gold strike in the U.S. in 1826, although that didn't quite pan out. Other bragging rights include being the hometown of Coca-Cola legend Asa Candler and gospel music pioneer Thomas A. Dorsey.
"The first gold strike did happen here, but it was powdery gold, so the miners moved on to Dahlonega," says Janet Chumley, Main Street Program manager.
To celebrate that heritage, every September Villa Rica hosts a Gold Rush Festival, an event first held in 1978. It includes a Gold Rush 5K followed by a Gold Rush Parade featuring marching bands and local Shriners. The festival also features food and craft vendors and local entertainment. Another local event, the Thomas A. Dorsey Gospel Heritage Festival, celebrates the father of gospel music. It takes place in late June.
History aside, today Villa Rica is undergoing transformational growth driven by in-state western migration and out-of-state transplants, according to City Manager Tom Barber.
"The thing that is making this [growth] possible right now is a combination of I-20 and people working at home," he says. "That gives us a bigger audience, and I think that's what we're benefiting from right now."
From its roots as a railroad town dotted with textile mills, the evolution of Villa Rica has been a story of overcoming growing pains, says Mayor Gil McDougal. The first of those growing pains occurred in 1998 with the construction of the Mirror Lake subdivision, which completely transformed the town. At the time, the city's population was 4,000; Mirror Lake added thousands of new homes and sparked other developers' interest in Villa Rica.
"You have to adapt," he says. "We have no choice. I-20 is bringing the growth, and what we want is responsible growth. We have the opportunity here to do really good growth, if we do this thing right."
The city will get the opportunity to rise to that challenge beginning this summer when Fuqua Development is expected to break ground on a new $140 million mixed-use development that will be anchored by a major grocery store and include several other retail outlets and restaurants. There will be 255 townhomes and 208 apartments, and the first part of the new Mirror Lake Connector will pass through the 60-acre site on Punkintown Road. The new road will connect the Douglas County side of the city to the downtown area on the Carroll County side. Fuqua Development is the company behind the hugely successful Battery Atlanta at Truist Park.
"We don't have anything of this quality here," city manager Barber says. "It will be the first higher-end retail and residential development we see here."
Villa Rica's business appeal is also growing. Carros Metal Concepts is constructing a new, state-of-the-art building a few miles from its current location and Carrollton-based Southwire is in the final stages of a more than 230,000-square-foot expansion at its Retail East Customer Service Center in Villa Rica. Verida Inc., a non-emergency medical transportation management company, is building a new headquarters in the city.
---
New Houses and Shops
Seven miles west of Villa Rica on Highway 78 is the small but also growing town of Temple, with a population slightly under 5,000.
"We grew by around 800 citizens from 2010 to 2020," Mayor Michael Johnson says. "I think those numbers might be a little larger, but that's what the official round numbers are."
He describes his wife's hometown as "very residential," but adds the city's economic development portfolio is increasing. In fact, Royal Metal Products is undergoing a major expansion in Temple. The expansion and accompanying upgrades represent an investment of $2.5 million to $3 million that will create about 50 new jobs. The company manufactures and distributes residential and light commercial sheet metal HVAC products.
"We retain a lot of the small, country environment as best we can," Johnson says. "[Any new economic development project] is scrutinized carefully to make sure it's going to have a positive impact and have as little negative impact as possible. We're trying to preserve what our long-time citizens have come to love while also trying to attract new citizens."
Temple has its own unique history, including the distinction of having the nation's first school "bus" – a horse- or mule-drawn wagon (they have pictures) – and hosting the Georgia High School Association's organizing meeting in the city in 1904.
"We have a downtown area that is very historically significant, but over the course of the last few decades it has deteriorated," Johnson says. "But in the last four years, maybe a little bit more, there's been a push to revitalize that area."
New owners are refurbishing downtown properties and opening new businesses like the Gypsy Rabbit restaurant, Ink Rush tattoo parlor and Downtown Darlin', a specialty tea shop and boutique, which opened late last year. Local roofing company KRG Roofing has moved its headquarters downtown, too.
"The Gypsy Rabbit is a sandwich place over on the east side of the tracks," Johnson says. "That building was formerly a building-supply company and it housed a theater back in the day. The new owners have refurbished the building, but they preserved the exterior walls."
According to Johnson, Temple is the only undeveloped exit west of Atlanta. And that, says City Administrator Bill Osborne, gives the city a competitive advantage. "We're operating at 35% to 40% of sewer capacity, which gives us good growth potential," Osborne says. "Any city, in terms of staying viable, you have to have growth, and population growth comes before growth in commercial."
Like a lot of other places, Temple was experiencing a boom in housing construction that came to a screeching halt during the Great Recession. In 2021, new sections of some of those incomplete residential developments were under construction, and by the end of the year, there were new single-family homes being built in eight different subdivisions in the city.
"In the last seven or eight years housing construction picked back up, and now we have new construction, too," Osborne says.
Also under construction is an expansion of City Hall, which will more than double the space under the roof of the former bank branch. The addition will transform most of the former bank's drive-thru into a large room for use by the city council and municipal court, as well as being a facility for community meetings and events.
Like Temple, Carroll County continues to grow. Four other major business prospects are considering the county, Handel says. "We have a very diverse business community," she says. "We have a strong backbone of small businesses and startups, along with a very broad base of larger companies."
"We want to stay rural, but we also recognize we have to grow, and that's a fine line," says commission chair Morgan. So far, Carroll County is maintaining its balance with hard work and clear goals – and a strong commitment to its citizens and companies alike.
---
Local Flavor
Historic and Unique
Dorothy Pittman remembers shopping at Horton's in Carrollton as a child. She would pick out gifts for her mother and charge them to her mother's account. Today, Pittman is the proud owner of Horton's Books & Gifts, Georgia's oldest independently owned and operated bookstore and one of Carrollton's oldest businesses.
"I used to watch the ladies wrap the presents and tie the bows and it was wonderful," the Carrollton native recalls. "I used to get all my Nancy Drew books here."
Founded in 1891 by N. A. Horton, the store has been a part of the Carrollton community for 130 years. Originally a source for textbooks, through the years the store has sold a little bit of everything, including furniture, sewing machines, china, jewelry, mattresses and sports equipment – and for a time, wedding invitations.
In its earliest days, Horton's even sold caskets and coffins. In addition to being a purveyor of books, Horton was also Carrollton's undertaker. While the store no longer sells caskets and coffins (and there is a difference), it retains its tradition of providing whatever customers need.
"I know our customers and they know me," Pittman says. "They know they can call me and I can get them what they want. We care for the people we serve and I think that really makes a difference."
Located on the square in downtown Carrollton at 410 Adamson Square, the store's original heart pine floors are framed by antique pharmacy cases filled with books, antiques and crafts. Pharmacy shelves acquired by Horton date to 1870, says Pittman.
"I have a photograph of the pharmacy – the shelves are older than the bookstore," she says. "One of the display cases has a little closet in it where you would put the pharmacy coat when you left for the day."
Trained as a librarian, Pittman bought the bookstore in 1997, after a return trip home to settle her mother's estate. "I was talking to the man who owned Horton's and I just decided to buy the bookstore because of the history," she says. "It's a nice thing to have something that's different and unique. There's nobody else out there that can say they are the oldest bookstore in Georgia." Notables such as former Gov. Zell Miller and former U.S. Speaker of the House Newt Gingrich have held book signings at Horton's and store cats Dante, Poe and Savannah are always available to lend customers a helping paw to find the purrfect book or gift. The friendly felines are also available for petting or snuggling in the recently renovated basement "Bookcellar," which offers a selection of used fiction and nonfiction books.