2022 TravelBlazers
Collaborations and partnerships yield new destinations for tourists.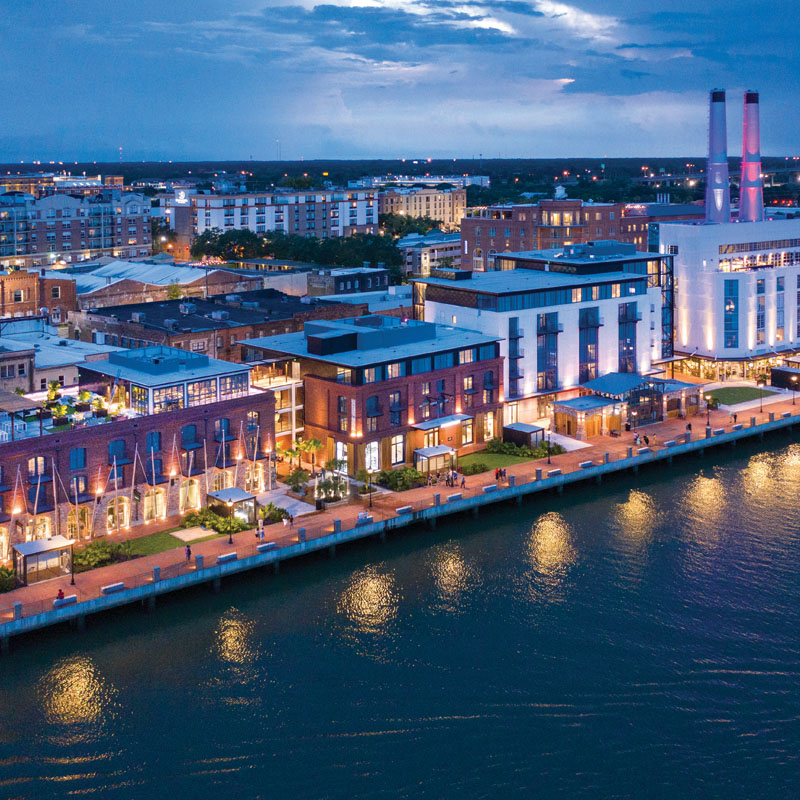 Passion projects that embraced partnerships – that personifies the 2022 crop of TravelBlazers, the initiatives chosen by the Georgia Association of Convention and Visitors Bureaus (GACVB) and Georgia Trend that exemplify innovation in the state's diverse tourism industry. Each of these projects had a champion (or champions) who sought and found the partners to make it possible. The result? A new attraction or asset for locals and visitors to enjoy – and a little more fuel in the economic development engine.
"The visitor has so many different interests across market segments. We know the traveler wants unique experiences and they want to enjoy a destination the way a local does," says Jay Markwalter, executive director of the GACVB.
The TravelBlazers awards were designed to recognize the role of partnerships in developing tourism assets and destinations. Each of the winners engaged in some degree of collaboration, whether it was shepherding a multimillion-dollar development through the labyrinth of development regulations in Savannah or preserving local Black history and keeping historic buildings in service in the city of Forsyth.
So, join us as we make our way around the state, from the Wiregrass to the mountains.
---
Entertainment Smorgasbord
Plant Riverside District
A 1912 power plant along Savannah's riverfront is putting out a whole new kind of energy. The Plant Riverside Entertainment District, a passion project of boutique hotel developer and local business leader Richard Kessler, has been transformed into a destination for shoppers, diners and tourists overnighting at the JW Marriott hotel that anchors the entertainment district.
In a project eight years in the making, Kessler used his love for historic preservation (his home is the lovingly restored 1919 Armstrong Mansion) to carefully reshape the power plant, adding new amenities while leaving some of its rough industrial edges. The result is a development that occupies an important place on both Savannah's map and its calendar, extending the iconic Riverwalk a quarter-mile upriver and adding not just venues but varied programming to fill them – some of it free.
The 419-room JW Marriott Savannah Plant Riverside centers the development. Its lobby, in the center of the three buildings that make up the hotel, incorporates the plant's two towering, iconic smokestacks and other industrial elements. The atrium lobby houses Kessler's massive collection of geodes (some the size of phone booths) and fossils, all overseen by a 135-foot chrome-plated dinosaur skeleton replica suspended from the ceiling. The result is part natural history museum, part steampunk fantasy.
Hotel guests have the run of the amenities (including a rooftop pool), but the general public is welcome to wander among the lobby's massive collection and to patronize shops and 14 restaurants offering cuisines ranging from African to Mexican and bars ranging from the sedate and well-heeled to an exuberant outdoor playground.
"Part of Richard's vision is that we are not just a hotel," says Mark Castriota, managing director of the JW Marriott. Visitors can enjoy a smorgasbord of performances, both ticketed and free. A 450-standing-room concert space's schedule is filled by District Live, national concert promoters; open-air performances along the river feature local and regional bands; classical piano can be heard in the sprawling atrium – as can an accordionist at the German restaurant; and aerialists and acrobats in Cirque Divina offer free Friday and Saturday night riverside performances. Castriota adds that there's live musical entertainment of some kind in one of the district's venues daily.
Also on the calendar are such events as Plant Riverside's take on St. Patrick's Day, which expands Savannah's raucous riverside party in both area and scope, and a Halloween-to-early- January European-style Christmas market.
The district has been such a hit that it's even drawing locals in to mix with the tourists, while the Savannah Economic Development Authority hosts most of its economic development prospects at the hotel.
---
A Way of Life Preserved
Forsyth's Black History Museums
Much of the local history of Black Georgians in the 20th century was plowed under by urban renewal programs or simply discarded. A sense of the everyday life of Black citizens during those times can be hard to envision, but dedicated volunteers have formed two museums to preserve the Black experience in the city of Forsyth – one focusing on the educational system and one on Black life in general. Recent collaborations with the Monroe County Schools have transformed the remnants of a Black teachers' college formed by William Hubbard early in the 20th century, and the remaining buildings from a segregated Black K-12 public school that bore his name, into a community service complex that includes places for these museums.
"We have a great history and it needs to be preserved," says Herbert Gantt, president of the Hubbard Alumni Association. That association is drawn from graduates of the K-12 Hubbard School and is the driving force behind the Hubbard Museum and Cultural Center. "A lot of the material Black people had – the trophies, schoolbooks, things like that – were just dumped in trash cans. Most of the school buildings were left dormant and became eyesores. Lots of them had to be torn down."
In the Hubbard Museum, divided between the former middle school and the historic college dorm, the group has developed a timeline and gathered a collection of memorabilia including graduation programs, class histories, lists of employees and emblems of the schools' tiger mascot. The Telling Our Story Museum, also housed in the complex, complements the Hubbard Museum. It was founded in 2008 when Rosemary Walker decided to create a Black history museum in Forsyth. For years, her Telling Our Story Museum lacked a permanent home, with items moving in and out of storage. Meanwhile, the collection grew as people donated items from family collections. Her nomadic museum even landed in the pages of The Washington Post.
"When the [Monroe County school] board offered me this place, I was that happy," she says of her new and permanent quarters in the former middle school.
Her collection is far-ranging, covering Black achievements in Forsyth, and includes the midwife's bag of the late Lizzie Brantley who delivered both Black and White babies and records of outstanding Monroe County graduates, including five who played in the National Football League. Seeing the collections at these two museums requires some planning. The Hubbard Museum is open 1:30 to 5 p.m. on the second and fourth Saturday and Sunday of each month, or by appointment at 478-994-8211. Telling Our Story Museum is open by appointment at 478-394-2972.
"It's not just for Black people, it's for all people," says Walker.
---
Clean and Green Activities
The Creeks Trail System
Not long ago, the virgin forest through which The Creeks Trail System now winds was under consideration for clearcutting. Keeping the trees from being turned into timber called for a dynamic partnership of the city of Jackson with the private nonprofit environmental education foundation that runs Dauset Trails Nature Center, plus a combination of federal and state grants. The result? The partnership yielded 10.75 miles of new natural-surfaced mountain biking and hiking trail. It's part of a continuous swath of 30 miles of trail that link the existing assets of Dauset Trails and Indian Springs State Park.
"This is economic development at its finest. It's clean and green, it's preservation, it's the kind of activity and space we all want more of," says Kay Pippins, the former Jackson mayor who passionately championed the trail during her tenure. "One of my finest hours as mayor was the day the president of the local DAR chapter called me up and told me the women of the chapter had walked the trail."
Just as golfers know the premier golf course designers, mountain bikers likewise know the top trail designers for their sport. Alabama's Preston York, whose FlowMotion Trail Builders is one of the leading names in the sport, designed this trail. Once it opened last summer, it became possible to bike or hike from downtown Jackson through Dauset Trails' land and into Indian Creek State Park.
"You can't keep a secret in the bike community. We had people riding the trails before we even finished them," says Ike English, director of Dauset Trails Nature Center, who was closely involved in the work. Mountain biking trails are ranked by a color system – easy to extremely difficult, running from white to green, blue, black and double-black. "We're a pretty teal-green system," English says of the new trail, which translates as beginner to intermediate. "Most of our trails are fast and flowing with a mixture of tight and technical sections."
The hiking is outstanding, English adds, with some elevation changes.
Bridget Daniel, tourism director for the Butts County Chamber of Commerce, says the expanded trail has been a real boon for the area. "It brings tourists into town for eating and shopping before and after. You can go to any of the trailheads and the parking is packed full," she says.
The project was funded by a $200,000 Recreational Trails Program Grant from the U.S. Department of Transportation and the Georgia Department of Natural Resources, with Jackson contributing the land over which the trail extension runs, plus $50,000, and Dauset Trails also participating. Now there's an impressive trail system within easy day's travel from Macon and Atlanta.
---
Fusing Food and History
Taste of Thomasville Food Tour
When Debra Smith launched her Taste of Thomasville Food Tour nine years ago, she thought it was just something to do after she retired. But she discovered an outlet for her love of Thomasville's history and architecture and her "something to do" became a passion project. This spring, she and her company's five tour guides passed the 1,300-tour mark – and they're still dining their way through Thomasville. More than 10,000 people have shared a progressive meal and stroll with Taste of Thomasville.
Smith taught deaf students in Thomasville City Schools and retired in 2013 after 30 years. When she decided to give food tours a try, she knew she needed training, so she sought out Food Tour Pros in Chicago and signed up for a three-day class with friend Debbie Godbehere, now one of the tour guides with Taste of Thomasville.
"We learned everything about tours – mapping out your tours, hiring, how to approach vendors, training your tour guides," Smith says. "When we first started, we picked our restaurants and they all agreed [to join]. It's a win-win for everybody."
Bonnie Hayes, director of tourism development for the city of Thomasville, agrees that the tour, restaurants and the city all benefit. "The Taste of Thomasville food tour has been a decision-maker for a person just to come to Thomasville," she says. "It has added to our community by fusing the history and food element, whereas before they were separate. Debra has really filled a tourism niche we did not have before. What I love the most is how she works with our office in creating new tours or changing her tour to meet the needs around special events or what our visitor is looking for."
Thomasville is blessed with a picturesque downtown from its Victorian heyday. It's in Wiregrass Country, home to more than 70 shooting estates where hunters pursue a variety of game, especially quail. In a nod to the gamebird that makes the town famous, food tour patrons search for a quail statuette as they make their rounds of shops and restaurants.
"This year alone, we've had people from three different countries and of course, they'd never had grits or fried green tomatoes," says Smith.
The tours are predominantly a weekend affair, although you can book private tours on other days. There's a lunch version, an after-hours version that features alcohol, and in December, a VictorianSweets Tour keyed to the town's Victorian Christmas celebration.
---
Reinventing a Gathering Space
Fenders Alley
Jay Reeder is passionate about his adopted hometown and has a solid track record as an entrepreneur. That turned out to be a magic combination.
"We moved to Habersham County in 2007, and we absolutely love the area," Reeder says. "I had a whole host of companies I ran out of Atlanta but we sold those in 2020 and already had a plan. I was tired of working outside of my community, and I wanted to bring my work into the community where I could grow the community."
Meanwhile, the pandemic wasn't doing downtown Cornelia any favors. Among the early casualties was Fenders, "an old '50s-style diner that's been in existence forever," says Jessie Owensby, community development director for the city of Cornelia. The previous owners shut it down during the pandemic and put it on the market. But who would be looking to buy a restaurant during early COVID-19?
Reeder was. "The reason you come to North Georgia is the outdoors. I knew it would be a draw and a great asset to the community. With the pandemic, without any idea of how long it would last, having an outdoor dining space was a critical part of designing the restaurant," Reeder says.
However, the restaurant had no existing outdoor dining space. Fortunately, a way around that snag presented itself. The Reeder family was able to lease and eventually buy a narrow, awkward parking lot right alongside Fenders from the Downtown Development Authority. As part of the arrangement, Reeder developed an adjacent area as public green space. This was an early chapter in the city's newly enacted (December 2019) entertainment district, allowing for open containers and sidewalk cafes in a designated area.
Now, Fenders Alley is up and running, serving as an outdoor music venue multiple days a week as well as outdoor dining space, all while adding to the assets that attract the area's visitors – hikers, mountain bikers, fishers – to Cornelia. And Reeder has expanded his restaurant holdings, turning a closed bank into a fine dining steakhouse downtown.
"We were thrown 10 years of restaurant challenges in two years, so coming out of the pandemic feels good," he says.
---
Additional Tourism
These five projects were selected as TravelBlazer Notables:
The Augusta Sculpture Trail – a walkable tour of 10 visiting outdoor sculptures, intended to rotate every two years.
Bubbles & Brews – a month-long (March) celebration of Cobb County's thriving breweries, distilleries and wineries.
Douglasville Public Art Project – a series of 14 heart-shaped fiberglass sculptures illustrating "Love Where You Live."
Visit Roswell Mobile Visitor Center – a fully mobile van replaced a site-based center to carry Visit Roswell's message throughout the community.
The Eastside Hops Trail – Visit Decatur and Discover DeKalb, recognizing that visitors don't care about boundary lines, have partnered to create the trail and support the area's breweries.