Columbus | Muscogee County: Continued Momentum
New development, education and outdoor amenities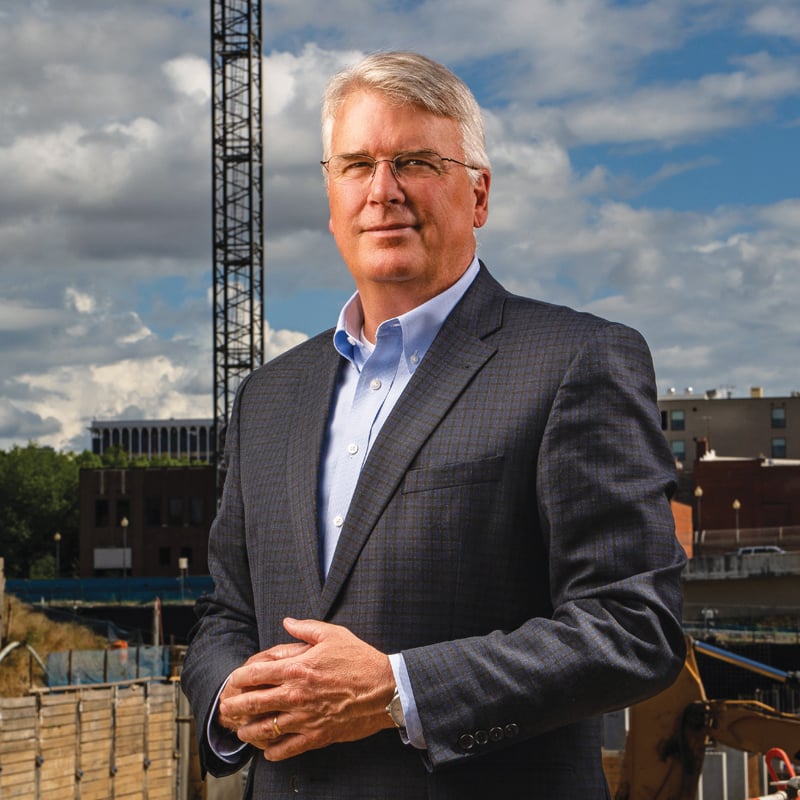 You may think you know Columbus and Muscogee County, but then again, Georgia's second-largest city may surprise you. Despite being the hometown of major corporations like Aflac, TSYS, Synovus and W.C. Bradley Co., not to mention Fort Benning, for years the city was thought of as a sleepy little mill town on the western side of the state. But that's not the Columbus of today.
There are 83,000 students pursuing higher education at seven colleges and universities in Columbus. Mercer University School of Medicine relocated and expanded its Columbus campus this year and W.C. Bradley Real Estate is in the process of completing the final two phases of its more than $250 million mixed-use development on the banks of the Chattahoochee River.
"The most common reaction we get from people who haven't been here in a while is 'Wow! I had no idea,'" says Mayor B.H. "Skip" Henderson III. "I think the thing that is so exciting about our community right now is the momentum we were carrying pre-COVID, we were able to carry that all the way through the pandemic and we're still riding that."
A driving force behind the changing perceptions and the physical transformation of the downtown area known as Uptown is W.C. Bradley's Riverfront Place development, which currently includes The Rapids luxury apartment complex, Mathews D. Swift Park and the Hotel Indigo.
"These are the final two phases of a four-phase project," says Pace Halter, president and chief operating officer of W.C. Bradley Real Estate. "The project sits on about eight acres on the banks of the Chattahoochee River. It's the biggest investment in the city's history."
The Rapids, which consists of 16,000 square feet of retail and 226 apartments on top of the retail, opened in 2018 along with Mathews D. Swift Park, the centerpiece of the master plan, Halter says. The park sits on roughly three-quarters of an acre and boasts a large public gathering place with outdoor seating, fountains and a public art display consisting of four sculptures created by an artist from Santa Fe, New Mexico.
"We run 98%-plus occupied almost constantly," Halter says of The Rapids. "There essentially is no vacancy. We own the majority of the multifamily housing in Uptown. I think a lot of that [high occupancy] is driven by this really strong desire to be in a downtown, live, work, play environment. It's a bit unique, certainly for the Columbus market."
Phase II was completed with the opening of the 107-room Hotel Indigo in February of 2021. The final two phases include another apartment building with some ground-floor retail and a 230,000-square-foot office building – Riverfront Center – which will be the new home of Synovus Financial Corp.'s headquarters.
"The office building is a bit unique," Halter says. "We're working closely with Synovus on the design. It will have its own dedicated fitness center that opens out to very large rooftop terrace, and I think ultimately it will end up with pickleball courts. The ground floor is designed for a 30,000-foot urban grocery store and there will be a lobby café serving breakfast and lunch."
Likewise, the new apartment building goes far beyond the standard amenities of club room, pool and fitness center.
"We will have dedicated private offices for the residents, so you can work from home, but not literally in the home," Halter says. "There will be a conference room, full bike storage and a bike repair shop, and we've added a pet spa for washing and grooming your dog right there on site. As a result of another great lesson learned from COVID, we greatly expanded parcel and package storage, adding cold storage to receive fresh produce and frozen foods."
In a first for the company, W.C. Bradley is seeking a graded certification for the new office building. Similar to LEED certification, Fitwel certification is tied to the health of the building based on sustainability and the environment created. Halter says he expects the final two phases of Riverfront Place to open in early 2024.
"We're a 135-year-old privately held company based in Columbus, and it's important to continue to support Columbus and help the city grow and thrive," Halter says. "Hopefully, [Riverfront Place] is a statement that we're starting to grow into that title of Georgia's second-largest city."
---
River Recreation
Where the Chattahoochee River once powered the cotton mills that lined its bank, today the river is being leveraged in a different way, according to Jerald Mitchell, president & CEO of the Greater Columbus Chamber of Commerce.
"The Dragonfly Trail is a network of trails throughout the community," Mitchell says. "It's not completed yet, but 20 to 30 miles are complete. We want to activate the Chattahoochee River for recreation and to drive community investment and renovation. I'm bullish on this type of infrastructure because I've seen it work."
Mitchell arrived in Columbus about two years ago, after serving as vice president of economic development for the Atlanta Beltline.
"The Chattahoochee River is the longest urban whitewater rafting [venue] in the world," he says.
On top of investments in outdoor recreation, local leaders continue to make investments in the Columbus Airport, Mitchell says, noting around $20 million was invested to expand and improve the terminal. While the airport has offered flights to and from Atlanta on a daily basis via Delta Air Lines, direct flights to Dallas and Charlotte via American Airlines are now available.
"That's a huge benefit for us as well," he says. "The airport is a crucial part of our infrastructure and is important as we continue on our economic trajectory."
---
Meeting Workforce Needs
While the $34 million expansion of the Mercer medical campus is expected to enable the School of Medicine to increase enrollment to 240 Doctor of Medicine (MD) students over the next several years, Columbus State University (CSU) and Columbus Technical College are also helping build the region's intellectual capital and workforce development pipeline.
"At the beginning of the pandemic, we had 40 registered nurses in training every year," says Columbus Tech President Martha Ann Todd. "Over the course of the pandemic we have increased our capacity, so this year we accepted 100 registered nurses in training. There's such a tremendous need, we had to grow our capacity."
In addition to nursing, Columbus Tech offers a number of healthcare programs, including respiratory therapy, practical nursing (LPNs), radiologic technology and pharmacy technology, Todd says. Other professional and technical programs are also in high demand, including carpentry, welding and HVAC. The technical college enrolls an average of 2,500 students each semester.
"Almost all of our graduates stay in the area and work in the area we service," Todd says. "Our job placement rate in any given year is between 97% and 100%, and all the nurses get jobs."
A "small culinary program" is about to get a big boost with the construction of a teaching kitchen, baking kitchen, demonstration classroom and a "little café" where students' culinary creations can be served.
The college is also building a commercial truck-driving program that Todd anticipates will be up and running next year.
"We're meeting workforce needs and that's really our job, to meet the workforce needs of our community," she says.
Over at Columbus State, it's the end of an era as its president of seven years, Christopher Markwood, is retiring this month.
"The relationship between CSU and the community is amazing," Markwood says. "I've never been on a campus that was quite as connected, almost symbiotically, to the community."
That connection was on full display in the 2019 culmination of the university's First Choice comprehensive fundraising campaign, which began shortly before Markwood's tenure. After raising almost $120 million – surpassing its goal of $100 million – the university was able to fund capital projects, including construction of the Bo Bartlett Center and Frank Brown Hall. Numerous academic and athletic spaces on CSU's main and downtown campuses were funded, as were more than 50 endowments for student scholarships, faculty and programs.
"We're a state institution that's just 60 years old and that's the second $100 million campaign this institution has had," Markwood says. "The success of those two campaigns really illustrates that connection between the campus and the community."
A new public musicology undergraduate certificate program and a new Robotics Engineering lab that opened in May 2021 are among the latest advances propelling the university forward. CSU is the only university in Georgia to offer a master's degree in robotics engineering.
CSU was also among the first to offer the Nexus Degree, a short-term credential program unveiled in 2018 that is similar to an associate degree, Markwood says. After a student completes his or her core hours, upper-division work must include in-the-field work or job-based experience.
"The program is focused on getting individuals into the job market," he says. "We were among the first to have it and we were the first to graduate two students with the degree in 2020. This is one of those examples of an industry-informed program like film production."
As Markwood retires from public higher education and prepares for the next step on his journey, he's proud and philosophical about CSU's growth and advancement during his tenure.
"Creativity and innovation are really at the heart of what we do," he says. "We've tried to encourage everyone on the campus to dream big and I really think they have risen to the occasion." That creativity extends throughout the Columbus-Muscogee County community, which is well positioned to continue its pursuit of a vibrant future.
---
LOCAL FLAVOR
Enduring Dog
Dinglewood Pharmacy was established in 1918 and in 1974, pharmacist Terry Hurley became the Midtown landmark's fourth owner. While some things have changed over the years, much remains the same. There's still a soda fountain with 12 stools at the counter and Dinglewood Pharmacy is still home to the locally famous and internationally traveled scrambled dog.
"The scrambled dog was developed by Mr. Ferm Roberts," Hurley says. "He had a hot dog stand out by Fort Benning for three or four years. We started serving scrambled dogs in 1946 and we're still serving them today."
For the uninitiated, a scrambled dog is chili with cut-up pieces of hot dog, cheese, onions, pickles, oyster crackers and various condiments on top of a hot dog bun. The chili recipe dates to 1946 and remains the same today.
"We take great care in maintaining the same quality of our chili, so it's the same taste that it's had the last 76 years," Hurley says.
Scrambled dogs are so iconic, they've been shipped from Dinglewood to places far away from their Columbus home, including Saudi Arabia and Milan, Italy.
"We've catered weddings overseas," Hurley says proudly. "The brides were from Columbus and they wanted something unique for the reception. We flash-froze the chili and they flew it over."
Former Gov. George Busbee and his wife, Mary Beth, were such big fans of the scrambled dog, they often sent a Georgia State trooper assigned to the Governor's Mansion to Columbus to fetch the local favorite, Hurley says.
"We did serve Prince Charles in 1976 when he came over for the Bicentennial," Hurley recalls. "He was served a scrambled dog on a sterling silver tray with white gloves and the whole nine yards. He only ate about half."
But it's not just soldiers and politicians who dine at Dinglewood. Corporate executives from Aflac, Synovus, TSYS and W.C. Bradley are also familiar faces at the pharmacy, Hurley says.
"There have been more deals struck in the back booths by the large corporations here than any boardroom in town," he says with a laugh.
In addition to providing prescriptions and wellness products, Hurley estimates the pharmacy serves about 1,200 scrambled dogs a week. As many as 70 patrons at a time can eat their scrambled dogs in the pharmacy's four booths, at seven tables or on top of Columbus's oldest dining table, which Hurley acquired when Spano's downtown oyster bar closed.
"It's a marble-top table and dates from 1861 or 1862," Hurley says. "People eat on it every day."